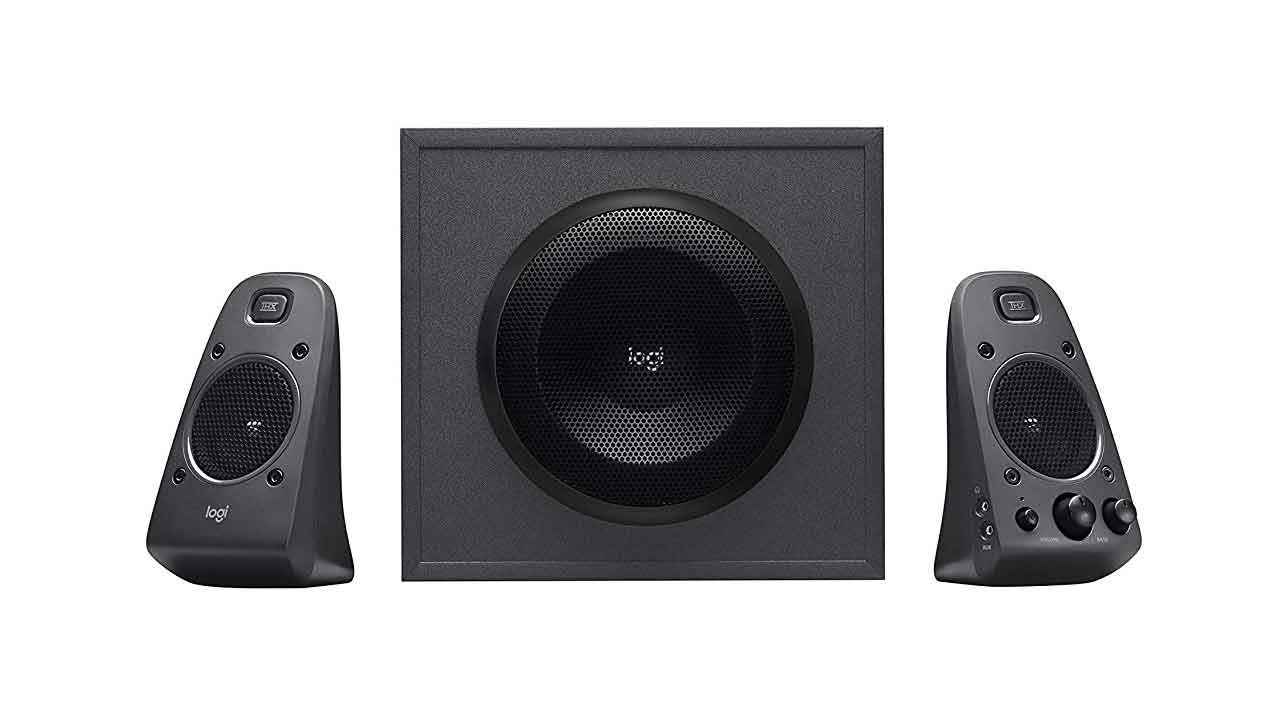 With the advent of online streaming platforms, many of us turned to our smart TVs, laptops or tablets to watch content and seek out entertainment. However, more often than not, these devices aren't equipped with a great sound system, which forces us to compromise on the binge-watching experience. While sometimes this may not feel like a big deal, the disadvantages of low-quality sound become more pronounced if you have got a top-notch device but are stuck with inferior sound. If it's an immersive experience you seek, especially while watching shows or gaming, then you need premium 2.1 PC speakers that will deliver the quality you expect. Not sure which ones fit the bill? Check out these top 2.1 PC speakers for enthusiasts.
Logitech Z625 Powerful THX PC Speaker (Black)
The Logitech Z625 THX PC Speaker set comes with THX-certified Audio that is designed to be tuned to specifications that allow it to enhance audio while gaming, watching movies and listening to music. It comes with 3.5mm and RCA inputs, which makes it quite easy for you to connect it to computers, TVs, laptops and even smartphones, and tablets. The Logitech Z625 THX PC Speaker set also has two satellite speakers that you can place anywhere in the room, along with a subwoofer that ensures the set delivers good bass. This subwoofer delivers a 200W RMS output along with 400W peak power, ensuring that the room is filled with good reverb. With convenient bass controls and on-speaker volume controls, you can customise your audio experience to your liking.
Swans M50W 2.1 Multimedia Speakers
The Swans M50W 2.1 Multimedia Speakers have a contemporary design, making them a great addition to your home from an aesthetic point of view. Its two-way vented speakers ensure that the device blasts music to all ends of the room when placed optimally, and this should make sure that you get an immersive listening experience. The Swans M50W 2.1 Multimedia Speakers have a woofer that's equipped with 3-inch mid bass drivers along with a 20mm aluminum dome tweeter, that should ensure you experience a dynamic sound range when listening to music or playing video games. One thing to keep in mind when you're setting up the speakers in your home is that you have to be just as picky about the audio cable you use to connect the source to the speakers as you were when it came to choosing the right speakers. This is because they can impact the overall sound quality and leave you wondering why the output isn't what you expected it to be.
Edifier M3600D Multimedia 2.1 Active Speaker System – THX Certified
The Edifier M3600D Multimedia 2.1 Active Speaker System is THX-certified, which means that you can expect it to deliver a certain quality of sound. This system comes with two satellite speakers that you can place optimally in your room to ensure that you're making the most of the sound. Additionally, it also comes with a subwoofer with lots of power, which should ensure that you experience deep and heavy bass sounds that only enhance your movie watching or gaming experience. One of the features that makes this a very versatile speaker system is that it comes with four options for input – optical, coaxial, line-in, and aux, allowing you to connect a range of devices with the set. Finally, you can expect a decent build from this set too, as it's made of MDF with a vinyl wood grain laminate that should enhance the overall aesthetics of your room.
KLIPSCH PROMEDIA 2.1 Bluetooth
The Klipsch Promedia 2.1 Bluetooth speakers are equipped with an exclusive Klipsch MicroTractrix Horn Technology that enables it to deliver high-quality sounds. This is aided by the speakers that come with a 200W Digital Hybrid Amplifier that ensures that you can listen to music the way you like it. Its robust subwoofer can ensure the room is filled with good bass, delivering an immersive experience.