When you think web based productivity apps, you would probably think Google and Microsoft, right? Well, unless you've been living under a rock, with the growing app ecosystem, many new entrants have made a name in the web productivity space.
Now, if words like productivity and cloud based web apps bore you, remember these are services you and I use almost everyday at work. How many times has a cloud storage app saved your life? Saving documents on the cloud, taking notes online, digitally signing documents, making presentations on the go? Online, cloud based productivity tools are the bread and butter of many organisations these days, especially startups and new businesses looking for productivity solutions in a budget.
This is where companies like Zoho step in. Zoho has been in the business of providing cloud based productivity tools for a while now, 20 years to be precise. Their more recent foray into mobile apps, has pushed their product profolio to 30 plus apps on both iOS and Android app stores. Apps like Zoho Mail (the ad free email and calendar app), Zoho projects (used for online collaboration on work projects) and Zoho CRM (an app for sales executives to better their client relations), have seen a healthy demand by small businesses and personal productivity users.
Sridhar Vembu, CEO & Founder of Zoho tells us, "We are at 18 million users right now and our attempt is to reach a billion users. We want to show our presence to the consumer. We have 6 global data centres and are opening 1 more in India soon."
Now, Zoho has announced 3 new cloud-based productivity offerings today; Zoho App Creator, Notebook and Zoho Writer. While Zoho Writer and Notebook are web and mobile based productivity apps, App Creator is a cloud based software offering to create apps without the knowledge of coding.
So, what's so special about these apps and software and how are they different from productivity offerings by technology stalwarts like Google & Microsoft? For starters, these apps and software have been designed and built in India. But, is that their only differentiator? Let's find out
Zoho Writer App
Writing for personal consumption and writing for work are two very different tasks. For office and work related text documents, one often needs collaboration with colleagues, well designed editing tools and the ability to share document with other members of the organisation.
Gmail users are already used to Google Docs for completing such tasks while offline users rely heavily on Microsoft Word.
Now, Zoho has reimagined Docs & Word, with 5GB of free cloud storage. "We are adding capacity as storage is increasingly becoming cheaper," says Vembu.
Zoho writer allows users to create text based documents on the cloud, with the ability to edit them online, both on the web and as a mobile app. The promise is a clutter free environment, unlike MS Word. The app allows users to compose, review and distribute these documents. One feature of Writer that struck as a very useful one is the 'Access Receipts' feature. Just like Google Docs allows one to see which other users are viewing the document in real time, Zoho's Writer takes it to the next level by including the ability to send 'seen' receipts after viewing a shared document. Users can also enter into conversations with each other while editing the document, which works something like Whatsapp (with the inclusion of the double ticks).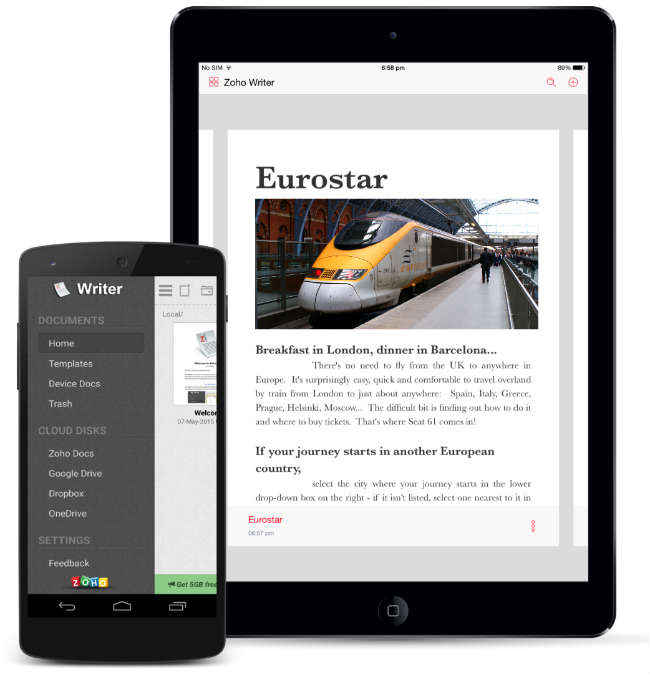 Zoho Writer Mobile app
A 'Reader View' takes away all the buttons and background images while viewing the documents and the editing tools can be brought up when necessary. Users also have the ability to lock certain sections of the document in case they don't need editing or are confidential. They can also pause and resume collaboration on the document.
On asking if the Zoho Writer is inspired by Google Docs, Vembu says, "Actually we have large number of users coming our way saying that we don't like ads. So, basically what I am saying is that you are in a different landscape. 15 years ago it was unthinkable that Microsoft will ever be challenged. Same way, it appears that Google is invincible, but it's not. Their vulnerability is privacy which challenges the core of their business models."
Zoho Notebook App
Notebook is Zoho's free note-taking mobile app, which is currently exclusive only to Indian users. "This is our complete reinvention of note taking. We spent a lot of time on the physics of the app," says Vembu.
Using the Notebook app, users can jot down text, create a checklist, capture a photo, and record audio-- all in a single note card. They can also create dedicated text, audio or photo note cards. Notebook also allows users to store their note cards in separate notebooks. Within a notebook, note cards can be pinched together in a stack, and one can flip through them for a quick view. Note cards can be re-ordered, and moved/copied to a different notebook. Users can also colour code their note cards.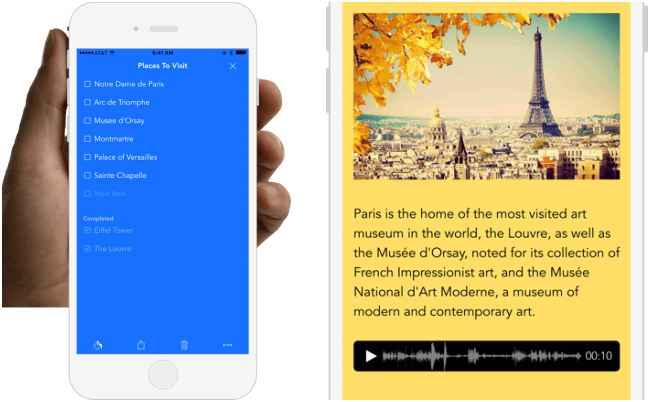 Zoho Notebook interface
The Zoho Notebook app features an option to create custom covers for each notebook or choose from a host of handcrafted cover designs provided in the app. "Artistic elements are entering our software. We have been hiring artists to incorporate these aesthetics and we feel these elements will be very important part of apps going forward," says Vembu. Notebook also syncs across various devices, so users can access their notes from anywhere and at any time.
Zoho App Creator
Imagine if you have no knowledge of coding and want to create an app for your business. Well, that's what the Zoho App Creator is made for. Zoho App Creator is web-based software that enables users to create mobile apps, without knowing iOS or Android programming languages.

Users can create mobile apps by just dragging and dropping fields. They can set up workflows, rules, and schedules, and even add actions to various gestures like left or right swipe, long press, and tap. Users can also share the app with colleagues. Zoho App Creator has a single database for everyone to work with.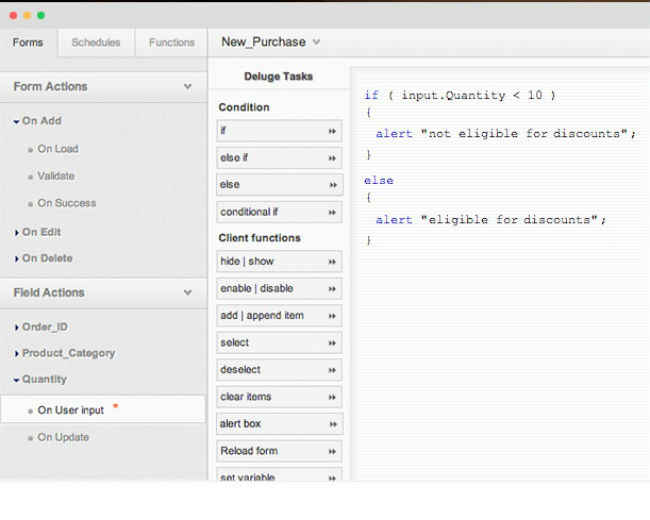 Zoho App Creator
The App Creator allows users to turn their data into a cloud-based mobile app. They can simply upload a spreadsheet, and Zoho App Creator will turn it into a mobile app with a single click.
So, those were all the latest productivity offerings from Zoho. Try them out and let us know your thoughts in the comments section below.