Netflix CEO, Reed Hastings, addressed audiences at the Mobile World Congress 2017, late last night. In his keynote address, the head of one of the most powerful streaming services talked at length about the state of video streaming, competition in the age of online videos, improved streaming quality, VR and of course, the platform's latest Oscar victory. "I'm so thrilled to see 'White Helmets' honored," he said.
All videos will be on the internet in the next 10 to 20 years - Reed Hastings
Netflix has had a big year since it launched its services globally in 130 countries, nearing almost 100 million subscribers. Hastings predicts that all videos will be on the internet in the next 10 to 20 years. With a positive spin on Netflix's competition, like Amazon and now Facebook, Hastings explained that the company plans to stay ahead on the back of content innovation. "The way that internet TV is moving means there is competition from all sides," he said. "They are not trying to kill us, because they too are serving consumers. We have seen YouTube, Amazon and even BBC open up globally, and there are now lots of TV networks bring content on the internet. Rather than getting run over by this, we are excited to be, and continue to be, at the forefront."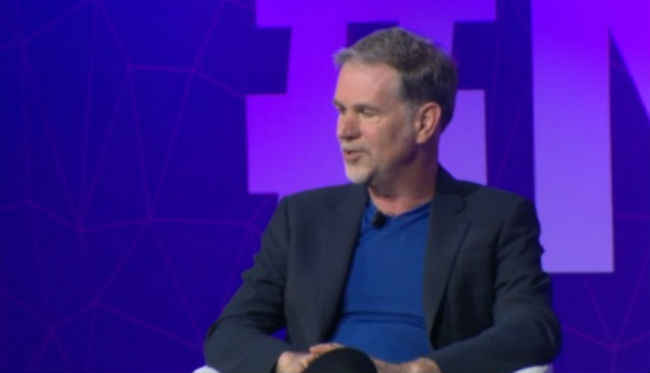 Hastings also spoke about evolving the Netflix experience on mobile. He said that the company has invested heavily into delivering quality streams to phones at 500 kbps speeds, and now aims to do so at 200 kbps. "Some people in this room are old enough to remember dial up internet, and now that seems like such a relic," he said. "We want to do that to buffering across the world. We are going to see that someday the Netflix experience on mobile, laptop and TV is instant." The company also clarified in a press release that Netflix will soon roll out new video encodes for mobile devices, providing someone who has an extremely poor internet connection. With the efficiency of these new encodes, Netflix users who are worried about data caps will be able to stream up to 30 hours of Netflix with a 2GB data cap.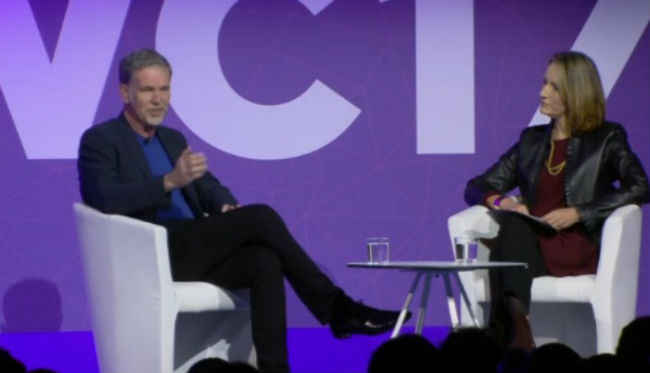 In addition, Hastings said that the company is also investing to develop better, more efficient network infrastructure and is working with ISPs across the world for the same. "In the early days of the internet, there's things we obviously don't love, and that's data caps. Some companies are offering unlimited for video, but perhaps at limited quality, and that could be a more efficient use of the network," he said.
"I'm not sure if we're going to be entertaining you or entertaining AI" - Reed Hastings
Giving his outlook on the future of streaming Hastings pointed out that the company is open to innovating in the Virtual Reality space, given the technology takes off in the consumer world. Taking a cue from one of its original television series, Black Mirror, Hastings also ideated that one day users could be watching Netflix through smart contact lenses.
Artificial intelligence is also a big bet for Netflix and Hastings promised to innovate further in this area. "I'm not sure if we're going to be entertaining you or entertaining AI," he joked.