Amidst the cricket world cup frenzy, Disney India along with ICC had launched ICC ProCricket 2015, the official ICC Cricket World Cup 2015 game for PC, Android and iOS, developed by Indiagames Ltd. After getting incessantly hammered and bowled out in almost every match, this is what we felt about the mobile version of the game.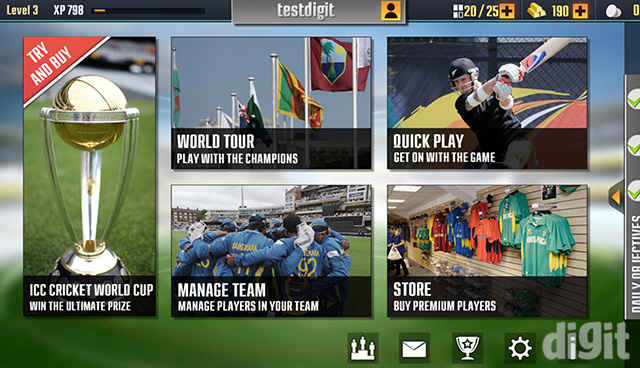 You can navigate to the different modes in the main menu
Gameplay and Graphics
The ICC ProCricket 2015 is a full-fledged cricket game. The first time you boot up the game, you are made to download more data. The main menu throws up three modes that includes ICC World Cup Tournament, World Tour and Quick Play. The ICC World Cup Tournament mode lets you select one team you wish to play the entire tournament with and all the matches in this mode are based on the actual fixtures of the ICC Cricket World Cup 2015. You pick the team you want to play the tournament with and then head out to playing the matches, facing the other teams, battling it out to win the world cup. The World Tour mode lets you build your own dream team by starting with a random pack of players and building their skills effectively.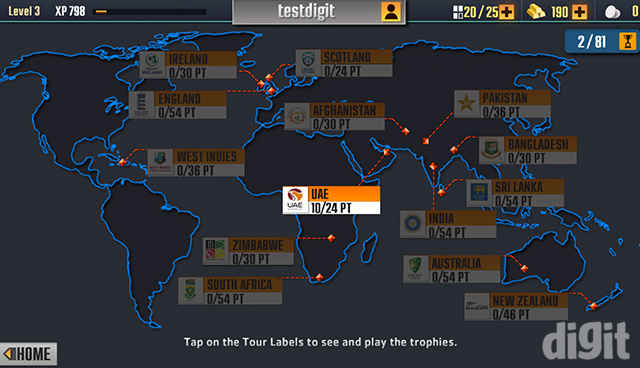 The World Tour mode begins at UAE
You begin playing matches in a country (UAE here probably due to its lower rating), initially playing domestic matches in different difficulty levels and finally playing an international match that further unlocks other countries. This mode will let you buy and sell player cards and also train them, increasing their skills as you advance. The Quick Play mode lets you play either a quick match or practice match where you can choose batting or bowling. Under quick match you get to pick any opponent but surprisingly it lets you play with only your favourite team that you select in the beginning.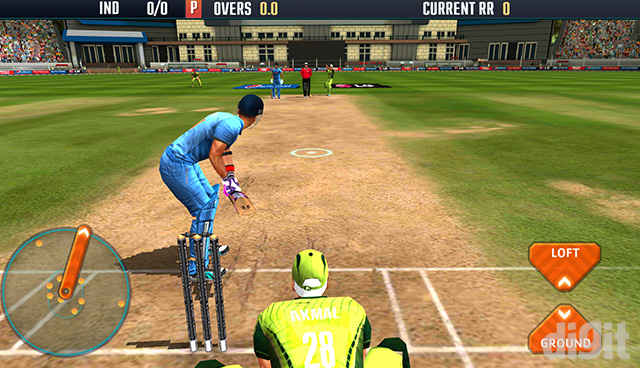 Playing a lofted or a grounded shot is a leap of faith for new players
You can play the match in two different camera angles, whatever you're comfortable with. Batting and bowling is really very easy, but doing it right is what takes practice. As you play through the game, you will understand the standard gameplay mechanics of batting and bowling, and further you will also be able to predict and set the fielding based on the batsman and the bowler skill level. A higher level of expertise would be when you are capable of knowing which batsman can stand against a certain bowler and vice versa, looking at their skill level. Playing the right shots depend on the skill level of the batsman which determines how well he would be able to play certain shots on certain deliveries and the same is for bowling too.

Bowling is quite easy, if you have tapped and traced the right length
Indiagames also has a card battle game with cricket players which seems to have been packed and modified to fit into this game. Players are available in your inventory in the form of cards and as you keep on earning silver and gold from matches, you can train and upgrade those cards and also get more cards by exchanging your gold and silver. After every match, you earn XP that levels you up and unlocks card packs automatically.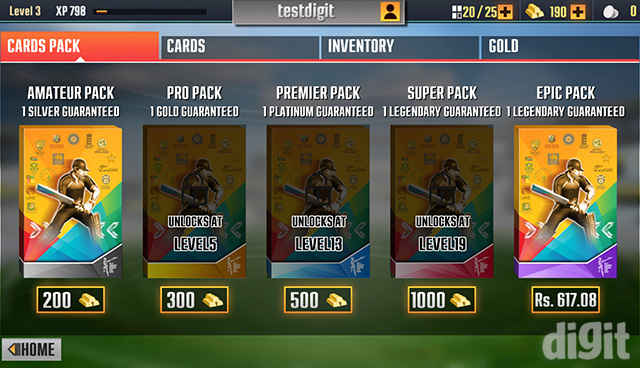 Exchange Gold for player packs or buy single player cards from the Store
If you aren't among the patient kinds then you can go ahead and buy cards and card packs through in-app purchases in the Store. The names of the players have been officially licensed by Disney India from ICC so you won't come across any funny skewed names. The performance of the players are completely dependent on their skill level and that was clearly visible (10 points to developers) when low-tier players dropped catches and hit clumsy shots right into the hands of the fielders, losing their wicket.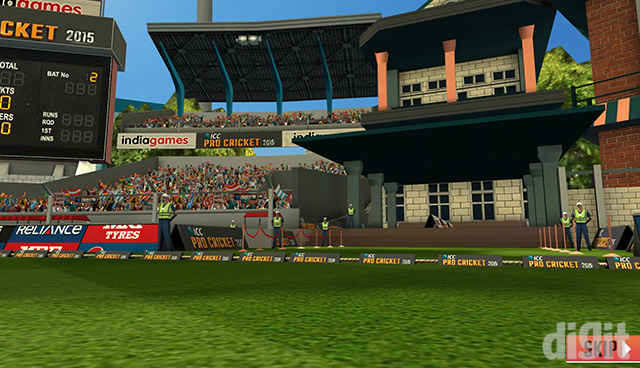 The textures look flat and remind you the graphics of older mobile games
The graphics offered in the game aren't stunning but they look good and that's all. Built on the Unity game engine, the textures in the game are flat and look sharp only on a 1280x720 resolution phone in Android and on most of the iOS devices (we didn't test the game on the iPad). They look stretched out on a higher resolution phone. The models of the players which should have been sublime are very basic and could do a lot of work in the future.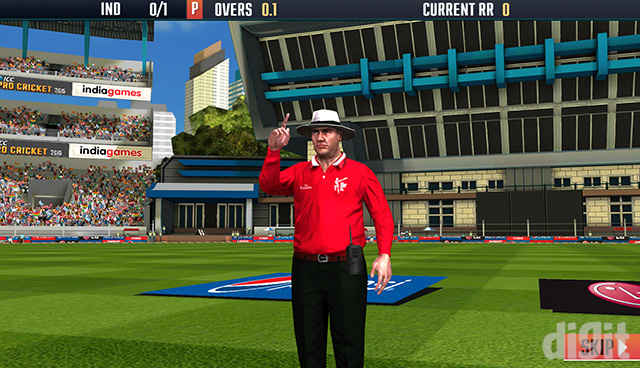 Something you wouldn't want to see when you're on the batting side
The bugs that lurk
Games that don't have visible bugs are pretty rare and in some cases they are gradually fixed over time. This game had quite a few, and the most irritating bug was with the dial that you use to pick the direction where you play the shots. It seemed to work fine on a 1280x720 resolution phone, but it was slightly difficult on a 1920x1080 phone and a nightmare on a smaller 854x480 resolution phone. This is probably because of the upscaling and downscaling of the native resolution that it was built for, which hopefully will be fixed with an update. The game said to be compatible for the iPod Touch (though not optimised) kept crashing and we weren't able to play an entire match on this device. While bowling, after you've picked your length and swing, some textures on the field start stuttering as the bowler takes a run-up.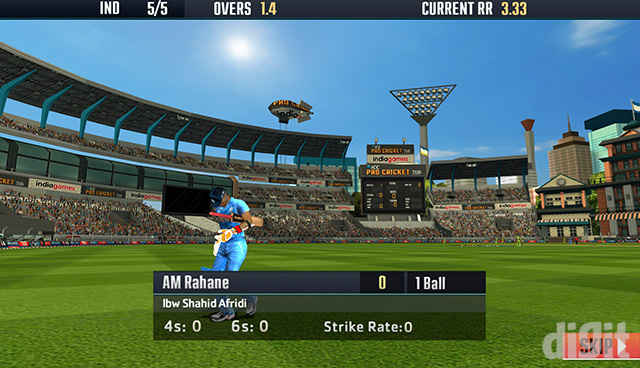 The score prominently shows you the level of skill I have
The run-outs seem weird since there were many instances where the runner was way out of the crease but no wickets were claimed. I managed to exploit this and get 4 runs, running between the wicket very frequently. Without an internet connection, you will only be able to play quick matches and nothing else, which clearly shows that the data isn't stored locally. And again as mentioned earlier, you will have to select a favourite team for the quick match which cannot be changed even after closing the game.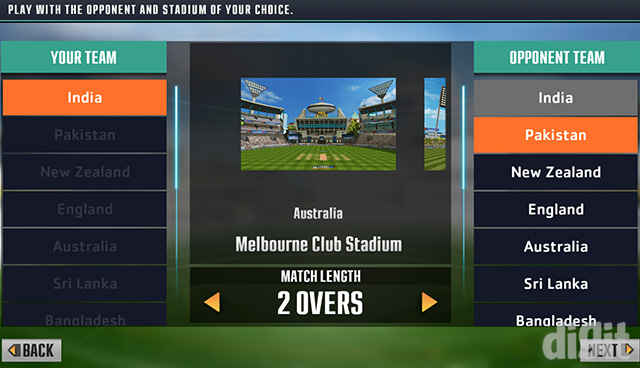 You can't change the team that you select for a quick match later on
So, if you wanted to play a quick match as a different team the next time, that isn't happening. The menu also gets stuck several times when it has to load some data over the internet. When you start the game, it checks for all the assets that are required for the game and you have to wait until it has finished checking all of them. Having this process pushed to the background should have been preferable, since you have to wait a considerable amount of time to get to the main menu of the game.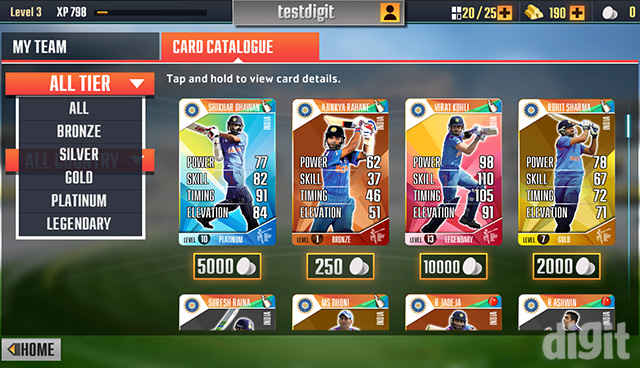 The Store lets you buy more players to add into your team
Possible updates
There is a lot of room for improvement in the game and we came across a few features and additions that we would like to see in the future. Those sixers that you manage to hit and the perfect bowling length that gets you a wicket are equally rare, so replays might be an interesting feature. Also more than one type of player celebrations after they take a wicket or score a century would be nice. If I was a cricket lover, I would have definitely loved getting regular score updates from the actual world cup leaderboard which would have been an important feature. After I've achieved a certain level of experience playing this game, I would have preferred to set my own custom fielding, something that they could consider adding later. The card section showing player stats about how well their skills are improving could also have been a good add-on. You can't play matches in the other modes except Quick Play, so letting the game save local content and syncing the saved data when you connect to the Internet could be considered.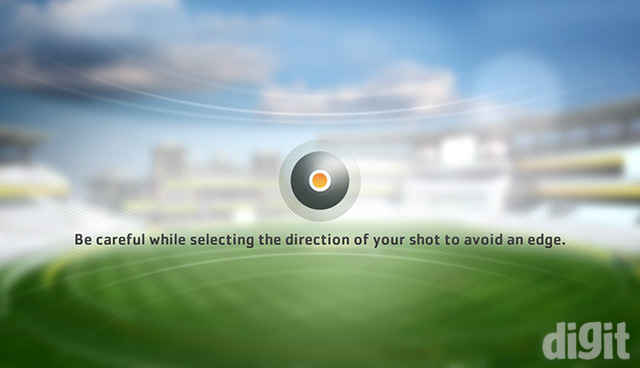 These tips that show up while loading are quite helpful to master the game
Pros:
Bowling is really simple
Card packs are interesting
Skill level of players are very precise
Cons:
Textures should have been better
Buggy menu
Few player animations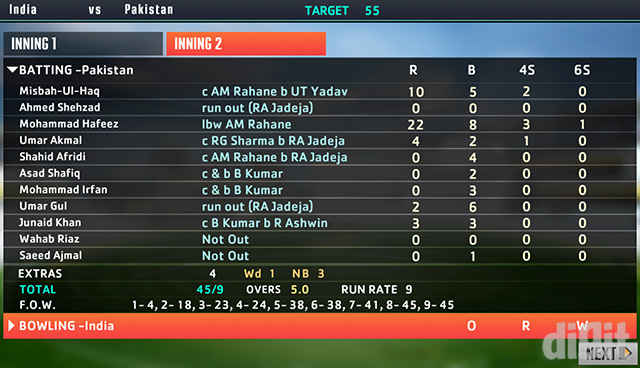 Just to make things clear, I was the one bowling
Verdict
The ICC ProCricket 2015 does fall short in delivering good graphics that we would expect from mobile games releasing these days, but it scores well in the gameplay. There are a few glitches that do get in the way of playing a flawless innings, but you will still have an enjoyable and decent match. The app is getting frequent updates for bug fixes, showing an active development cycle, so the bugs might be resolved eventually. For the cricket lovers out there, when you're not watching the cricket world cup matches, you should consider trying out this game and continue playing even after the tournament is over.
ICC ProCricket 2015 is available for free on the Play Store and the App Store.