"One day the AIs are going to look back on us the same way we look at fossil skeletons on the plains of Africa. An upright ape living in dust with crude language and tools, all set for extinction," said Oscar Isaac, playing the eccentric Artificial Intelligence programmer Nathan, in the popular 2015 sci-fi film, Ex Machina.
While the movie elaborated on the concept of Humanoids - Robots shaped like humans and powered by Artificial Intelligence (AI), we are going to talk about something much simpler, something that will probably be a stepping stone to human-AI communication of the future - Bots.

What are Bots?
'Bot' is a term that's increasingly being used by tech giants like Microsoft and Facebook to advertise their recent foray into text-based virtual assistant. But, before we get into what these messenger based Bots are all about, let's trace the origin of the idea of intuitive machine-human communication.
Back in 1950, Alan Turing, also fondly known as the Father of Modern Computing, published a widely known paper which proposed a test to determine if a machine could imitate human responses by studying a text based conversation between a human and a computer. A Third person would then study the responses and try to differentiate between machine responses and actual human conversation. A program that succeeded in fooling the third observer, would be said to pass the test. Then, in 1966, a semi-intelligent program named ELIZA, modeled over a psychotherapist, became the first such program to pass the famous Turing test.
ELIZA responded by processing user responses to its scripts, but it was limited by the technology of its time. The ELIZA bot's language abilities would now seem primitive in comparison to the advances in natural language processing, used in AI programs and bots of today. If you want an example of the same, go talk to ELIZA here.
According to a report by Research and Markets, a Dublin based market research resource, the artificial intelligence market is set to grow from USD 419.7 Million in 2014 to USD 5.05 Billion by 2020 and the market for natural language processing technology is expected to grow at the highest rate during this forecast period.
These projections obviously keep in mind the recent foray of some big names in the tech industry towards an app-free, Bot-only future. But, how will that future come about? Will we see an end to the service app ecosystem with AI powered Bots managing our digital lives?

Bots That Matter & Bots That Don't
Microsoft kickstarted the bot frenzy this year at their annual Build conference, held a few weeks back. Here, the Redmond based tech giant announced an entire Bot framework for building and connecting intelligent AI powered bots that will interact with users through SMS, Skype, Slack or other such services. These conversational Bots are meant to help users interact with a service or a business through text based chats, diminishing the need for firing up an app and going through a lengthy procedure to place an order of service.
Below is an example interaction between an customer and a Pizza Bot.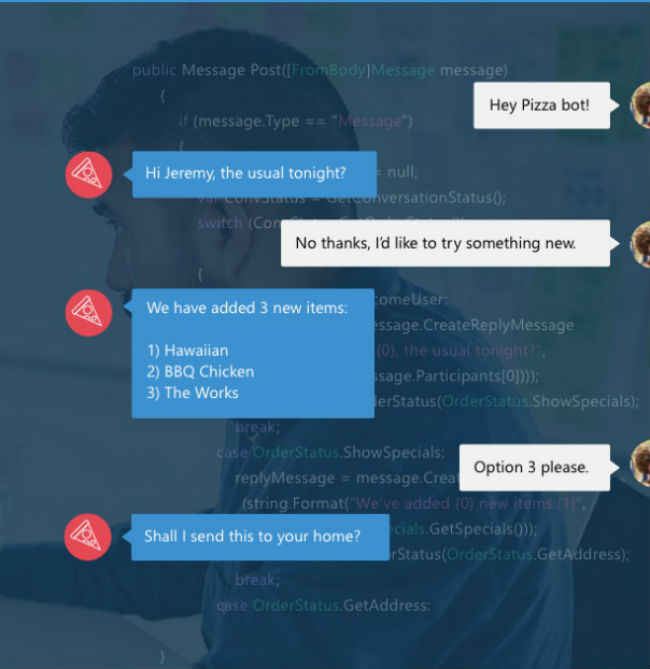 Since the announcement of their Bot Framework, Microsoft has introduced a bunch of Bots on Skype for iOS, Android, Mac and Web. While these Bots are pretty cool, they have a long way to go as far as their learning capabilities are concerned.

For the sake of an example, we tried to have some fun with Microsoft's Murphy bot on Skype. Murphy is a bot that you can chat with, using Skype and ask it hypothetical "what if ..." questions like "what if I were a robot?" Murphy then tries to respond with an image that visualises an answer to your question. In my case, I asked it "what if I were a robot?" Below is the image Murphy responded with.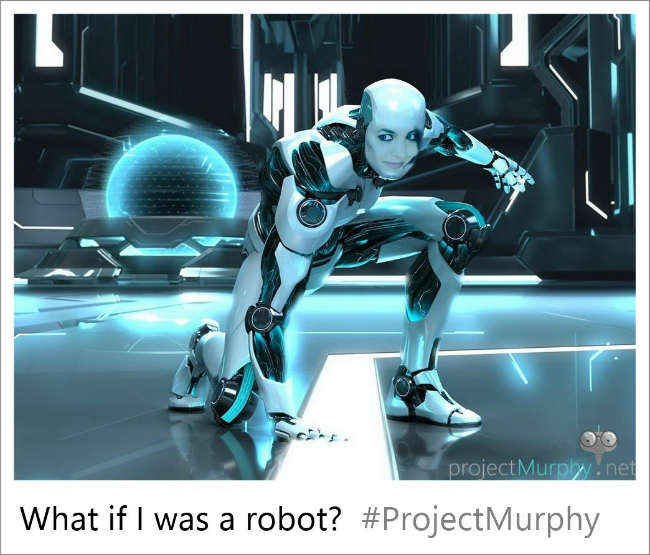 Murphy asked for my picture and responded back with my face stuck on to the body of a robot. While I feel I could have been a cooler robot, this will do for now.

Similarly, a bot named Summarize can give you summary pointers from any article just by sharing the link of the article with the bot. See example below.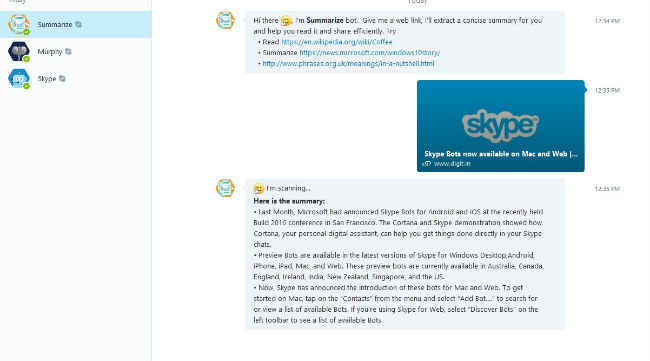 Summarize Bot on Skype
Bing News is another bot on Skype, that's designed to get you news stories or headlines from the web. All you need to do is type in a news topic that interests you and the bot searches the web for news stories based on that particular topic. Here's an example -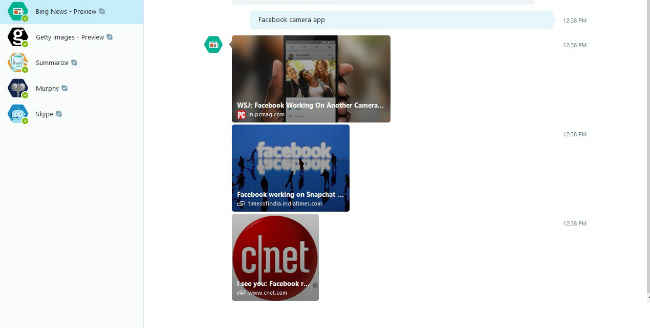 Bing News Bot on Skype
While such bots are engaging and useful in some cases, the bot framework has a long way to go before companies and services jump on to the platform to offer real time, need-based solutions for users. This is also the reason for apps like Slack not making the kind of mark they were hoping to. Slack is a chat client that focuses on increasing productivity in an office environment. Users in a shared workspace can get on to Slack and integrate various bots to increase work efficiency. For example, Leo Bot on Slack is a bot that constantly sends users workplace related questions, to analyse and create productivity reports. Check out a chat with Leo Bot below.


Leo Bot on Slack
While Slack is a trusted web, mobile app for small organisations with limited number of employees, it is proving to be a hassle for relatively larger companies like Uber. According to a report by The New York Times, Taxi aggregator Uber just ditched Slack for not being able to handle its employee base. The report says, "Recently, the ride-hailing service Uber dropped Slack because the service could not handle the thousands of Uber employees trying to communicate simultaneously, according to people who work at both companies." Handling larger user requests will definitely be an issue of concern for future bot makers.
Similar to Microsoft & Slack, Facebook also recently announced its own Bot venture at the company's annual F8 developer conference. Dropping the mic in the crowd of startups and other tech companies working with Bots, Facebook announced that developers will now be able to build and integrate Bots into Facebook's hugely popular Messenger service. Facebook CEO, Mark Zuckerberg, also showed off a CNN chatbot which would bring personalised news stories to users along with a bot that allows users to order flowers on Messenger, without having to call the delivery company.
So, Will the Bots eat the Apps?
Yes, they could. With players like Microsoft and Facebook entering the Bot ecosystem, the app ecosystem faces a huge threat in the future. Currently, the app ecosystem is a $50 billion industry, according to App Annie. But, all this could change.

Owing to the popularity of platforms like Skype and Facebook Messenger, commerce & service oriented Bots would automatically give these companies a huge monopoly in the market, doing away with apps in due course of time.

"No one wants to have to install a new app for every business or service that they want to interact with," said Zuckerberg, during the company's F8 conference. Just to put things into perspective, Facebook Messenger and WhatsApp (also owned by FB) have a shared user base of 1.9 billion users, who with the help of bots, will not need to download any apps, and will be able to access the same services through their messenger app. This saves users the much needed storage space on their smartphones and creates a more user-friendly environment to access businesses.

Bots would also do away with having to deal with in-app ads, which are increasingly becoming a nuisance because of their intrusive, non-private nature. Interestingly, it is also becoming more expensive for developers to buys new users through ads. According to AdParlour, it costs approximately $4.73 per installation. Bots can easily solve this problem, maintaining the same, if not increasing, the user base of any service oriented app.
As of now, Bots still have a long way to go. Most bots even today are unable to pass the coveted Turing Test. But if larger service and commerce players enter the ecosystem, we can easily say goodby to Apps. Afterall, who needs an app when you can just chat?