Unless you've been living under a rock for the past month or so, you couldn't have missed the steady buildup towards the FIFA Football World Cup on social media, news websites, radio and television. As the much-awaited football tournament kicks off later tonight, here's our list of must have apps across Android, iOS and Windows Phone to follow the FIFA World Cup round the clock.
1) FIFA - Official app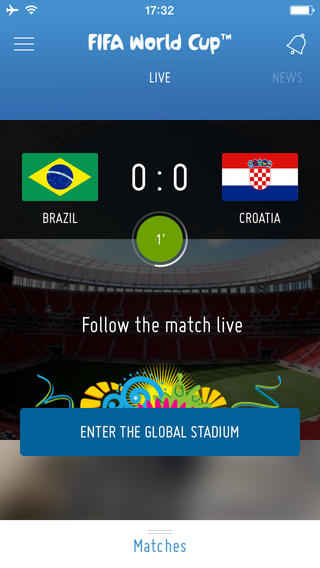 A great starting point on your quest to stay clued into the 2014 Football World Cup is to download the official FIFA app, which promises to give you all the latest news updates, game highlights, video interviews and in-depth features of every game and team participating in the FIFA World Cup in Brazil. One cool feature of the app is "Global Stadium" which lets you pick any of the 64 matches and get live, minute-by-minute update of the action. This app is also great if you're looking for exclusive content from the FIFA World Cup, something that won't be licensed out to any other media partner.
2) Liv Sports app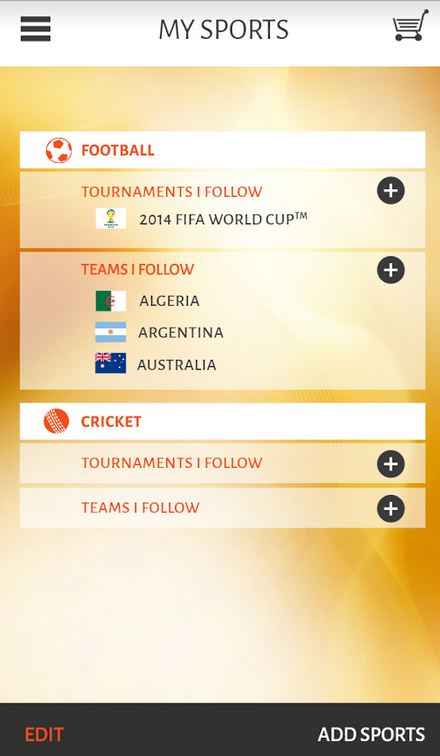 If you didn't know this already, Sony LIV has the official rights to broadcast the FIFA World Cup 2014 in the Indian subcontinent, and this is their official app which is available on Android and iOS platforms. After installing the app on your smart device, go forward to create a login profile for using the app. You need to buy the entire FIFA World Cup tournament viewing pack to be able to enjoy live HD streams of the games on your smartphone or tablet, and we highly recommend you do the same – as it only costs Rs. 120, which is very affordable if you come to think of it. Alternatively, if you just want to catch the live matches of any particular team, go ahead and do just that for just Rs. 60. Real-time stats and commentary to all the games are also provided within the LIV Sports app.
3) ESPN FC Soccer and World Cup app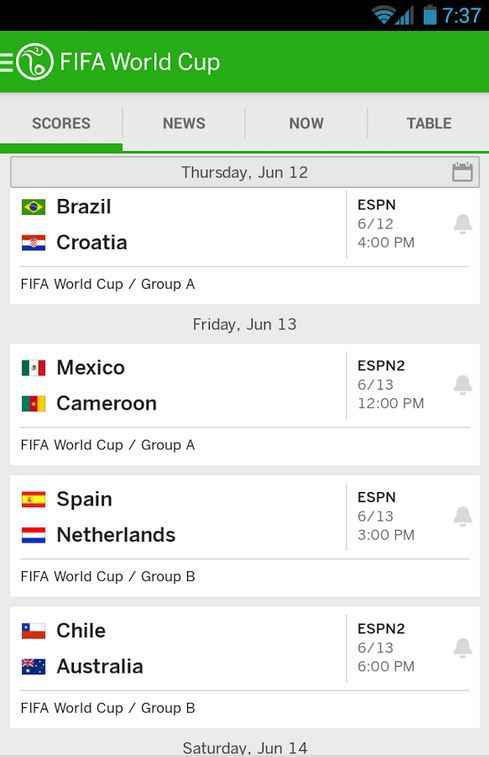 Probably the most comprehensive coverage you could ever get in one single app related to the FIFA World Cup 2014. This app is built on and fuelled by the extensive reporting and coverage by ESPN's staff and football experts present not in Brazil – where the current world cup is hosted and kicks off later tonight – but also from around the world. Through this one app, you stand to get news, reviews, features, opinions, and exclusive video from the football world cup. Not just that, but everything you've come to expect from ESPN's brand of football and sport coverage on the tele you'll get more than just a glimpse of that through this app for all the events related to the FIFA World Cup staged in Brazil.
4) BBC Sport app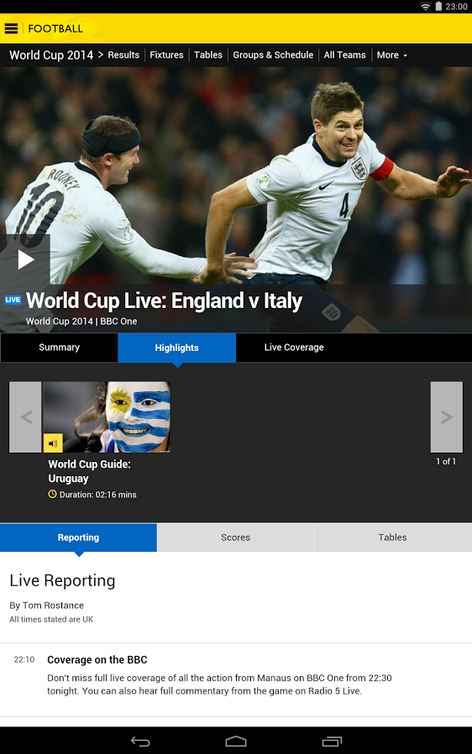 The BBC does a very good job of keeping track of football news from around the world, with insightful analysis and features. Coming in just in time before the FIFA World Cup kicks off later tonight, the fully dedicated BBC Sports app just received a facelift and some key enhancements that make it a great app to have around on your device to track the 2014 FIFA World Cup on your smartphone or tablet. Live coverage of the 31 matches that BBC has the rights to broadcast will be covered in the app. Apart from highlights, custom alerts, this app is also powered by World Cup Breakfast, a special programme available for offline viewing which recaps the past night's games through BBC football pundits.
Free download - Android, iOS, Windows Phone
5) Univision Deportes - 24x7 live streaming app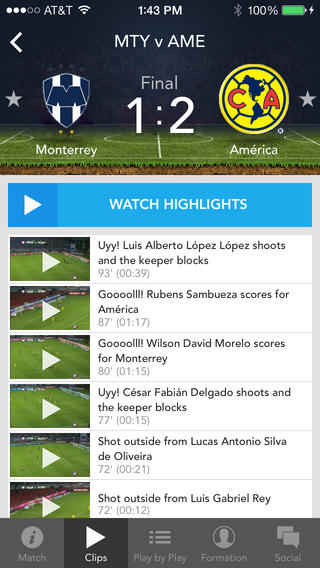 One of the best ways to catch continuous live streams of all the football world cup action is to install this app on your Android or iOS device. The app is rated very highly and vouched by football fanatics who just want to livestream a football game onto their Android phone or tablet or iOS device. Not only does this app promise to give you live stream of every FIFA World Cup game, but it also seemingly claims to provide the capability to rewind livestream – awesome! Its only drawback is the app is designed in Spanish, but in the age of Google Translate that's an easy caveat to work around.
6) Onefootball Brasil - World Cup app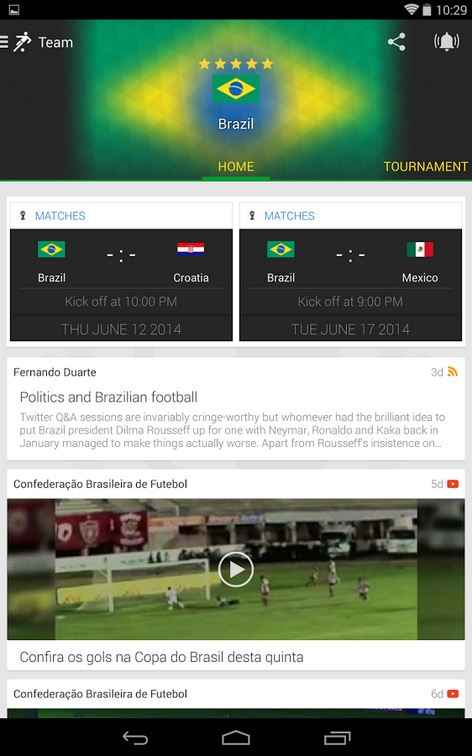 Made by a company based in Berlin, this is a cool, nice-looking app for you to install on your Android, iOS or Windows Phone device and stay up-to-date with all the happenings of the FIFA World Cup 2014. The app does one thing very well, which is to let users pick a favourite team. Once that's done, the app automatically creates a list of customized feed (with articles, videos, social updates, etc) around that team with push notifications and updates to keep you constantly informed about their fortunes at the football world cup. Apart from match schedules, the app also includes real-time game commentary, player profiles, and tournament updates.
Free download - Android, iOS, Windows Phone
7) Forza Soccer / Football app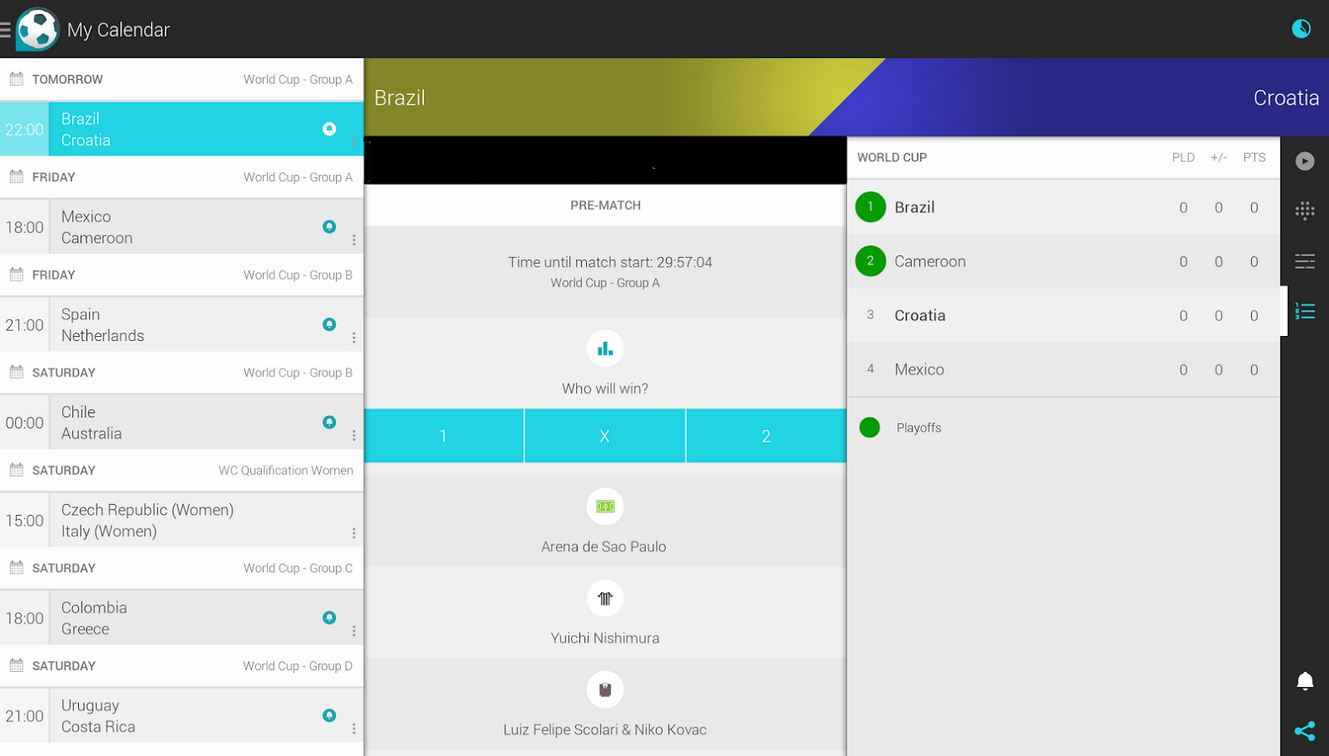 If you're one of those who doesn't have enough football crazy friends in real life, and are contemplating how to enjoy the FIFA Football World Cup in grim isolation, you've got nothing to worry. We have you covered with the Forza Soccer / Football app, which is slightly different from all the apps we've covered so far. Apart from giving you live match updates from every game at the football world cup, and other bells and whistles around the games, the Forza app also has a forum for fan polls and opinions. After every game, you can rate a team's, player's or manager's performance, and see how you perform in terms of others who rate and assess similar teams and players. It promises to be a lot of fun and give you some much-needed virtual engagement and feeling part of a shared brotherhood of football fans around the world who're using and interacting with the same app.