You're hungry? You open an on-demand food ordering app. Need to relocate houses? On demand trucks for you. Want an eye check up? Even that can be arranged on demand. With any and every service going the on-demand way, it almost seems as if each new day will see a new, completely different segment of the market switching to the on-demand model. And that becomes a double win for the customer when it solves an essential problem. Zaiuto is our app of the week because this is exactly what it does with the problem of car repairs.
As most people with cars know, a car breakdown is not essentially a predictable event and it can happen anytime, anywhere. Zaiuto aims to solve the hassle involved with getting your car repaired in such a situation by providing a car repair on demand service, not too different from the Uber and Swiggy model of operating. If and when your car breaks down, you can fire up the app and hit 'Get Help' on the main screen, below which you can see the estimated arrival time of the mechanic from the nearest partner workshop.
Next, the app asks you to select the particular problem you're facing from a list of six common car issues (it does involve general options in case you're not sure what's wrong with your ride). Once you've done that, you'll be requested to provide your and your car's details. After confirming that, you'll be sent an OTP to complete your registration. This is just to confirm your details and in the very next screen, you can proceed with your request after selecting the vehicle. At this stage, you'll be shown an estimated charge and requested to confirm your booking. Once you do that, you'll be able to track your mechanic in real time on the map screen, just like most on-demand apps.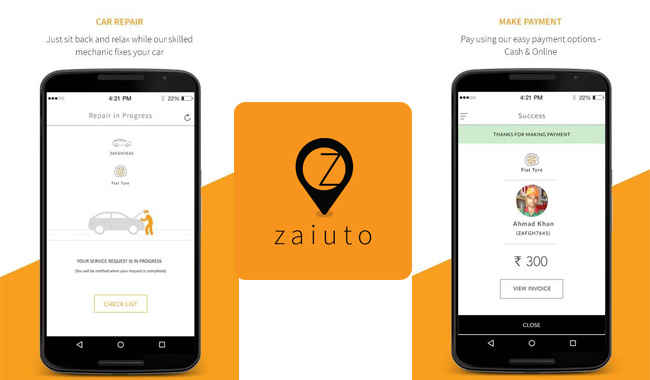 The vehicle registration during the booking can be avoided if you head to the 'My Vehicle' tab and pre-register your vehicles. This might save you some extra minutes during an emergency. On that note, there is another feature on this app that makes it unique, and that is the 'Accident Detection' feature that you can find in the menu tab of the same name. Once enabled, the app can detect an accident at a speed equal to 50km/hour or greater and immediately inform the contact that you register on the same screen. While this might be a very useful feature, sudden braking and dropping the phone might cause false alarms. Also, just like other on-demand services, there is a partner version of the app as well, that helps mechanics and workshops get connected to potential customers.
Currently, the app only works in Noida, Greater Noida, Gurgaon and Bangalore. The company does have plans to expand to multiple cities and offer more services to achieve their long term goal of becoming a one-stop car care service. While that sure is interesting and something to look forward to, the current service offering itself is quite useful and with the possibilities of tie-ups with car rentals, cab services and more, we can't wait to see the impact this will have once available properly in all cities.