Shared workspaces have been quite popular for a while now and if you're a budding entrepreneur, chances are that you already know about quite a few of them. While most of the providers offer pre-arranged, mostly monthly package pricing, myHQ is trying to bring an on-demand aspect, that we are so used to, into co-working spaces.
For the uninitiated, a co-working space is an office space that you share with others - be it other individuals looking for a place to complete their projects or budding companies seeking a space until they make it big. The usual perks of availing these spaces vs working at your own home/accommodation are high-speed connectivity, all time availability, and the obvious impacts of having an actual office, to begin with.
myHQ, currently operational in Delhi and Gurgaon, lets you take your pick from a number of local cafes, pubs, and hotels. The way it deals with the charges is quite unique. While most such places require a monthly rent from you, myHQ operates on a per-visit basis. So you can pay for a single visit at ₹299, 5 visits at ₹1499 and 25 visits at ₹5499 only, with the highest plan bringing down the charges to as low as ₹220 per visit. How are they able to do this? Because they do not maintain any real estate of their own. Rather, they collaborate with existing spaces around you that are suitable for a co-working environment and let you pay on a per-visit basis.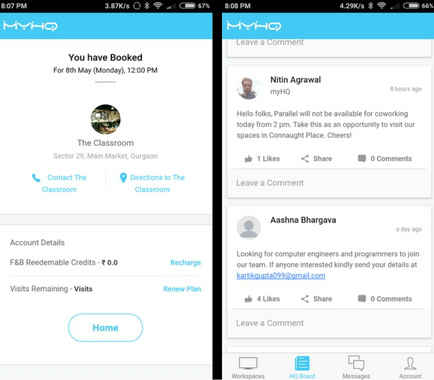 The first visit is offered free; Also, the social aspect of the app is very useful to beginners
This particular method of payment is especially significant for beginners, who might shun the idea of a monthly rental agreement due to the commitment involved. Moreover, using existing spaces allows myHQ to be present at a much greater number of areas in the future. As of now, they only cater to Gurgaon and New Delhi. Later this year, they do plan to expand to Bangalore and Mumbai.
Keep in mind that this is an individual booking system - so, to avail the same for an entire team, you either have to get passes in bulk or use the same account's credit on a cumulative basis.
The app also has a social aspect in the form of HQ Board and internal messaging. While HQ board is a timeline-like feature where you can see the posts of other members of the myHQ community, the messaging service allows you to talk to other members directly. Both of these aspects are actively used by members to find other members interested in their projects too.
Co-working spaces are hot right now and myHQ's features make the whole thing all the more accessible. The sooner they launch in more cities, the better it will be for budding entrepreneurs over there. On the other hand, the overall proposition does seem to have room to grow with more specialized locations and facilities yet to be directly available on the app.