It's almost Diwali and you know what that means - tonnes of sweets and savouries that you're going to binge eat, forgetting health and calories for a while. Even if that is not the case, health is something that we often put secondary with respect to almost anything - be it work, social life or plain and simple comfort. And we use elaborate excuses for that - 'cannot find the right gym', 'I don't want to lift weights', 'who dances for a workout?', 'That's too expensive' and more. BYG or Book Your Game is an app that is intended to make all these excuses pointless.
If you've used location-based apps, you'll find yourself in familiar territory. In fact, the app comes really close to the now popular food ordering app Swiggy in terms of design and usability. The moment the app is launched, you're shown your own location on the map. And once you hit continue, you're taken to the 'Workouts' tab where you're shown all kinds of available workouts and gyms around you. Trust me, by all, I mean 'ALL'. In my first try, I could see 20 different categories, all of which had at least one option in them. The categories ranged from Zumba to Yoga, Gym to Martial arts, Aerobics to Pilates and a lot more.
Now, when it comes to individual listings, that is where the app shows its true usefulness. Under a specific category, each listing has its average user rating, distance from you and price of its cheapest offering is shown. Some also feature a 'Preferred' mark that signifies that the place is recommended by the app. And it gets even more detailed when it comes to choosing a particular listing. It won't be possible to explain all options with all types of listings but let's take a common example - A gym.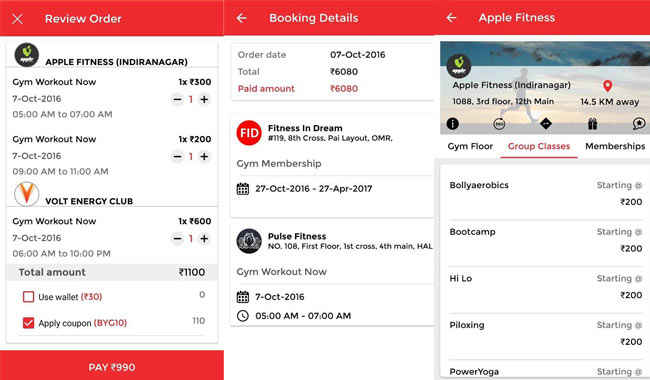 If you tap on the listing for a gym, you're taken to its separate page where you can choose from the different options available. The same page also has buttons to see standard information, a 360-degree photo of the location, along with directions, coupons and reviews for the same. Once you're sure about what you want, you simply add it to your cart and once you're done, go to your cart and checkout like you would on any e-commerce app - along with Paytm and obviously without Cash on Delivery.
The Account section has your regular details along with settings to define your goal, lifestyle, fitness level and preferred workout types. Also, if you have made a booking on the app, you can go to the 'Me Cards' section to see interactive cards, similar to the Google Now cards, which contain your booking details and quick buttons for downloading the card or viewing the directions to the gym. It also has an internal rewards system accessible at the BYG money tab.
The app is pretty well thought out in terms of design and really simplifies the process of booking your fitness appointments, even though the wide array of options on it might get you confused if you're a newbie in the fitness game. A little more filtering based on my preferences for workout types and goals would have been perfect, but not entirely necessary right now. Overall, this is a must have app if you have complex fitness goals and want one interface to manage all those gyms and Zumba bookings.