13 tips and tricks to optimise your Vivaldi browser experience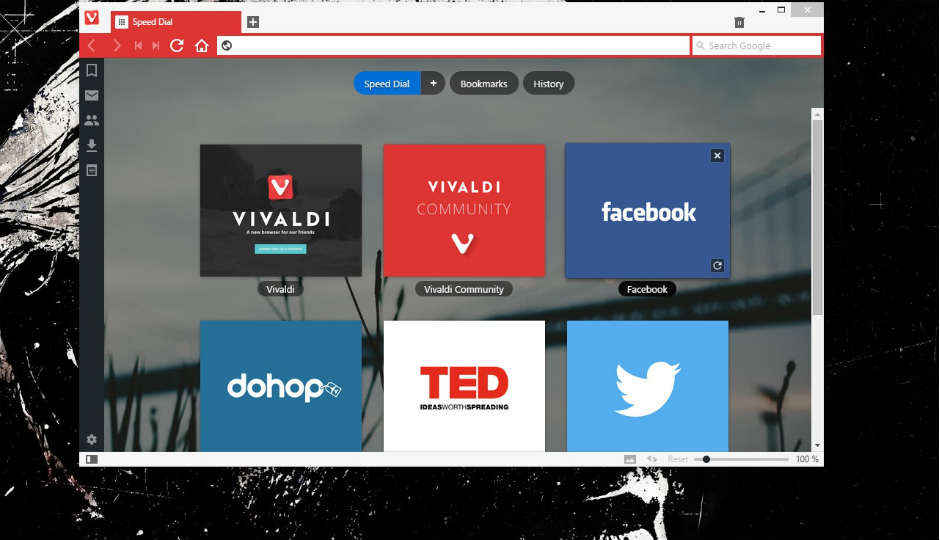 There's a new desktop web browser in town and it's gleaning appreciation from everyone. Called Vivaldi, the browser resembles Opera (the popular browser that's available across multiple platforms) and hosts a number of features similar to those previously cherished in the two-decade old browser. And there's a reason for it – Jon von Tetzchner, the man who co-founded Opera, has developed Vivaldi. Vivaldi is specifically aimed at power users and it's designed to give them back the advanced features of Opera that the Norwegian firm had dropped from its browser when adopting WebKit and Chromium technologies.
Please note that Vivaldi is still in its technical preview phase and thus not completed software. So basically it's a prime candidate for us early adopters to try out. It's available for Windows, Mac and Linux.
Turn off images
One of the handiest features in Vivaldi is its ability to quickly strip images from web pages. If you're on a slow network or just don't want to exhaust your data plan, turning off images can do wonders. To do this, click on the gallery (canvas) icon on the bottom right of the status bar below and select 'No images'. This will reload the website without displaying any image(s).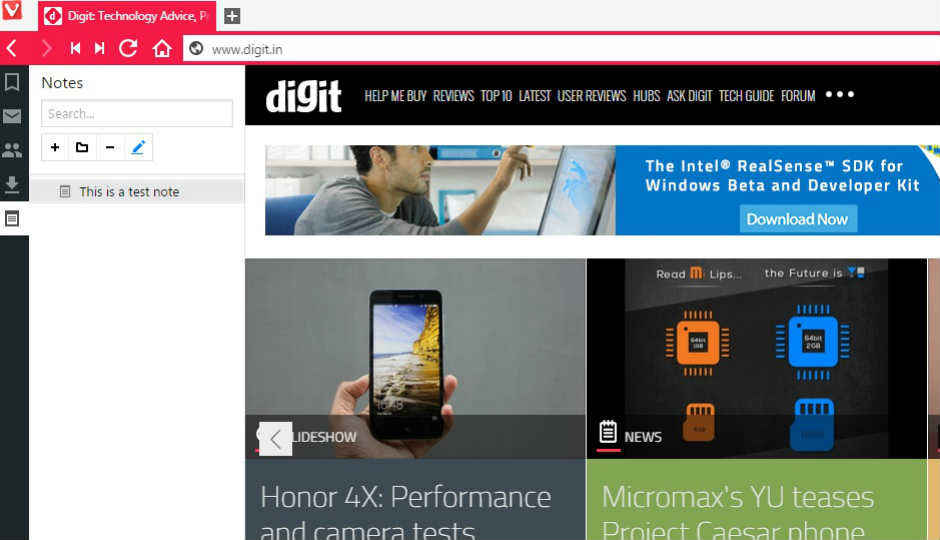 Built-in notepad
Came across something interesting on the web? Can't decide between EverNote, OneNote, and a plethora of other note-taking applications out there? Just use Vivaldi's in-built notepad. The new browser allows you to quickly scribble important things in its 'Notes' pane. You can open it by clicking the notebook icon on the left menu bar. The browser also gives you a single-click
option to add a screenshot of the web page as well as add its URL to the note. It saves notes and screenshots in the browser itself so no cloud account just yet.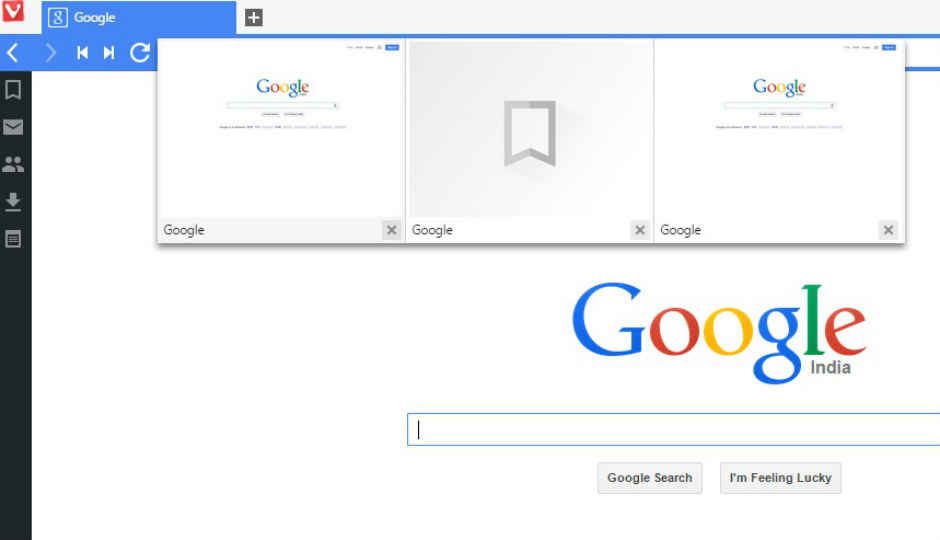 Stack similar tabs
You open an important link and then another. Within no time, your browser is clogged up with too many tabs. What do you do then? Chrome, Firefox, Safari and Internet Explorer – the four frontrunners in the browser space either don't consider it a big problem or are struggling to find the right solution. Vivaldi is addressing that with something called "stacking", wherein it allows users to group similar tabs (or whichever tabs you think should go together) and save space. To stack different tabs, open a new tab and right-click on it to select 'Collect tabs to stack.' This will allow you to have more than one tab placed under the new tab. You can ungroup the tabs by clicking on 'Expand the tabs,' if required.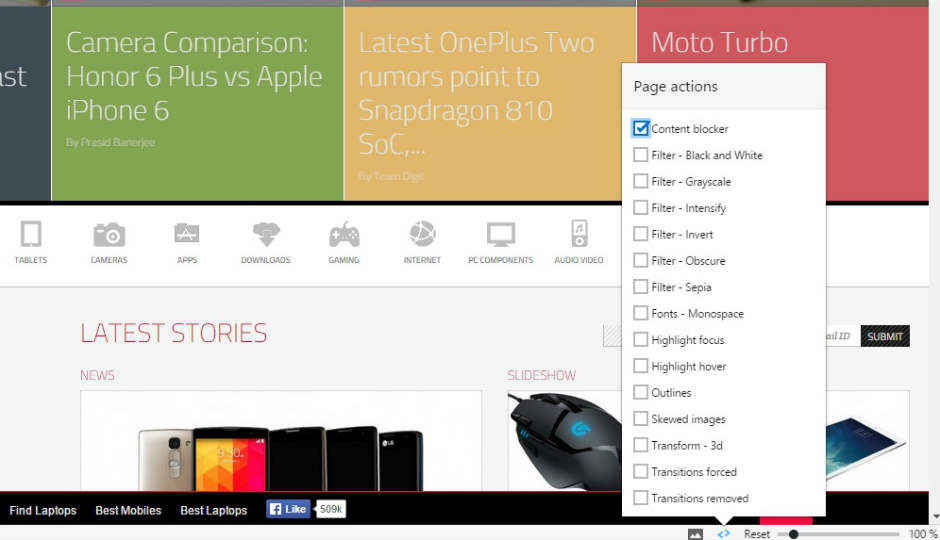 Remove ads and other annoyances
Don't like ads and other annoyances that publishers are throwing your way? Block them! Chrome, Firefox and other browsers support extensions that block ads, they don't have a built-in advertblocking feature that could do that. While Vivaldi doesn't support extensions yet, it bundles a feature called "Content blocker". To enable it, click on the closed arrow icons '<>' on the status bar at the bottom, and select 'Content blocker' from the options you see. This will reload the page and block everything but the actual content on the website.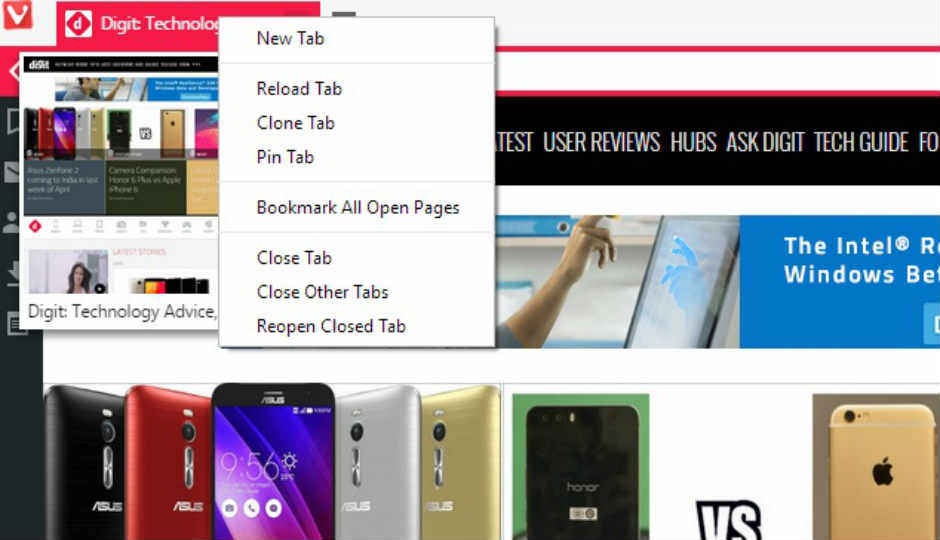 Bookmark all tabs
You need to shut down your computer or close the browser for some reason, but don't want to forget all the tabs you were working on. What do you do? Of course, you can always visit
the holy History section and go through all the links you visited, but that's such a Chromeish thing to do. Vivaldi lets you bookmark all the opened tabs in a single click. Right-click on any opened tab and click 'Bookmark All Open Pages.'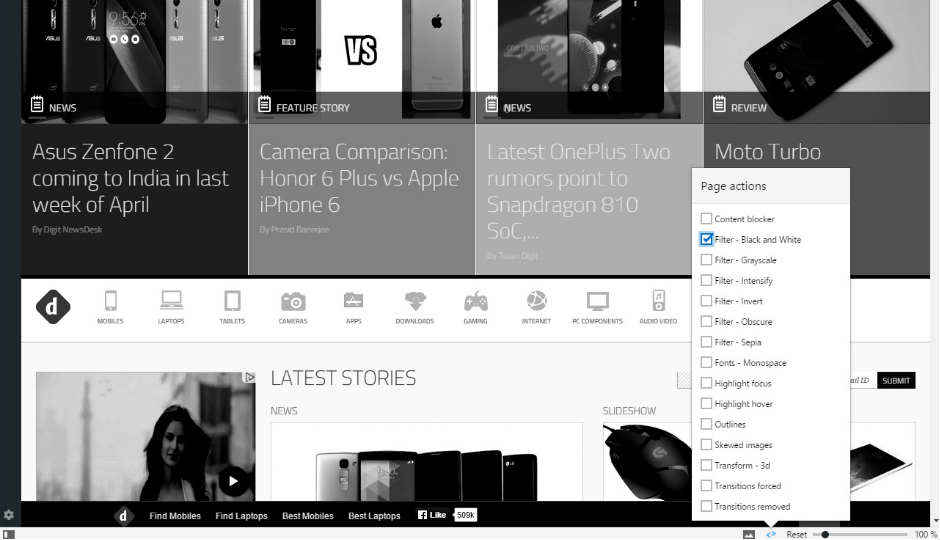 Spice up your reading
Vivaldi lets you add filters to web pages to improve (well at least, change) their appearance. Much like Instagram, where you can add filters and different shades to your pictures to revamp their look, Vivaldi lets you change colours on its web pages. The filters it offers include black and white, grayscale, intensify, invert, obscure and sepia. You can play with them from the same 'Page actions' button (closed arrow icons) from the status bar.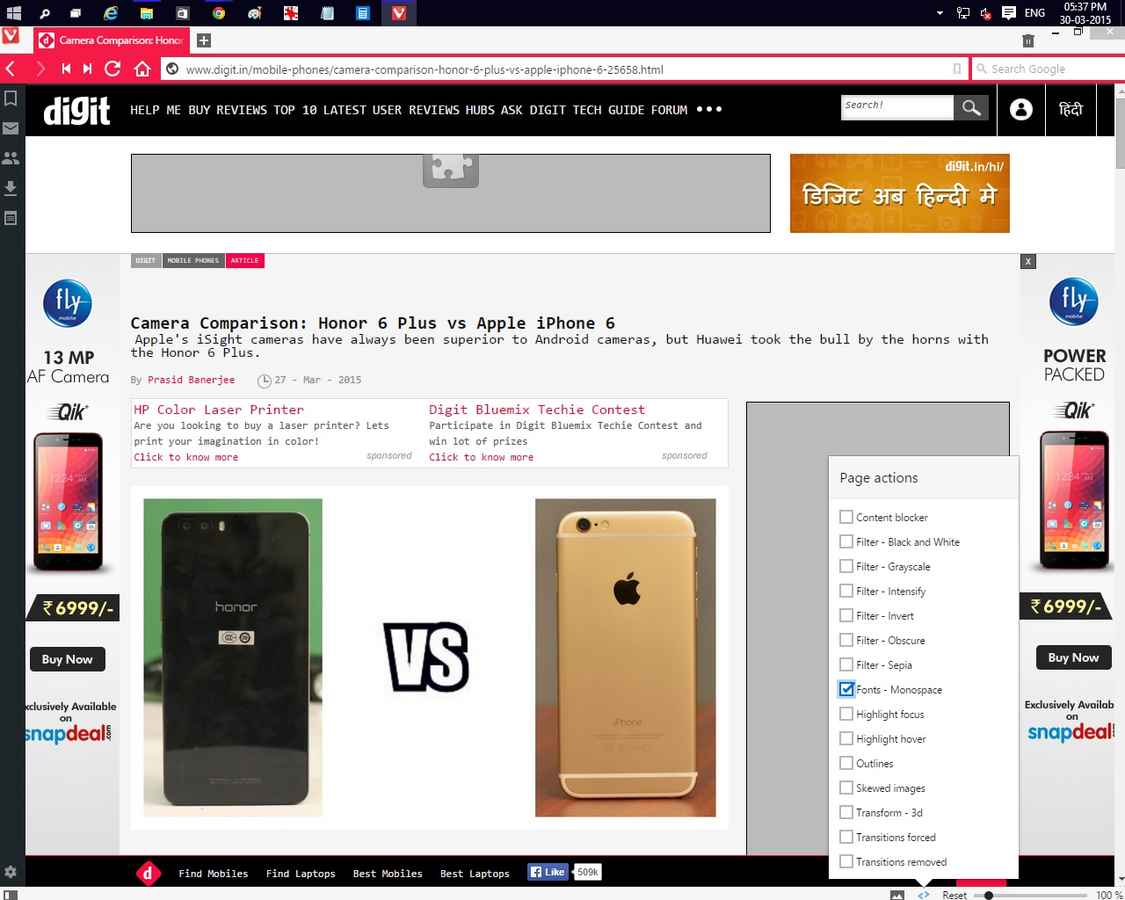 Add effects to pages
If filters aren't cutting it for you, Vivaldi has a range of other effects as well. Want to add a 3D effect to the pages you're browsing? You can do this from the Page Actions menu by clicking on 'Transform – 3d'. There are many more effects in case you want to explore other options. You can change the font to monospace, highlight a particular part of the web page, outline a paragraph and skew the images.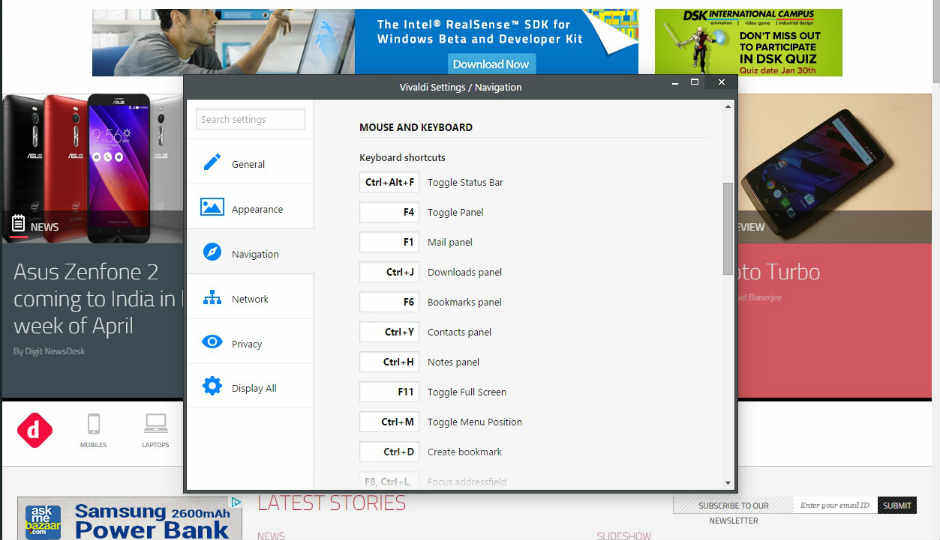 Customise shortcuts
From navigation to different places such as the download panel and bookmark menu to performing advanced tasks such as exiting the browser and importing settings, everything in Vivaldi can be reached using key combinations. You can set up your own combinations by going to Settings > Navigation and locating the Keyboard shortcut options. You can also use quick commands. You'll find this option under Tools after selecting 'Show Quick Commands', which allows you to quickly check the keyboard settings.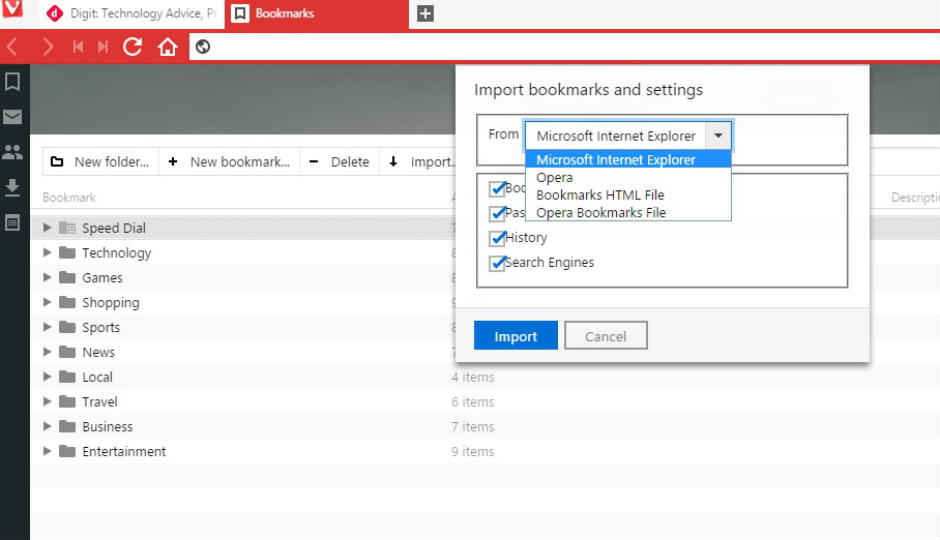 Quickly import bookmarks
Now that you love Vivaldi, maybe you are considering ditching other browsers and switch to this new amazing tool. To make yourself at home, the browser comes with an option to import bookmarks from other browsers you use. Go to File and select 'Import Data'. This will give you an option to import bookmarks from several popular browsers but not all. In case of the latter, you will first have to export your bookmarks from the other browser, and then import it to Vivaldi.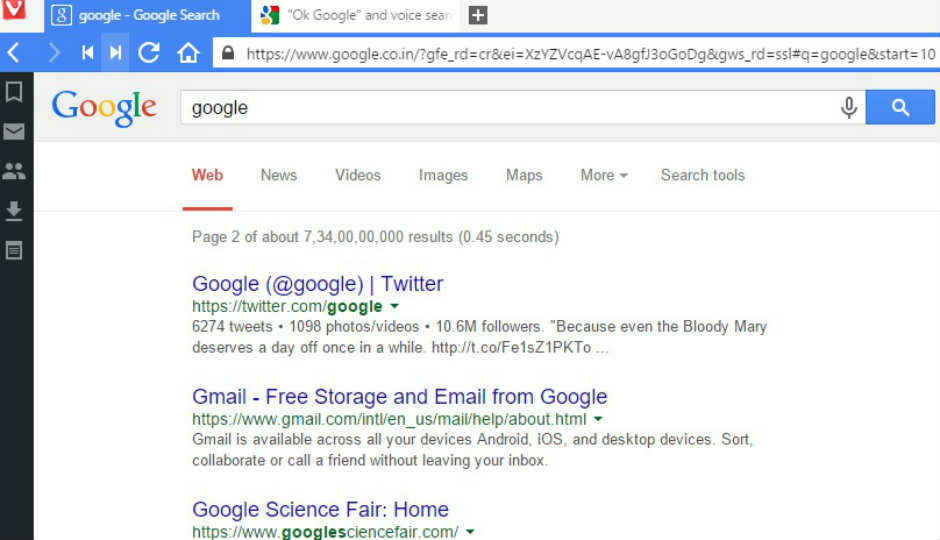 Artificial Vivaldi
Vivaldi comes with an intuitive feature called "Fast Forward", wherein it automatically predicts what you want it to do. So for instance, when you search for something on Google, if you click on the 'Fast Forward' button (placed next to the back button), the browser will take you to the next page of the search result. Another example is – when you're reading an article that is paginated (an article or a slideshow which has been divided into several pages), clicking on the Fast Forward button will take you to the next page.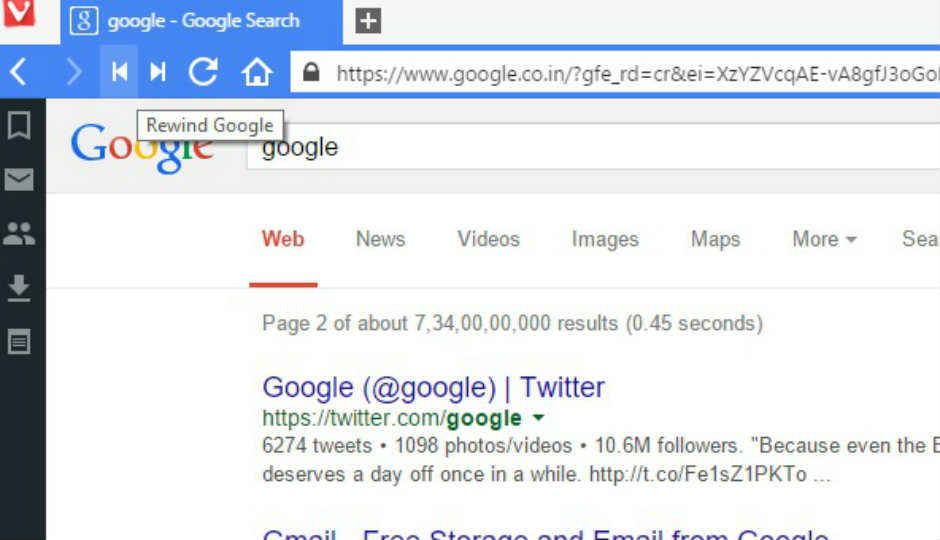 Rewind!
Start researching for a topic on Wikipedia or Google and half an hour later you're probably reading things completely off topic. Vivaldi aims to help users with such issues with its Rewind option. The Rewind button takes you back to the very first page you had clicked on that same domain. We tested it on a number of websites including Digit. in, Google.co.in, and Wikipedia.org and it worked seamlessly.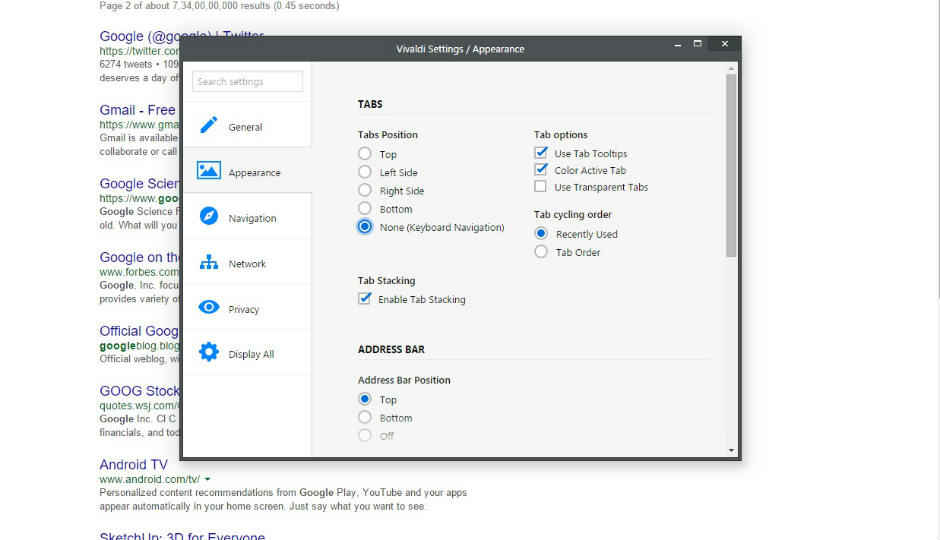 No cursor
What if you want to click on links listed on a webpage without moving your mouse? There is a feature for just that. Called "spatial navigation", the feature lets you reach and click on links by pressing the shift key and the arrow keys. As you press that combination, you'll see each link getting surrounded by blue links, giving you the option to navigate to pages without taking your hands off the keyboard. Anywhere bar If you are tired of seeing the address bar at the top, and don't wish to see tabs clogging up on your head, you can change their positions. You can move them to the right, or left, or at the bottom. To change their original position, go to Settings, click on the Appearance section and you will find the options to change it for both of them.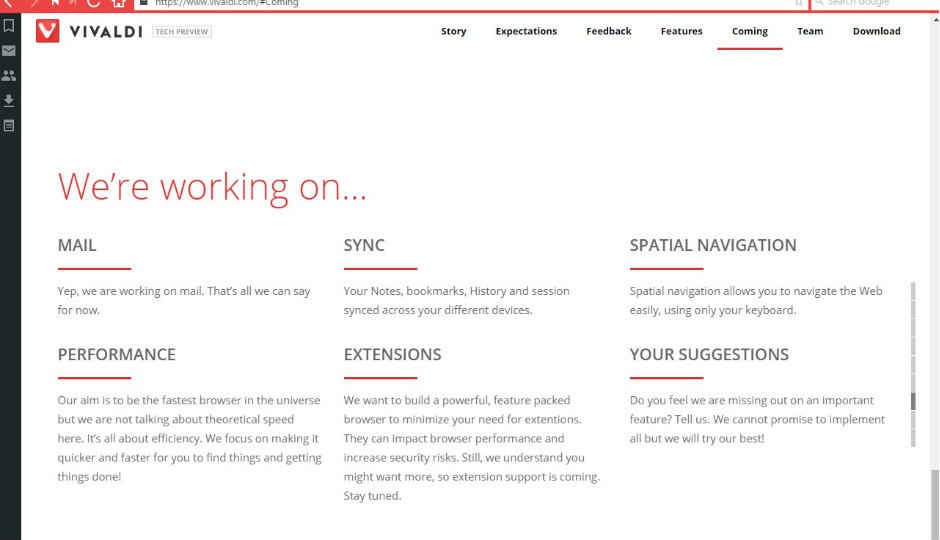 Share
If you came across a link that you want to share with your friends on social media or via email, Vivaldi will soon allow that. The browser will add this option, and also introduce an email client in its upcoming version.
Digit caters to the largest community of tech buyers, users and enthusiasts in India. The all new Digit in continues the legacy of Thinkdigit.com as one of the largest portals in India committed to technology users and buyers. Digit is also one of the most trusted names when it comes to technology reviews and buying advice and is home to the Digit Test Lab, India's most proficient center for testing and reviewing technology products.
Copyright © 2007-19 9.9 Group Pvt.Ltd.All Rights Reserved.