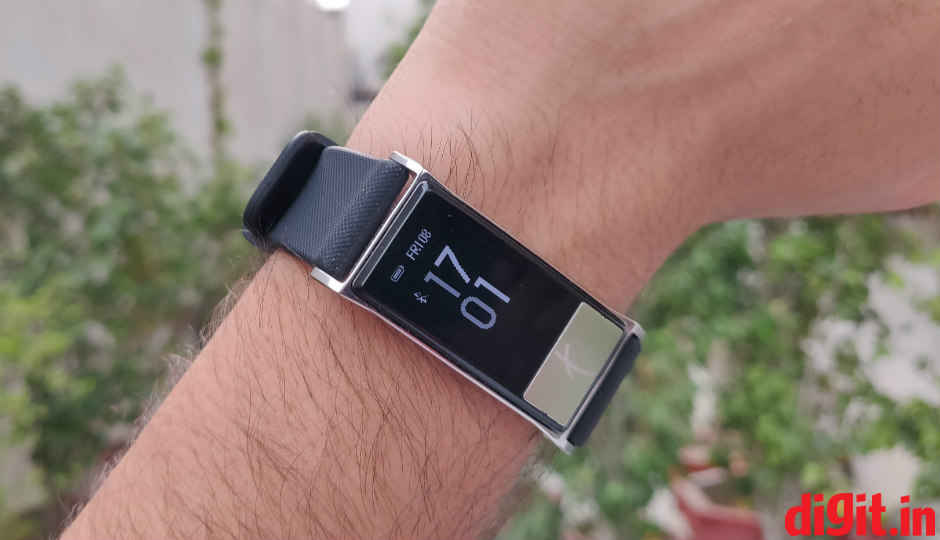 The budget wearable market right now is pretty much the same if i'm honest. Most fitness trackers in the range are capable of measuring your runs/walks, heart rate and sleep cycles. However, Smartron is thinking of something different with its new t.band wearable. During its launch, the company noted that instead of fitness aspects, the wearable would be more focused on the heath aspect. This focus can be seen in the feature set offered by the t.band device. Besides tracking runs, sleep and heart rate, the device is also capable of tracking Blood Pressure and ECG. All this makes for a pretty interesting device and I was quite keen to take the health tracker out for a spin.
Build and design
The Smartron t.band looks more like a slim watch than a fitness tracker thanks to its chrome accents. The device also sports a metal electrode on the front with the Smartron logo. This is used for blood pressure and ECG readings. These readings can be shared via a screenshot through WhatsApp, Gmail, Bluetooth and so forth. It also acts as a central button used to control the tracker. I personally didn't like the way the electrode stands out in the design. Maybe if it was a little more subtle, it would have looked better, but that's just my personal preference. Under the tracker is the optical heart rate sensor and a second electrode.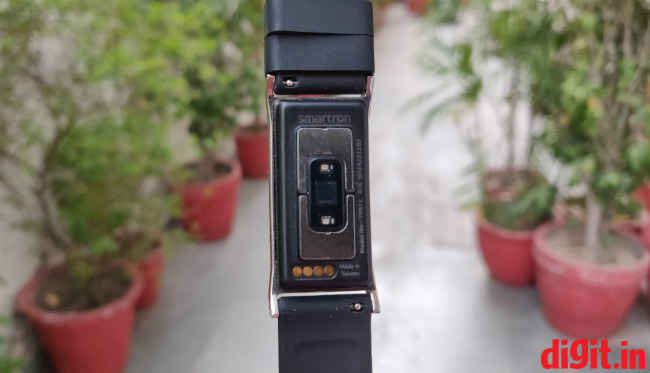 The watch comes with standard buckle-style straps, so wearing it and keeping it fastened shouldn't be a problem. The straps are interchangeable and the company is also offering a second strap with the device itself. That's a pretty neat offer. The straps can be removed from the central module via little latches. The straps themselves are pretty comfortable, but since the tracker is designed to be worn snugly in order for it to measure accurately, it can leave marks on your wrist after a while.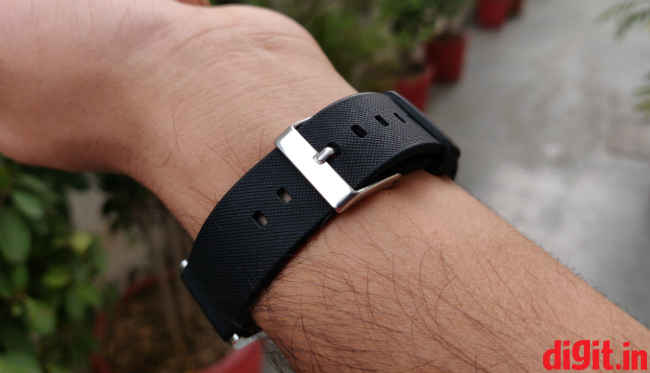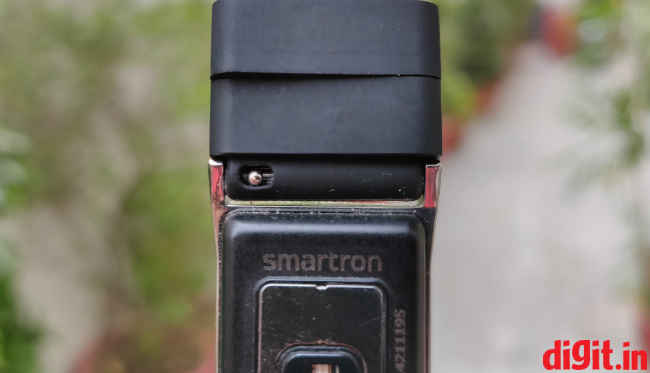 Features and app
As mentioned earlier, the t.band offers features that are not common in sub 5K. Besides the sports mode that tracks the distance traveled and the heart rate, the band can also track your blood pressure and ECG. The latter is used to give users an idea of their fatigue, stress levels and HRV (Heart Rate Variability). On the specific screen, users can tap the button to take a reading or double tap it to check out the history. These readings as well as history can be seen in the thealth app. The app also compiles all the data to create a Health Index, which give you a rough estimate of your health. However, the app doesn't explain what level it should be on, and as a result, I don't know if my Health Index of 53% is very low of if it is an average value.
The levels of stress and fatigue shown by the app seemed to vary. Some days, when I was sure I was tired, it would show that I'm energetic. In fact, everytime I used the feature, it showed that my fatigue level was 8, which is energetic according to the app. My stress levels fluctuated, but seemed to be a hit or miss affair. Sometimes, it seemed to be right, sometimes it would be off.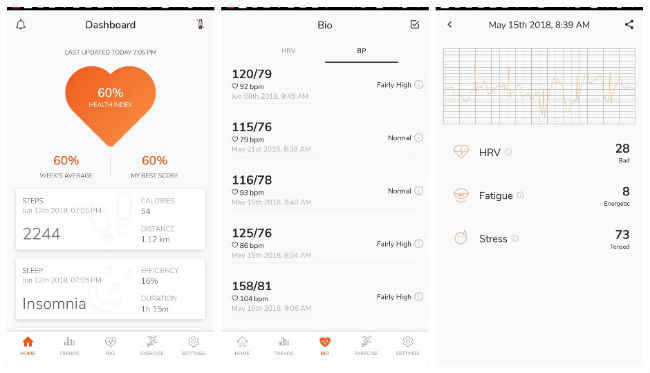 Taking blood pressure and ECG readings using the t.band is pretty straight forward, but it can get a little annoying to be honest. Taking a BP reading requires you to hold the metal electrode for 30 seconds, taking an ECG requires you to do the same, but it takes 2 whole minutes to complete a reading. And you're not supposed to move or talk during the time. 30 seconds or 2 minutes may not sound like much, but trust me, it feels like forever when you are sitting still and not moving. Even the slightest movement would render the test invalid and I would have to start all over again. As a result, I wasn't taking reading as often as I should.
When I initially started taking BP readings, I noticed that readings taken by the tracker were higher than usual. While I do suffer from mildly elevated levels of BP, those taken by the t.band were noticeably higher, especially the systolic readings. As it turns out, you will first have to calibrate the device by feeding in a reading taken by a BP monitor. While this did result in readings closer to my average BP level, it does mean that you will need access to a BP instrument, at least once. I tried fooling the device by addings wonky BP readings when trying to calibrate. However, the device failed to calibrate when i tried doing so.
Battery
The Smartron t.band offers a battery life of about 5 days, which is fine. While there are trackers that can offer a longer battery life, the device does offer a larger display than most as well as some added features.
The device charges via cradle that attaches to the wearable magnetically. This cradle is then plugged in via a microUSB cable. The cradle itself is really tiny. It might be the smallest I have seen. As a result. I was afraid that I might just lose it. So you got to be careful with it.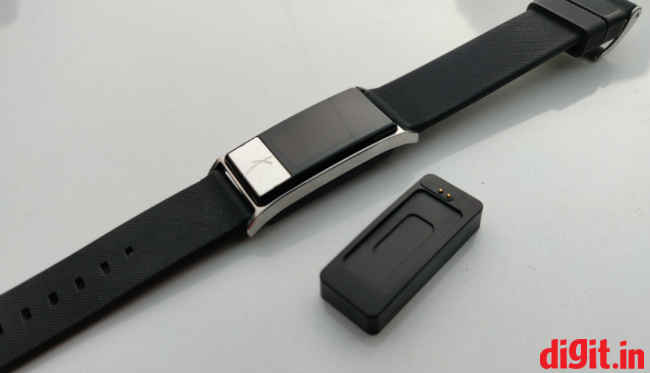 Conclusion
The Smartron t.band is definitely a very interesting piece of technology. While it might be priced higher than most other wearables at Rs 4,999, it does offer a bunch of interesting new features that no other tracker in this price range offers. If you have problems with BP, the t.band can offer a quick way to keep tabs on it without the need to lug around a BP instrument. Of course, while it cannot replace the device, it does get pretty close for a rough estimate.
Other Popular Deals
Pebble Technology Corp Time...

Rs. 9180

Buy Now

Samsung A7 2016 Edition Golden

Rs. 18990 *

Buy Now
*Includes Cashback
​