Arvind Sanjeev from Kochi India has made a makeshift Google Glass replica "Smart Cap" in a month for Rs. 4,500. Arvind made the replica using a USB webcam, a Raspberry Pi board, an LCD panel, aspheric lens, headphones, sun board sheet and glue.

The "Smart Cap" runs on open Android and includes a Raspberry Pi board and a 2.5inch LCD screen which is mounted on the cap. For the eyepiece Arvind has used an aspheric lens to make the screen visible from such close distance. And with the help of mic'ed headphones the device responds to voice commands as well.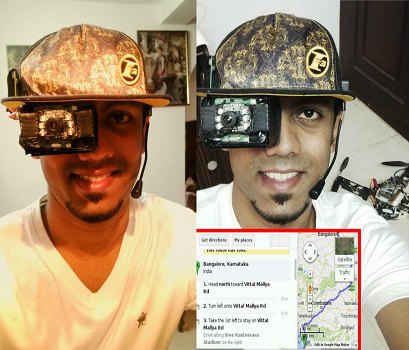 Arvind has put this project on his DIY profile and given steps to make it, so that enthusiasts who are interested in the project could make their own. Arvind has devised many other things besides this "Smart Cap" and all his projects are available as DIY (Do it Yourself) tutorials.
Arvind who has his own startup A.R.S devices has developed many innovative devices and products in the field of automation, connected devices and safety. Arvind has also applied for a patent for hardware he has developed with which you can control your car through a mobile app.
Source: hackday