Bringing Consumer VR experiences to a theatre near you, PVR and HP have partnered to launch Asia's first virtual realityWhere to buy

850

999

1800 Lounge at PVR ECX, located at Mall of India, Noida. This entertainment-technology partnership will see the roll out of 10 such virtual reality lounges across PVRs in India. Bollywood actor Ranbir Kapoor was present during the launch of the VR Lounges
Those who come to watch a movie at the theatre will be able to experience VR in one of the four VR pods located at the theatre. Besides games, users will be able to access interactive content curated from various genres such as drama, fiction, sci-fi, horror, action and more. Anyone who has purchased movie tickets at PVR ECX can avail the facilities of the VR Lounge.
Ajay Bijli, Chairman and Managing Director, PVR Ltd stated, "At PVR, we remain committed to providing an exceptional customer experience to our patrons. Virtual Reality is the dawn of the new era that opens up limitless possibilities of pure entertainment. It transcends all boundaries of what is rear and what is not and the high-end technology by HP provides a complete immersion into the digital world. Being the innovators in the realm of cinema, it is our complete endeavor to be in sync with world's latest technologies and VR is the next big thing that we have brought for the Indian audience. We are delighted to partner with HP given their unmatched expertise in the technology domain. We believe that the VR readiness of all their upcoming products is exceptional. VR is the reigning trend in the entertainment industry and we are sure our patrons will have a great time exploring it."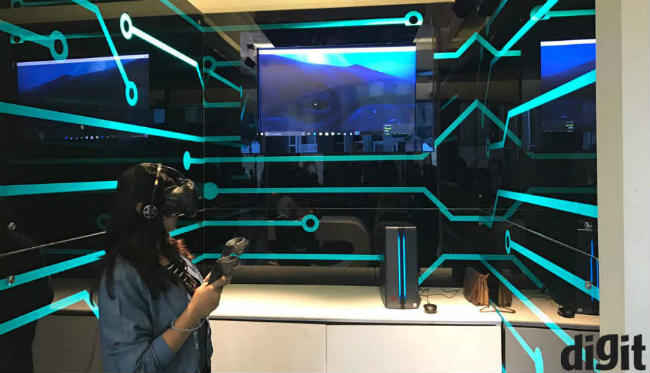 The VR Pods use HP Omen desktops and laptops, along with HTC Vive headsets and controllers. The desktop powering these experiences is the Hp Omen 870-260in, which houses the NVIDIA GTX GeForce 1080 graphics card. Besides the Omen 870-260in, the VR pods are also equipped with the HP Omen 17-W249TX and the W25TX, sporting the GTX 1060, GTX 1070 respectively.
In all, there are eight games that can be played such as Fruit Ninja, Space Pirate Trainer, The Visitor and more. Besides playing VR games, audiences will also be able to enjoy immersive experiences created by Disney, such as The BFG experience, The Jungle Book experiences, and more. One finds themselves on the branch of a tree with Kaa, the Snake staring them in the eye or inside the jungle book monkey temple. Aside from indulging in cinematic VR experiences, crowds can also immerse themselves in various settings such as that of watching a blue whale pass by while one stands on a wrecked ship.
PVR and HP note that prolonged use of headsets could cause nausea, hence the experiences range from a duration of 1.5 minutes to 10 minutes each.