Low memory size
Mi Tv 4x pro has a good quality of picture and good sound quality but the memory size is low. It has 2 GB RAM and 8 GB ROM. Which is too low we cannot store any photos and videos in that. One of my friend recommended me to buy ridaex tv. I bought it was similar as Mi Tv. The memory is high compared to mi TV it as 2 GB RAM and 16 GB ROM. Now I can store many photos and videos. Now I am using Ridaex tv only.
See More
Affordable TV with little issues
Pro: 1. Great picture quality, 4k looks great. 2. 4k and HDR at this price is believable 3. Patch wall is smooth and easy to operate 4. Look and design can't argue one of the best. 5. Remote is functional and effectively designed 6. Would definitely change the TV market for good. Cons : 1. Settings of the TV both for Picture and Sound is confusing and difficult to do. 2. Dolby and DTS is just logo and effect is not that the company claims, there is no perfect settings for the speaker, however with home theatre it solves that problem. 3. Limited Apps and no google store 4. Hardware i hope it lasts as other Japanese and Korean brands do. 5. Viewing angle is not as great as the company claims, the colours are distorted and whitish from angles at more then 110 degrees.
See More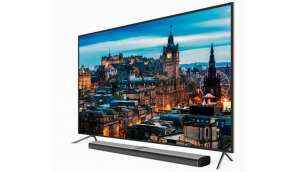 Have this Device?
Write a Review Now