TCL has launched the much anticipated C825 in India. The TV has mini LED backlighting and while this isn't TCL's first mini LED TV, it is the company's first Mini LED TV in India. The TV will be available in 55 and 65-inch sizes. The TV brings with it a host of interesting features including Dolby Vision IQ and IMAX Enhanced. Lets dive deep into the features and specifications of the TCL C825.
TCL C825 specifications and features
Since this is a min-LED TV, the TV adopts straight down backlight mode reducing the grain size of traditional LED to 100 ~200 μm. Put simply, this means that with more LEDs will power the backlight source and full-array local dimming, one can expect better brightness and contrast from the TV. The C825 also features Quantum Dot Technology which should help enhance the colours and overall picture quality of the TV.
In addition to supporting HDR and Dolby Vision, the TCL C825 also supports Dolby Vision IQ. So, what is Dolby Vision IQ? Well put simply, Dolby Vision IQ uses the metadata from the content being consumed along with the TVs light sensor to give viewers an optimal viewing experience. This means that the settings of the TV can be adjusted automatically to offer the best possible viewing experience based on the lighting of the room. It will be interesting to see this in action.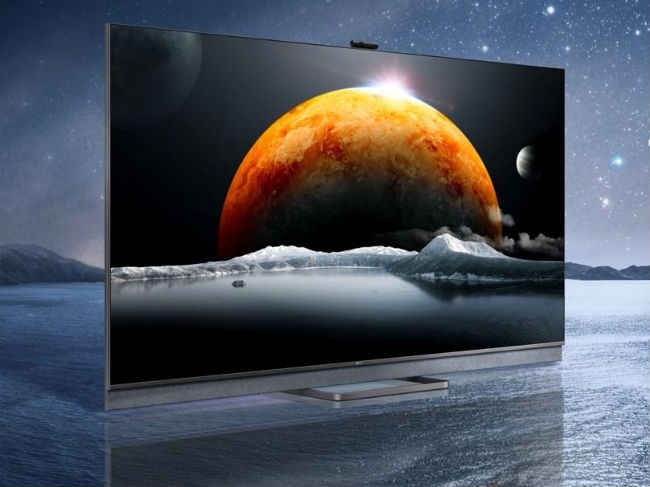 Under the hood, the TV has the MT9615 SoC. The TV has dual-band Wi-Fi and also boasts of HDMI 2.1 features. It also comes with Bluetooth 5.2.The TV boasts of 15MS input lag when put in game mode. The TV also boasts of 120Hz with MEMC enabled, something we saw on the Mi QLED TV as well.
The TV supports Dolby Atmos sound. The 65-inch variant of the TV has two 15W drivers + 30W subwoofer while the 55-inch variant has two 15W drivers + 20W subwoofer. The TV runs on the Android TV UI.