Best Smart Coffee Makers
Nothing beats the perfect cup of Joe in the morning. If you're a coffee connoisseur, you should definitely buy smart coffee makers that automate the brewing, making your life easier. Many of the best smart coffee makers allow you to control them via your smartphone so that you can get that cup brewing before you're even out of bed! Granted, as this is a niche market, it's a little hard to find a good smart coffee maker in India. To help you out, we've curated a list of the best smart coffee makers you can get your hands on! Although the prices of the products mentioned in the list given below have been updated as of 30th Sep 2021, the list itself may have changed since it was last published due to the launch of new products in the market since then.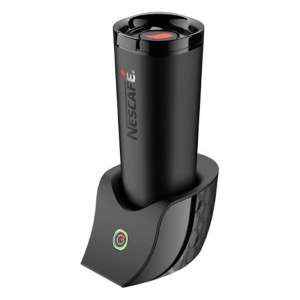 The Nescafe E-Smart Coffee Maker is ideal for working professionals on the go. This is because it functions as a coffee maker as well as a mug. You can get your coffee brewing while you're in the shower, and then just grab it and go! Don't worry about your coffee getting colder during your drive to work - the 210-ml mug has thermal insulation to trap in all the heat.
The Nescafe E-Smart Coffee Maker comes with a custom app with countless hot and cold coffee recipes. All you need to do is select the right recipe and let the machine do all the hard work. This handy appliance can be connected to your smartphone via Bluetooth. Unlike most coffee makers out there, this one doesn't take up a ton of space, making it ideal for smaller kitchens too. Finally, this smart coffee maker's price also makes it suitable for customers from varying walks of life.
SPECIFICATION
Capacity
:
1 Cup
Filter Type
:
NA
App enabled
:
Yes
Filter Type
:
NA

The Atomi Smart Wi-Fi Coffee Maker has a 12-cup carafe that should cut down the number of times you need to brew fresh coffee. You can customise the strength of the brew along with setting automatic on/off timers by using the brand's app. Additionally, this coffee maker is also compatible with Amazon Alexa and Google Assistant, so you can issue voice commands to initiate any operations.
Another handy feature is that the Atomi Smart Wi-Fi Coffee Maker comes with a removable, washable filter. You can use this as many times as indicated on the product's box and ensure you don't have to insert a new filter each time you want some coffee.
SPECIFICATION
Capacity
:
12 Cups
Filter Type
:
NA
App enabled
:
NA
Filter Type
:
NA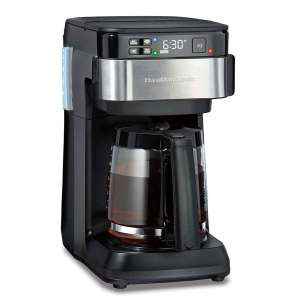 Often, people joke that they can never get their smart devices to do exactly what they want. This is generally the case when the smart device does not have Amazon's Alexa Certification. The Amazon Alexa Certification is used to verify that the product offers the right level of responsiveness, ensuring that you don't have to keep repeating yourself. The Hamilton Beach smart coffee maker has this certification, so you can rest assured that when you need to brew coffee, the machine will do it immediately! This is what makes it one of the best smart coffee makers.
The Hamilton Beach coffee maker comes with a glass carafe that holds up to 12 cups of coffee, provided that the cups are standard-sized ones. Thus, you can brew enough coffee to last a few days. Conversely, this also makes it appropriate for large families.
SPECIFICATION
Capacity
:
12 Cup
Filter Type
:
NA
App enabled
:
NA
Filter Type
:
NA

List Of Best Smart Coffee Makers (Aug 2022)
| Product Name | Seller | Price |
| --- | --- | --- |
| Nescafe E-Smart Coffee Maker | Amazon | ₹ 6,499 |
| Atomi Smart Wi-Fi Coffee Maker | Amazon | ₹ 6,697 |
| Hamilton Beach | Amazon | ₹ 16,281 |