The Mirrorless camera market has grown tremendously over the last few years, with every major camera manufacturer now playing the field. India has seen a massive growth in the uptake of mirrorless cameras, thanks to their compact size, DSLR-level performance and to an extent, better pricing. Canon and Nikon were the only two hold-outs from the professional mirrorless space, but those two have also jumped into the pool with their respective cameras. If you're looking for a new camera for your professional needs, then a mirrorless camera will definitely get the job done, and one from this list will be more than sufficient. Although the prices of the products mentioned in the list given below have been updated as of 11th May 2021, the list itself may have changed since it was last published due to the launch of new products in the market since then.
The Sony Alpha a9 II isn't just the top-performer in Sony's mirrorless camera lineup, but it is the best performing camera in the entire mirrorless segment. Designed to be a used by professional sports shooters, it features the best of all essential technologies and more. It features a 24-megapixel full-frame sensor with a memory module sandwiched within the sensor stack. The camera features 693 phase detect AF points and 425 contrast-detect AF points and when all this comes together with the Bionz-X image processor, we get some serious speed. The Sony A9 MarkII is capable of shooting at upto 20 frames per second without any frame blackout, all while being able to track any fast moving subject across the frame. The camera also features a completely silent electronic shutter, something wildlife photographers are going to absolutely love. The Sony A9 MarkII is an absolute beast of a camera, but is specifically designed for sports shooters, wildlife photographers and other such professionals.
SPECIFICATION
Resolution
:
NA
Shutter Speed
:
NA
ISO
:
NA
Optical Zoom
:
NA
Sensor Size
:
NA
Weight
:
NA
Camera Type
:
NA
Price
:
₹399990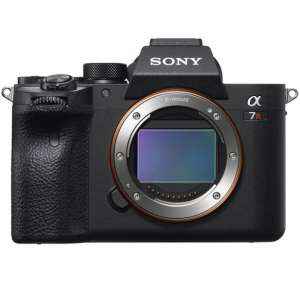 Those who need to shoot in the highest possible resolution, the Sony A7R IV packs a 61-megapixel full-frame sensor. This is the highest pixel density in a full-frame sensor not just on a mirrorless camera, but even DSLRs haven't hit this pixel count yet. The R in this series is all about resolution, so if you feel that you need to shoot an image with an even higher resolution, the A7R IV offers a clever solution. Sony has implemented a technique called Pixel-Shift, where the camera shoots multiple images of the scene, but shifts the sensor by 1 pixel in each direction, creating an image with an approximate resolution of 240.8 megapixel. The Sony A7R IV is not just a one trick pony though. It boasts of a fast Hybrid AF system with 567-point focal-plane phase-detection AF and 425-point contrast-detection AF.
SPECIFICATION
Resolution
:
NA
Shutter Speed
:
NA
ISO
:
NA
Optical Zoom
:
Yes
Sensor Size
:
NA
Weight
:
576
Camera Type
:
NA
| | | | |
| --- | --- | --- | --- |
| | Available | ₹ 284990 | |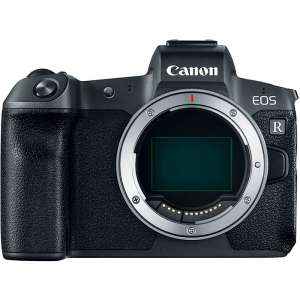 Canon finally jumped into the professional mirrorless camera space with the EOS R, and the camera is one that makes a big splash. The EOS R uses Canon's new RF mount, the connectors for which allow far more information exchange between the lens and the camera than previously possible on Canon's imaging systems. The EOS R comes with a 30.3 megapixel full-frame sensor. The EOS R also continues to house Canon's Dual-Pixel AF, a very useful feature for film-makers who would rather rely on AF while shooting. The Dual Pixel-AF, when paired with the excellent touchscreen on the EOS R, will allow you to shift focus very smoothly from one object to another. The Canon EOS R is a great choice for those who love brand Canon but wanted something far more compact that a regular DSLR.
SPECIFICATION
Resolution
:
NA
Shutter Speed
:
NA
ISO
:
NA
Optical Zoom
:
NA
Sensor Size
:
NA
Weight
:
NA
Camera Type
:
NA
| | | | |
| --- | --- | --- | --- |
| | Available | ₹ 142995 | |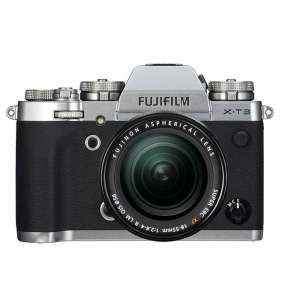 Fujifilm may not be the more popular brand of mirrorless cameras, but it has a major loyal audience amongst fine art photographers. While it comes with an APS-C sensor, the Fujifilm X-T3 is no slouch of a performer. At the heart of all that is impressive about this camera is the proprietary 26 megapixel X-Trans CMOS 4 sensor. Fujifilm's X-Trans sensors don't use the traditional Bayer-pattern colour filter, but instead randomize the placement of the RGB pixels. This allows the sensor to simulate Fujifilm's classic film-stock in surprisingly accurate manner. The X-T3 is geared for photographers who need a "fast" camera, in terms of AF and shooting speed. The 425 AF points make the AF system reliable enough to keep up with the 20fps burst speed the camera boasts of.
SPECIFICATION
Resolution
:
NA
Shutter Speed
:
NA
ISO
:
NA
Optical Zoom
:
Yes
Sensor Size
:
4
Weight
:
1.91
Camera Type
:
NA
| | | | |
| --- | --- | --- | --- |
| | Out of Stock | ₹ 111999 | |
| | Available | ₹ 130537 | |
The Sony A7 III is the third generation of the mirrorless camera that started it all for Sony. However, in the time it took Sony to release the A7 III, its released multiple cameras, all the learnings from which have tricked into this shooter. The Sony A7 III continues to have a 24 megapixel full frame sensor, but implements a faster burst mode and a much more robust AF system when compared to its predecessor. The ergonomics are notably improved and you also get dual SD Card slots, but only one of them is UHS certified. If you're looking for an all-round performer, the Sony A7 III is a great choice, especially given the fact that the E-Mount has a massive lineup of native lenses now available for it.
SPECIFICATION
Resolution
:
NA
Shutter Speed
:
NA
ISO
:
NA
Optical Zoom
:
NA
Sensor Size
:
NA
Weight
:
NA
Camera Type
:
NA
| | | | |
| --- | --- | --- | --- |
| | Available | ₹ 154950 | |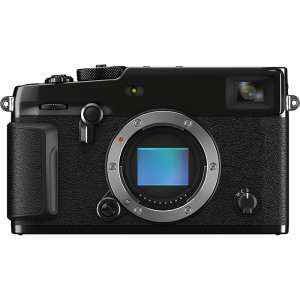 Back in the day when Fujifilm announced the X-Pro 1, it gained popularity for its rangefinder-style design. The viewfinder was the real show-stopper here, but so was the X-Trans sensor. The X-Pro 3 features Fujifilm's proprietary X-Trans CMOS 4 sensor, an APS-C sensor with 36-megapixel resolution. The camera is weather sealed and has a titanium top and bottom plate for maximum durability., Additionally, Fuji has really been improving its video features over the last few years, so the X-Pro3 is capable of shooting up to 4K video at 200Mbps bitrate. The X-Pro 3 also brings two new film simulation modes; Classic Neg. and Monochromatic color, bringing the total number of film simulation modes to a whopping 17.
SPECIFICATION
Resolution
:
NA
Shutter Speed
:
NA
ISO
:
NA
Optical Zoom
:
NA
Sensor Size
:
NA
Weight
:
NA
Camera Type
:
NA
| | | | |
| --- | --- | --- | --- |
| | Available | ₹ 148349 | |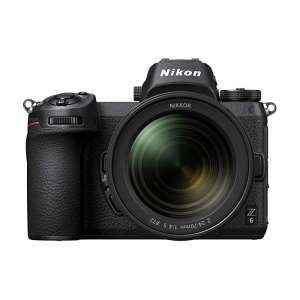 Nikon's initial entry into the mirrorless space was incredibly underwhelming, with the Nikon J1 and V1 being super weak in comparison to the competition at the time. However, since then, Nikon has had the time to reassess the situation and the result is the Nikon Z6. A camera worthy of professional use, the Z6 features a full-frame 24.5-megapixel sensor packed into an ultra-compact body. Nikon cameras have always been known for their great ergonomics, and the Nikon Z6 continues that tradition. Many users of the camera have noted that it feels just like using Nikon's DSLR in terms of handling, minus the heft. The AF system is capable of functioning in lights as low as -6eV, and it can also keep up with the camera's drive system to deliver 12fps with focus tracking. Perhaps the biggest criticism of the Z6 is that it contains only a single memory card slot, and that too an XQD card slot. While dual card slots have their advantages, XQD cards are more resilient to read/write problems and can also withstand far more abuse than a regular SD card.
SPECIFICATION
Resolution
:
NA
Shutter Speed
:
NA
ISO
:
NA
Optical Zoom
:
24.5
Sensor Size
:
24-70
Weight
:
585
Camera Type
:
NA
| | | | |
| --- | --- | --- | --- |
| | Available | ₹ 142500 | |
| | Available | ₹ 170478 | |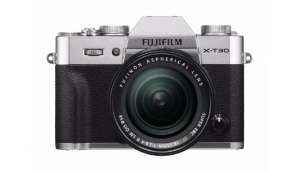 Resolution

26.1 million pixels
The Fujifilm X-T30 takes the best features of the X-Pro 3 and the X-T3 and distills then into an even more compact and budget friendly package. The body of the X-T30 weighs a ridiculous 383 grams only, perfect for anyone who needs a lightweight camera for their vacations, or any kind of shooting in general. You still get a 26-megapixel APS-C X-Trans CMOS 4 sensor, along with the film simulation modes that are signature Fuji. The other advantage you have is that noise in the high ISO images will resemble film grain, allowing you spin it as "an artistic vision." Perhaps the most eye-popping feature of the X-T30 is its ability to shoot at 30fps, with a 17shot buffer when shooting in RAW and 36 shot buffer for lossless JPG. The X-T30 is also capable of shooting video in both DCI4K and native 4K resolution, making it a rather well rounded package for anyone who chooses to go for it.
SPECIFICATION
Resolution
:
26.1 million pixels
Shutter Speed
:
NA
ISO
:
ISO 51200
Optical Zoom
:
NA
Sensor Size
:
NA
Weight
:
383g
Camera Type
:
Digital
| | | | |
| --- | --- | --- | --- |
| | Available | ₹ 64638 | |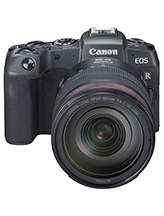 Canon followed up the professional EOS R rather quickly with another professional-centric mirrorless camera, the EOS RP. Featuring a full frame 26 megapixel sensor, the EOS RP may be priced cheaper than the EOS R, but it is no slouch. With a focus system that can work in light as low as -5eV, and also capable of locking focus with blistering speeds. Canon claims that the EOS RP's AF system can lock focus in 0.05 seconds, thanks to several factors. First, they've got the Dual-Pixel AF, then there's also the RF mount which allows the camera and lens to exchange a far larger amount of information than previously possible. IT also helps when you have 4776 AF points, offering almost the whole sensor's worth of coverage. It also helps the EOS RP that it is the cheapest full-frame mirrorless camera available today, and if you get the EF to EOS-R adapter, it opens the door to using any existing Canon EF lens.
Pros
Excellent image quality even at high ISO

Light body with great ergonomics

Intuitive and very effective touchscreen
Cons
SPECIFICATION
Resolution
:
1.04
Shutter Speed
:
NA
ISO
:
NA
Optical Zoom
:
NA
Sensor Size
:
26.2 MP
Weight
:
485g
Camera Type
:
Digital
Price
:
₹110495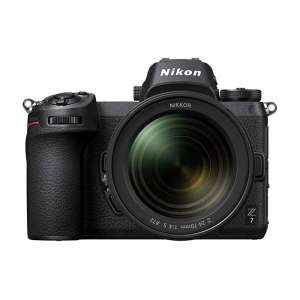 Nikon's second professional camera, the Nikon Z7 competes with Sony's R series directly. Featuring a high-resolution 45.7-megapixel full frame sensor, the Nikon Z7 offers some very impressive features to anyone looking for a professional shooter. While it may at first appear that the Z7 is all about photography, the new Version 2.0 firmware also brings RAW video shooting to the Z7, making it equally a treat for independent filmmakers. The 453-point focal plane phase detect AF system works equally well in both photo and video modes, regardless of whether it's a single-AF or continuous tracking. Nikon has also given the option to tailor the AF sensitivity and AF sped, so as to simulate the focus-pulling effect that feature films often tend to utilize. The 5-axis in-body image stabilization helps remove shake, but when shooting video, you can also use electronic vibration reduction in conjunction with IBIS for incredibly smooth video.
SPECIFICATION
Resolution
:
NA
Shutter Speed
:
NA
ISO
:
NA
Optical Zoom
:
Yes
Sensor Size
:
NA
Weight
:
2.95
Camera Type
:
NA
| | | | |
| --- | --- | --- | --- |
| | Out of Stock | ₹ 219990 | |
| | Out of Stock | ₹ 294995 | |
List Of Best Mirrorless Digital Cameras In India
| Product Name | Seller | Price |
| --- | --- | --- |
| Sony Alpha a9 II | N/A | ₹399990 |
| Sony Alpha a7R IV | amazon | ₹284990 |
| Canon EOS R | flipkart | ₹142995 |
| Fujifilm X-T3 | flipkart | ₹111999 |
| Sony Alpha a7 III | amazon | ₹154950 |
| Fujifilm XPRO 3 | amazon | ₹148349 |
| Nikon Z6 | flipkart | ₹142500 |
| Fujifilm X-T30 | Tatacliq | ₹64638 |
| Canon EOS RP | N/A | ₹110495 |
| Nikon Z7 | flipkart | ₹219990 |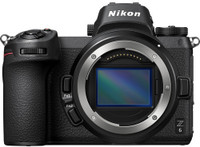 NIKON Z 6 Mirrorless Camera Body Only(Black)
₹ 142500

|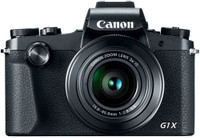 Canon PowerShot G1X Mark III(24.2 MP, 3x Optical Zoom, 12x Digital Zoom, Black)
₹ 68740

|