Best Mirrorless Digital Cameras in India (2022)
The Mirrorless camera market has grown tremendously over the last few years, with every major camera manufacturer now playing the field. India has seen a massive growth in the uptake of mirrorless cameras, thanks to their compact size, DSLR-level performance and to an extent, better pricing. Canon and Nikon were the only two hold-outs from the professional mirrorless space, but those two have also jumped into the pool with their respective cameras. If you're looking for a new camera for your professional needs, then a mirrorless camera will definitely get the job done, and one from this list will be more than sufficient.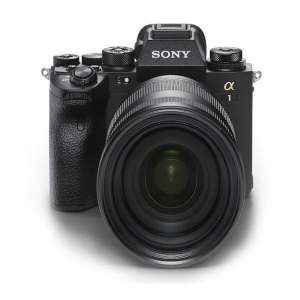 The Sony Alpha 1 is a 35mm full frame mirrorless camera featuring a 50.1 megapixel stacked CMOS Exmor RS sensor with a native aspect ratio being 3:2. The camera can shoot 8K video at 30p and a 4K video at upto 120p for those silky smooth cinematic slo-mo B-rolls. The A1 can also shoot stills at a whopping 30 frames a second in burst mode in RAW plus JPEG. It boasts a staggering 759 focus points, covering about 92% of the image and a focus sensitivity range of EV-4 to EV20. With its Fast Hybrid AutoFocus, the camera is sure to focus on anything pretty quickly. And we do mean literally everything. The A1 features Real-time Eye Auto focus for humans, animals and even for birds! Yes, you read that right. Birds! For the still images as well as movies, the camera can go from ISO 100 to 32000 and if you want more, ISO 50 to ISO 102400 can be set as an expanded ISO range. The shutter speed can range anywhere between 1/8000 to 30s for the mechanical shutter and 1/32000 to 30 seconds for the electronic shutter. The camera is a jack of all trades suitable for photo and video enthusiasts both and gets our vote for the Best mirrorless camera in India at the time of writing.
SPECIFICATION
Resolution
:
NA
Shutter Speed
:
NA
ISO
:
NA
Optical Zoom
:
4x
Sensor Size
:
NA
Weight
:
737
Camera Type
:
NA
Price
:
₹499,990

The Canon EOS R3 is a 35mm mirrorless full-frame camera with a 24.1 megapixel back-illuminated stacked CMOS sensor. Rocking 1053 auto focus points, this camera can shoot upto 6K resolution. The camera supports shooting in JPEG, RAW, C-RAW and HEIF formats with an in-body 5-axis sensor-shift image stabilisation for steady stills and video. In the video department, the camera is capable of recording either at 6K 60 FPS RAW or 4K 120FPS 10-bit. In terms of low-light performance, this beast offers a range of ISO100 to ISO102400 by default with an option to extend it till the range of ISO50 to ISO204800. It has two shutters - mechanical and electronic. The former offers a shutter speed of 1/8000 to 30seconds while the latter offers a shutter speed of 1/64000 to 30seconds. There is one feature on the Canon EOS R3 that is more ground-breaking than most and that is the inclusion of Eye Control AF. What that means is that the camera can change focus points simply by tracking the movement of the users eye while looking through the viewfinder.The Canon EOS R3 mirrorless camera's price is ₹4,99,995 (Body Only)
SPECIFICATION
Resolution
:
NA
Shutter Speed
:
NA
ISO
:
NA
Optical Zoom
:
NA
Sensor Size
:
NA
Weight
:
NA
Camera Type
:
NA
Resolution

102 million pixels
The Fujifilm GFX 100 is a medium format camera. For those who don't know, a medium format sensor is much larger than the likes of even a full frame camera with the GFX 100 featuring a sensor size of 43.8mm x 32.9mm. This size advantage paves the way for ultra high resolution pictures with it's 100 Mega Pixel sensor. The camera also features 425 auto focus points which helps it in capturing crisp clear images. The camera supports shooting in JPEG, RAW and 16 bit TIFF. It has an auto ISO functionality from 100-12800 which expands to 50-102400 when boosted. This camera by Fujifilm has a minimum shutter speed of 30 seconds and a maximum shutter speed of 1/4000 seconds using manual and 1/16000 on the electronic shutter. Although the Fujifilm GFX 100 can me considered a majorly photography centric camera, it can still shoot video at a max resolution of 4K at 39 frames per second. The Fujifilm GFX 100 supports the Fujifilm G Mount designed to accommodate GF sensors with 100MP+ sensors in mind. The G Mount has a short flange focal distance which contributes to the camera's compact form and mirrors GF lenses' design and advanced performance.
SPECIFICATION
Resolution
:
102 million pixels
Shutter Speed
:
NA
ISO
:
NA
Optical Zoom
:
NA
Sensor Size
:
NA
Weight
:
1400g
Camera Type
:
NA
The Sony A7S III is a full-frame mirrorless camera, with one of the best 4K video feature sets, including 4K 120fps capture for slow-motion playback. This model is Sony's video centric camera, featuring 4K recording at 10 bit quality, subject tracking at 10fps and unbeatable face and eye autofocus detection. It measures 3.8 by 5.1 by 2.7 inches and weighs about 1.4 pounds (without a lens). The on-body controls are well-aligned with the finger ridges, hence it is ergonomically sound. It also includes a touch screen menu to access control options. It can also be used vlogging, as its rear LCD rotates a full 180 to act as a front-facing display, although most buyers would use this as their main video work-horse. Sony has many full-frame camera models, out of which the A7 line occupies the target line between video enthusiasts and professional videographers. The A7S III, in particular, is on a mission to deliver the best features to all young, old and new.
SPECIFICATION
Resolution
:
NA
Shutter Speed
:
NA
ISO
:
NA
Optical Zoom
:
NA
Sensor Size
:
NA
Weight
:
699 g
Camera Type
:
NA
Price
:
₹334,990
rk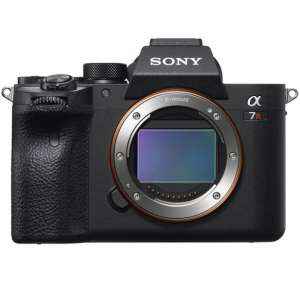 The Sony A7R is a full-frame, 129 x 96 x 78 mm mirrorless camera with a BSI-CMOS sensor that has an output of up to 61MP. With 16-shot high resolution Pixel shift Multi Shooting mode, it can produce up to 240 MP images for still-life. The the electronic viewfinder features a large 5.76 million-dot OLED screen with 100% field coverage.. One of the new features in this particular model is its attention-to-detail in 4K shoots. Additionally, Sony has welcomed many interface changes such as increasing the number of ports and changing the AF tracking system to be more powerful yet easy-to-use. It also has an increased battery life compared to its competitors. The A7R IV is Sony's fourth release in the A7R line, with a drastic change in the autofocus implementation. Sony has introduced a clearer, people-centric autofocus, which makes it ideal for shooting events but it also has Eye Tracking Auto Focus for animals. Its high resolution attribute also makes it ideal for portraits.
SPECIFICATION
Resolution
:
NA
Shutter Speed
:
NA
ISO
:
NA
Optical Zoom
:
Yes
Sensor Size
:
NA
Weight
:
576
Camera Type
:
NA

The Nikon Z7 II is yet another Full-Frame mirrorless camera with a CMOS 35.9 mm x 23.9 mm, and 45.7megapixels. With a wide range of modes in creative picture control, you can explore a wide range of effect settings for your pictures. The Nikon Z7 II comes with a Hybrid phase-detection/contrast AF with AF assist so the photographers have their work eased out for them by the camera itself. The camera can shoot high resolution with output of 45.7 megapixels with no-optical low-pass filters. It also has a whole bunch of video formats with a variety of resolutions and FPSs. With dual EXPEED 6 image-processing engines, the Nikon Z7 II boasts super fast performance which can continuously shoot 77 shots in full resolution RAW at 10 frames per second.
SPECIFICATION
Resolution
:
45.7 million
Shutter Speed
:
NA
ISO
:
NA
Optical Zoom
:
NA
Sensor Size
:
35.9 x 23.9
Weight
:
615 g
Camera Type
:
NA
Price
:
₹222,431
rk

The Nikon Z6 II is an upgraded version of Z6 with a revamped feature set. One of the major improvements is the processor, as the Z6 II has acquired an Expeed 6 processor. It has UHD 4K 60p support for video with certain crops for high resolution capture. The polished autofocus can function at a light of -4.5EV, with both human and animal face-eye detection. As this feature is one of the major upgrades, its accessibility has been improved by making it a prominent feature among the on-screen controls. Z6 II has a maximum burst speed of 14 fps on single frame autofocus, which drops to 12 fps with a tracking subject. For its price, the Nikon Z6 II offers a wide range of features for both photographers and videographers. Overall, the Nikon Z6 II boasts of a good ergonomic setting that is common to all Nikon models, with an excellent image output quality and an additional second card slot for more memory.
SPECIFICATION
Resolution
:
24.5 million
Shutter Speed
:
NA
ISO
:
NA
Optical Zoom
:
NA
Sensor Size
:
35.9 mm x 23.9 mm
Weight
:
705 g
Camera Type
:
NA
Price
:
₹209,995
rk
Sony's A7C is the world's smallest and lightest full frame mirrorless interchangeable-lens camera and comes with a 24MP BSI-CMOS sensor and 5-axis image stabilization. With this model, Sony emphasizes on portability with no compromise in the features. This compactness is achieved by a space-saving shutter and optical stabilisation unit. The standard ISO 100–51200 is extendable to ISO 50–204800. And full-frame sensor allows exceptional image quality because of increased light collection with reduced noise and more detailed highlights and shadows. It captures 4K images at an exceptional 30p with a crop, and 24p, along with a 120p support for FullHD capture. It is compatible with a vast number of lenses as it features the Sony E- mount. There is some compromise in the on-screen control features and button ergonomics due to its very compact build. However, the model makes up for it with exceptional performance,long battery life, and being extremely compact despite having a full frame sensor.
SPECIFICATION
Resolution
:
NA
Shutter Speed
:
NA
ISO
:
NA
Optical Zoom
:
NA
Sensor Size
:
NA
Weight
:
509 g
Camera Type
:
NA
Price
:
₹167,990
rk
The Sony A6600 is one of the best APS-C sensor 4K mirrorless cameras on the market. It has incredible in-body stabilization, exceptional autofocus and fast shutter speed. The A6600 has a resolution of 24MP with 4K video recording at upto 30 frames per second . The A6600 has one of the best battery life, featuring the same battery that is used in the more professional Sony cameras. This model comes with two ports for both headphone and microphone to assist with audio recording and review. Sony changed many of its typical ergonomic features in the A6600. It now has a thicker grip and an extra function button along with controls for easy access. Additionally, Sony has introduced Wi-Fi image transfer to iOS and Android devices using their Image Edge application, along with Bluetooth for location data.
SPECIFICATION
Resolution
:
NA
Shutter Speed
:
NA
ISO
:
NA
Optical Zoom
:
NA
Sensor Size
:
NA
Weight
:
503 g
Camera Type
:
NA
Price
:
₹124,990
rk

The Fujifilm XT-4 is the company's best shooter in the mirrorless APS-C camera line-up. It weighs 607g with a 5.3 x 3.7 x 2.5 inch body, which is pretty compact for a camera that is capable of this level of performance. It is capable of 20fps continuous shooting and captures 4K images up to 60p. It is an upgrade from the XT-3 in terms of in-body stabilization, and its compact frame allows better grip and manual focus. Along with colour and shape, Fujifilm has now added distance information and face/eye detection to aid movement-based photography and videography. It has acquired three image-saving compression formats which are uncompressed, lossless compression and 'compressed' Raw, which is the latest addition. This new saving format claims to enhance the quality of the shadow regions of the image. XT-4's upgraded interval timer system makes sure that there aren't any dramatic jumps in the exposure from one frame to the other. The Fujifilm XT-4 caters to still and moving image enthusiasts, as a jack-of-all-trades option with heavy emphasis on a faster shutter unit and improved stabilization. The XT-4 boasts some of the best-pictures and video outputs.
SPECIFICATION
Resolution
:
NA
Shutter Speed
:
NA
ISO
:
NA
Optical Zoom
:
NA
Sensor Size
:
NA
Weight
:
607g
Camera Type
:
NA
rk

List Of Best Mirrorless Digital Cameras In India (May 2022)
| Product Name | Seller | Price |
| --- | --- | --- |
| Sony Alpha 1 | N/A | ₹ 499,990 |
| Canon EOS R3 | N/A | N/A |
| Fujifilm GFX 100 | N/A | N/A |
| Sony A7S III | N/A | ₹ 334,990 |
| Sony Alpha a7R IV | Amazon | ₹ 284,990 |
| Nikon Z7 II | N/A | ₹ 222,431 |
| Nikon Z6 II | N/A | ₹ 209,995 |
| Sony A7C | N/A | ₹ 167,990 |
| Sony A6600 | N/A | ₹ 124,990 |
| Fujifilm XT-4 | N/A | N/A |
Canon PowerShot SX430 IS 20MP Digital Camera with 45x Optical Zoom (Black)
₹ 17,800

|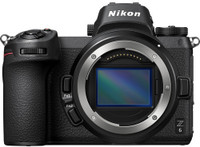 NIKON Z 6 Mirrorless Camera Body Only(Black)
₹ 142,500

|
Sony a7 III
₹ 149,990

|
Nikon AF-P DX NIKKOR 70-300 mm
₹ 19,990

|
Nikon D7500
₹ 87,490

|