Best Hand Blenders in India
Whether you want to prepare a delicious salad dressing or simply mix ingredients for a recipe, hand blenders are hands down amongst the most versatile kitchen appliances! You can use them to whip out chutneys, milkshakes, and even grind a mix of nuts, allowing you to get most things done within a few minutes.
With so many applications, you might think that a hand blender's price would be somewhere in the expensive range. But you couldn't be more wrong as even the best hand blenders prices in India don't tend to go far beyond the affordable range! However, the only challenge in finding a quality hand blender is that there are many options available in the marketplace, with most of them being nothing more than a sham!
So, if you are planning to purchase a hand blender online, make sure to shortlist only those variants that come equipped with multiple speed settings, a sturdy build, an elegant design, and most importantly, quality attachments. To ensure you select one of the best hand blenders in India, we have handpicked the ten best variants on online based on their reviews and features. So, without any further ado, let's take a look at the list.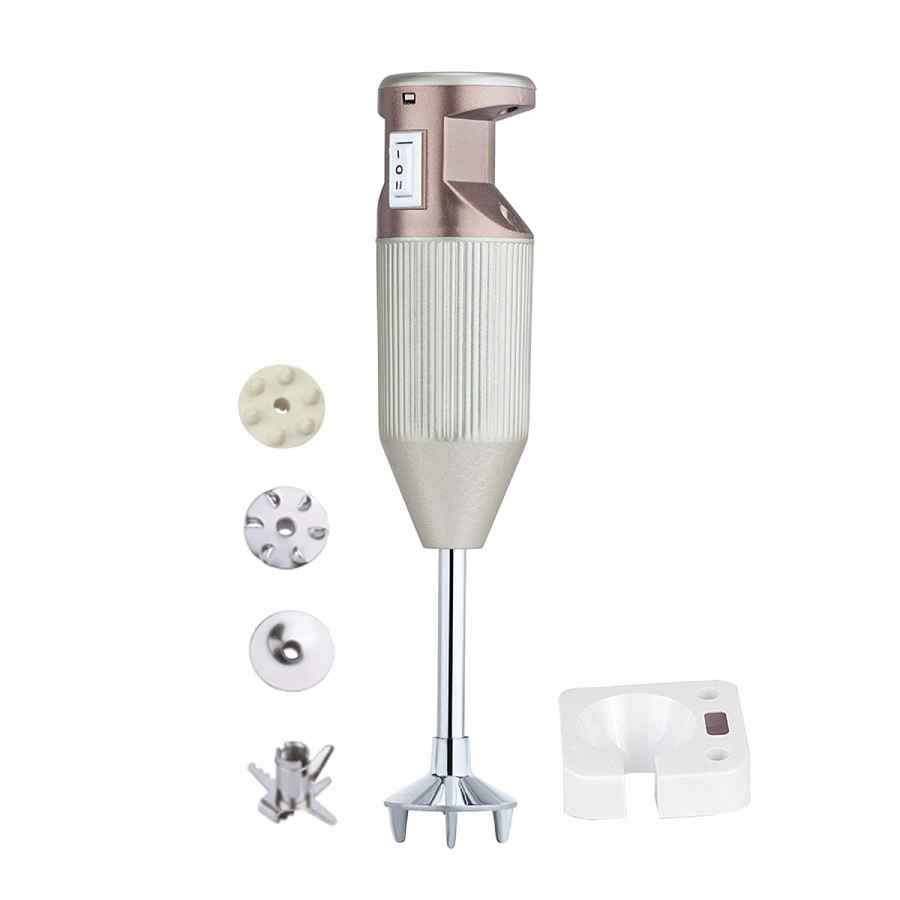 The Rico Hand Blender is powered by a robust 150-Watt copper motor that boosts the processing of hard ingredients. It comes equipped with a 2-speed variable push-button which allows you to switch between two modes seamlessly. The appliance ensures optimal comfort and convenience. It features an ergonomic design that provides an easy grip, keeping accidental spillage at bay.
Plus, it also has a wall mounting stand that makes its storage easy. Since it does not have any grooves, you can easily clean its surface without any effort! The Rico Hand Blender has a total of four blades, which make it suitable for juicing, chopping, mixing, and whipping. In addition to these features, the appliance also boasts an ABS plastic body, sharp blades, and Quick Blend technology.
Available

₹ 1,399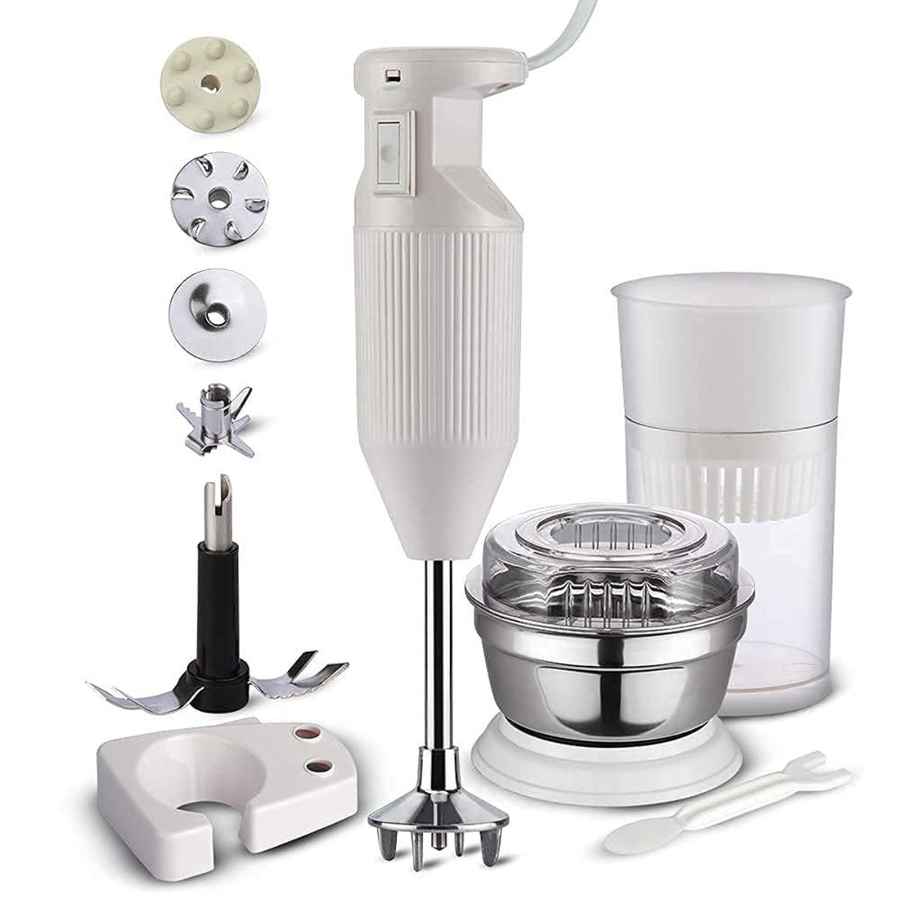 The OXENTA Hand Blender is a great appliance to simplify your daily mixing and blending tasks. Sourcing its power from a heavy-duty 150W motor, the appliance can perform every task quickly within a few seconds. It offers a total of five blades, including a whipper blade (for making lassis), a mincer blade (for making purees), a mixer blade (for blending ingredients), a juicer blade (for citrus juicing), and a chutney blade (for making chutneys). All in all, it is certainly one of the best hand blenders in India!
To ensure it doesn't take up a lot of space in your kitchen, the OXENTA Hand Blender has a wall mount attachment. Moreover, to protect the motor from overheating, the appliance boasts an anti-heat mechanism. Apart from these, some of its other noteworthy features are a comfortable grip, big blades, and energy-efficient operations.
Available

₹ 1,499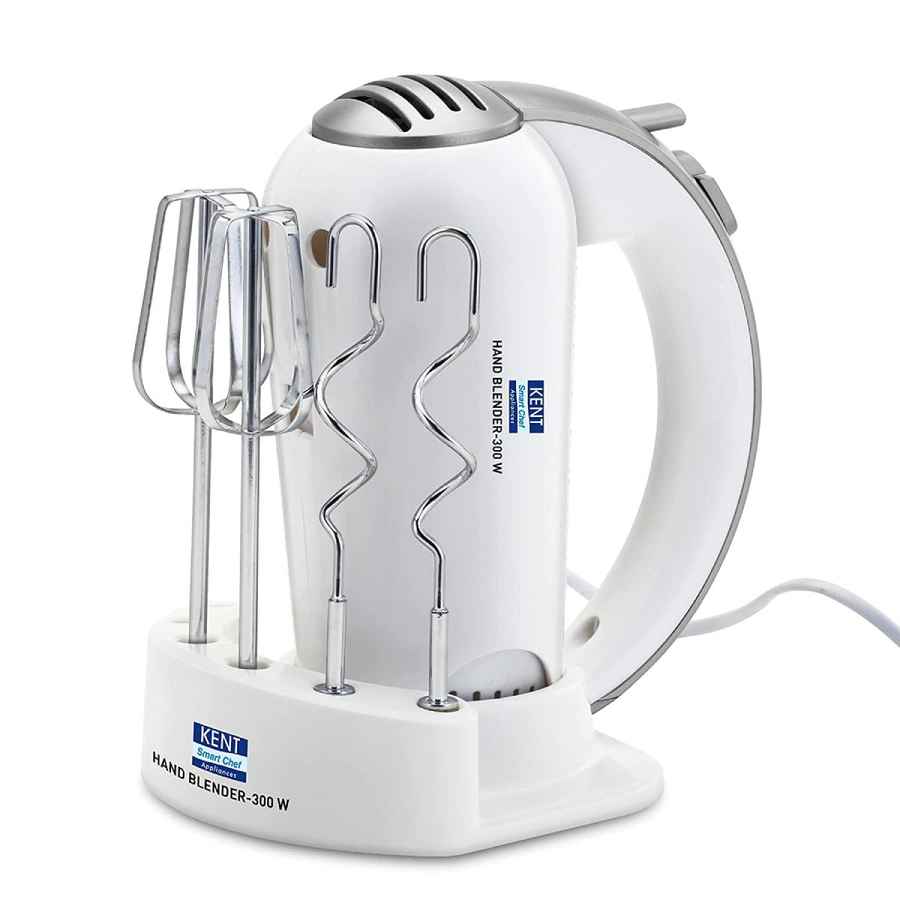 A smart and powerful appliance to make your kitchen chores easy, the KENT Hand Blender comes equipped with a 300-Watt copper motor. Since copper is known for its low resistance and superior conductivity, it can keep the motor cool, even during longer operations! You can ladle out purees, soups, icings, whipped eggs, and more with this appliance in little to no time! Since it has 5 variable speed controls, it ensures you remain creative inside the kitchen. Just switch the speed, and you can fold, blend, mix, whip, and make a cream for specific recipes.
The KENT Hand Blender comprises a turbo function that can further accelerate the speed during mixing. For ultimate safety and protection, the blender has an auto cut-off feature through which the appliance automatically turns off in case of overheating. Some of its other prominent features are multiple attachments and a sturdy build.
Available

₹ 1,714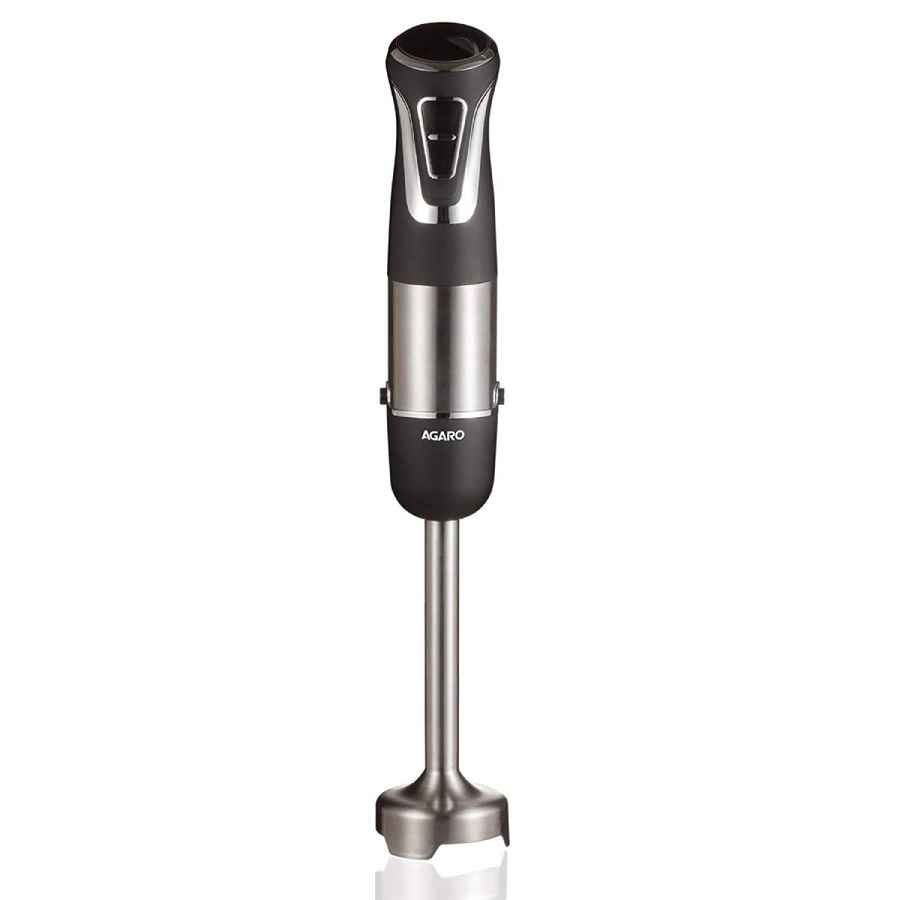 Behind the sleek design of the AGARO 33285 Hand Blender lies a powerful 800-watt motor that can tear through anything! From smoothies and milkshakes to vinaigrette or other salad dressings, you can easily become a master chef of your own kitchen, making it one of the best hand blenders in India. Its S-shaped stainless-steel blades act as powerful cutting tools, which can blend fruits into juices quickly and efficiently. Plus, since the blades are housed within a protective guard, the appliance protects you against accidental injuries and reduces the splashing of contents during blending.
Featuring a BPA-free and food-grade-based body, the AGARO 33285 Hand Blender ensures that your food remains healthy and retains its nutritional value. Since its shaft is easily detachable, the post blending clean-up would not be a pain! The appliance also delivers silent operations, a speed regulator dial, and 1.5 meters extra-long cord.
Available

₹ 1,899
The Actiforce Hand Blender lets you enjoy optimum power, thanks to its powerful 350-Watt motor that assures extreme blending and promising performance. Working on ActivFlow Technology Blades (two straight inside blades for extreme mixing and two in-curved outside blades for optimal grabbing), the appliance can cut, blend, and mix anything and everything.
The appliance has been thoughtfully designed to deliver maximum comfort and ease during operations. This includes a detachable plastic foot for convenient cleaning and maintenance, a push-button for easy blending, an anti-splash guard for keeping the countertop clean, and an ergonomic design for comfortable use. The Actiforce Hand Blender also incorporates an aesthetic design and a lightweight body.
Available

₹ 876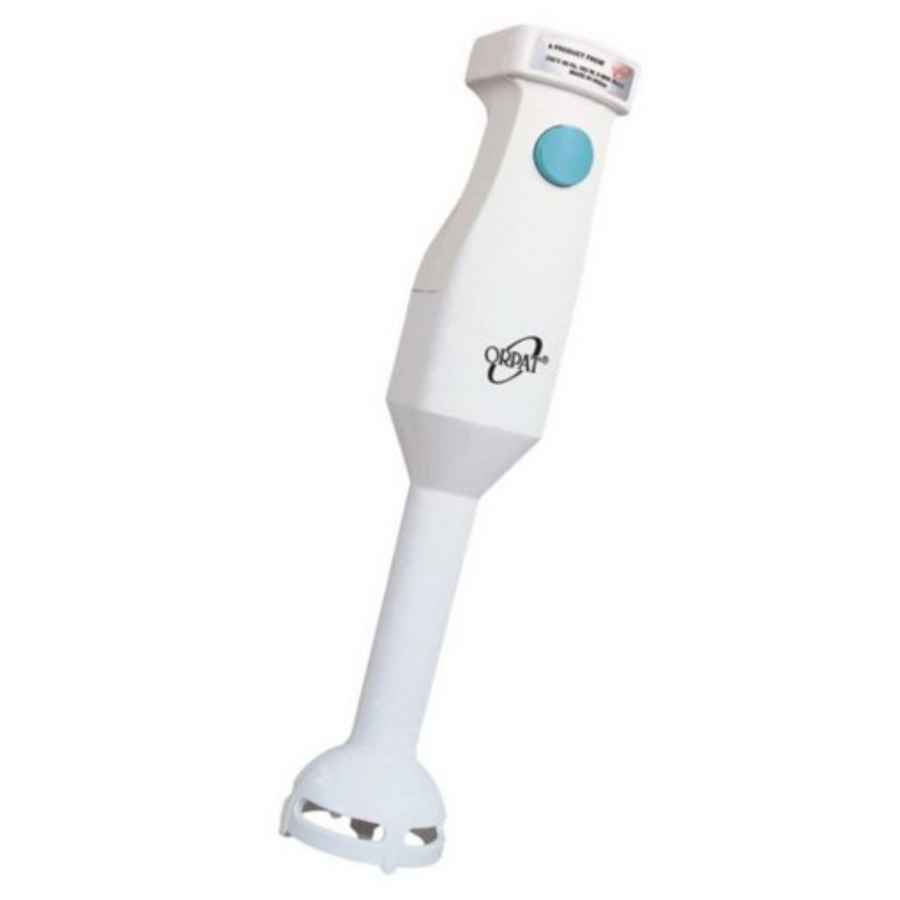 The Orpat HHB-100E Hand Blender comes furnished with a robust 230-Watt motor, which has been evenly balanced for power and long-lasting durability. It can crush veggies, fruits, nuts, meat chunks, and ice in a flash, ensuring you can get done with your blending in little to no time! Having a total of 6-speed settings, the device is ideal for handling different ingredients and is nothing short of a saviour for your busy kitchen. Hence, there is no doubt that it is one of the best hand blenders in India!
As all of the washable parts easily detach from the motor, it is much easier to clean. However, make sure to remove the slip grips before washing the attachments in your dishwasher! Powered by sharp stainless-steel blades that can grind and blend every fine particle perfectly, the Orpat HHB-100E Hand Blender guarantees phenomenal blending results.
Available

₹ 715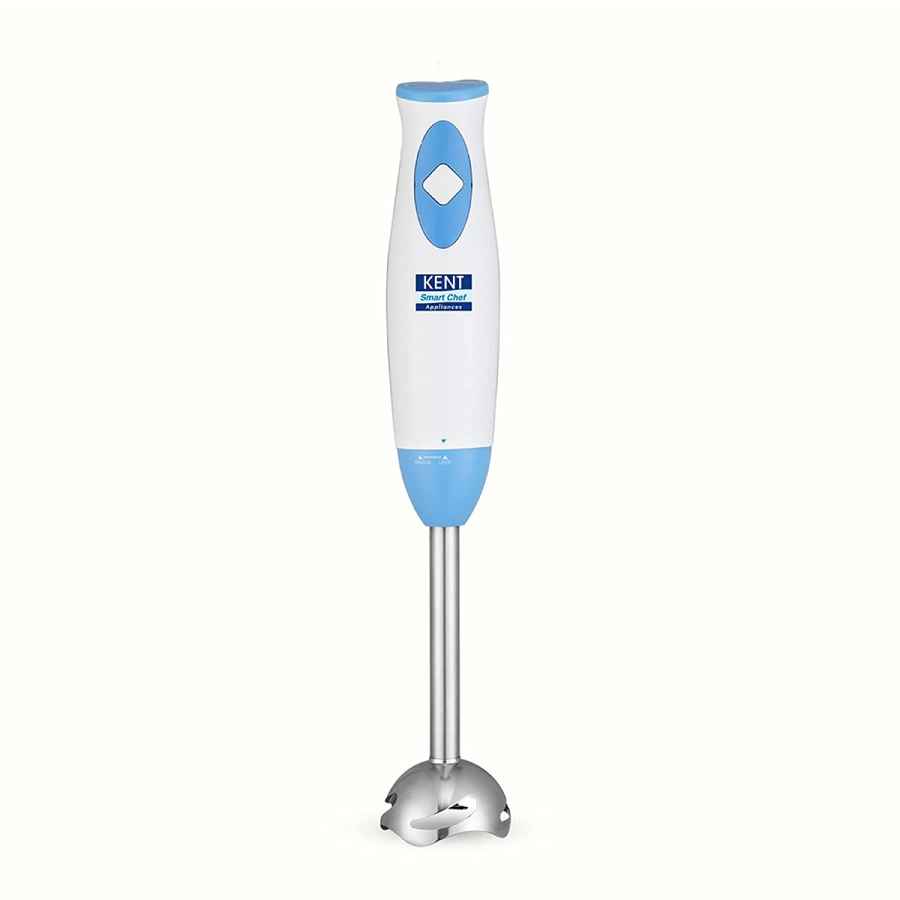 The KENT Ezzy Hand Blender has an outstanding speed of 11,500 RPM, allowing you to easily chop vegetables, blend soups, and puree tomatoes, for a variety of recipes. Using a 300-Watt copper-winded motor, the appliance can work for longer hours without heating up. Fitted with an ABS Body for extra durability and rust-resistant stainless-steel blades for precision, the KENT Ezzy Hand Blender can deliver a long and seamless service life.
While it operates on a high power of 11,500 RPM, it doesn't produce much noise, ensuring you can cook without disturbing anyone in the home. Plus, its stainless-steel detachable shaft and stem makes the cleaning process easier. Being an ideal choice for both hot and cold blending, you could blend nearly anything with this appliance.
Available

₹ 1,450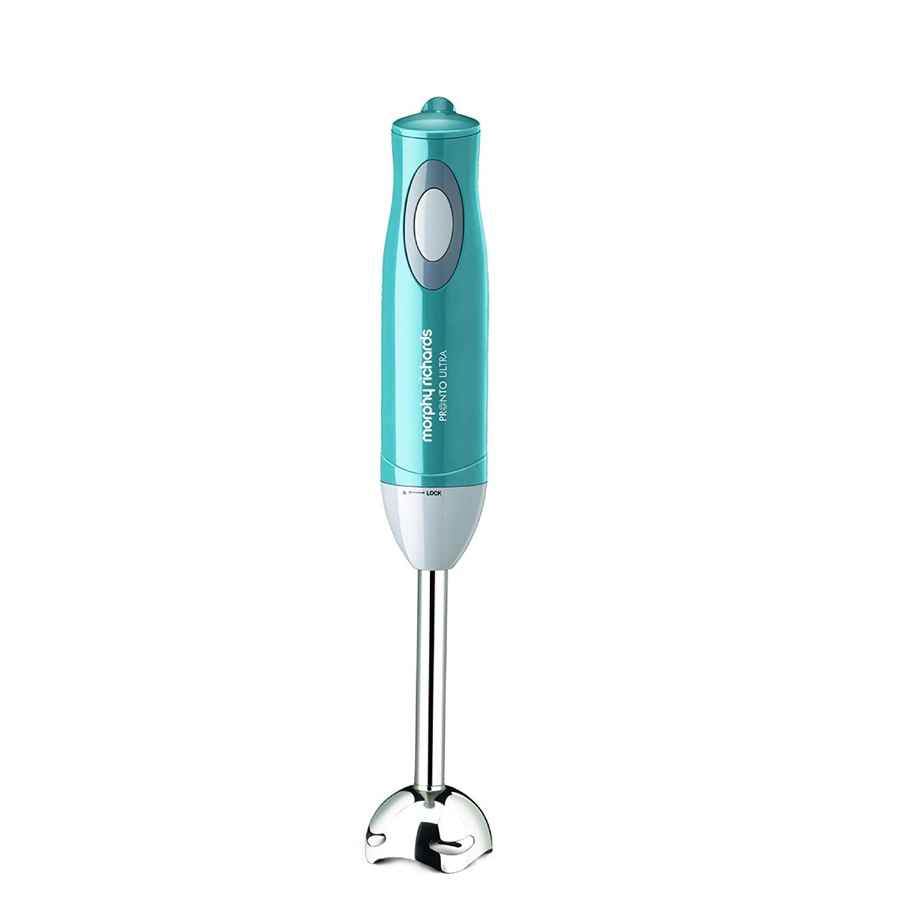 The Morphy Richards Hand Blender works on multi-functional stainless-steel blades, hence removing the need to change blades for different purposes. This feature makes this blender amongst the best hand blenders in India! Its sharp edges have been designed for the toughest tasks of pulverizing, mashing, and blending. Its slim design fits comfortably in the grip of your hands, allowing you to carry out a wide range of movement almost effortlessly.
Moreover, its stainless-steel detachable shaft and easy locking system make it safe and easy to clean. Since it uses a 300-Watt powerful yet silent DC motor, you can expect the device to carry out stellar blending with minimal noise.
Available

₹ 1,349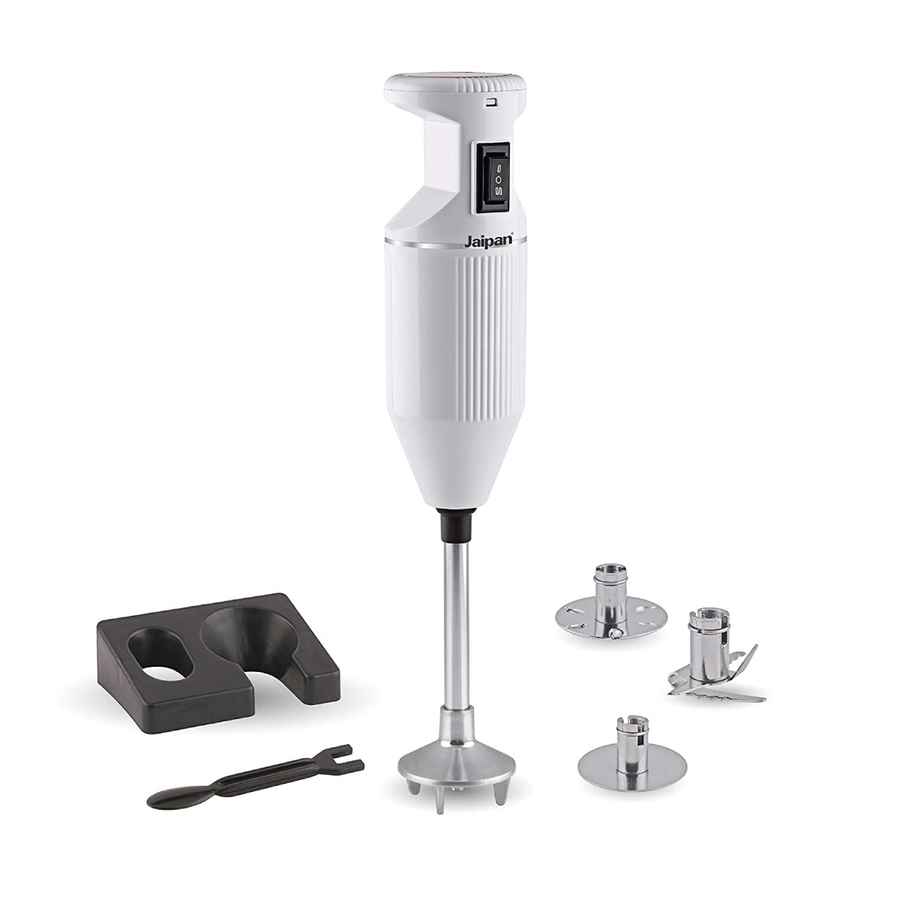 Crafted with top-grade materials, the sharp blades of the Jaipan Portable Blender are efficient enough to give you the desired texture of your food within seconds. Apart from being an amazing tool to whip cream and prepare soups and sauces, the appliance has versatile applications. Its powerful motor gives a speed of up to 12,000 RPM, enabling its blades to run extremely fast and blend the food thoroughly. Plus, as it requires only 200 Watts of energy, the appliance will not burn a hole in your pocket!
Its handle is made of ABS material that ensures you have a comfortable grip. Featuring an anti-splash guard, the Jaipan Portable Blender keeps spills and accidents at bay. In addition to these features, it also comes along with two variable speed options, an ergonomic design, and heavy-duty blades.
Available

₹ 1,277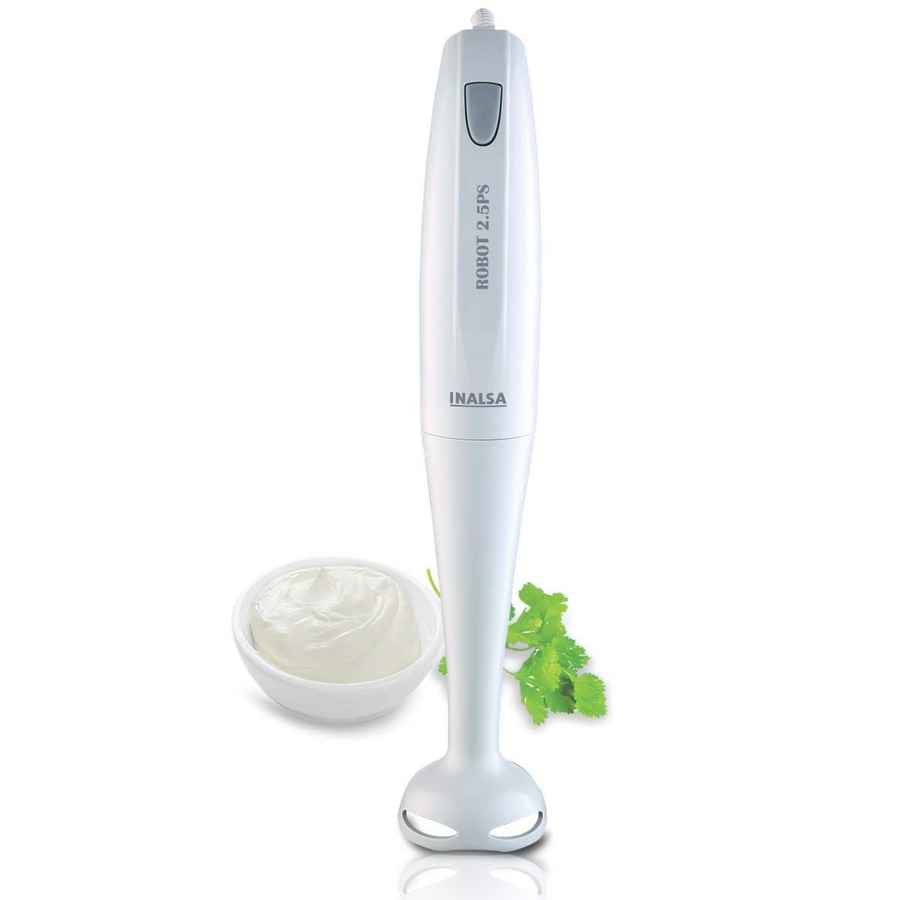 The Inalsa Robot 2.5 Hand Blender comes with a convenient push-button that makes meal preparation fast and easy, allowing you to perform all of your blending tasks at the press of a button! Powered by a robust 250-Watt motor that creates minimal noise, the appliance can be used to prepare baby food, savoury dips, special sauces, cookies, waffles, pancake batter, and more. This blender comes fitted with sharp and versatile stainless-steel blades for perfect results every time.
Since its blades are enclosed within a splash guard cover, rest assured the blades would not come in direct contact with the vessel, preventing splashing. Moreover, the Inalsa Robot 2.5 Hand Blender has an ergonomic handle and a shock-proof body that facilitates convenient and comfortable blending. Some of its other prominent features are one-touch operation and a sturdy build.
Available

₹ 999

List Of Best Hand Blenders In India
| Product Name | Seller | Price |
| --- | --- | --- |
| Rico Hand Blender | Amazon | ₹ 1,399 |
| OXENTA Hand Blender | Amazon | ₹ 1,499 |
| KENT Hand Blender | Amazon | ₹ 1,714 |
| AGARO 33285 Hand Blender | Amazon | ₹ 1,899 |
| Tefal Actiforce Hand Blender | Amazon | ₹ 876 |
| Orpat HHB-100E Hand Blender | Amazon | ₹ 715 |
| KENT Ezzy Hand Blender | Amazon | ₹ 1,450 |
| Morphy Richards Hand Blender | Amazon | ₹ 1,349 |
| Jaipan JP_PBL Portable Blender | Amazon | ₹ 1,277 |
| Inalsa Robot 2.5 Hand Blender | Amazon | ₹ 999 |
Inalsa Robot 2.5 PS 250-Watt Hand Blender with Super Silent Powerful Motor| Detachable Stem | Multipurpose Stainless Steel Blade, ( White )
₹ 999

|
Morphy Richards Hand Blender 300W
₹ 1,349

|
KENT Ezzy Hand Blender -300W
₹ 1,450

|
AGARO 33285 Hand Blender, 800W (Grey, Black)
₹ 1,899

|