Best Hand Blender for Cakes
Be it a birthday, anniversary, or graduation; no celebration is ever complete without a cake! Now, if you are a baking aficionado and love to bake cakes at home, you must already know that the magic behind a tasty cake lies in the consistency of the batter. While you might manually blend your cake's mix, the ideal way of doing it is through hand blenders. Why? Well, a hand blender for cakes makes sure that there are no lumps within the batter and that each and every ingredient has been mixed properly. Moreover, they can also be used for whipping cream, making it a versatile kitchen appliance. So, if you are looking to kick your baking game up by a notch, then a hand blender for cakes has to be in your cooking regime. However, buying a hand blender isn't an easy affair as there are hundreds of variants listed on the market. In case you are on the lookout for a hand blender for cakes, make it a point to only go for those models that feature multiple speed modes and an aesthetic design. Following are the 10 best hand blenders for cakes online that could give your baking game a significant boost.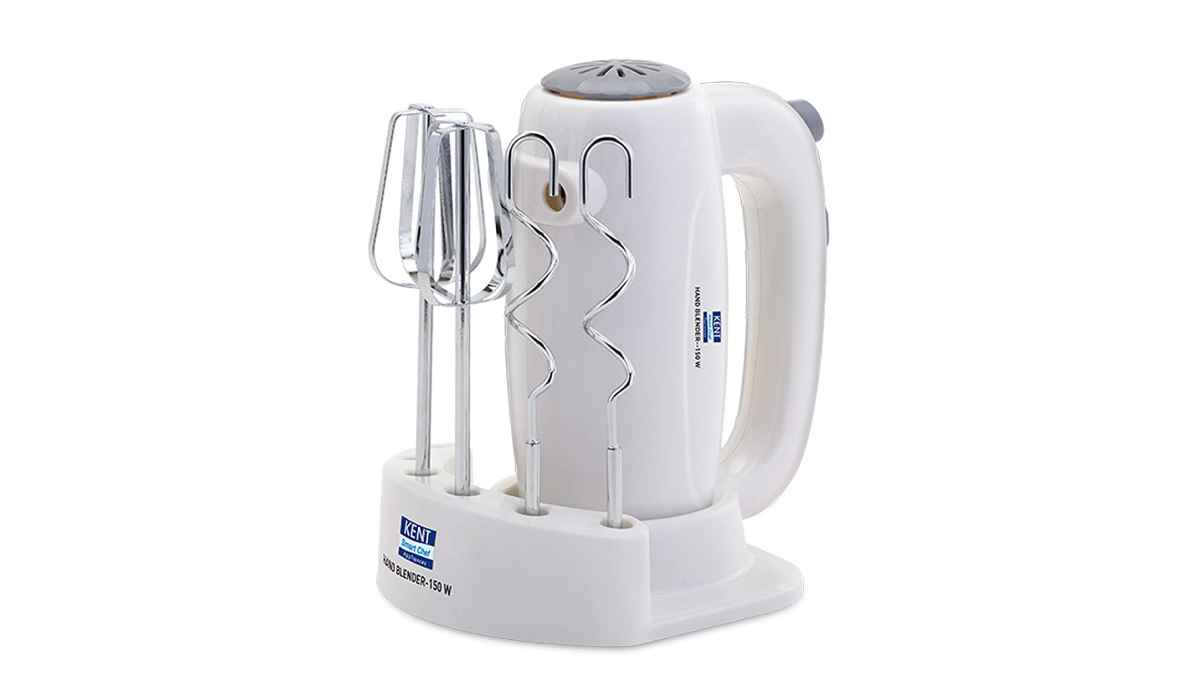 Mix, blend and whip out any recipe without breaking a sweat with the help of KENT Hand Blender. Powered by a high-performance 150 W copper motor, the appliance will not only meet all of your mixing and blending needs effectively but will also ensure longevity. Whether you want to bake a cake, whip eggs, fold various ingredients or simply mix some liquids, its multiple beaters and dough hooks can perform anything for you. Plus, thanks to its automatic cut-off feature, the appliance will automatically shut down in case of overheating. This translates to optimal safety and protection! The KENT Hand Blender comes with 5 variable speed controls, allowing you to mix different types of ingredients by simply turning the knob. This makes the appliance perfect for baking and cooking. Apart from these, some of its other notable features are multiple bearers, a food-grade plastic body, and a built-in slot for holders.
Available

₹ 1,275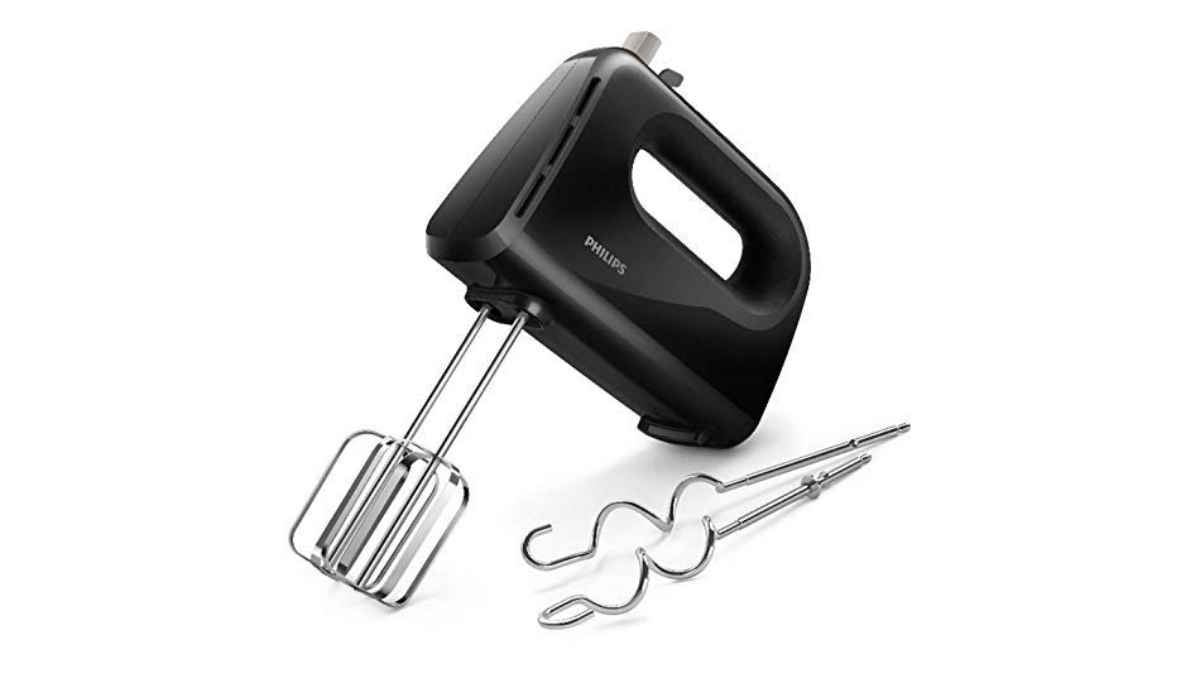 With a lightweight and ergonomic design, the Philips HR3705/10 Hand Mixer makes mixing and blending comfortable and easy. Using cone-shaped beaters that cover a larger surface area, the hand mixer works faster and can seamlessly incorporate air into the batter for a smooth and fluffy texture. It comes fitted with a cord clip that helps ensure the cord can neatly wrap around the appliance. It features an eject button using which you can easily release the beaters and dough hooks at the touch of a button! Moreover, you won't have to worry about cleaning its attachments as they are dishwasher-friendly, making your work easier. It has a total of five speed settings, enabling you to pick a mode that best suits your recipe. In addition to these features, the appliance also boasts a 1.2-meter-long cord for longer reach, a non-slip grip, and a powerful 300 W motor.
Available

₹ 2,019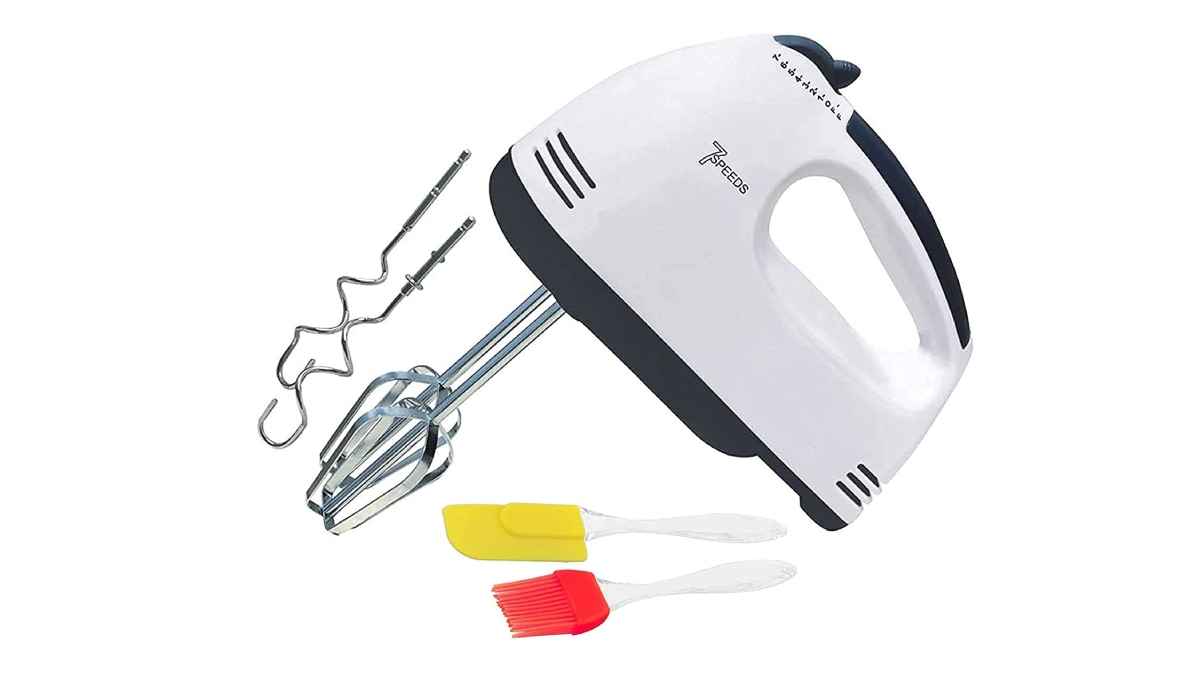 Offering a total of 7-speed modes, the Professional Feel Hand Blender can be used to ladle out a wide variety of purposes. This includes mixing dry foods, liquids, cakes, and even whipping cream. Hence, if you are looking for a hand blender for whipping cream or creaming butter, this variant could be the perfect buy for you! To use the appliance, all you need to do is put the beaters or dough sticks into the slots, and slightly turn them until it locks into proper position. That's all! On the other hand, to remove the attachments, the blender comes along with an eject button. Powered by a robust heat dissipation system, the Professional Feel Hand Blender ensures smooth operations and longer life. Some of its other prominent features are dishwasher-safe attachments, a built-in groove, a food-grade body, and an ergonomic design.
Available

₹ 480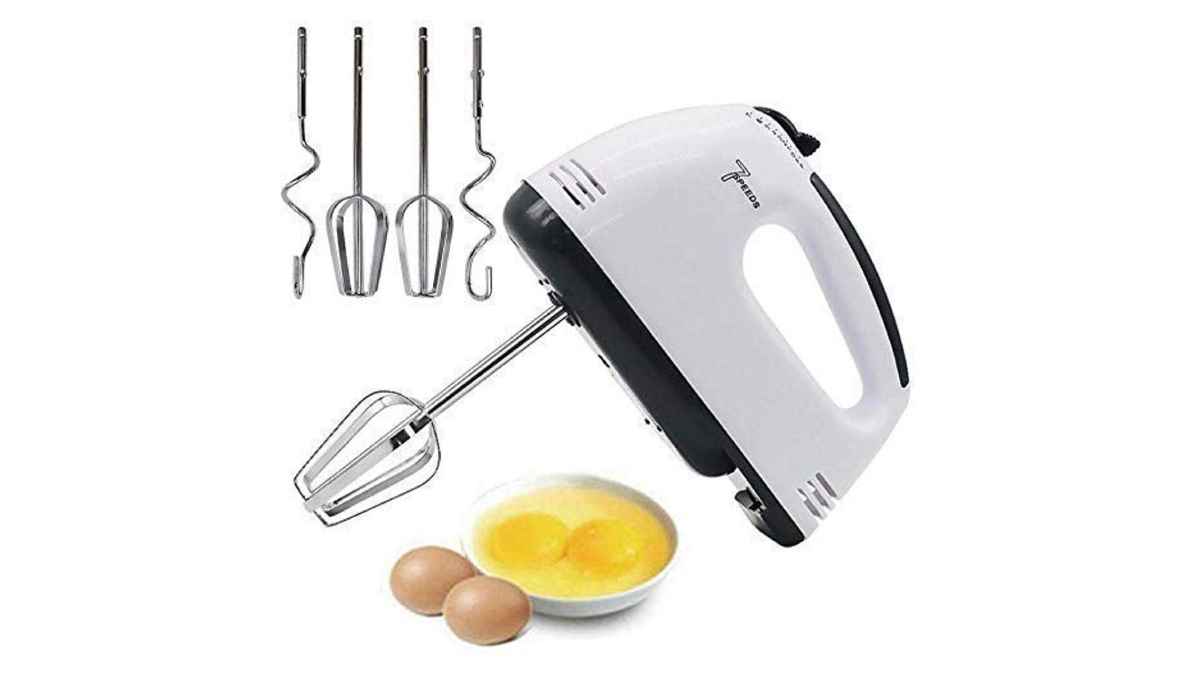 The Shree Mart Hand Blender runs on 260 Watts of power, making it suitable for the preparation of several food items, such as cakes, cookies, eggs, potatoes, and more. Coming with a 7-speed functionality, the appliance is the one-stop for most of your mixing and blending needs. Plus, with its finger strip speed control switch, you can easily change the speed settings without stopping the blending. It has a functional carry handle, allowing you to use the appliance without any effort. An ergonomic design that further adds to its comfort. It comes with a hand mixer, a couple of hand beaters and dough hooks, ensuring you can use it on multiple occasions. The Shree Mart Hand Blender also has an ejector through which you can release the attachments at the touch of a button.
Available

₹ 499
If you are looking for a hand blender with a whisker, then you must look at the RYLAN Hand Mixer. All its attachments are food-safe, rust-free, and are made out of stainless steel, ensuring toxin-free preparations. Moreover, as it has detachable and easily washable parts, you won't have to worry about spending hours cleaning them! The RYLAN Hand Mixer offers a 7-speed setting, enabling it to combine every type of ingredient with ease. The appliance also incorporates an easy-to-carry handle, an eject safety knob, and a lightweight design for comfort.
Available

₹ 649
The Tanumart Hand Mixer has 7-speed control settings that ensure the appliance can handle your every blending need. To give you a peek into its functioning – the 1-2 speed settings are good starting speeds for mixing dry foods, the 3-speed setting is ideal for mixing liquid ingredients, the 4-speed setting is perfect for mixing cake batters, the 5-speed setting is good for beating uncooked candy, and finally, the 6-7 speed settings are ideal for whipping cream. It is a versatile kitchen appliance and is one of the best hand blenders for whipping cream in India! To help you attach and detach the attachments, the Tanumart Hand Mixer comprises a robust locking mechanism and an eject button. Where you would only need to slide the attachment to lock into the mixer, the eject button would assist you in detaching it at the touch of a button.
Available

₹ 599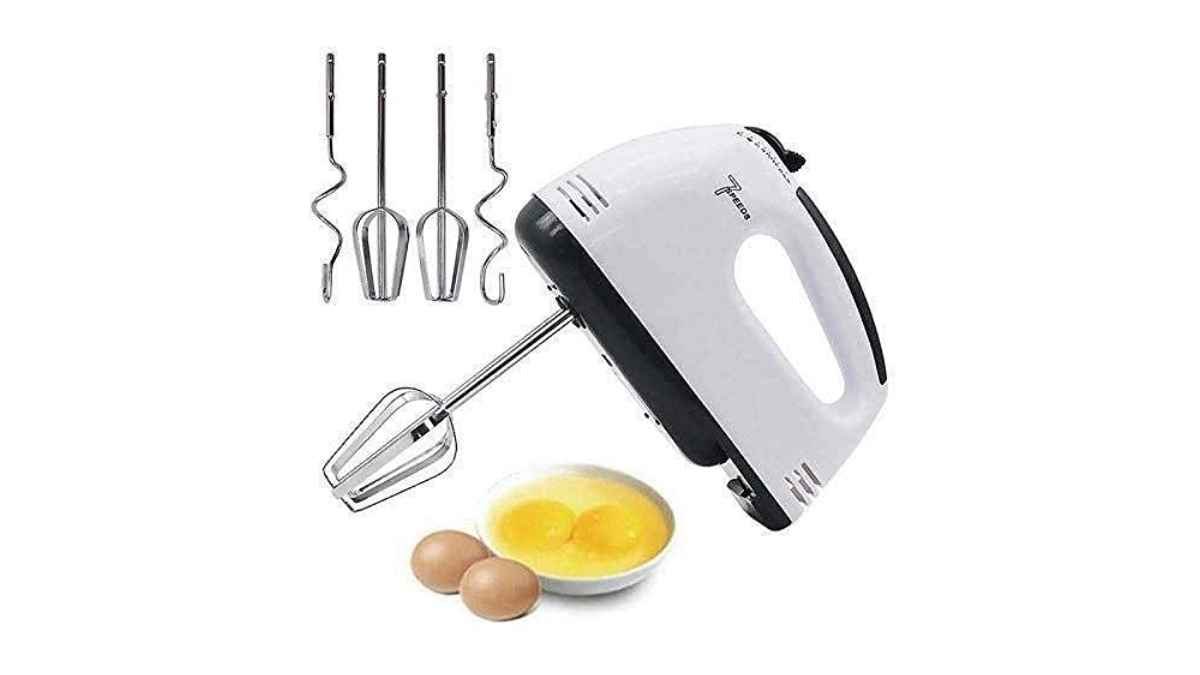 The UZUMAKI Hand Blender features a rated power of 260 Watts and a supply voltage of 220-240 Volts. This means the appliance could quickly blend and mix your ingredients in little to no time! As it is suitable for cakes, cookies, and eggs, the appliance has several applications in the kitchen. It has been designed keeping in mind user comfort, which reflects in its lightweight body, ergonomic design, and easy-to-carry handle. The appliance also has a total of 7-speed settings, making sure you have a speed to match every blending need. Some of its other prominent features are a sturdy build, dishwasher-safe attachments, and multiple attachments.
Available

₹ 499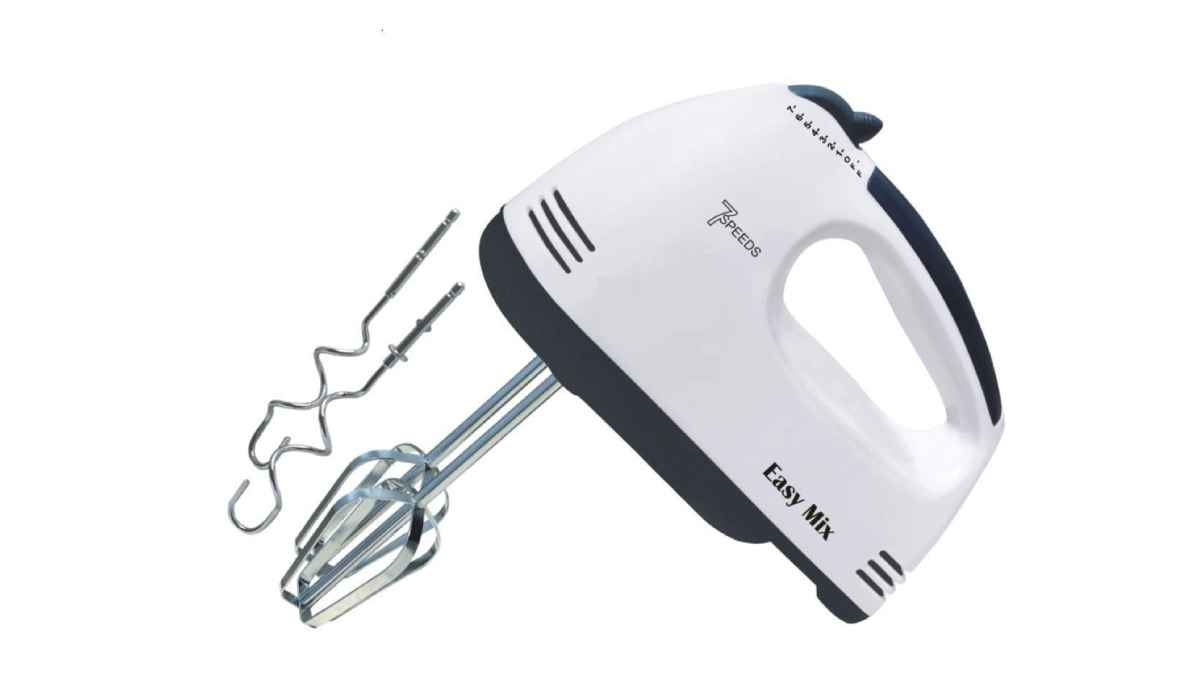 Coming equipped with a stellar 7-speed functionality, ADITYA Fashion® Electric Hand Mixer will let you have more control than ever to prepare your dishes. It also means you won't have to wear out your arm muscles as with traditional hand-mixing! The mixer features a stainless-steel beater, dough hooks, and many accessories, making it perfect for all of your cooking and baking needs. Featuring multiple air vents to avoid clogging from batters and other mixtures, you won't have to expend much effort in maintaining it. It also comprises a meter long cord, ensuring you are always within reach of a power source. The ADITYA Fashion® Electric Hand Mixer also has a premium finish, a turbo setting, and an overload protector for motor safety.
Available

₹ 529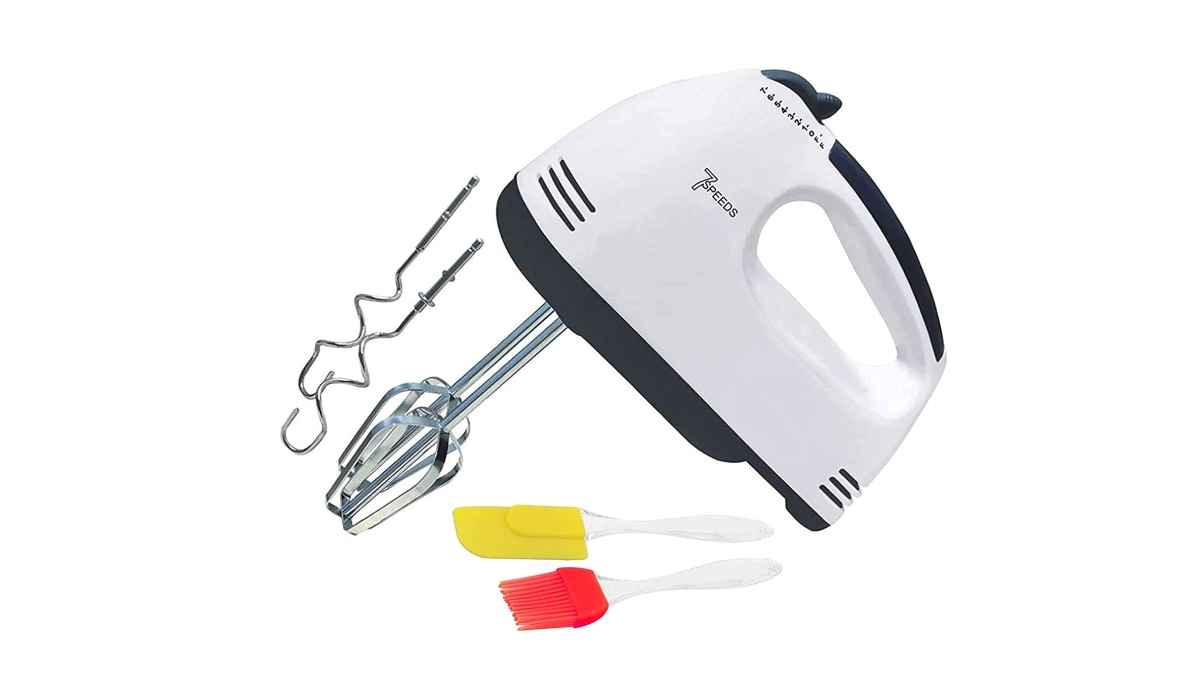 Tackle a number of kitchen tasks with the JONTUS Hand Blender, which comes with two professional-style wire beaters for eggs and two hooks for mixing dough. Since it can easily mix multiple ingredients to form a consistent batter, rest assured it is one of the finest hand blenders for cakes. Powered by a strong motor that can move at 7 different speeds, the JONTUS Hand Blender enables you to start slowly with the mixing and then gradually speed up, making way for a splatter-free blending! It has a built-in groove that lets you rest the mixer over the bowl, ensuring the drips don't go anywhere near your countertop. The JONTUS Hand Blender also comes equipped with dishwasher-safe attachments and an ergonomic design.
Available

₹ 499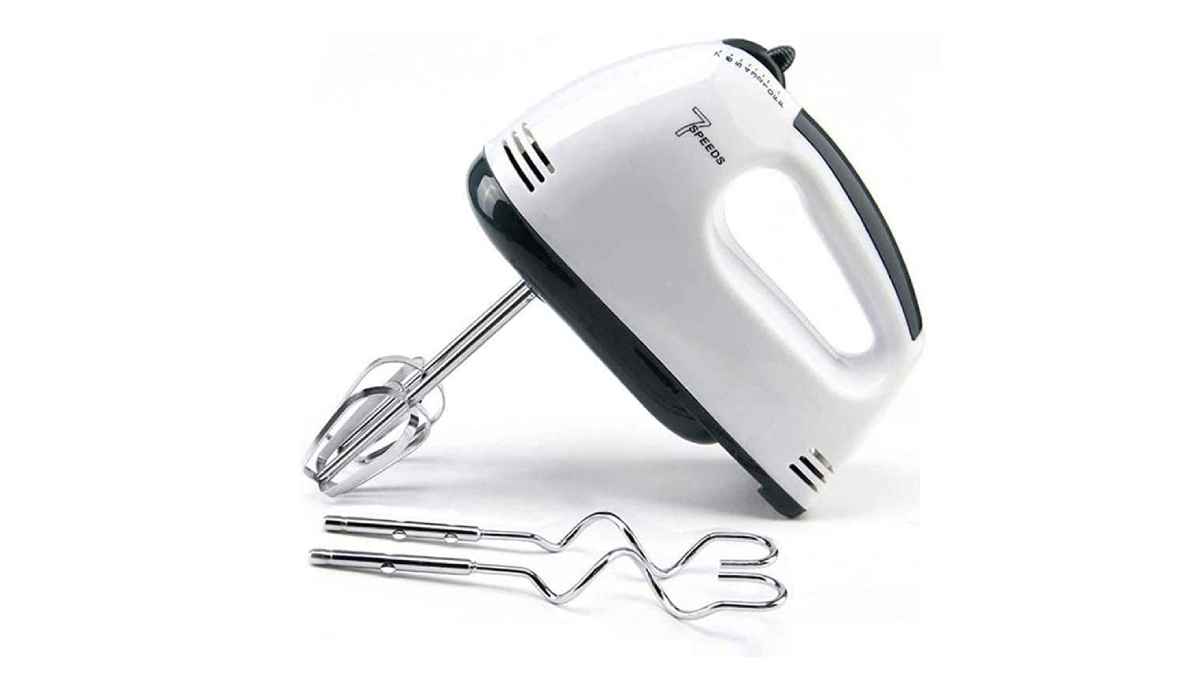 Whether you are mixing ingredients for baking cakes or beating eggs for cooking omelettes, the KBR™ Electric Hand Mixer makes preparation easier for you and helps you save valuable time in the kitchen. This lightweight mixer has been designed for power, giving you options to switch between 7 speeds that are ideal for mixing, stirring, beating, and whipping. So, if you are on the lookout for a hand blender to whip cream, the KBR™ Electric Hand Mixer would be the ideal fit for you! It comes along with a snap-on storage case that assists you in keeping things organized. Moreover, the KBR™ Electric Hand Mixer features a wide variety of attachments, such as dough hooks, whiskers, and beaters, making it a comprehensive kitchen appliance.
Available

₹ 499

List Of Best Hand Blender For Cakes
| Product Name | Seller | Price |
| --- | --- | --- |
| KENT Hand Blender | Amazon | ₹ 1,275 |
| Philips HR3705/10 Hand Mixer | Amazon | ₹ 2,019 |
| Professional Feel Hand Blender | Amazon | ₹ 480 |
| Shree Mart Hand Blender | Amazon | ₹ 499 |
| RYLAN Hand Mixer | Amazon | ₹ 649 |
| Tanumart Hand Mixer | Amazon | ₹ 599 |
| UZUMAKI Hand Blender | Amazon | ₹ 499 |
| ADITYA Fashion® Electric Hand Mixer | Amazon | ₹ 529 |
| JONTUS Hand Blender | Amazon | ₹ 499 |
| KBR™ Electric Hand Mixer | Amazon | ₹ 499 |
Inalsa Robot 2.5 PS 250-Watt Hand Blender with Super Silent Powerful Motor| Detachable Stem | Multipurpose Stainless Steel Blade, ( White )
₹ 999

|
Morphy Richards Hand Blender 300W
₹ 1,349

|
KENT Ezzy Hand Blender -300W
₹ 1,450

|
AGARO 33285 Hand Blender, 800W (Grey, Black)
₹ 1,899

|