Best Hair Dryers in India
Grooming isn't fun unless you have the best grooming products at your disposal. A hairdryer can prove to be your best friend as it can help you create all the trending hairstyles without damaging your hair. Here are some premium-quality hair dryers by some top brands, so you can know more about their features and how they help you become the centre of attention at every party!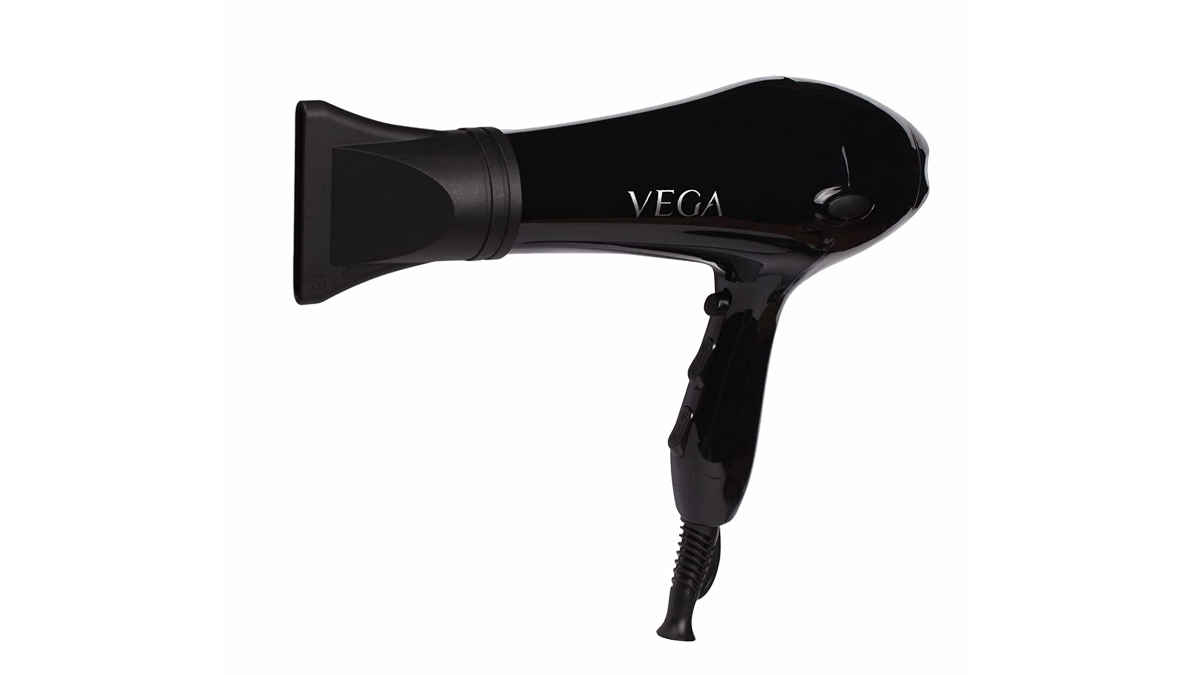 VEGA is one of India's best personal care appliance and beauty accessory brands, thanks to products like this hairdryer. The VEGA VHDP-02 is the best hair dryer for men and women. It has a powerful 1800-2000 watt motor that will help you dry off your wet hair in no time. The Vega Pro Touch comes with 2 speed settings and 2 heat settings, which the user can choose according to their hair type. It comes packed with two detachable nozzles that let out air through a smaller area with force to help you get that perfect look. VEGA has even equipped it with a cord guard with a hanging loop which protects its cord from breakage due to extreme turns and bending. Features like the Cool Shot button and safety overheat cut-out helps it stand out from the competition.
Available

₹ 1,824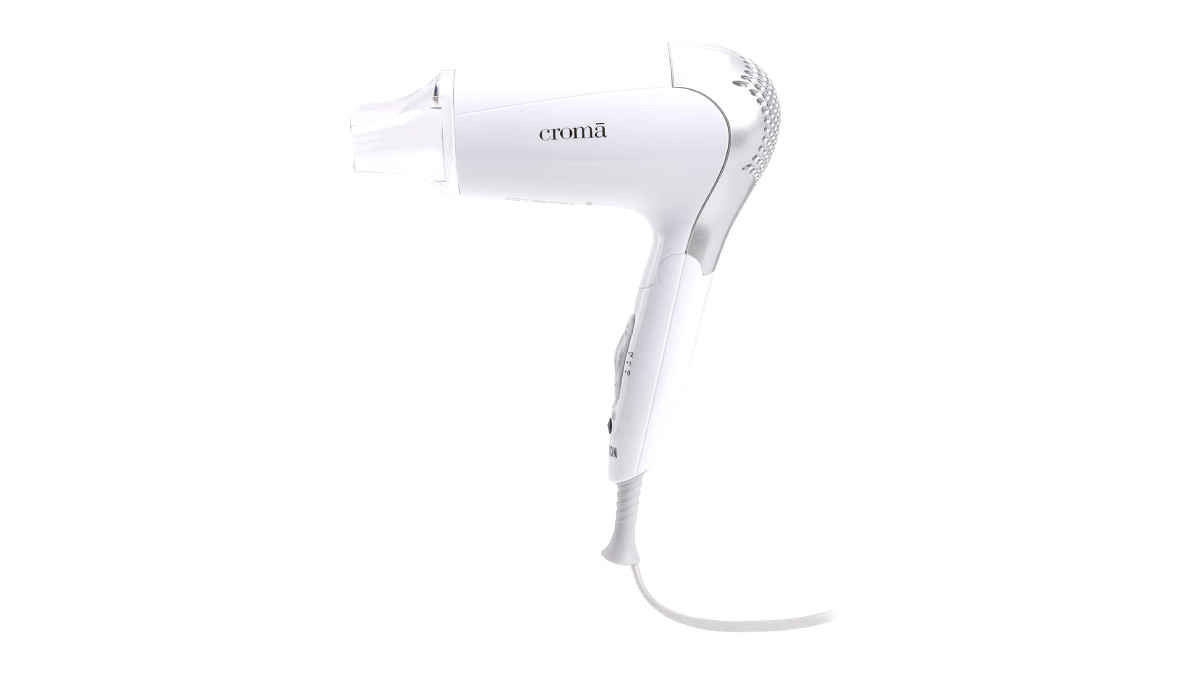 If you are looking for a compact and lightweight hairdryer with a foldable design that you can carry around easily in your handbag for hairstyling on the go, this is it. The dryer consumes 1100 watts of power, blowing out powerful yet gentle air that dries your hair completely within minutes. It is equipped with a 1.8-metre long cable that prevents yanking the plug from the socket while using it, so you can move around freely and blowdry your hair comfortably. It offers 3 speed settings that you can choose from, so you can switch to the desired settings depending on the look you are aiming for and your hair type. The overheat protection inside protects your hairdryer from overheating due to excessive use or some technical issue. The cold blast feature locks the hair's outer cuticle, which helps style your hair. This 1100 watt Croma hair dryer is packed with some excellent features that have helped it earn a position on this list.
Available

₹ 799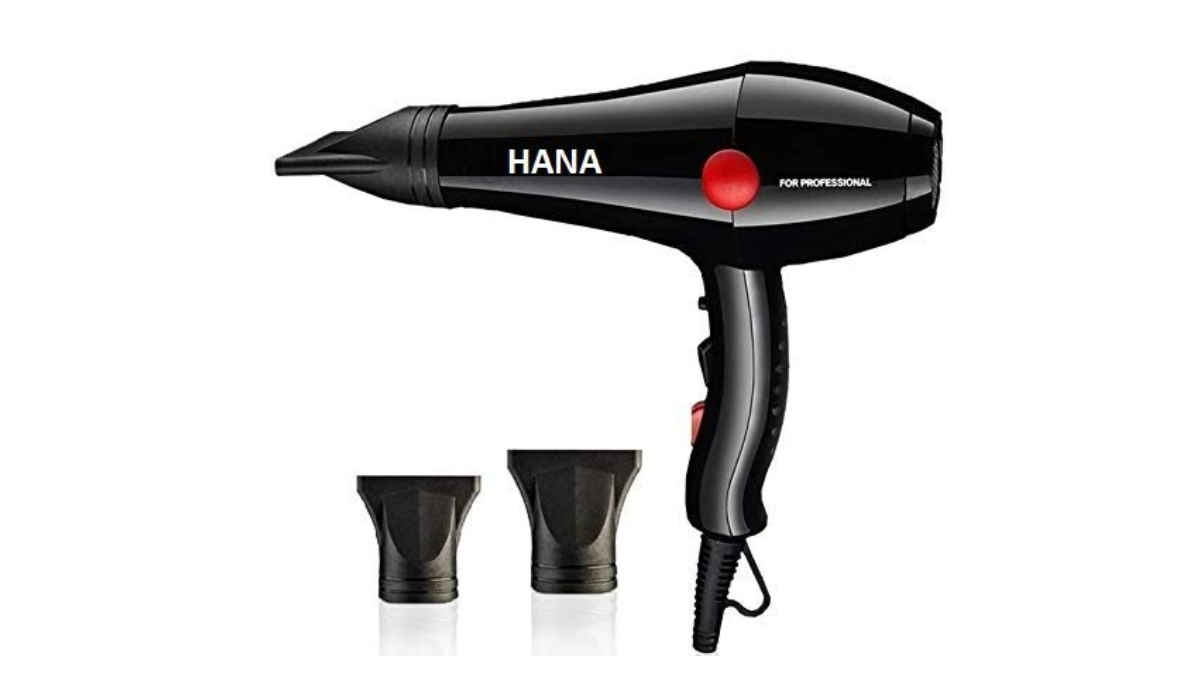 If you are looking for an affordable hair dryer with a powerful 2000-watt motor, then do check this one out. HANA Skin Plus has 2 speed settings and 2 heat settings and does not make much noise, thanks to its patented technology. The overheating protection technology prevents tripping of the fuse and damage to your hairdryer as well as yourself. The 2 detachable nozzles that come with the hairdryer help you aim the hot/cold air giving you the desired look. HANA has made sure to leave no stones unturned and used quality materials that give this hairdryer a premium look and feel. This 240V hairdryer from HANA uses Negative Ionic technology, resulting in easy and effective drying and styling.
Available

₹ 570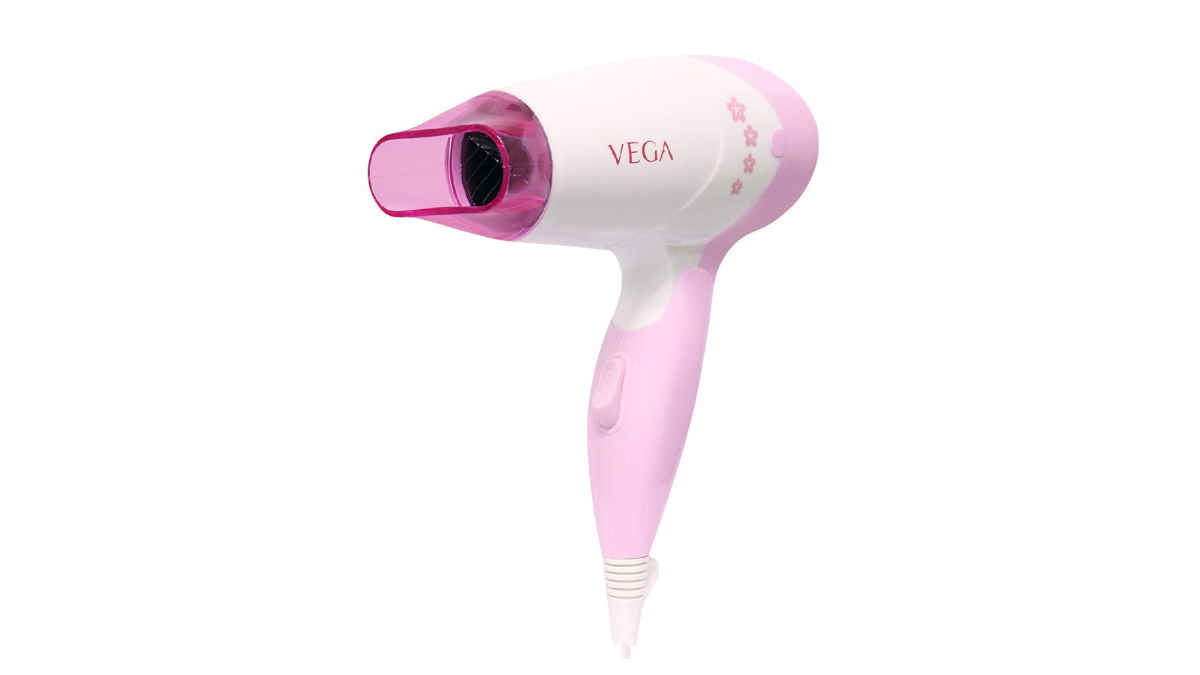 Beauty and styling products from VEGA are so good that another one had to be added to this list. The VEGA VHDH-20 is a compact and lightweight hairdryer with a foldable design that makes it easy to carry around with you on your trips and travels. This 1000 watt hairdryer from VEGA comes with quick-dry technology that helps in quick drying and quick-styling of hair. It has 2 speed settings as well as 2 heat settings which can be controlled via the button on its handle. The non-slip grip handle, a cord guard and a hanging loop prevent the hairdryer from falling and protect its cord from extreme turns and bends. It can work on a voltage range of 220 volts to 240 volts at 50/60 Hertz. It comes with a detachable nozzle that lets you get the hairstyle you want.
Available

₹ 503
Now you can enjoy salon-like hairstyles without stepping out of your home and with a press of a button! It is possible with the Nova NHP 8100/05 Hair Dryer, which features the Ehd + technology that ensures the right amount of heat is distributed on your hai,r thus ensuring quick-drying and preventing excess damage to your hair. It has a foldable design which makes it travel friendly (you can fold it and carry it with ease in your travel bag and pull off multiple looks during your trip!) You can choose the temperature according to your preference and hair type (you can switch between general or strong). Another feature that makes the Nova NHP 8100/05 hairdryer easy to use and durable is its extra-long cord that provides greater flexibility and range while blowdrying. It also offers low power consumption (the company claims it operates on 1200W). Its cool shot feature helps reduce frizziness and ensures lasting results.
Available

₹ 479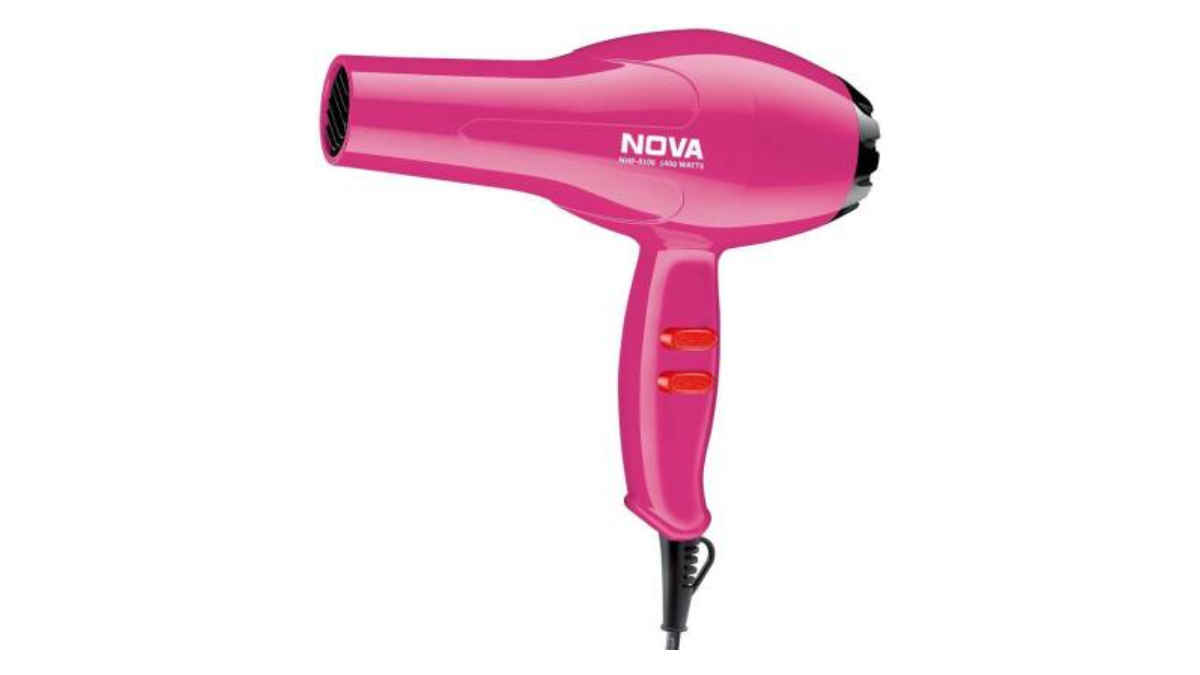 If you are extremely passionate about styling your hair and want a more powerful hairdryer than the previous one, you should check out the Nova NHP 8106 hairdryer, which ensures proper heat distribution and minimal damage to your hair. It offers two-speed settings and two heat settings so that you can customise and use it depending on the style you're creating and your hair type to get the best results. Its Ehd+ technology also ensures that you don't end up with dry or frizzy hair, and the blow-dry lasts for long periods. It consumes 1400 watts and has a 1.8-meter cord so that you can use it for longer durations without straining your wrists. It has a cold dry feature that comes in handy in case you have some time on your hands and want to reduce the damage by cool drying your hair (it also reduces frizziness and keeps your hair healthier). Last but not least, the foldable design makes it easy to store in your duffel bag or travel bag by folding the handle. So, you can sport different looks no matter where you go!
Available

₹ 699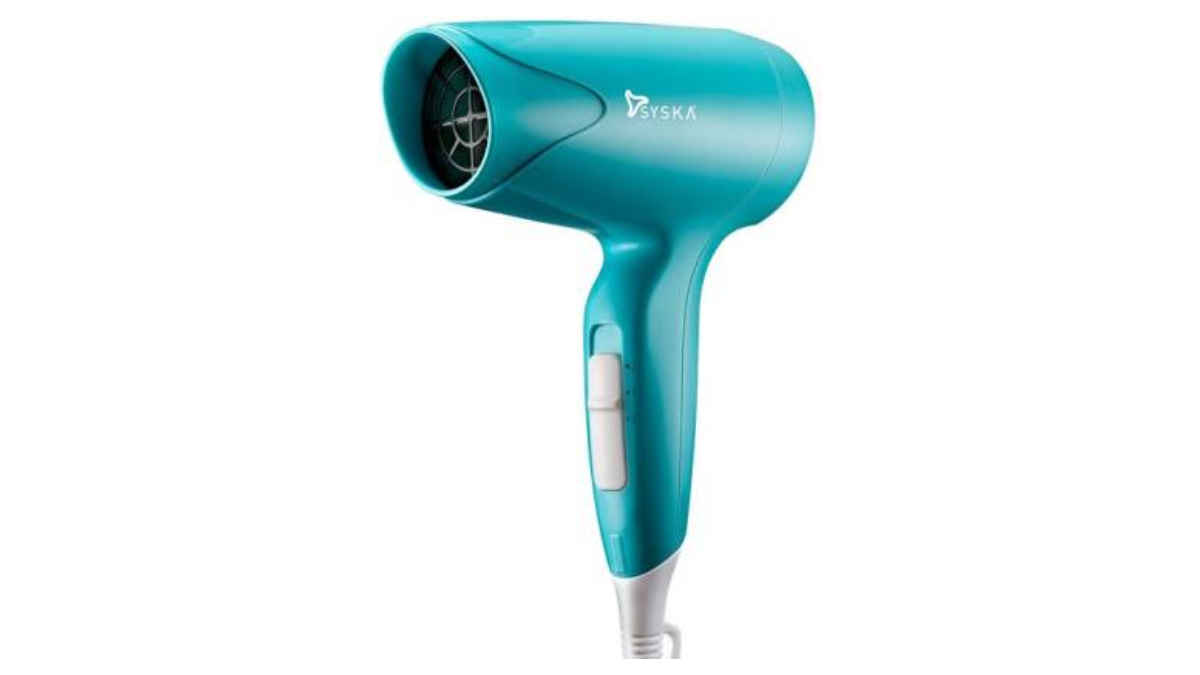 Syska brings you its HD 1600 Hair Dryer equipped with several useful features so you can enjoy styling and nourishing your hair at home. This hair dryer features a Heat Balance technology that ensures proper heat distribution so that your hair is not damaged due to excessive heat. Its wave heating element helps in reducing the waiting time as it heats up quickly and reduces the blow-drying time by a significant amount. You can control the speed and amount of heat using the settings provided on its handle (2 buttons to adjust the heat and one to change the speed), which allow you to customise both as per your hair type and requirements. It consumes 1000 watts of power, has a built-in nozzle, and comes in two vibrant colours, purple and teal so that they can match your vibe and quirky makeup toolkit too! The hanging loop makes it easy to hang the dryer on a hook or someplace for quick and safe storage. This compact hair dryer doesn't weigh much and can be carried around without any hassles.
Available

₹ 699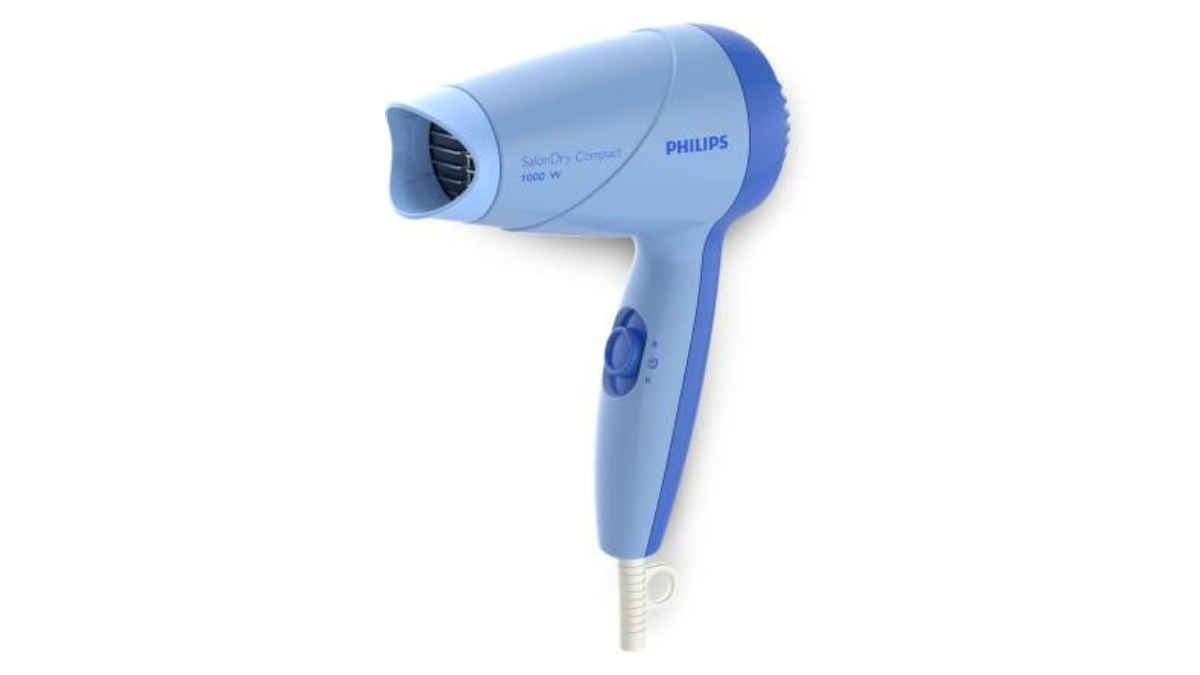 It is difficult to leave out Phillips when it comes to grooming products, and if you are searching for a product for styling your hair daily without damaging it, then the HP 8100/60 might come in handy. It will help you get the hairstyle you desire while helping in retaining the natural lustre and smoothness of your hair. It has a compact design that goes well for people who travel often and need to style their hair on the move. It doesn't weigh much which makes it easy to handle and carry. The dryer has two buttons, one for setting the speed (you can pick from high, low or medium) and another for adjusting the heat. It comes with 4 concentrator attachments which you can attach depending on the look or style you are aiming for. It uses the universal voltage and consumes approximately 1000W of power (as claimed by the manufacturers). In addition, it also has a removable filter so that you can clean it regularly and increase its life with easy maintenance. It has a 1.5 m cord for better range and easy usage and also consists of hanging loops so you can easily hang it in your cupboard or elsewhere with ease.
Available

₹ 735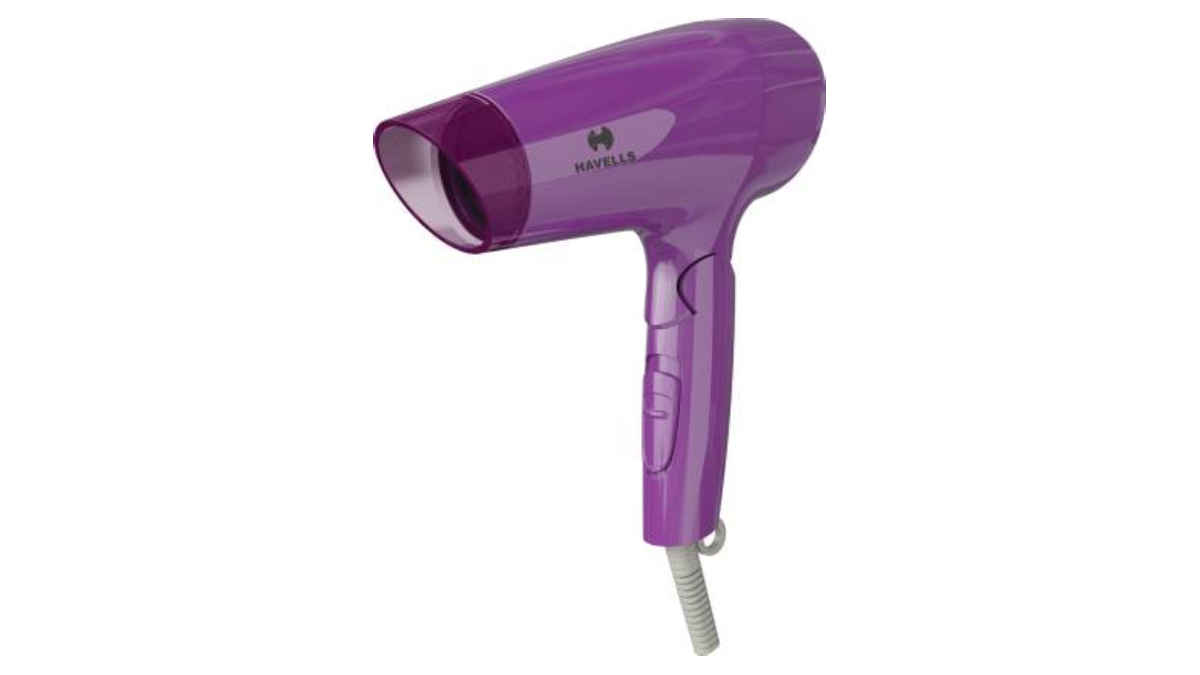 HAVELLS HD3101 hairdryer is suitable for all hair types (you can adjust its airflow simply by switching to the gentle or strong dry and use it as per your convenience). This dryer comes with a storage hook. You can easily hang the dryer on any hook or corner instead of keeping it on the table after styling your hair). It has a 1.6-meter cord which lets you use the dryer comfortably even if the mirror is a bit away from the switchboard. It requires 1200 W (wattage) or AC 220 - 240 V to operate, which isn't much compared to other models in a similar price range. HAVELLS has added an innovative honeycomb inlet design at the back of the dryer that provides greater safety to your hair. It ensures it does not get accidentally caught in the dryer while drying and prevents excessive heating. The dryer comes in vibrant colours like purple and weighs approximately 315 grams, making it easy to hold for longer durations. The foldable handle, ergonomic design make it a great travel companion as well!
Available

₹ 679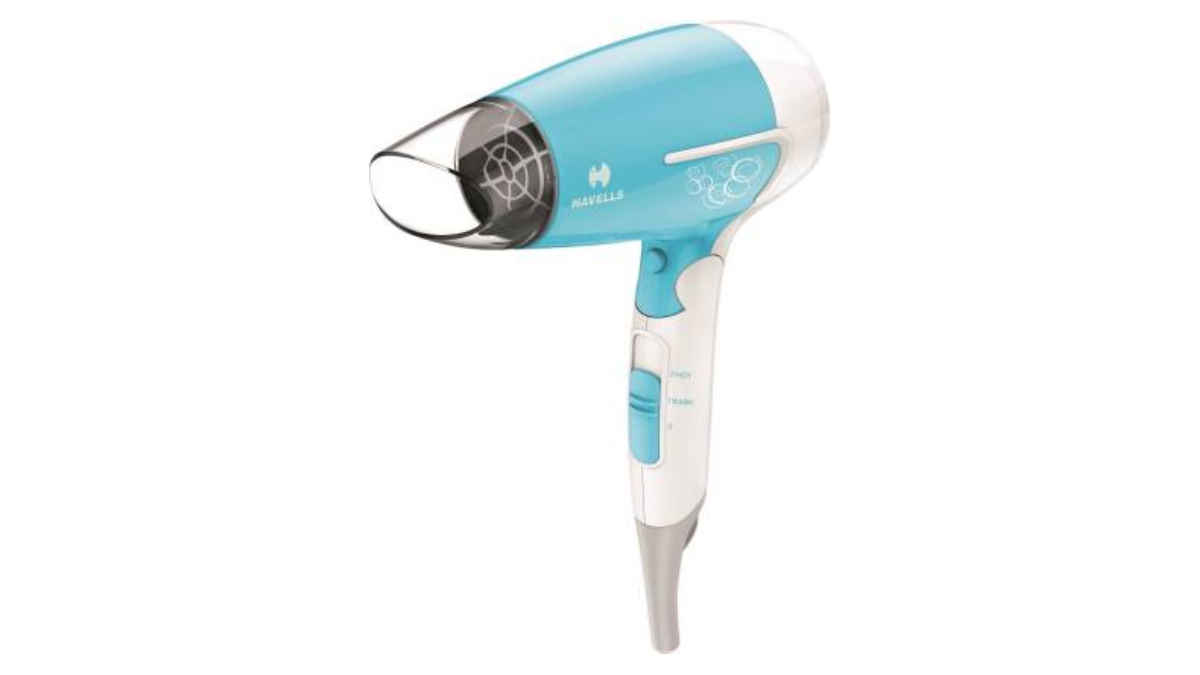 Here is one more amazing hairdryer by HAVELLS that you can check out if you want slightly more features and want to upgrade to a better model. This compact hairdryer can prove to be your ultimate hairstylist as it comes with three heating modes, as well as a button to switch to the cool shot that helps dry your hair without applying any heat and keep it healthy. The HAVELLS HD3151 Hair Dryer delivers a powerful yet contained airflow that sets your hair perfectly without frizz, and your hair also does not lose its shine. As per the legacy of HAVELLS, it is available in a vibrant and eye-catching turquoise blue and has a 1.6-meter cord which makes it easy to use for long durations and provides greater flexibility while styling. Its detachable concentrator can help you slay more professional looks with precision and ease without visiting the salon. The storage hook makes it easy to hang or place the dryer on a hook once you are done styling your hair. Last but not least, it only consumes 1200 W of power, and its honeycomb design ensures proper heat distribution, thus preventing damage caused due to overheating.
Available

₹ 1,069

List Of Best Hair Dryers In India
| Product Name | Seller | Price |
| --- | --- | --- |
| VEGA Pro Touch Professional Hair Dryer VHDP-0 | Amazon | ₹ 1,824 |
| Croma Foldable Hair Dryer CRAH4055 | Amazon | ₹ 799 |
| HANA Skin Plus Professional Hot and Cold Hair | Amazon | ₹ 570 |
| VEGA Insta Glam Foldable Hair Dryer VHDH-20 | Amazon | ₹ 503 |
| Nova NHP 8100/05 Hair Dryer | Flipkart | ₹ 479 |
| Nova NHP 8106 Hair Dryer | Flipkart | ₹ 699 |
| Syska HD 1600 Hair Dryer | Flipkart | ₹ 699 |
| Phillips HP 8100/60 Hair Dryer | Flipkart | ₹ 735 |
| HAVELLS HD3101 Hair Dryer | Flipkart | ₹ 679 |
| HAVELLS HD3151 Hair Dryer | Flipkart | ₹ 1,069 |
Philips HP8100/46 Hair Dryer (Purple)
₹ 749

|
Havells HD3201 1500 Watts 3 Heat (Hot/Cool/Warm) Settings Hair Dryer with Ionic Air Flow for smooth shiny hair- Blue
₹ 1,299

|
VEGA Pro Touch 1800-2000 Watts Professional Hair Dryer with 2 Detachable Nozzles (VHDP-02)- Black
₹ 1,824

|
Croma 1000W Dual Voltage, Foldable Hair Dryer with 2 speed Settings (CRAH4056, Grey & White)
₹ 799

|