Best Glucometers Machine in India to Check Blood Sugar Level (2022)
A fast-paced lifestyle and an unbalanced diet have led to many of us ending up with elevated sugar levels (aka diabetes) even at a young age. While an accurate glucometer is instrumental in keeping a strict check on the sugar levels of diabetic people, it can also prove instrumental in monitoring your blood sugar levels to ensure that everything is in the normal range at all times.
The list below includes some of the most accurate glucometer machines that will save you from spending tons of money for booking doctor's appointments in the long run.
Although the prices of the products mentioned in the list given below have been updated as of 10th May 2022, the list itself may have changed since it was last published due to the launch of new products in the market since then.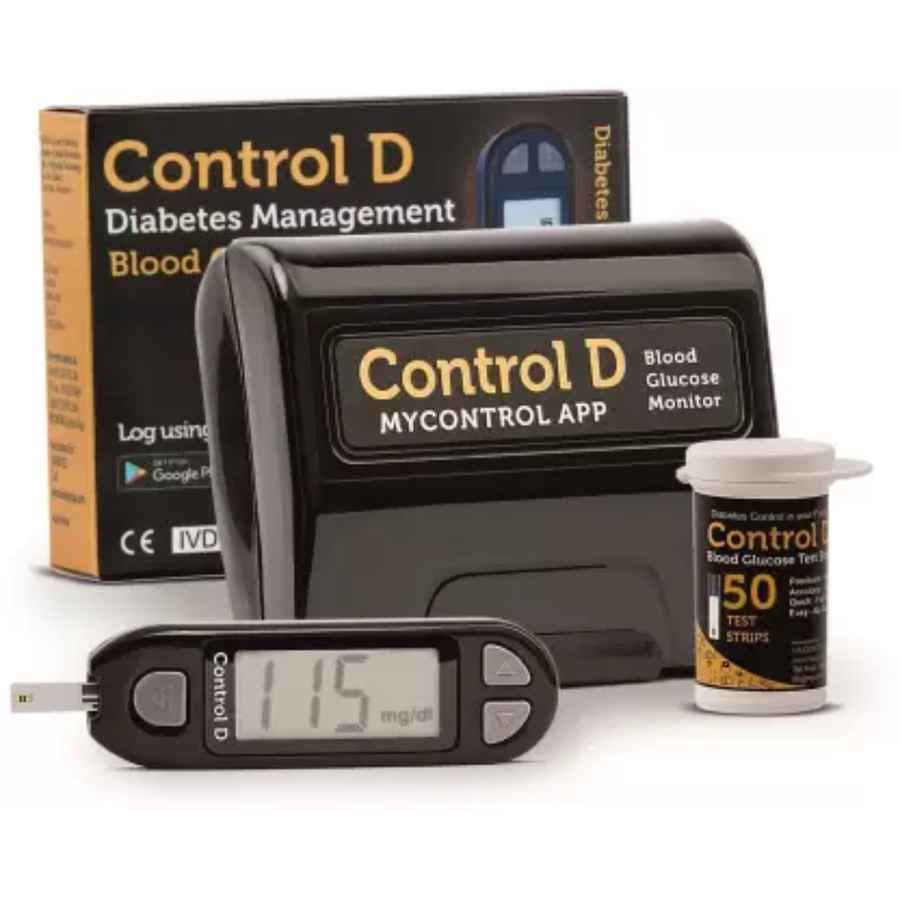 If you have diabetes, the very first thing your doctor will tell you is to monitor your blood sugar level and keep it under control by watching what you eat. Control D has made this glucometer keeping the patients in mind as it is easy to use and displays accurate results on its easy-to-read LCD screen. It is compact and weighs approximately 150 grams, which makes it easily portable. This glucometer machine comes with a lancing device, 10 lancets and 50 strips which will last you for a decent amount of time, after which you can get more strips from the chemist. The machine requires a minimum of 0.5 mg/dl of blood for testing and can measure the sugar levels in the range of 20 to 800 mg/dl. It takes 5 seconds to show the results and saves up to 500 previous results for easy and efficient tracking.
While you can always keep a check on your diet, monitoring sugar levels isn't a piece of cake unless you have a glucometer at home, and that's where Dr Trust's glucometer comes into the picture. Dr Trust is one of the most trusted and top-rated brands that has launched many health care devices, including this glucometer. This fully automatic glucometer machine has a smart glucose (Blood Sugar Testing) monitor that helps measure blood glucose levels quickly, accurately, and comfortably. It requires a small amount of blood (minimum 0.5 mg/dl), making the entire process less painful and quick. It has an LCD with a backlight display which means you can easily read the reading displayed on the screen, even at night. Designed and engineered in the USA, the glucometer is FDA approved and can be used in hospitals, clinics, emergency rooms and even at home for constant monitoring. Powered by 2 AA batteries, the glucometer allows alternate site testing as well (you can prick and get blood from areas besides your fingers).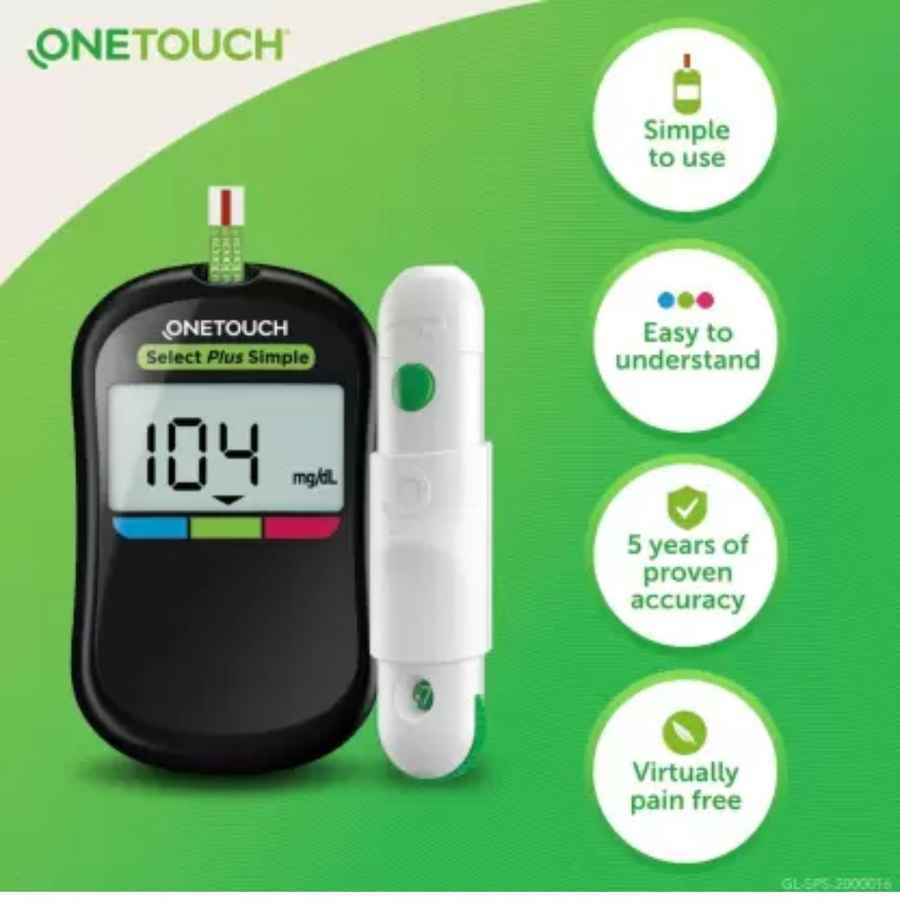 Here is yet another glucometer that you can rely on to get accurate and timely results. Manufactured by One Touch, this machine makes sure you get the most accurate readings as quickly as possible. All you need to do is prick your finger using the lancet (there are 10 lancets in case you misplace one or need to replace it), insert the strip into the glucometer and apply the blood (minimum 1 mg/dl needs to be applied on the strip for accurate results) and wait for few seconds for the results to show up on the digital LCD. The company claims that the device has over five years of proven accuracy and is easy to use (hence can be used in hospitals, clinics or even at home). Last but not least, it is lightweight so you can carry it with you while travelling also.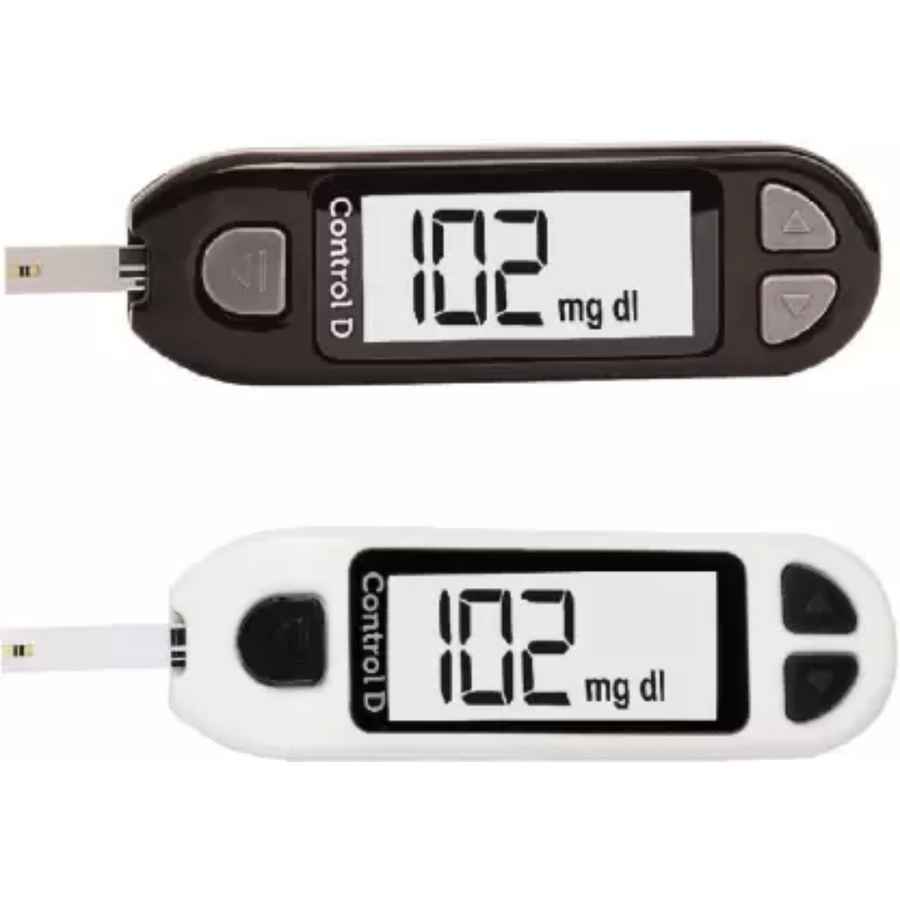 If you are tired of visiting the clinic repeatedly for sugar tests and need fast and accurate results without stepping out of your house, then investing in a glucometer can be your best bet. Control D's glucometer is specially designed to provide fast and accurate results in a limited time. Equipped with the advanced technology of Amperometric and Biosensor, it measures the exact level of glucose present in your blood. It saves the last 500 results for future reference and better tracking. It is powered by and has dimensions 10.0 x 3 x 1.4 and features an LCD. It also has an ejection button for easy operation and minimal contact, thereby preventing contamination. The machine requires a minimum of 0.5 mg/dl of blood, can measure sugar levels in the range of 20 - 600 mg/dL and gives results in 5 seconds. The glucometer comes with a lancing device, ten lances and ten strips so you can start using it as soon as it is delivered.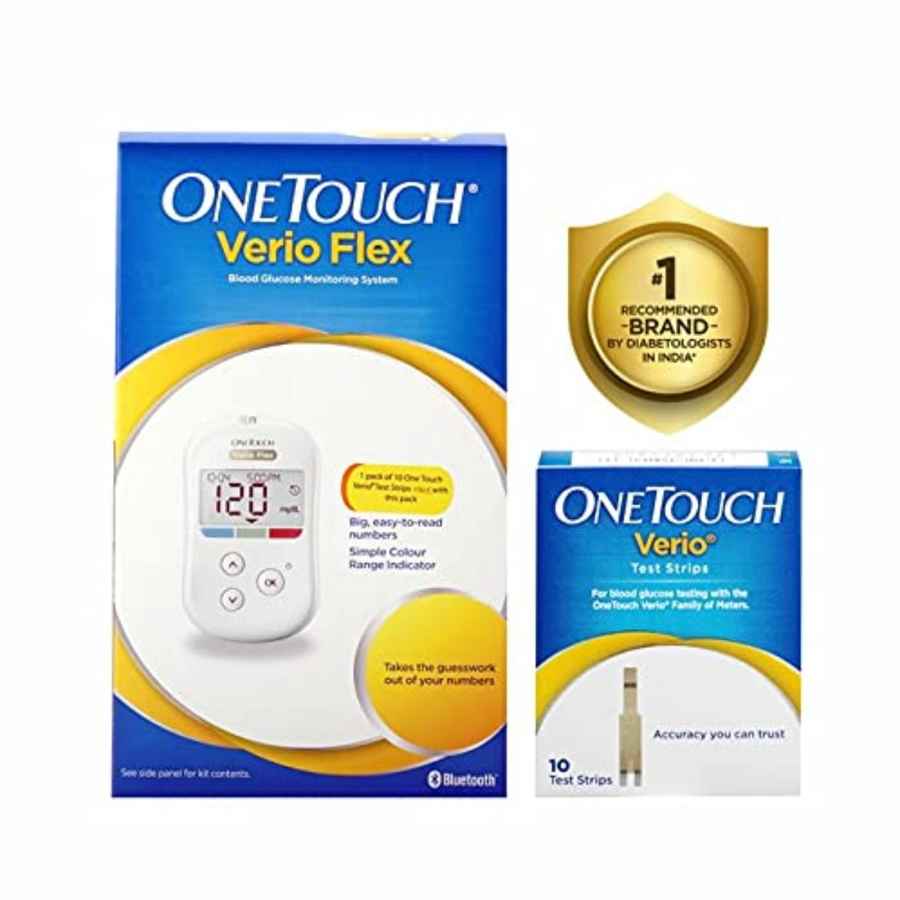 OneTouch has earned its place in the industry when it comes to providing reliable and durable monitoring devices, and this glucometer is no exception. The One Touch Verio Flex Blood glucose monitor helps you keep track of your blood sugar in an easy and pain-free manner every time. The device allows you to monitor your data much more efficiently as you can sync it across multiple devices and share the reports with your friends and family using the OneTouch Reveal app. Its ColourSure technology changes the colour of the display to indicate whether your blood sugar levels are within the range or not. It can also draw a timeline of important readings so you can see when your sugar levels were out of range, while the logbook feature of the app presents the data in visual snapshots for better readability. Last but not least, its strips are made of precious metals, gold and palladium, which help in giving accurate results in just 5 seconds.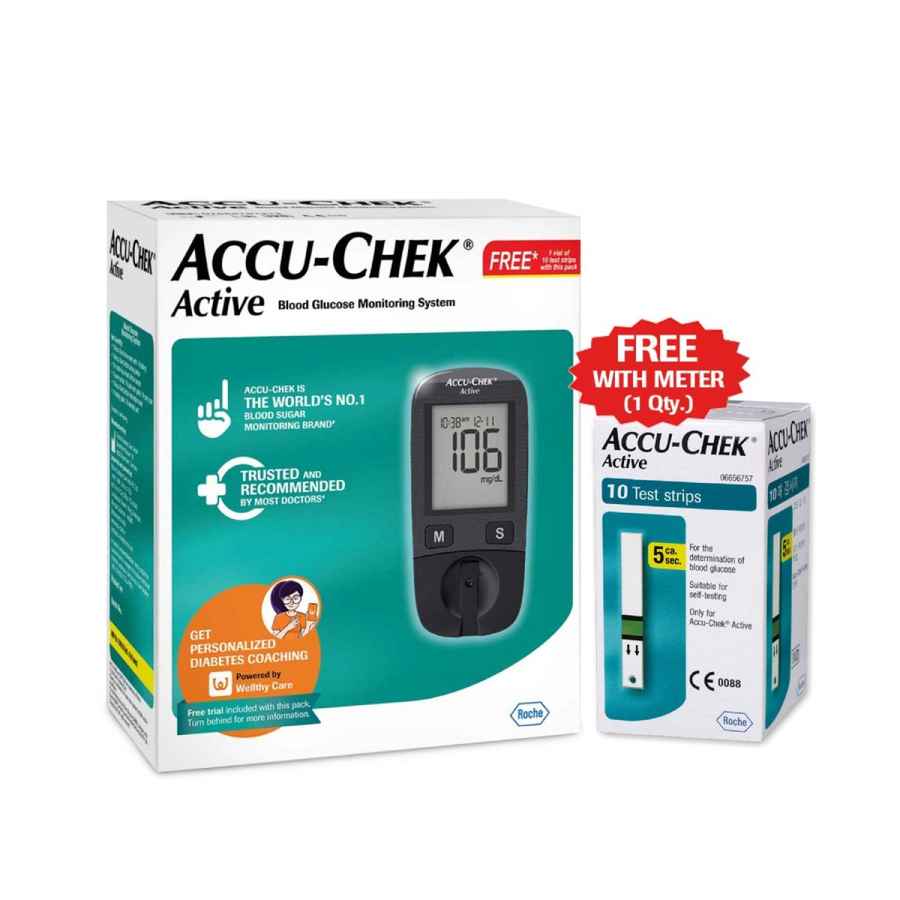 If you have ever surfed the net for buying glucometers, then you must have come across the name, 'Accu-Chek'. The company claims that the glucometer meets the global accuracy standard (ISO 15197:2013) and has a large memory for storing up to 90 days of results. The glucometer is relatively easy to use and comes with a manual that explains the working and the meaning of all the symbols and alerts displayed on the screen while testing sugar levels. Another unique feature of this glucometer machine is that it gives you a 10 seconds window to apply more blood on the strip if you haven't applied it properly. It also helps you check the accuracy by matching the colour code displayed on the screen. The kit contains a glucometer, a lancing device, ten lancets and ten strips so you can start testing your blood sugar right after unboxing.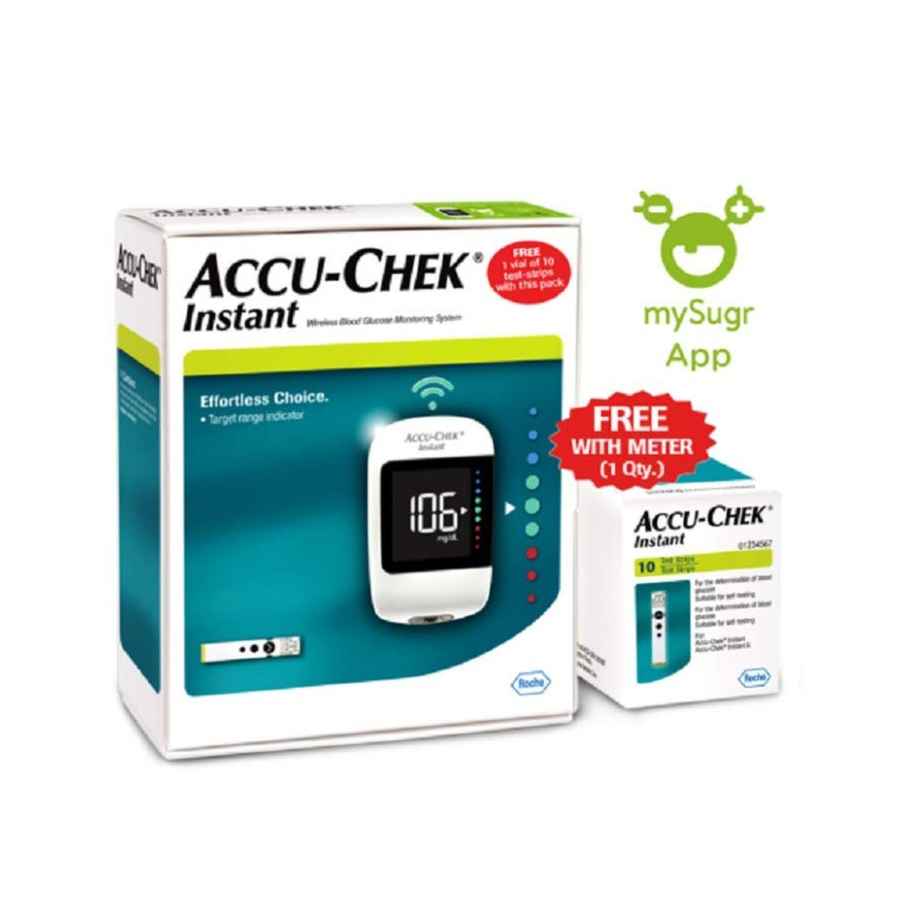 Accu-Chek is one of the most trusted brands in India thanks to its healthcare products lineup, and Accu-Chek Instant Glucometer is one of them. It is an easy to use glucometer that connects to your smartphone via Bluetooth and logs your blood glucose levels in the mySugr diabetes management app that can be downloaded from your smartphone's app store. This glucometer from Accu-Chek can store up to 720 blood glucose readings and can display the last reading and the average result of the last 7, 30 and 90 days.
It is pretty easy to use; all you need to do is insert a strip, apply a small amount of blood and get your blood glucose results. Accu-Chek claims that its device is one of the most accurate glucometers in the market as it fulfils ISO 15197:2013 and EN ISO 15197:2015 standards of accuracy. Accu-Chek has equipped it with a target range indicator that helps in differentiating whether the result is normal or not. The bright backlit display and one-button navigation result in easy operation and readings that are easily readable.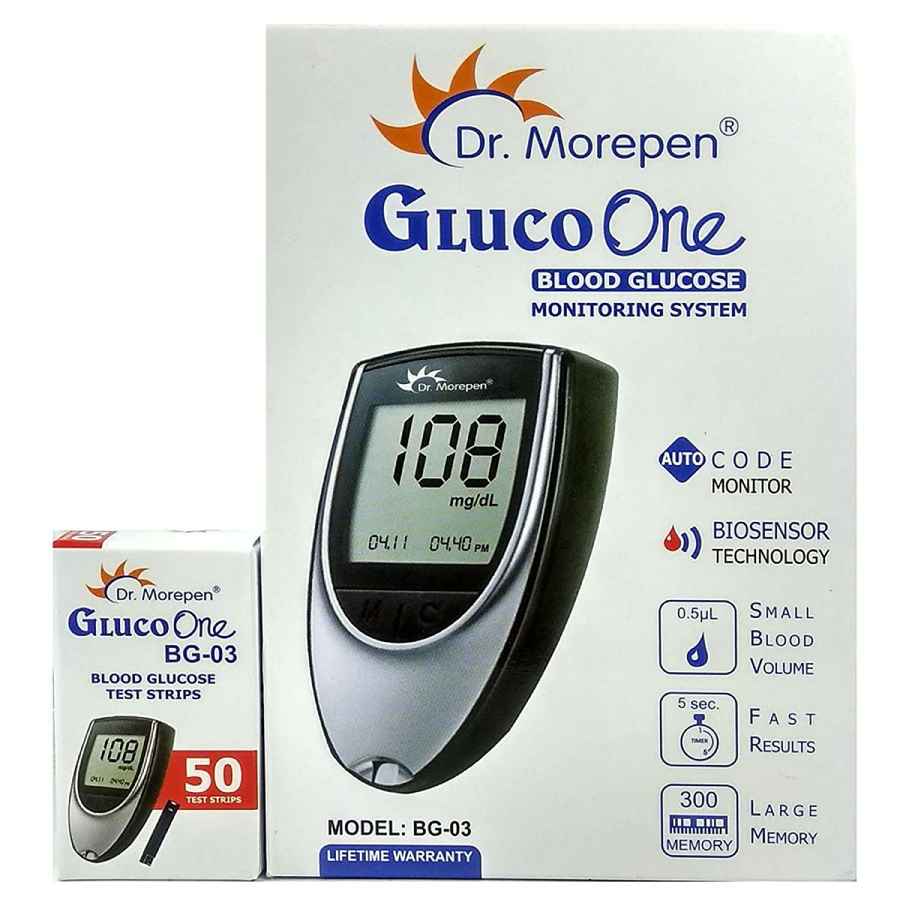 Dr. Morepen BG-03 Gluco One is another great glucometer machine that produces accurate results in just 5 seconds. The glucometer requires just 0.5μl (microlitres) of blood to do a successful reading. It can store up to 300 blood glucose readings inside its inbuilt memory without any issue. Dr. Morepen has equipped it with a large digital display to make sure that even people with bad eyesight can read the results clearly. The 2 large buttons let you navigate the device without sweat.
Dr. Morepen has equipped it with 50 strips so you can get your readings for a long time without the need to buy extra ones every now and then. The device is pretty easy to use and requires next to no assistance. This glucometer with strips combo is a lightweight and compact device that makes it a perfect companion to keep your blood glucose level in check on all your trips and tours.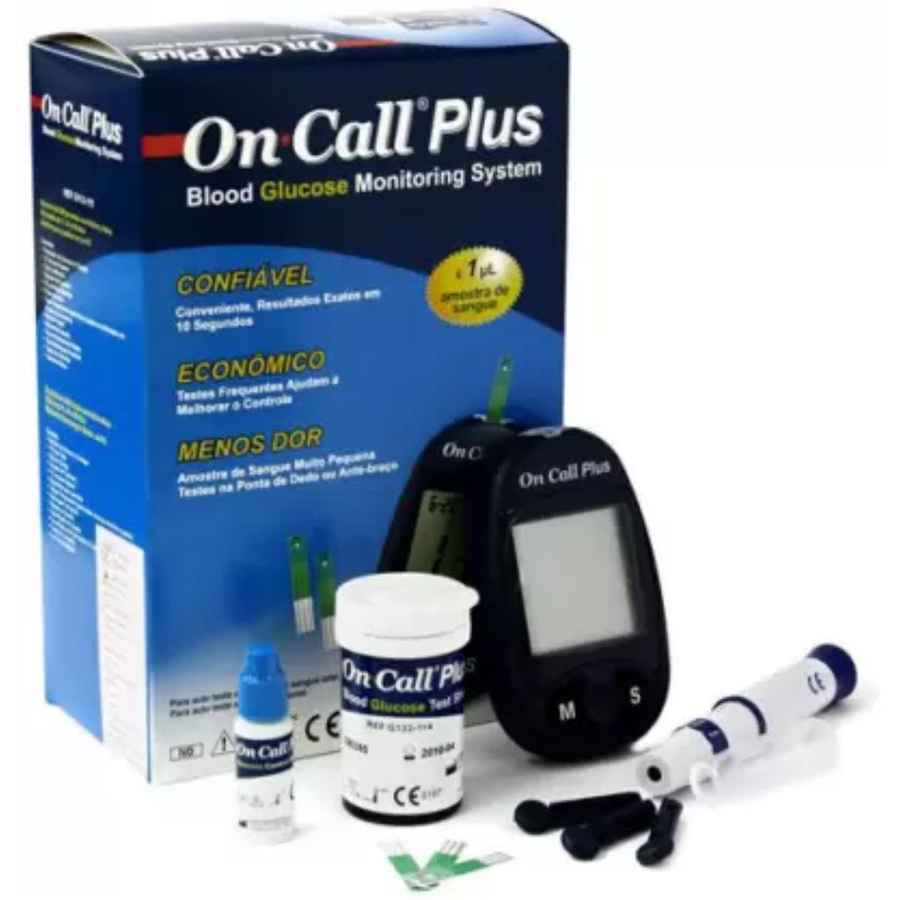 On Call is a brand known for its reliable and accurate blood glucose meters and the On Call Plus is a part of that family. It is a compact and lightweight glucometer with a large digital display that displays the user's blood glucose reading along with the date and time the reading was taken. On Call Plus can store up to 300 readings with date and time. Apart from the glucometer, On Call has packed it with 25 strips, 1 lancet device, 10 lancets, a battery and a carry case.
The device is pretty easy to use. All you need to do is insert a strip, apply 1 mg/dl (minimum) of blood to the strip and wait for around 10 seconds to get your readings on its large digital display. This affordable glucometer from On Call can be easily navigated using the 2 large buttons present at the front. It has a battery capacity of 1000 readings meaning you don't have to run for a battery every now and then.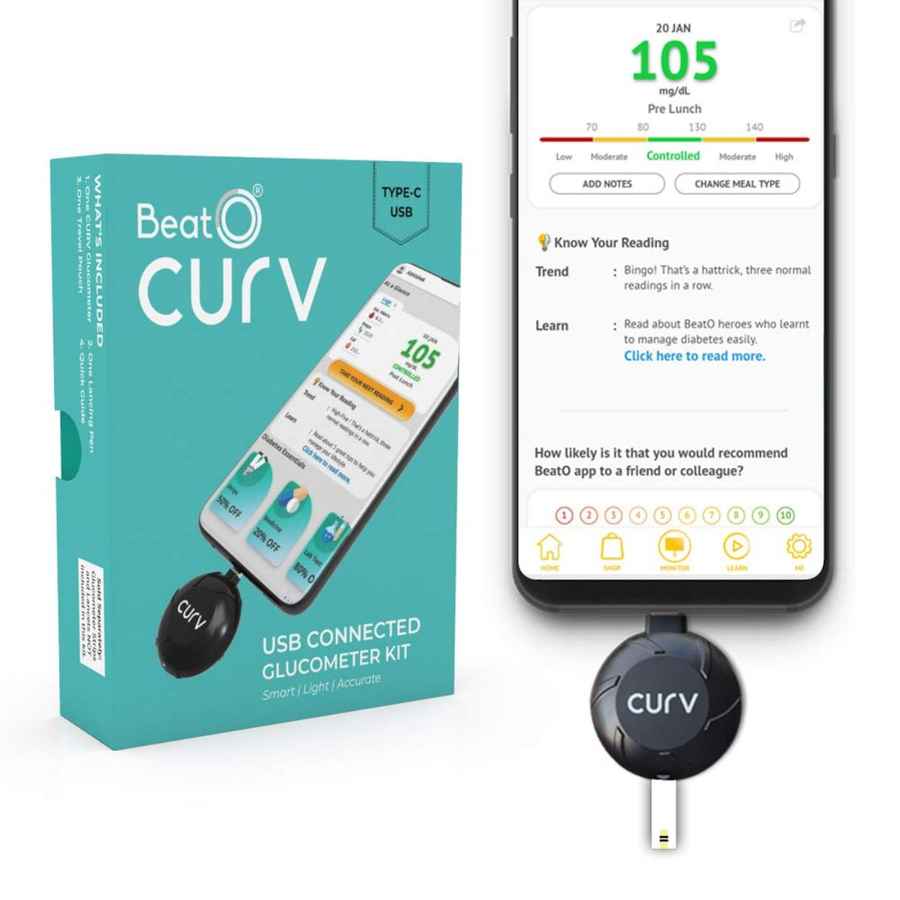 BeatO CURV is a smartphone-connected glucometer for all the tech-savvy people out there who want to get their blood glucose readings whenever they want. It doesn't have a screen of its own and uses your smartphone's screen to display the results. The device is pretty easy to use; all you need to do is insert the device into your smartphone's USB port, then insert a strip and apply blood to the strip. The glucometer has a USB Type-C connector that plugs into your smartphone and uses its power to get accurate results in no time.
The featured app stores all your previous results and analyses them to get all that info in the form of graphs that are easy to understand. You can even set emergency alerts to inform your friends and family whenever you get a reading that's out of normal range. It is one of the smallest and lightest glucometer machines available in the market. The BeatO app bundled with the device uses AI-based notifications to give you personalised insights. Glucometer price in India is quite high, but it is one of the most affordable glucometers you can get online.

List Of Best Glucometers Machine In India To Check Blood Sugar Level (Aug 2022)
| Product Name | Seller | Price |
| --- | --- | --- |
| Control D Automatic Glucometer | Flipkart | ₹ 703 |
| Dr. Trust (USA) Digital Glucose Blood Sugar t | Flipkart | ₹ 1,999 |
| OneTouch Select Plus Simple Glucometer | Flipkart | ₹ 790 |
| Control D White & Black 2 Kits Glucometer | Flipkart | ₹ 1,999 |
| OneTouch Verio Flex Blood Glucose Monitor | Amazon | ₹ 1,200 |
| Accu-Chek Active Blood Glucose Meter Kit | Amazon | ₹ 1,547 |
| Accu-Chek Instant glucometer | Amazon | ₹ 1,440 |
| Dr. Morepen BG-03 Gluco One Glucometer Combo | Flipkart | ₹ 744 |
| On Call Plus Glucometer | Flipkart | ₹ 890 |
| BeatO CURV Smartphone Connected Glucometer | Amazon | ₹ 699 |