Having an accurate mouse isn't necessary for casual gaming. However, if you're the kind of gamer who plays games competitively and want a mouse that won't betray you in crucial moments, you have to stick to a high performing sensor. It also depends on the game you're playing since you absolutely don't need accuracy in MOBA games. If you're looking for a gaming mouse to play your FPS games competitively or even professionally, here's the top 10 that we've tested in our labs for you to consider. Although the prices of the products mentioned in the list given below have been updated as of 3rd Mar 2021, the list itself may have changed since it was last published due to the launch of new products in the market since then.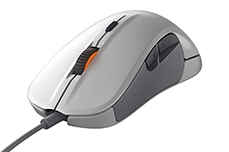 Highly regarded among professional esports players, the SteelSeries Rival 300 sports the PMW3310 optical sensor. It's been a while since it launched but it still performs better than the current competition. Apart from being a good sensor, SteelSeries managed to fine-tune it accurately to cater to gamers who are serious about tracking accuracy. The mouse comes in different colour variants with some special edition.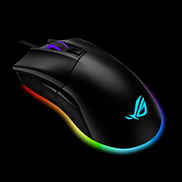 The Gladius II Origin is the latest upgrade in the Gladius line-up. Although all the mice in the series were good, the sensor performance wasn't in the top tier. That changes with the latest one after it received an upgrade with the PMW3360 optical sensor. It's quite a popular sensor and many manufacturers have used them in their mice. However, ASUS has calibrated it well to use the full potential of its performance. While you get an accurate gaming mouse, it includes extra left and right switches that can be replaced by the user. It also has brilliant RGB lighting implemented if that's your thing. The Gladius II Origin won the Digit Zero1 Award in 2018.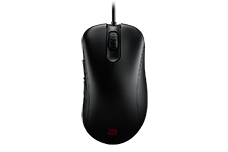 Zowie is another peripheral manufacturer which is respected among professional esports players. Their gaming mice have always been targeted towards professionals, and they've maintained a high level of performance in them. While the previous generation used the accurate PMW3310 optical sensor, they pushed an upgrade with the PMW3360. And as expected, the EC2-B performs brilliantly. If you're a budding competitive FPS gamer, this could be your weapon of choice.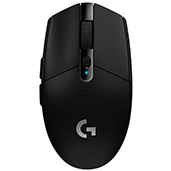 A few years back, the mention of wireless gaming mice would be funny since they were terrible. Although you could use it for regular work, playing FPS games with them were a bad experience. However, that has changed recently and we're glad enough to confirm that you can use wireless mice to play games without worrying about losing accuracy. Logitech has been a forerunner in promoting wireless technology in gaming mice and their HERO sensor has delivered. The Logitech G304 uses the same sensor and performs better than some of the wired mice out there. It's also a medium to a small-sized mouse, so it's portable as well. The mouse is powered by a single AA battery and has no LED lighting.
Corsair also tried their hands with wireless technology in mice but the first iteration didn't make it to the top tier. However, this year, they launched the Corsair Harpoon RGB Wireless based on their new Slipstream wireless technology and stepped up. Although it uses a mid-range optical sensor, it's capable enough to maintain accuracy at high speeds. It can be used in both the wired and wireless mode. With Corsair's iCUE software support, you can play around with the RGB lighting and other functions as well.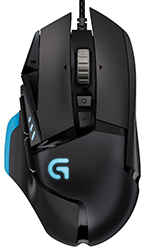 When it had launched, the Proteus Core G502 had become our favourite mouse. Not only was the PMW3366 optical sensor highly accurate, but the design of the mouse was comfortable with appropriate software support. The ambidextrous design felt right at home for a satisfying palm grip and the extra buttons proved to enhance productivity. Speaking of extra buttons, it also had a sniper button that some FPS gamers might find useful. The mouse had adjustable weights too. Whether it was playing FPG games or using it for work, it was able to serve both scenarios effectively. Do note, the latest model has an updated sensor that we haven't tested yet.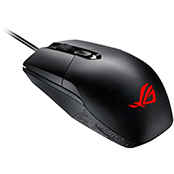 Another indication that the PMW3310 optical sensor was a high performer, the ASUS ROG Strix Impact had won the Digit Zero1 Award in 2017. They calibrated the sensor really well including the CPI steps to be close to the target values. We already expected the mouse to perform well considering the use of this sensor and the testing confirmed it. You can play FPS games with this mouse competitively and have it illuminate through different RGB lighting effects. It also offers a good balance in price and performance.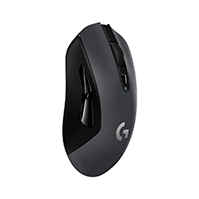 Belonging to the mid-range in Logitech's lineup of gaming mice, the G603 was the first wireless mouse in our labs to have performed better than other wired mice in the same or higher price segment. We were able to comfortably play FPS games without any hiccups on the optical HERO sensor. It doesn't include any kind of illumination and is powered by two AA batteries. This also makes the mouse slightly heavy but not too much. It also means that you're going to get long battery life (up to 18 months) at a lower polling rate of 125Hz or 8ms.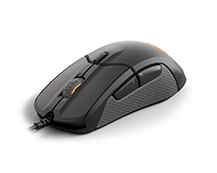 While the Rival 300 was already a high-performance gaming mouse, SteelSeries upgraded it with the Rival 310. To push better performance and higher tracking accuracy, SteelSeries worked with sensor manufacturer Pixart to develop the TrueMove3 optical sensor. Although the performance was in the top tier, it wasn't quite there with the Rival 300. Since this is a fairly new sensor, we expect the performance to go up in the future iterations. With the Rival 310, you get an accurate sensor that will be beneficial in competitive gameplay. It's also quite comfortable and has impressive software support through the SteelSeries Engine.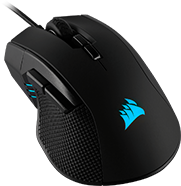 The IRONCLAW RGB is a relatively new gaming mouse from Corsair. Packaged with a mid-range optical sensor, it was able to perform incredibly well. We were actually surprised with its performance in accuracy even at higher movement speeds. It's fairly a big mouse, but comfortable to hold nonetheless. The mouse gets the same iCUE software support and some RGB lighting modes as well. It's slightly expensive but it offers good performance and features for a mid-range gaming mouse.
Adata XPG SX8200 Pro 3D NAND 256GB Solid State Drive
₹ 4270

|
Intel® Core™ i9-9900K Processor (16M Cache, up to 5.00 GHz)
₹ 40400

|
NVIDIA Titan RTX Graphics Card
₹ 728499

|
Benq EX2780Q 27" 2560x1440 2K QHD Resolution 144Hz IPS Display Monitor
₹ 39900

|
Western Digital WD Black NVME SN750 1 TB M.2 2280-S3-M PCIe Gen3 Internal Solid State Drive (WDS100T3X0C)
₹ 13000

|