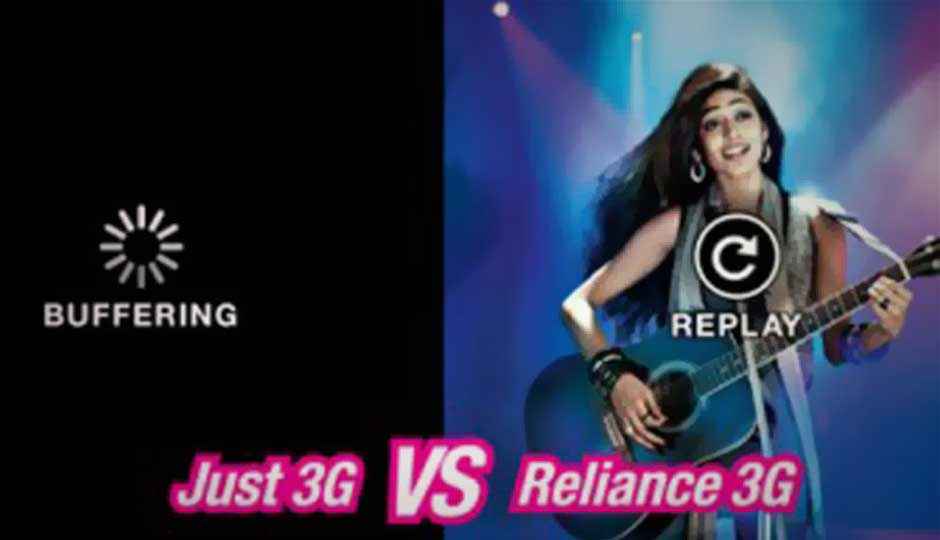 Following the launch of new affordable 3G plans from Reliance Communications (RCom), a fresh round of price war in the 3G segment is believed to be in the offing. Reliance is now offering 1GB of 3G data at Rs. 123, which is cheaper than even its 2g data rate i.e. 1GB of data at Rs. 125.
It is perhaps the first time that 3G data rates have gone so low, which is certainly going to help the operator increase 3G subscriber base. If other operators follow the suit, we are most likely to see 3G data rates getting cheaper further.
Reliance is charging Rs. 246 for 2 GB and Rs. 492 for 4 GB. For new customers coming to Reliance's network through MNP, the company is offering 1 GB of 3G data free per month for two months.
However, Reliance's new rates aren't applicable for usage in 3G dongles. Data benefits will be forfeited if the recharge is done for usage in data dongles. Moreover, charges for usage of data beyond limit is at 10p/10KB.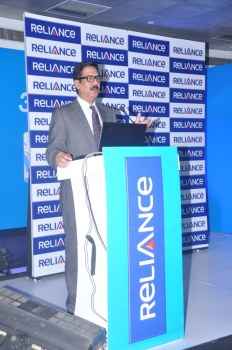 Gurdeep Singh - President and CEO, Wireless, RCom announcing new 3G plans
Let's take a look at Reliance's new 3G rate as compared to other operators' 3G rates: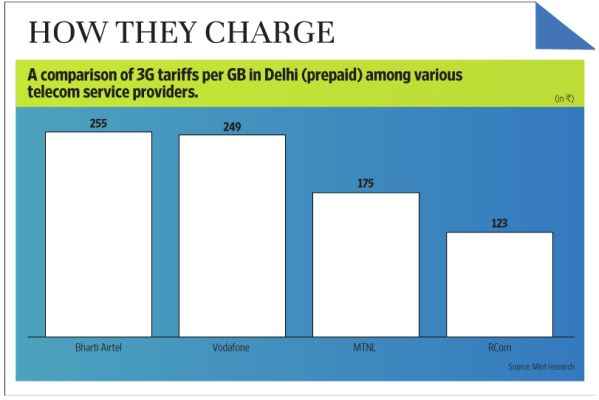 Chart courtesy, Livemint
Higher tariff plans have proven to be a huge hurdle for the expansion of the 3G network in the country. Steep data pricing has kept the mid- to high-level data users stuck to the 2G network. However, slashed 3G rates is likely to translate into significant data usage and revenue growth across the customer segments – like last year.
Last year, most of the operators had significantly slashed their 3G tariffs, helping 3G network grow in the country. According to the recent Nokia Siemens Networks study,mobile data traffic in India had grown by 92 percent, mainly driven by the 3G network.
The study says that during the period between December 2011 and June 2012, 3G-driven data traffic had grown by 78 percent, while data volume from 2G surged by 47 percent. The second half of the research period – between July 2012 and December 2012, traffic driven by 3G services grew by 54 percent while that 2G network increased by 18 percent.
But are we going to see another price war in the 3G segment? Analysts have mixed views.
According to Hemant Joshi, a partner at the consulting firm Deloitte Haskins and Sells, there is a very good chance of this happing.
"This is a very competitive industry. The industry offerings are always very similar in terms of price, speed, etc. There will definitely be a change in the status quo but the larger issue is the supply and demand," LiveMint quotes Hemant Joshi as saying.
"If a company has unused capacity and is able to get incremental revenues for that, then it is always good. The fixed costs are already there and additional revenue is always welcome," he said. "For data, content is very important. Real revenue will only come when there is relevant content, which is very limited right now."
Himanshu Shah, research analyst at HDFC Securities Ltd, however, thinks differently.
"We don't foresee RCom's rate reduction to have material impact on other telcos due to its poor perception of brand and service and its inferior 3G network presence. RCom has around 11,000 3G BTS (base transceiver stations or telecom towers) versus 25,000 for Bharti (Airtel Ltd) and 17,000 for Idea (Cellular Ltd)," says Himanshu Shah.
3G uptake and need for the quality
3G uptake has grown in the country, thanks to the reduced tariff plans. However, growth clearly shows there's a steady rise in data consumption (especially mobile phones) in the country. This means we need to have high-quality mobile broadband services with better service quality and speed, custom-made for mobile phone users. Moreover, there has to be focus on the tier 2 and tier 3 circles to have a comprehensive growth of the network.
The recent price reduction in 2G rates by the likes of Bharti Airtel, Idea Cellular and Vodafone was a certainly welcome move. It would definitely help more mobile phone users use the Internet on-the-go.
But, users need better and cheaper data to access greater amount of content on the mobile devices. Will the operators be willing to take risk of lowering their 3G data prices, time will tell.
Do you think it's high time 3G data rates go further down? Let us know in the comments section below: