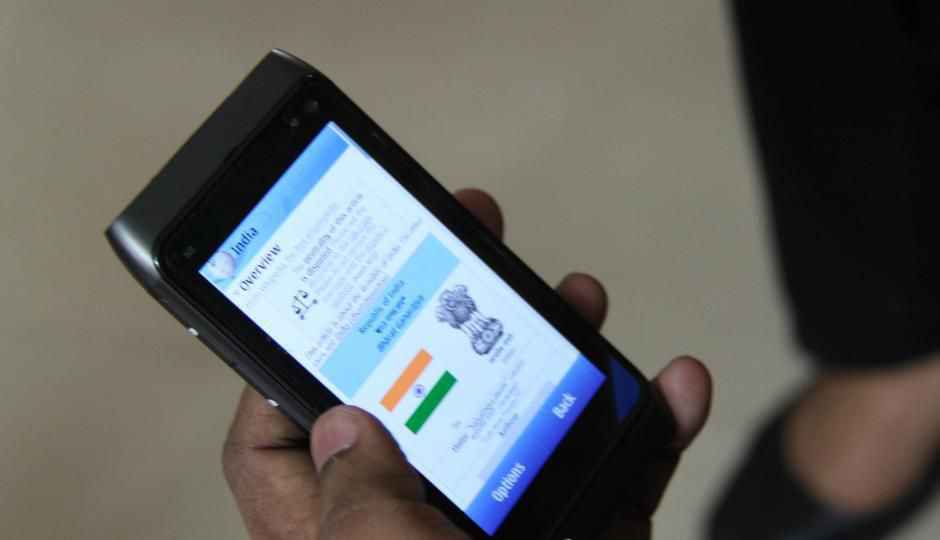 Ericsson ConsumerLab today released its detailed report on highlighting the adoption of smartphone and mobile broadband use in India. As expected, the report reveals a promising picture of the broadband growth in India, courtesy growth of smartphones and 3G network. Growth of e-commerce, mobile-commerce and online banking etc highlights that the Indians are gradually going online. Even as we talk about Internet revolution in India, Ericsson's report subtly points out challenges and barriers that have been denting growth of broadband in India – something telecom operators really need to work on.
3G has been around for a while, and there's lot of enthusiasm for the 4th generation (4G). But, the Indian market hasn't transitioned from 2G to 3G and now 4G. Fragmentation is huge with most of users still staying on the slowest of the networks mentioned. First and foremost factors behind slow growth is very obvious – affordability. Despite having witnessed several price wars and discounted tariffs, it is surprising, affordability is still a major obstacle.
"88 percent of Indian smartphone owners who do not use mobile broadband feel that it is too expensive. For many, there exists a digital literacy gap between ownership of smartphones and the ability to use all of the features offered. 30 percent of smartphone users not using mobile broadband stated that they do not have the digital knowledge to effectively use apps and digital services, and therefore do not perceive any value in subscribing to mobile broadband," explains Ericsson's report.
"For those who do not use mobile broadband, affordability and digital literacy are prime obstacles to adoption. 48 percent of those using mobile internet on 2G or 3G are unable to perceive any difference between 2G and 3G services," says Ericsson.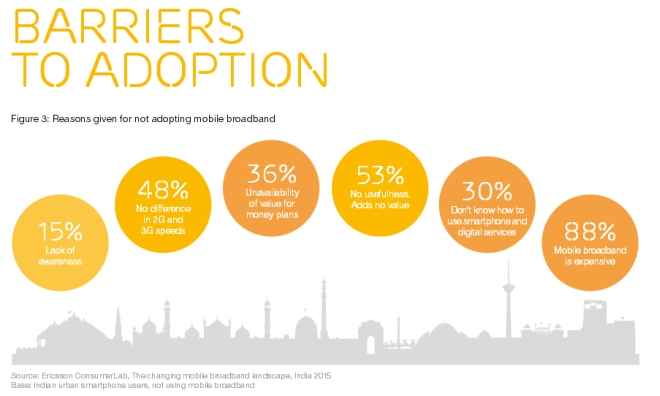 As pointed out above, lack of awareness is another major challenge. One of the interesting key findings of the Ericsson report is that users tend to consume more data when they better understand their data plans.
"When choosing a data plan, it is important that consumers select the tariff that best suits their needs. However, 55 percent of urban mobile internet users say they do not understand their data plan options, and that they are confused by the details. Only 12 percent of urban mobile internet users visit their operator's website to recharge, pay bills or use other services," says the report.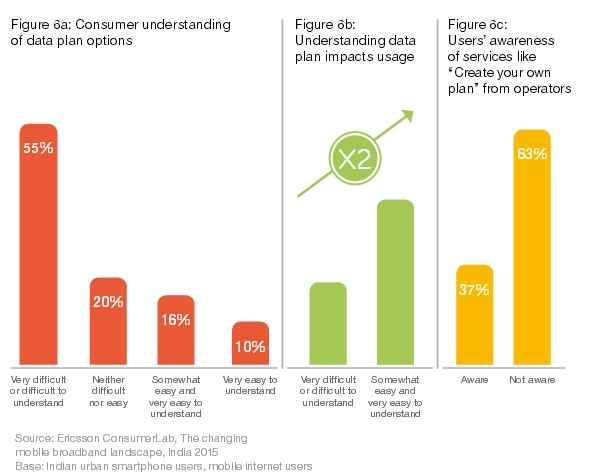 According to the report, location also impacts the experience. "Consumers' perception of their mobile data experience is influenced by many different factors, in particular their location.... 63 percent of urban mobile internet users face quality and reliability issues, such as lost connections and inconsistent network speeds, when using mobile networks indoors," adds the report.
"App-related issues while outdoors or commuting affects 68 percent of urban mobile internet users. These include not being able to play online games due to a lengthy lag time, apps taking a long time to refresh, maps failing to load, and session failures. Such problems are more
common in mid-size and small towns than in large cities.

Telecom operators take pride in calling themselves 'champions' of liberalization in the country and have evidently made some massive investments in the country. Without taking away any credit from them and empathizing with the challenges they face, telecom operators are yet to deliver it to the Indian consumers.
It's quite disheartening to see customers are unaware about things as basic as understanding data plans. It's responsibility of telecom operators to ensure consumers at least understand and better utilise packs they get.
Telecom operators have also to realise that India has a fragmented marketplace and the smartphone mobile broadband landscape is evolving. The diverse consumer base is adopting mobile broadband and using a wide variety of services, beyond chat and messaging.
Consumers have different motivations for and behaviors when using mobile broadband services. Personalized services are viewed positively and are demanded by consumers.
What do you think about Ericsson's ConsumerLab report? Are you content with your service providers? Do let us know your views in the comments section below or @1987kulbhushan
Check out full Ericsson's ConsumerLab report here.
Other Popular Deals
Samsung A7 2016 Edition Golden

Rs. 18990 *

Buy Now

Realme 1 (Diamond Black, 4GB...

Rs. 10490

Buy Now

Redmi 6 Pro (Black, 3GB RAM,...

Rs. 8999

Buy Now
*Includes Cashback
​