State-run telecom operator, MTNL, is set to launch to an 8 Mbps Wi-Fi service in Mumbai and Delhi by April that will be available in malls, coffee chains, food courts, large corporates and Mumbai and Delhi airports.
MTNL will be offering it's new service through a modem, priced at Rs. 6,000 and a roaming device costing Rs. 50-100. MTNL's high speed Wi-Fi services can be accessed on mobile phones, data cards and others by paying a fee of Rs. 50-100.
To access the service, customers will have to register at such places, and using unique login ID and password. MTNL has tied up with C-Dot to roll out the new service.
The telecom operators have turned their focus on the data segment after saturation in the voice segment. State-run telcos MTNL and BSNL currently dominate the wireline broadband market.
As of October 2013, BSNL dominated with 66.8 percent market share while MTNL had 7.4 percent share. Bharti Airtel ranks second with 8.8 percent share.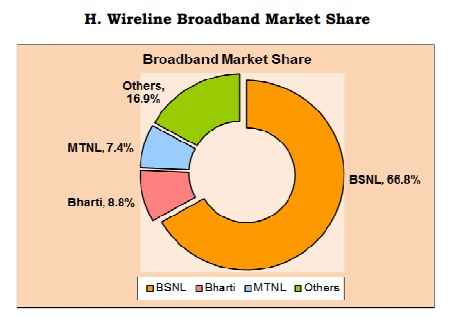 Figures via TRAI
Source: Hindu Business Line