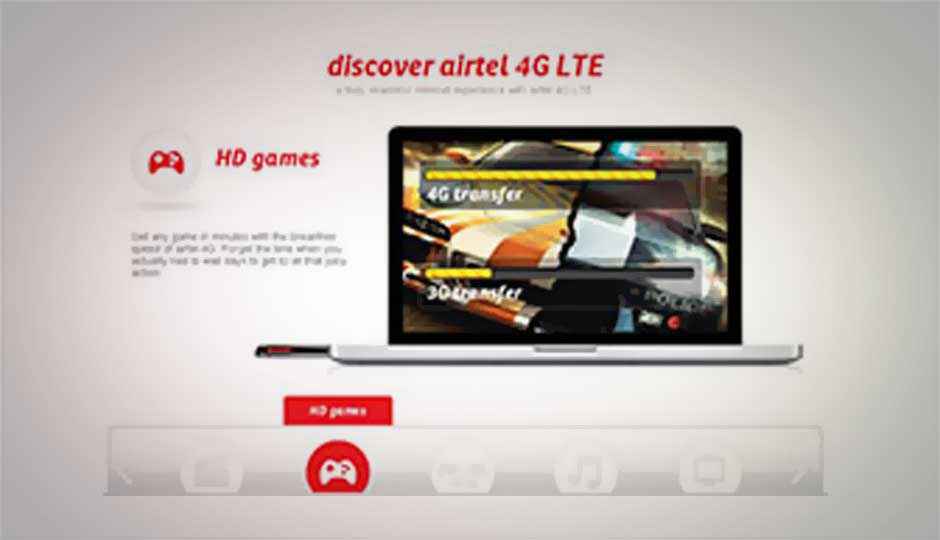 Update:
Bharti Airtel has released an official release stating the operator has tied up with Apple to offer 4G services on the iPhone 5S and iPhone 5C smartphones. The new service is available for Bangalore users starting today.
"Now Airtel customers in Bengaluru on Apple iPhone 5s or 5c will be able to experience 4G on their mobile at the current 3G prices for a 'FLYing' internet browsing experience while on the move. Customers have to just change their existing SIM to a 4G SIM to start enjoying 4G on mobile without any need to migrate from their existing data plan," says Airtel in a release.
Airtel customers on 2G/GPRS data plans/packs can also opt for any of the 3G plans/packs available and enjoy 4G speeds. In addition to these plans, for heavy data users, Airtel also announced the launch of a new 4G plan giving customers 10 GB 4G data for Rs. 1,000/-. While data browsing will be on 4G network, voice calls will be routed on 2G/3G seamlessly with the CSFB (circuit switched fall back) technology.
New SIMs will be available at all Airtel stores across the city. Customers can also SMS 4G to 53636 or call 121 or log on to www.airtel.in/4g-for-iPhone for more details.
Original story:
Bharti Airtel will launch its 4G services for mobile devices in Bangalore later this month. Moreover, the company will be offering users 4G plans at the 3G data rates. If rolled out, it will be the first time 4G experience will be available on mobile platforms.
However, Airtel users with 4G-supported smartphones, migrating to 4G, will have to get a new SIM card. "Existing 3G plans will apply to users who will be migrated to 4G for no extra cost. However, they will have to get a SIM card replacement. Voice networks will continue to run on 2G and 3G networks," Srini Gopalan, Bharti Airtel's director for consumer business is quoted as saying.
Currently, only few phones such as the iPhone 5S and iPhone 5C support the 2300 MHz frequency band on which 4G is being offered.
"We expect more devices will soon come enabled for this band. China has just allocated 4G spectrum in the 2300 MHz band to its operators, so there should be a lot more manufacturing of such devices," Srini Gopalan, director of consumer business in Bharti Airtel India, added.
According to the Airtel official, users on 4G network will be able to download 10 standard movies within 30 minutes.
4G is still in nascent stages in India. A major push to the segment is believed to come from Mukesh Ambani owned Reliance Jio Infocomm, which is likely to launch its services this year.
According to a report last month, Reliance Jio Infocomm's 4G wireless broadband services will be about 10-12 times faster than the current 3G networks.
Aircel has also geared up to launch its 4G services. The operator has already tied up with ZTE for the deployment of its 4G LTE network in India.