Aircel has introduced a new range of tariff plans, which allow 2G and 3G users to enjoy data services at a common price point. The new tariff plans start at Rs. 27, which provides 7 days of unlimited 2G/3G data for 7 days. Aircel's new monthly plans start at Rs. 128, which gives 2G and 3G users 1GB of data with a validity of 30 days.
The operator says the unified data pricing helps customers 2G network avail the benefits of these data packs at 2G speed, whereas the customers on 3G network with 3G supported handsets able to browse internet on 3G or 2G.
"New set of mobile internet tariffs will offer complete flexibility to its customers to use 2G/3G services in the same pack. With this launch, Aircel becomes the first telecom operator in India to offer truly unified internet packs," says Aircel in a release.
While announcing the new data plans, Aircel's VP – data and devices, Sunil Kuttam said the company is focusing on the data market. The operator has already set up dedicated data centers for the convenience of users. Also, the operator is currently overhauling its network, which expected to be completed by next month.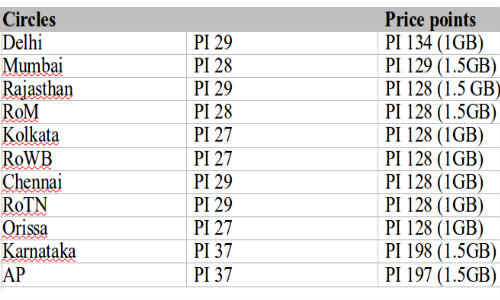 "Aircel's new Pocket Internet (PI) plans are a new concept. This is aimed at new Internet users as well as youth, and ensures convenience for users as they don't need to worry about different price points for 2G and 3G," he said, highlighting Aircel is perhaps the only operator to provide free roaming on data.
According to Sunil, data usage in the country had gone up significantly, and is expected to double in the near future. He also revealed 3G contributed about 40 percent of Aircel's total revenue from data vertical. He also hinted at the launch of Aircel-branded devices next month.
Aircel's new data plans are a part of the operator's strategy to focus on the data and content market in India. The company recently tied up with Micromax to offer discounted bundled voice/ data plans and free content worth Rs. 10,000 with the new Micromax devices including dongles, feature phones (Internet-enabled) and smartphones. Aircel recently tied up with Wikimedia Foundation to offer free access to Wikipedia.