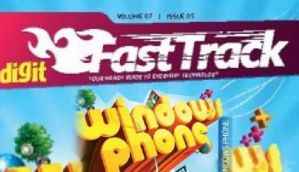 FastTrack To Windows Phone
Windows Phone 7 is the latest OS from Microsoft, popular for its PC operating system Windows. Phone 7 promises to be a revolutionary and effective mobile operating system. Today, the OS is being heralded as the mobile industry's iPhone from years ago. Simply put, it's a new way of doing things and quite possibly a better way. Windows Phone is similar to other smartphone platforms in many ways – by supporting apps, for instance – yet different in many other. It provides its users with a simpler interface, a visually better presentation, and a more personalised and customisable experience. While Apple is busy fighting it out with Google "me-too" Android, Microsoft has been forced to rethink its mobile offerings and retrench. This necessity has resulted in a far more thoughtful platform – one that doesn't copy what the others are doing.
How it all began
Way back in 1995, Microsoft began testing a new type of Windows that would run on consumer electronics (CE) devices instead of PCs. Called Windows CE, this system looked a lot like the Windows 95 OS that was popular on the PCs of the day, and it offered programmers a similar experience for developing applications. But underneath the hood, Windows CE was different: It was aimed at a non-PC hardware platform that was appropriate for the mobile devices entering the market at the time, could run with minimal RAM and storage, and utilised a stylus as a pointing device instead of a mouse.
The Hardware
While Microsoft's previous smartphone platform Windows Mobile had a few recommendable features, one of the problems with that platform was the almost limitless number of hardware types and form factors that shipped from a variety of device makers and wireless carriers. This diversification made the platform attractive to these companies for a while. But it also made it almost impossible for Microsoft to deliver software updates to customers, something it has been able to do more easily on Windows PCs via the Windows Update and Microsoft Update services.
Phone 7 basics
Your Windows Phone can be lots of fun and can make you very productive but only if you know how to use it. Whether this is your first time using a smartphone or your first time using a touch screen, this chapter will give you the information you need to get started. Even veteran users of cellphones will benefit from a quick glance into the basics.
Media apps
The live tiles on Windows Phone 7 lets you seamlessly manage all your media – be it pictures, music or videos. The Pictures live tile on your home screen, for example, acts as a central hub for all pictures – whether shot on your phone camera or your friends', or externally uploaded to Facebook
Email
The Windows Phone Mail application offers everything you need to manage email, including a highly optimised user interface and support for multiple email account types and multiple accounts of the same or different types. It utilises common email features such as flagged and urgent messages, attachments, CC and BCC support, and the reading of textual and graphical emails. It also works in either portrait or horizontal display modes, so you can manage mail the way you want to.
Office apps
This isn't the first version of Office that Microsoft has released for its smart phone OS, of course. But it is the most full-featured so far. Thanks to a new emphasis on the tasks that make the most sense for mobile devices note taking, over-the-air connectivity with your workplace's document repositories, and excellent word processing document, spreadsheet, and presentation viewing capabilities, along with basic editing functionality, Office Mobile is a great companion for any Microsoft Office user.
The games hub
Looking over the minimum hardware specifications for Windows Phone, a suddenly obvious thought emerges: This thing looks like a mobile gaming device. And that's not a happy coincidence. When Microsoft decided that it would rein in the hardware diversification that doomed its previous mobile platform, Windows Mobile, it also decided to shoot for the moon. So all Windows Phone devices include some pretty serious hardware.
Tips & Tricks
Now that we've got all the basics out of the way, it's time to dig a little deeper and find those additional features that make using the Windows Phone 7 even more interesting and functional. Learn to lock your phone among other things.
The future and mango update
Microsoft just recently launched for its existing phones, Windows Phone 7.5 codenamed the Mango release. It has many major improvements and hundreds of added features while trying to be more social and people-centric, making it even easier to stay connected. In many ways, the user interface has been made extremely intuitive and user friendly, arguably probably even more than Android. Unfortunately, it still has its drawbacks – it doesn't support most forms of 4G.