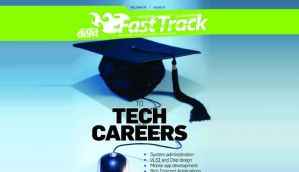 FastTrack To Tech Careers
Watch any Hollywood high-school drama and you'll find geeks being portrayed as the weak downtrodden lot who get trampled on by the jocks of the world. At least that's how it used to be. Watch any modern-day coming-of-age story and halfway down the movie, the once bullied bespectacled bicycle riding nerd will be driving up in a sports car with a supermodel for arm candy. He's still a bespectacled nerd of course but what these movies are trying to show you here is that in the real world geeks, nerds or anyone who builds their careers on technology (and primarily computers to be specific) will eventually hit it big.
System administration
If there's one thing Digit readers are familiar with, it's getting calls from friends and relatives to fix their PCs. Being geeks, we've all often been the go-to guys for everyone: from uncles and aunties to neighbours and neighbours' uncles and aunties and occasionally the cute chick from college. Well maybe not so much the cute chick, but one can always dream.
Be a chip off the old block
Chip designing is a challenging job because of the constant innovation in process technology. In addition to its dynamic nature, as products become increasingly complex these challenges must also be overcome. At its base lies Electronics Engineering and Computer Science and like others, this industry too, is not without its lore and legend.
Careers in mobile app development
Who could've imagined in the time of an innocuous little app called Snake that the mobile app development industry would be where it is today. A recent report by Gartner pegged the total number of apps downloaded across all platforms at 64billion in 2012 and that number is projected to hit 268 billion by 2017. Roughly 91% of this sales figure is attributed to free applications and paid applications being the other 9%. This trend too is going to stay on the same path for a couple of years down the line.
Careers in ria development
Rich internet applications, or RIAs, in simpler terms are web applications that work like full-fledged desktop applications in many ways. They're delivered to the user through a site specific browser either through a plug-in or a virtual machine. With more and more services moving to the cloud and with increased internet connectivity RIA development is in high demand. RIAs provide robust ways of interacting with users with way more efficiency than ever before. As a simple example, traditional applications generally tend to be limited to form fields, radio buttons, and check boxes whereas RIAs can allow the user to perform in line editing, drag and drop items or otherwise interact directly with the elements. Popular browser-based RIAs include Flickr, Google Maps and eBay; desktop-based RIAs include Twhirl and Tweet deck, both of which interact with the Twitter website; and enterprise applications such as Accelerate4Pharma, a pharmaceutical application.
How to start a career as a game designer
Nearly all of us have played video games as children and some of us continue to do so as adults. But have you ever wondered how such a complex piece of software is made? What kind of knowledge and skills are required to make a "good" game? Well, if you have ever wanted to get into the game of making a game, maybe you would want to look at game design as a career. Interested? Read on!
Careers in web analytics and seo
The rapid proliferation of the Web and constantly connected devices has made digital marketing an inevitable career option for number-crunching geeks. And two of the most engaging facets of digital marketing are SEO and Web Analytics. SEO stands for Search Engine Optimisation, and as the name suggests it involves knowing the nitty-gritty of search engines to attract users to your online properties – making sure that you gain a relevant audience and the search engine users get exactly what they came for. Analytics, on the other hand, is about collecting and analysing data collected from your websites and distilling the data into research which will help improve your website's performance.
Careers in web designing
What are the first thoughts that come to your mind when you hear "web designing"? Obviously, it would involve the web and creativity. And you're not wrong, the basic premise is pretty straightforward: There's a medium (the internet), a delivery method (a browser) and an end-user, and the job of the web designer is to create content, deliver it and run usability and readability checks to ensure that everything runs the way it is intended to.
Careers in software testing
There was a time when Software Testing was considered a layman's job with no required domain or technical skills. Anyone with basic knowledge of computers could be employed as a Tester. The work allocation for testers was also very limited.
Indiependence
With the explosive growth of smartphones and tablets, app development is no longer a hobby but a viable career choice. We speak to four promising independent developers, who've all witnessed varying amounts of success, about what it means to be an indie developer and what people looking to join the ranks should know.
Secure your career
Back in January 2010, Google announced in a blog post that it had been the victim of a highly sophisticated and targeted attack on its corporate infrastructure. If a giant like Google can fall prey to an information security breach, then what about others? With increasing dependence on the digital medium, IT security has become very important. Any and every industry which has data at rest or data in motion can be a victim. In this scenario, IT security professionals are the guardians of such data.
Designing careers
Case study House #8 was designed in the '40s, when we as Indians hadn't witnessed our tryst with destiny. A glance at it and you'll find it hard to believe it has been standing as a symbol of modern design for the past six decades. Upon a request by the Indian government, American designer couple Charles and Ray Eames presented the India Report in 1958 that resulted in the first design institute popularly known as the National Institute of Design located in Ahmedabad, Gujarat.
Careers in flash and HTML5
When someone talks about Flash what is the first thing that comes to your mind? Our guess would be "moving images, animation, and Flashy Stuff". If your thoughts hover in that area, you're not wrong but you're not completely right either. In reality, Flash has now grown from a mere animation tool that it was, into a platform. The word platform is being thrown about loosely these days, so we'll come to that in a bit and explain what makes Flash a platform. But first, let's take a step back and understand how Flash has evolved. "Initially when Flash started off as an animation tool, people looked at it simply as something that can help creating animations for the web – things like banners and ads. But there's a huge interactive angle to it that made the adoption of Flash so rampant," says Himanshu Mody, CEO Tekno Point Multimedia, one of the leading Flash Training institutes in the country. Speaking of adoption, a 2013 study pegged the software developer workforce in India at 2.75 million developers and projected a growth of 90 per cent by 2018. Though impressive by itself, the actual figures may go way above these projections.