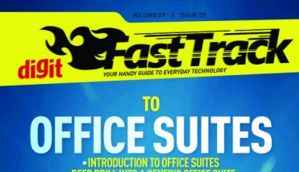 FastTrack To Office Suites
Many of you have grown up using pre-installed (ahem...pirated) versions of Microsoft Office but in today's market the options are many - from expensive offline office suites to open source cloud based freeware. But with the so many options, be it offline, online, proprietary, open source etc. it can get confusing to know what's right for you. And as a greater quantity of work shifts to the online realm, with cloud collaboration between classmates and colleagues, it's imperative that you work on an application platform that is stable, flexible and powerful, not to mention affordable. That's where this issue of Fast Track comes in - where we lay bare the broad range of options before you in terms that make sense.
An introduction to office suites
An 'Office Suite' – also known as 'Office Software Suite' or 'Productivity Suite' – is nothing but a collection of programs that improve the productivity (hence the name) of the user. Office productivity software really is just the sum of its parts. If you've ever used a word processing program, spreadsheet application software or a presentation making software, you already have experience working with productivity software. And this is true for most of us – because in this day and age, working without these applications is almost impossible. They might not seem to be the most exciting software on the market, but they're absolutely indispensable – be it for organisations, corporations or individuals. Be it for work, school or any other venture, the applications in your office software suites are extremely crucial since you're likely to use them day in and day out. To give you a gist, even this article is being typed out on word processing software.
Deep drill into a generic office suites
The marketplace for various office productivity suites is fairly diverse, but it's built on the perennial needs of the consumer from before the digital age. Across all its included applications, from word processing programs to spreadsheet applications, we'll generally find the basic components of all office suites to be very similar. In order to best understand the most fundamental designs and features of an office suite, we'll walk you through the look and feel of the three critical applications in any office suite - the word processor, spreadsheet program and presentation maker.
Free offline suites
The ideal product is one which you pay for according to your usage and means. Many times, this is nothing but a fantasy. However, with the proliferation of Open Source office suites that rival paid for applications in usage and functionality it isn't surprising that increasing variations of free offline office suites are becoming available. Free from the dependence on the internet for conducting your work, these packages allow you to make the most of office suite applications without having to shell out a single penny.
Free online/ cloud-based suites
The last five years have accelerated the rate of web-based productivity. With the mass proliferation of the internet and release of open source office suites, the biggest names in technology are making its enterprise services available to a broader consumer base. This is in large part due to the reliance on internet at home, work and on the go, to conduct business and work. To fill this ever increasing demand, the rise in full featured free cloud based suites has been rapid.
Paid office suites
Paid office suites are very profitable for the companies that create them and have always been one of the major markets. Earlier, paid office suites dominated the scene, both - at home and in business, but now very capable free office suites have changed the equation and are matching the paid suites in functionality. Naturally, it was predicted that paid suites would die out quickly but that didn't happen. Paid office suites have kept innovating to stay in the competition and even get ahead.
Comparison between the best online suites
It wasn't too long ago that Microsoft Office was the only viable alternative when it came to a productivity suite on the PC. Today, Office, while still popular, is only one of the suites that you can opt for when you want to work with documents, spread sheets and presentations. Google Drive has jumped the line in terms of popularity and is almost as ubiquitous as Office was back in its heydays and, thanks to the overwhelming user base of iDevices, Apple's iWork (that's made up of three separate software – Pages, Numbers and Keynote) has also made its presence felt in all manner of tech products such as desktops, laptops, tablets and phones.
Tips and tricks
Whether you're a hardcore user of Microsoft's flagship Office suite or have embraced the cloud driven freedom of Google Docs there are parts that still remain secret. The wealth of features and techniques that make each of them an efficient tool can be easily learnt to enhance your productivity. We present you with a list of handy tips and tricks that will turn you into an expert user in a matter of minutes.