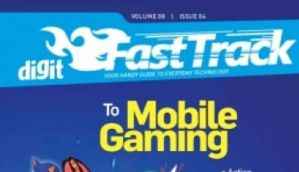 FastTrack To Mobile Games
You enjoy reading Fast Track each month because it brings to you interesting new ways to use technology, not just for work but also for play. What better tech than your own mobile device to showcase the best games available in categories such as action, RPG, sports and music (head over to the table of contents for a quick look at the categories being covered). Mobile games have gone from humble beginnings (remember Snake?) to full-blown near console quality releases in the past decade. The devices they're played on are continuously evolving and with hardware improving every year, the possibilities are almost endless. Today's generation will begin their mobile gaming experiences on iPads, superphones and other such devices. Yes, times have changed. Games like Angry Birds have become a quintessential inclusion on most devices now. This year we have phones with 2GB RAM and quad core processors. No one thought that was possible a few years ago.
Action
Action games are by far the most popular game category around and it's easy to see why. They let you do things that you normally can't or won't do. Whether it's donning a spacesuit and taking down aliens or becoming a soldier and fighting for your country or just running down a zombie with a chainsaw, action games let you live vicariously in a way few other games can.
Racing
There are few things that can match the thrills of a fast supercar and fewer still of having a bunch of them racing against each other. Unfortunately, not all of us can indulge in this sport but that's where these racing games come in. Not only do they let us race cars we can only dream of owning in some of the fanciest locations around the world but also do things you just can't in real life. Such as hitting a wall at 300kph and walking out alive.
Puzzle
Puzzle games on touch devices include everything from board game puzzles to indie masterpieces and point and click classics. Point and click games should always be played on touch devices. It makes them much better because you actually feel like you're in complete control when the very motion of touching causes a reaction a that debuted on consoles and PC are never as much fun on those devices. The puzzle category is also very popular with independent developers probably since this genre allows them to express themselves. Gesundheit on iOS is a great example of how one individual can do everything from drawing art to composing the soundtrack for it and ending up being featured by Apple. Puzzle games also include shape games such as Slice It! that involves geometric knowledge. Also included here is Huebrix by Yellow Monkey studios developed in India. More and more games in this category are now being developed for touch and then ported elsewhere. The best part about these games is that they make you think and the experience of figuring out the next move is very rewarding.
Rpgs
The role-playing game genre on mobile devices is a niche one. While most people get their quick fix from casual games like Angry Birds and the like, there is a group of people who like to play long and immersive games on their smartphones and tablets. RPGs often offer over 20 hours of gameplay and are expensive for the same reason. They are high quality games and have epic story lines. More and more RPGs have been recoded with touch in mind and are a joy to play. For instance, tapping enemies in rea time battles is much easier than having to use a directional pad to select them. Thanks to better hardware we are even seeing some PlayStation 1 RPGs like The Bard's Tale make their way to smartphones and tablets. Some developers are also making use of in app purchases so you can get a taste of the game before shelling out money for the rest of the story. The games featured in this category are the cream of the crop when it comes to immersive gameplay and if you are a retro gaming fan, you will end up playing all of them.
Casual
It's hard to say what makes casual games so addictive. Perhaps it's the simple nature of the gameplay. Or the ability to just pick it up and quickly play a level without having to invest too much time and energy playing an entire campaign. Or the thrill of getting that highscore and comparing it with your friends'. Or perhaps it's the combination of all of these factors.
Word games
We've being playing word games for as long as we can remember. From puzzles to solving crosswords, or even making up new words, word games have managed to keep us busy for hours. Solving word puzzles in English class as kids was a mandate. Vacations have been incomplete without that board of Scrabble. An evening with friends turns into a fun one only after you've squabbled over a game of Taboo. And let's not forget Hangman; it's like everybody has their own version of the game. Remember how you spent an hour waiting for your date but you didn't really care because you were so engrossed trying to solve a crossword puzzle? That's the power of word games. Which is why, we couldn't have possibly missed out on word game apps for your mobile now, could we? So after hours of scouring and playing and coming up with words that don't even exist, we have here a list of some of the cleverest word games out there for your mobile phone! Say hello to wordy time wasting and goodbye to productivity.
Sports
Sports games have come a long way. Better hardware makes for more realistic graphics with better AI. Mobile sports games are plagued with bad controls for the most part unless the developer actually isn't lazy and rethinks the control scheme for a touchscreen. EA released a gamepad touchscreen app that allowed multiple people to control players in FIFA 12 on iOS with iPods or iPhones. This amplified the game's enjoy ability. Mobile sports games have something for everyone. There are multiple games for every sport now (including kabaddi). For football fans, there's FIFA or Real Football. There are also many cricket games such as Stick Cricket that everyone will have heard about. Then there are the games such as Wonder putt that completely blow your mind with their creativity. Most people still think sports games only include FIFA and cricket games. Don't be afraid to try something new. The games featured here go beyond your everyday sports games. Given how well franchises such as NBA and FIFA work on smartphones and tablets, don't be surprised if just like FIFA 13, games launch on tablets at the same time as they do on consoles.
Runners
Runners or endless running games are essentially a subset of casual games. These games have all the attributes of casual games, such as the highly addictive gameplay and their pick up and play nature. In endless running games, the character runs continuously and it's your job to keep him going. You'll come across various obstacles in your path along your way and as long as you're alert you can dodge them all. There are also objects and rewards to collect at times. What makes these games addictive is the magic number at the end: the high score. It's what keeps you going and coming back for more. Couple this with an addictive gameplay and it's really hard to stop playing. It's because of this why games such as Temple Run or Jetpack Joyride are so popular. These games can't match the high quality graphics of some of the other titles from other genres in this book, but they more than make up by keeping your interest level high thanks to the increasingly difficult challenges that will make you play again and again and again.
Music
Music games have been around since the very first video game console. They started out as just basic games that allowed you to compose basic tunes using the 8 or 16 bit sounds. Now you have games that adapt to your music or that allow you to play along to any song on your device in patterns on a screen that are as close as it gets to playing real music for most non-musicians. There are also games that take previously winning formulae and combine them with music such as Bit. Trip Beat that borrows from the classic Pong. You also have games like Symphonic that add classical music to the Guitar Hero esque gameplay equation with a full-blown plotline. Music is and always will be an important part of gaming. Having access to your music library on your smartphone or tablet allows developers to even create games that adapt to your music. Beat Hazard Ultra has enemies and visuals that adapt to the current song from your library. Games like that push the bar further with what can be done with something as simple as a touchscreen and headphones.
EXCLUSIVES
Every smartphone OS has unique pros and cons. We bring you the best of the exclusives on each platform in this section.
Android
Google's mobile operating system has come a long way from getting badly written ports and delayed games to having games launch on the same day as they do on iOS. Most big developers target both operating systems together now. Android also has a huge advantage in allowing people to play games with external controllers. Many big name games like GTA Vice City and NOVA 3 support Bluetooth controllers on Android. This is great for games like that where a touchscreen is often more of a hindrance. NVIDIA has also invested heavily in their Tegra Zone games where games run better on android devices with Tegra hardware such as the HTC One X or the Nexus 7. Most big games have a THD (Tegra High Definition) version available which is the definitive version when it comes to graphics. In fact Android's game ecosystem is growing so fast that in the last few months various gaming consoles powered by Android and Nvidia have been announced such as the OUYA or Shield.
Windows phone
Windows Phone has been playing catch up with iOS and Android for a long time now. Microsoft has finally realized its gaming strength lies in Xbox and that it needs to connect it to its smartphone platform. Xbox Live games on Windows Phone, while more expensive than other games, offer Xbox Live achievements and in some cases syncing progress over to the same game on Windows 8 and Xbox Live Arcade. For instance, Wordament which was previously exclusive to WP is now also on iOS and has Xbox Live achievements which makes it the first iOS game to have XBL achievements. WP 8 brought better hardware to the splatform so more graphic intensive games like Asphalt 7 and the like are available on the platform. Hopefully more big name developers will bring their games to WP soon so it actually has a chance to compete with the big two in mobile gaming. The way Microsoft is going forward, there might even be an Xbox gaming tablet in the future to take full advantage of the vibrant Xbox game ecosystem. We've featured two of the best games out there that are exclusive to Windows Phone.
Blackberry 10
The most popular game we've seen people playing on the BlackBerry is Breakout – it is somewhat synonymous to people playing Snake or Bounce on Nokia phones. BlackBerry phones were almost never advertised for their games; they had a more important task to achieve – delivering emails on time and being the personal information managers of people at work. One advantage BBs had over other phones with respect to games is the trackball and more recently, the optical trackpad. Using this was a fine-grain way to maneuver a game as compared to a traditional four-day D-pad. All that changed with the introduction of BlackBerry 10 – as the new overhauled operating system has been able to attract some modern day touch screen based titles to the store. Now, BlackBerry is on a level playing field against competitors iOS and Android, because the hardware and the software seems to be ready for Gaming. In the section below, we bring to you some of the nicer games available for the new platform.