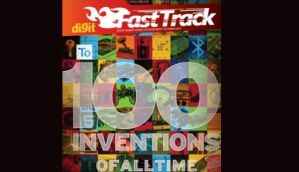 FastTrack To Mankind's Top 100 Inventions
Since the time primordial man first picked up a rock and thwacked a scurrying rodent on its head to fix his dinner, mankind has always been inventing things. Improvising, innovating, crafting tools out of almost nothing to overcome the many difficulties of day-to-day life. Whether it was the rudimentary spear crafted by sharpening the end of a stick or much later a simple chair, inventions have shaped our very evolution. Before you get worried we'll assure you we've not gone that far back in time in this Fast Track. Being Digit, to come up with mankind's top 100 inventions we've (more or less) stuck to technology or inventions that enabled great leaps in technology. The inventions we've covered span core-science aeronautics, biology, physics, medicine, automobiles, electronics and of course technology. We've avoided things like "fire" or "the wheel" because quite frankly no one really knows how the former was discovered (not invented) and who invented the latter. How did we come up with this list? Well the five-member team of self-proclaimed experts (read: Digit old hats) and their apprentices (read: starry-eyed interns) convened and fought tooth and nail over which inventions have had the biggest impact on all the spheres of our day-to-day life.
Mankind's top 100 inventions
The 3D Printer is one of the greatest inventions of the 21st century allowing you to turn your ideas into real objects. The latest Bond movie, Skyfall used a 3D printer from a German company called Voxeljet to produce three 1:3 scaled models of 007's Aston Martin just to blow up during the movie!