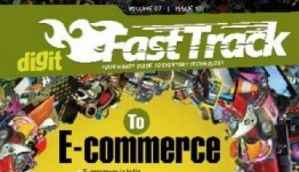 FastTrack To E-Commerce
The move towards online shopping or e-commerce is an inevitable one. Though not a new concept, e-commerce has moved from the once-burnt hands of the early adopters to the masses. As more and more people around the world (but more specifically, in our country) get connected – through not just PCs, but even mobiles – we will see a rise in the number of transactions online. Perhaps not just the number of things being sold, but also the types of things and how they are sold. So what has changed over the years? Is it just more people online equals more e-commerce? Or has there been a shift in the mindset?
What is e-commerce
Internet, E-Commerce, Daily Deals, and Click-n-Mortar are all terms that are present in our daily vocabularies today. But, try mentioning these words to your great grandparents and they will probably give you a quizzical look, as it means nothing to them. The world as we know it today has changed and evolved from the world we knew ten years ago.
Types of e-commerce websites
E-commerce in India has come of age and has become a popular medium for consumers to buy a variety of products and services from brands and merchants. Today, e-commerce co-exists with modern retail and for the many that live outside the key metros; online shopping has given them access to brands that are not available in their city or town. Since e-commerce was born, the business models used have also evolved and grown rapidly. What started as a simple channel for retailers to expand their reach to consumers and for airlines to sell tickets has grown into a stand-alone business sector where several businesses co-exist through a range of unique revenue models.
How secure is your online transaction?
There's still something unreal about online transactions. We've all had those moments, even if a long time ago, that we'd frown upon the idea that we could manipulate our wallets with our computers. Humans have always had underlying trust issues. Couple that with our money induced drools, and you have a system whose early adopters must be credited with being some of the bravest (and from our guess, richest) men and women of the time. Still, it was done, and today we can see the effects – online transactions the world over have grown to some-crazy-number-that-we'd-rather-not-commit-to-print times a trillion dollars – you get the idea. Yes, Trillion – the one with a 'T'.
The dos and don'ts of e-commerce
The invention of the internet has brought about countless changes in human life. One of the most important changes among them is the freedom to shop online. Ecommerce, the new mode of shopping, has revolutionized the way to shop. It offers a plethora of options as well as the desired convenience for which people have been craving since a long time. Despite all the positives of ecommerce, there's a ark side to it which calls for proper attention. At times, you may get puzzled while buying online. News of people being duped while shopping online isn't rare to hear about. In reality, the world of ecommerce is a bit complex. Familiarity to this complicated world will help ensure that you're miles away from turning into a statistic.
A definitive guide to buying stuff from abroad
With the opening of markets and relaxation of the duty structure, the novelty of getting gadgets from abroad for cheap has seen some decline, but there's still the temptation to get hold of the latest tech before its official launch in India. Fortunately, you no longer need to depend on the grey market to be a proud owner of the latest gizmos! International shopping is now at your fingertips. It can be quite effective and even economical if done correctly. So let us look at how online shopping has enabled placement of international orders for cool gadgets right from the comfort of your homes sans the headache of figuring out the custom duties and hassles of managing the shipment.
How to sell stuff online
No matter who you are or what you do, one thing is almost certain – if you want to sell something these days, you'd first want to look online. Depending on what you want to sell, there are quite a number of solutions available. For example, if you wanted to sell your old watch, you would probably put it up for sale on a classifieds ads website such as Olx or Quickr. If you want to sell numerous brand new products, you might want to set up your own e-commerce website! We're sure by this point that your mind is teeming with questions. This chapter hopes to answer them.
Top 50 e-commerce websites in India
TitThere are literally hundreds of shopping sites out there and it's really difficult to cut through the clutter. There are sites that cater to everyone – the all-encompassing jack-of-all-trades providers and then others that are super niche – selling only flowers or lingerie. We doubt flowers are of much interest to you though. Here we feature a rather comprehensive selection of sites that are relevant to you, our geeky reader. For any site to be featured here it had to meet one criteria - it should sell products that are of interest to our reader.
Online consumer protection
The Indian e-commerce industry has over recent times gained a great deal of popularity, which comes as no surprise owing to its ease of access. But along with this comes a greater need to protect the consumers fuelling the growth of this industry. As a consumer of any e-commerce site, you need to feel as protected and comfortable as you would while shopping at your favorite physical retail shops.
Future of e-commerce in India
By the time you're done reading this pen pushing act, someone somewhere would have completed several online transactions. A few clicks, and they'd be all set to receive their cherished treasure within a day or two. All it takes to reach the end of this article and to make an online purchase is a few minutes. One even spares oneself of the effort of leaving the comforts of one's room, getting out of the house, negotiating the traffic of the city, reaching the nearest shopping area, scouting for the product and then finally, buying that item.