05
Photo-editing in the cloud
We all love taking pictures. We love editing them more and believe us, not everyone fancies the complex set of tools such as Adobe photoshop for doing that. When you just want the picture to be a little more lit before you upload it as your facebook profile picture, you look for tools that can do this for you quickly. Fortunately, there are many services today that let you do this rather simply. Let's take a look at what they offer.
PHOTO-EDITING IN THE CLOUD
Natively installed apps aren't your only option when it comes to having fun with pictures.
We all love taking pictures. We love editing them more and believe us, not everyone fancies the complex set of tools such as Adobe photoshop for doing that. When you just want the picture to be a little more lit before you upload it as your facebook profile picture, you look for tools that can do this for you quickly. Fortunately, there are many services today that let you do this rather simply. Let's take a look at what they offer.
GOOGLE+ Creative Kit
https://plus.google.com/
When Google announced that they bought Picnik and subsequently shut the service down, a lot of picnik fans became sad. Picnik was one of the finest cloud based photo editing services available around that time. Later, Google announced that picnik will be incorporated as part of Google+ Creative Kit where you can edit your photos uploaded on Google+.
You can log-in to your Google+ account and go to photos sections. On the top of the photo you can see the "Edit" button which takes you to the Creative Kit that takes some time to load. You can then choose from variety of effects, basic editing, exclusive effects such as sun aged photos etc and a lot of decorations/stickers to choose from. Since you're using google+, you have access to all your blogspot and Google Drive photos for quick editing. If you have to edit a photo not already available in photos sections, you will have to upload it .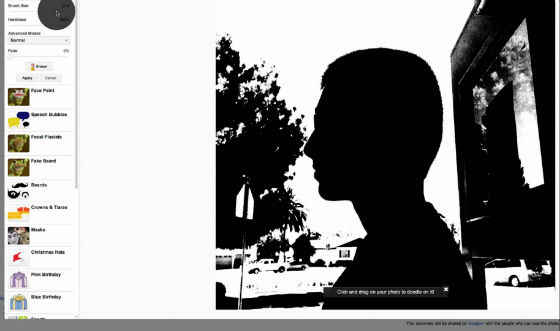 Creative Kit Interface
Google+ Creative Kit does not fully cover even all the features provided by Picnik especially the collage making feature. Another downside is that it is very slow and takes long loading times. Often, it gives memory warning stating that Picnik is running out of browser memory and you need to restart your browser. It does not allow editing multiple photos at a time, though editing multiple photos is a very rare feature even in other programs.It's disappointing to see that a company like Google is struggling to do justice to an online image editing program. If you are not a Google+ fanboy, we don't really recommend using the Creative Kit for image editing when you have better alternatives available.
PICMONKEY:
www.picmonkey.com
PicMonkey is a great tool when it comes to online editing of photos. Starting from it's simple landing page allowing you to drag pictures to start editing or making a collage to extensive options in the Royale or paid edition, PicMonkey is an extremely simple tool to start with. PicMonkey has all the basic features for photo editing such as frames, clip art, text etc along with some really unique ones such as Textures and unique touch up effects. Texture allows you to add textures to your photos using blend modes similar to photoshop.Touch ups are really cool allowing you to add lip color, eye shadow, teeth whitening and even weight loss to your photos.
The collage feature of PicMonkey has really cool templates such as Facebook cover picture etc but adding effects to specific photos of a collage is restricted to premium users. The in collage sections have fluid resizing making it super easy to get the look you want. PicMonkey also allows you to save your edited files in 3 different quality levels. So if you want small files that can be easily uploaded on web. The crop tool of picmonkey is smart as it allows cropping in exact size or ratio which is a huge need of website designers. The text feature of picnik is also pretty fancy fonts and easy editing. PicMOnkey has a very usable user interface and thus usability is one of the best things about it.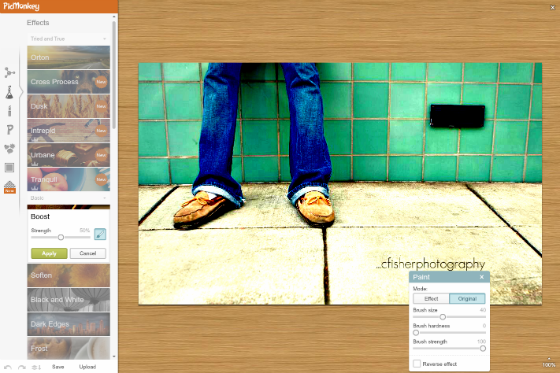 Effects in PicMonkey
The only disappointing thing about PicMonkey it that it keeps prompting you to upgrade to Royale version whenever you choose any Royale effect/ texture during your editing process. Being a web app, it does not allow saving in-process files, you have to finish editing in one go and you can only save as images. When it comes to performance, PicMonkey is fast and efficient. It also allows direct sharing of edited photos to Facebook, Pinterest etc.
Another downside of PicMonkey is that it does not fetch photos directly from Facebook flickr etc which is a must feature for online editing tools today. Other than this crucial feature missing, PicMonkey is a great tool if you want to quickly enhance your pictures.
FOTOR
www.fotor.com
Fotor photo editor is one of the coolest in this list. It's free, it's cross-platform, it's feature rich, it's intuitive and it's simply awesome. Its best feature is that it fetches photos directly from whatever account to link it to, be it facebook, flickr, Picasa or anywhere else on web. This makes it super easy to get started, especially for collages. It also allows you to instantly compare the original and edited versions of images. It has 4 Broad sections : Photo Editing, Photo Collage, Photo Cards and HDR.
• Photo Editing is the basic photo editing tools section with one tap enhance, crop, color change features etc. It also has very cool frames, text options and a wide range of effects, all for free.
• Photo Collage is a great feature in fotor. It has a unique addition called funky collage where you can experiment with different shape collage frames if you are bored with simple square or rectangular frames. Fotor has easy drag and drop interface for dropping images on collage frames and has contextual toolbars for applying various effects to individual photos of the collage. It also allows Montage type of collage with a unique button called "Random" which randomizes the placement of photos on the montage. This section also has a horizontal and vertical photostitching feature which is also a unique offering of Fotor.
Photo Cards section in Fotor makes it a cakewalk for you to make occasional photo cards for your friends and family. Be it for Birthdays, Mother's day or anniversary, Fotor photo card templates are lovely. You can quickly add your personal message and share the postcard on facebook etc.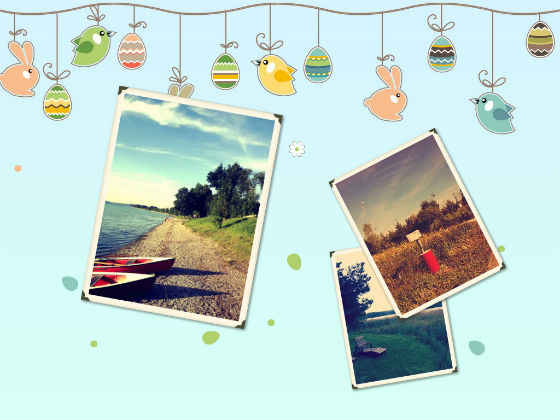 Montage made using Fotor
• HDR section in Fotor allows you to use the old HDR photography technique for your photos for free. Just upload 3 photos of same scene/object but different exposures to photo basket and Fotor will do the rest for you. You can adjust certain values and switch on Ghost reduction if there were some moving objects within the three photos.
In short, there is nothing about Fotor which is disappointing. Its simply a great online photo editing software available completely free. Unless you are looking for complicated photoshop level control of editing, Fotor is best for you. Also, it has an additional Fotor Banner tool which you can use to make cool banner images.
AVIARY
www.aviary.com
Aviary is a cool app for mobile devices running on iOS or Android. It's a simple lightweight app for mobile devices with limited basic image editing features. It simply access your camera roll or asks you to take a picture and you can quickly edit it, add effects, frame, stickers etc and share on facebook or flickr. The only downside is that a lot of content in the app can be access through in-app purchases meaning you have to spend to buy additional effects, stickers etc. It has a unique feature called "Meme" where you can quickly add top and bottom text to make your image into a meme. Also, you can simply hold to see the unedited version your image anytime during your editing process. Aviary if great for you if you want a simple yet powerful image editing tool for your smartphone or tablet.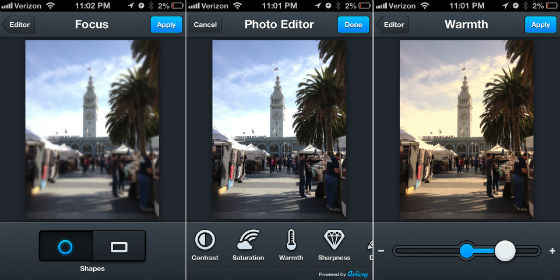 Aviary in action
SUMO PAINT:
www.sumopaint.com
Sumo paint is one of the best free solutions if you need a complex image manipulation tool similar to Adobe Photoshop. Sumo Paint has an interface similar to photoshop and allows layer based editing. It is limited to upload from computer import option which is a downside of using Sumo Paint. But it allows you save in-process files you are editing as.sumo files which you can import again and continue editing some other time. This is crucial for longer edit cycles and is a feature not provided by any other software in this list discussed above. Sumo paint has numerous brushers, filters, editing tools, shapes etc and Sumopaint.com is a highly active community if you want feedback for your work. The online version is free but the desktop application is paid.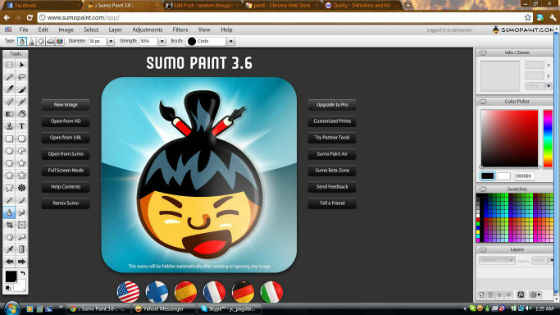 Sumo Paint UI
Sumo Paint is little complex for non-software friendly people and unless you need some serious editing work for your images online, prefer other options such as Fotor. Sumo Paint is good for UI designers, artists, art students etc.
Adobe Photoshop Express Editor:
http://www.photoshop.com/tools
Photoshop Express Editor is an online image editor by Adobe which provides quick editing tools with some great effects such as Crystallize, Sketch, Hue Change etc. It has some great features including full screen toggle mode which is great to suspend the browser feel of the tool. One feature missing is adding text to photos, which is important to most people.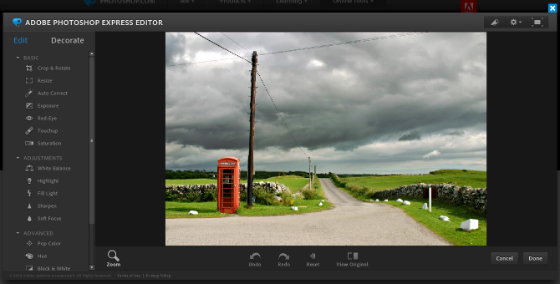 Photoshop Express Editor
Though from Adobe, Express Editor has some serious downsides when compared to other tools. It allows only jpeg images to be uploaded with a limit of 10MB per file. It has just one import option that is "Upload from your computer". As with other web apps except sumo paint, it does not allow you to save in-process files you are editing.
Another major issue with Express Editor is that in order to use it, your browser must support Flash 9, thus making it unavailable for iOS devices. Though adobe has a photoshop express app for iOS devices, there is no interoperability with the browser version. Adobe also has an app called Adobe Revel which is great for syncing and storing your pictures among iOS devices.