10
Nifty cloud services
Enterprise level automation tools are expensive. But for the everyday user there are freely available cloud automation tools like IFTTT and Zapier that serve both small-business and consumer needs.
NIFTY CLOUD SERVICES
The cloud plays host to many handy little task-specific tools that can be real life savers. Here we showcase few of the best ones.
Automation Tools
Enterprise level automation tools are expensive. But for the everyday user there are freely available cloud automation tools like IFTTT and Zapier that serve both small-business and consumer needs.
Zapier
https://zapier.com/
Zapier is a service that helps to sync data and automate tasks between other online services. It integrates tasks like adding activities from Asana to your Google Calendar, adding live Twitter feed to a row in your Google Docs spreadsheet, allows you to save Gmail emails to Evernote, the possibilities are endless.
Zapier recently launched a developer platform with 12 service providers (Hubspot, AgileZen and Podio) already building on it. The developer platform was aimed at letting users and vendors build their own applications rather than waiting for the company to do so.
IFTTT
https://ifttt.com
IFTTT is short for 'If This Then That'. This is the statement aptly called a Recipe based on which the service runs. IFTTT runs on the concept of Channels, Triggers and Actions which serve as Ingredients to the recipe. Channels are the basic building blocks between which connections are made. Currently the service supports about 69 channels including Facebook, LinkedIn, Evernote, Tumblr etc. A Trigger forms the 'This' part of the IFTTT recipe. It is a condition based on which an Action will take place.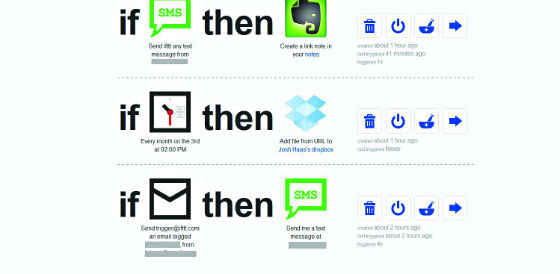 For example If 'I check in on Facebook' or If 'I take a photo with Instagram', then perform a certain Action. The Action as I'm sure everyone has now guessed is the 'That' part of the recipe. Actions could be anything from sending yourself a text message or posting something to Facebook.
Commonly used recipes include saving all Instagram photos to DropBox, Making a list in Evernote, of new books from the New York Times best seller list.
Cloud Search Engine Tools
With so much of your data in the cloud it becomes very difficult to remember what is stored where. To make the process of hunting down files that you need easier there are cloud services which do it for you. The scavenger through all your accounts and return the data you are looking for.
CloudMagic
https://cloudmagic.com
CloudMagic is a superb search tool which is a personal search engine for all your online data. It is a lightning fast search across all your data saving you the trouble of organizing into folders and lists. With applications for all mobile and tablet devices and add-ons for most browsers ClouldMagic is popularly called 'the Gateway to your Personal Data'. You can search Gmail, Hotmail, Yahoo, Evernote, Facebook, Twitter, iCloud, AOL, GoogleDrive.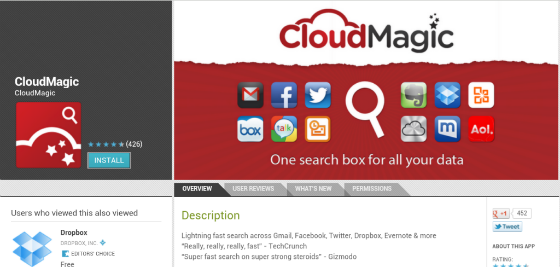 Lost Photos
Lost Photos is an application that searches through all your online accounts and unearths photographs that you are looking for or don't even remember you had. It then displays them in a slide show for you convenience and you can select which ones you want to delete, post to a social networking site or store on your hard drive. Currently it is free for Windows users and can be bought for $3 for Mac.
Cloud Data Backup Services
Backing up your data is one of the most important services that cloud based applications have to offer. Regularly creating backups of their data is also something that most people put off till it is too late which is why many cloud services offer automatic backup and sync services.
MiMedia
www.mimedia.com
MiMedia is one such Backup Service that has one of the biggest and best free online backup plans. Once uploaded, you can access and share files, music videos etc from anywhere. MiMedia offers a free 7GB of space. If required you can easily upgrade and get more. MiMedia stores your data in Tier-1 data centres and uses a highly reliable and secure server architecture so that data loss is impossible. The MiMedia backup client runs in the background and ensures real time data syncing, omitting the need for scheduling backups. It also has a Shuttle Drive service for Premium users in which it sends an encrypted hard drive in the mail. Once you fill it up your files backup automatically and you can send it back in the same box.
ZipCloud
www.zipcloud.com
ZipCloud is a simple and effective cloud based backup tool. Once installed it knows which files and folders it has to back up and the user doesn't have to bother with any additional measures. It is completely automated and offers unlimited storage space. Files are encrypted so privacy is not an issue. With separate business and personal pricing deals it is tailor made to each user's requirements.
Cloud Data Conversion Services
Every day we work with hundreds of different file formats based on our need, availability and comfort level. Many times while uploading to the web the format we have used is incompatible and we need to convert the file to some specified type. Usually doing this would require downloading a conversion software even if it is just for that one file. Now file conversion, encoding, transcoding is possible directly in the cloud. Your file gets converted into the required format and is sent to its final location in just a few clicks.
Zencoder
http://zencoder.com/
Launched in 2010, Zencoder is a cloud based audio and video encoding service. It converts any audio or video from your applications and websites into mobile and web compatible playback formats for the device you need to support. By using Zencoder you do not need to maintain your own transcoding engine. By signing up for a Test account you can try out Zencoder for free and see if it meets your transcoding needs. Your videos need to be accessible in the cloud. 99.5% of the video codecs used today are supported by Zencoder. It is used by applications which accept such files for upload and need to convert them into standard formats.
CloudConvert
https://cloudconvert.org/
CloudConvert as its tag line goes converts 'anything to anything'. You simply upload your files to the cloud, choose the format you want to convert it to and the service converts it and sends it to the location of your choice (DropBox or GoogleDrive). All the conversion takes place in the cloud and there is no need to install any software on your computer. It is currently in its beta state and supports over a hundred audio, video, document, ebook, archive, image, spreadsheet and presentation formats. CloudConvert is also a very secure service as all you files are deleted after conversion and transfer to the desired location. The Cloud Convert API allows you to integrate it within your own application and use its conversion services.
Cloud based CMS services
For those who lack the technical background but still need a website, a content management system is the ideal solution. These web based systems also provide hosting services for the websites created.
Squarespace
http://www.squarespace.com/
Launched in 2004, by Anthony Casalena in his dorm room Squarespace has grown to be a 38.5 million dollar company. It is essentially a SaaS (Software as a Service) content management system. It offers a fully hosted environment for creating and hosting websites and blogs. It is comprised of a website builder, blogging platform and hosting service. It has easy to use interfaces and do it yourself tools that allow just about anybody from a novice to a fully fledged developer to create functional and professional websites. They have many known brands as clients including HBO, Foursquare, Target, Cisco and Sony.
Webpop
https://www.webpop.com/
Webpop was built for designers who did not want to do a whole lot of hard core coding but still wanted control over their designs. These designs can now include dynamic content with very little coding. The two main components of Webpop are a web Content Management System and a code editor. The code editor uses Webpops own custom template engine called PopTags. Most of the code is in the form of predefined tags which is easy to pick up and doesn't require any prior programming knowledge. They even offer a free 30 day trial to get you started.
Cloud based Video Editing tools
Video editing tools are usually proprietary and have to be bought or downloaded. Video editing tools in the cloud allow users to edit videos without downloading or buying specialized software. Of course not all of them are free but hey at least all the editing is done in the browser, making it easy, quick and convenient.
WeVideo
http://www.wevideo.com/
WeVideo easily connects to DropBox and other cloud storage tools to get the raw footage required to edit your videos. This is a major plus point as the alternative would be to upload hours of footage which, with a slow internet connection would be nothing short of painful. WeVideo's user interface offers you a timeline on which you can do your editing. You can add or trim clips, use soundtracks from their library with just a couple of clicks.
One of WeVideos key features is that it allows collaboration. You can invite friends to help with your project. They can add footage or work on different edits based on the same footage.
Once done WeVideo can directly upload your videos to YouTube or other web services. It saves you the trouble of having to download the video and then upload it yourself.
MixMoov
http://www.mixmoov.com/
MixMoov is another cloud based video editing service. It provides a white-labelled and customizable video editing toolbox. White labelled means that it was built to allows others to use it for their own purposes and put their own unique stamp on it. You can import clips directly from YouTube and use the tools offered for editing. It is used mostly by businesses who want to include video editors on their sites for their own customized purposes. MixMoov is highly customizable. It allows developers to build products and services around it.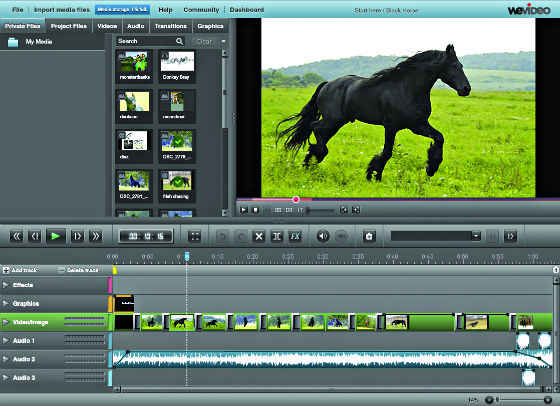 PC Management Services
Soluto
https://www.soluto.com/
The service offers a system that helps repair and maintain the user's PC. It also offers remote installation of apps like Adobe Reader, Google Drive, VLC, Dropbox and OpenOffice.
It repairs problems like reducing the boot time, performs defragmentation, and installs Windows updates when needed. Soluto does the equivalent of merging a lot of commonly needed solutions into one compact user friendly service. It also maintains user friendly activity and performance logs so one can know what went wrong and where.
Cloud Gaming Services
Cloud based gaming is becoming a trending phenomenon with the cloud becoming a means to offer state of the art gaming services They are used in in-browser games, third party consoles and other dedicated platforms. Cloud gaming technologies are of two types- video stream based and file stream based.
Kalydo Gaming
Kalydo works on file streaming based cloud services. Kalydo player is a plugin that comes with a fully equipped Kalydo software development kit (SDK), detailed manuals and an online management console. The games are launched and updated from the console and there is a debug facility available with live analytics and easy to use features. File streaming allows you to download data in the form of fragments. The intensive game play calculations are offloaded onto the cloud for a smoother and uninterrupted game play performance. File sream base cloud gaming is more affordable and easily scalable and is thus gaining preference over video based streaming. It is mostly used by social media and third party web platforms. A lot of start-ups are becoming successful in this field. They have a free trial go check it out: http://kalydo.com/games/
Big Fish Games
Gaming consoles like PS4 and Xbox deploy video streaming cloud gaming. Big Fish Games has recently launched their cloud based gaming platform. It is accessible from any tablet or mobile device. It gives you access to the 100s of games in their catalogue. In this manner you only have to stream the game no additional downloads are necessary. Game progress is stored and you can pick up where you left of last. http://www.bigfishgames.com/
OnLive Games
OnLive Games were the first to demonstrate cloud gaming. The game 'Crysis' was played on a low end laptop located several miles away from the server. Now using OnLive's client users have access to all the games in their store and can stream and play any one of them. The company almost shut down recently because no one was signing up for the paid scheme when there were free 30 minute demos to take advantage of. Now with new management in place it is said they are slowing recovering. www.onlive.com