04
Collaborative services
Today, collaboration demands real-time exchange of files, ideas, messages, calls, etc. Cloud services are re-defining the way in which people collaborate over the internet, and have made it possible for startups to have teams that are spread over the globe, and sometimes don't even need an office to work out from. It's what made it posible for institutions to teach opencourseware to students across the globe, and is responsible in bringing the world closer. As usual, there are numerous options to choose from, and that's why this chapter will help you find one that's right for your needs.
COLLABORATIVE SERVICES
The cloud also enables real-time collaboration, regardless of where you're located with respect to your friends or colleagues
Today, collaboration demands real-time exchange of files, ideas, messages, calls, etc. Cloud services are re-defining the way in which people collaborate over the internet, and have made it possible for startups to have teams that are spread over the globe, and sometimes don't even need an office to work out from. It's what made it posible for institutions to teach opencourseware to students across the globe, and is responsible in bringing the world closer. As usual, there are numerous options to choose from, and that's why this chapter will help you find one that's right for your needs.
1. Collaborative Whiteboards
Collaborative whiteboards are widely used by academia for remotely interacting with students and discussing ideas related to course work. We use physical whiteboards daily to discuss, draw and make plans and timelines. Online cloud based whiteboards allow you and your team members/friends work on one shared whiteboard in real-time allowing you all to mark and discuss just like you do in person together on one single board. Here, we discuss pros and cons of some most popular collaborative whiteboard tools available today.
REALTIME BOARD
Web: www.realtimeboard.com
RealTime Board is one of the most open and intuitive collaborative whiteboard web application. It's like an infinite canvas on which people from any location can add files, draw, write and discuss in real-time.
Pros:
• Various templates to start creating boards quickly.
• Endless possibilities including calendar, sticky notes, agile task manager, venn diagrams, shapes, links etc.
• Allows media upload including images and videos.
• Allows sharing of your board on Facebook and saving it as pdf.
• Mini-chats that allow you to discuss a particular idea.
• Email notifications
• Powerful Google Chrome Extension.
• Integration with Google Drive allows you to upload google docs on the board.
• Allows sharing of boards on your website or blog through easy to use <embed> feature.
• Presentation toolkit to make presentations by taking snapshots of parts of the board and converting them into slides.
•Vectors shapes that help you create beautiful infographics quickly.
• Allows setting permissions for boards.
• Very easy navigation due to zoom in/out feature.
Cons:
• Due to wide range of features it provides, the interface gets a little complicated for someone who just needs a simple board.
• Does not provide live markup of websites.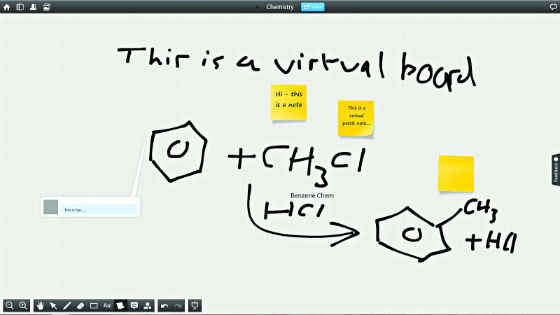 The Realtime Board interface
Who is it for?
Realtime Board is best suited to small businesses, start-ups, architects, interface developers, UI/UX designers and freelancers.
Pricing:
Though Realtime Board has both free and premium accounts , the free one provides you with pretty much everything you need and is feature complete. It allows you to create 3 private boards and gives you about 100MB of storage and about 100 files on a board along with unlimited guests.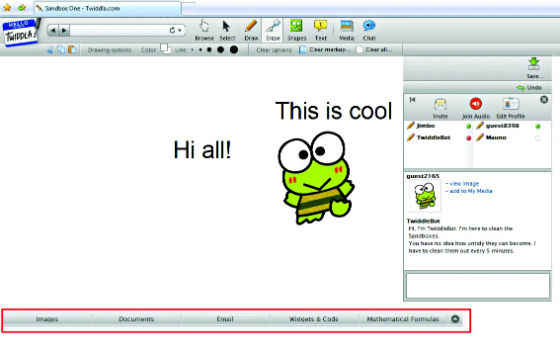 Twiddla Interface with chat box
TWIDDLA
Web: www.twiddla.com
Twiddla is another awesome service in this domain which provides a small set of features when compared to Real Time board but is easier to set up and get it running. It does not even require registration.

Pros:
• Allows mark-up of live websites.
• Provides a blank canvas to start with making it approachable to new users.
• Easy invite options.
• Inbuilt chat option as well as audio-conference facility.
• Allows mathematical formulas making it possible to solve mathematical problems collaboratively.
• Provides twiddla browser bookmarklet features using which you can send any webpage to twiddla white board with a single click.
• Sandbox to start using it without even registration.
Cons:
• Does not provide templates.
• No integration with Google Drive.
• No facebook sharing of board allowed.
• Not a very beautiful interface.
Who is it for?
Twiddla is best suited for students to draw, solve math problems, website designers and developers and casual users who can benefit from its awesome live website markup feature.
Pricing:
It's free and allows unlimited collaborators.
CONCEPT BOARD
Web: www.conceptboard.com
Though it is not available free ,Concept Board is one awesome tool in this list and is still a worthy choice if you are in creative industry and if you are looking for professional collaboration software with a wide range of features that none other free software in this space provide.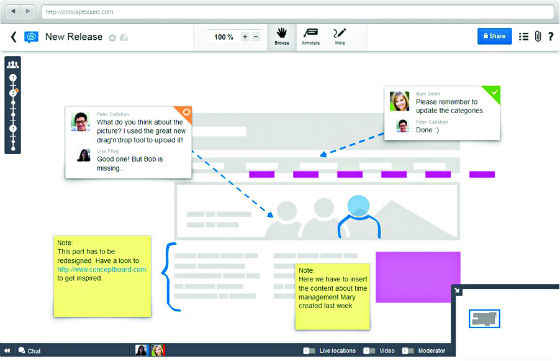 Concept Board has a plethora of features for those who need it
Pros:
• It allows collaboration with both registered users as well as guest users who need not register.
• It makes it super easy to upload documents once and discuss the changes directly in the context of the document without having to upload and download revisions.
• It has integration with Salesforce chatter, Google Drive, Mail2Board etc., so if you are using these software, concept board can quickly fit in your workflow.
• Provides the awesome feature of mini-map which allows easy navigation of a large board, a crucial feature unavailable in any other similar software.
• Live Video conferencing and video chat facility which Real Time board does not provide.
• Cross device collaboration with extremely good performance.
• It also has a unique feature of live locations which allows users to see each other's locations on the board and to know what portion of board they are currently viewing.
• Allows you to take screenshots from any application with just one click and add to your board then and there.
Cons:
• Even availing free/personal account needs you to submit your credit card information.
• As compared to real time board which has nearly competent features except video conferencing, the free version is very limited in terms of features as it just allows 5 guests.
Who is it for?
Concept board is great for designers in creative industries such as advertising, graphic design, concept art etc. who need visual collaboration regularly. Also, concept board provides an additional layer of a web conferencing tool, so if you need a video conferencing facility along with a white board tool, you should choose Concept Board over any other software in this list.
Pricing:
It's free for non-commercial use and the free version provides 1 user and 5 guests only with a limited area of 5 square meters which about 80 pages. For more features including team features as well as security, you need to upgrade to other premium accounts.
BAIBOARD
Web: www.BaiBoard.com
Baiboard is a live collaboration whiteboard app for iPad and Mac and has one of the most intuitive interfaces among all the others. Its small and sweet with limited features.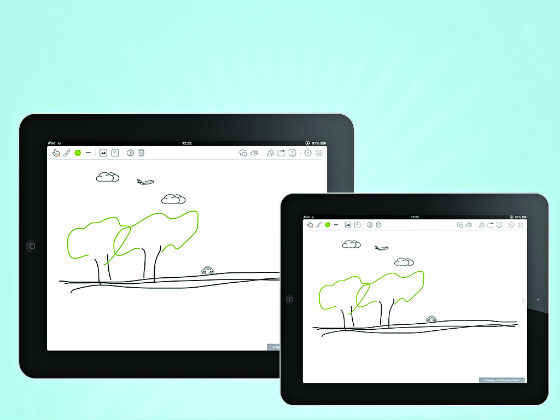 Realtime collaboration with BaiBoard
Pros:
• It allows you to collaboratively annotate, e-sign and seal digital documents.
• It's provides secure encrypted storage for free unlike other softwares discussed above.
• It allows you to take snapshots of your board and save and retrieve them almost instantly.
• You don't need any signup or registration.
• Allows sync with between Mac and iPad version in real-time.
Cons:
• Its only available for Mac and iPad. Also the Mac version has less features than iPad one.
• No support for word processor documents and spreadsheets.
• No integration with Google Drive etc.
• Limited editing features.
Who is it for?
It's suited for people who just need to collaborate on pdfs and images. It pretty simple and straightforward and with its minimal features, it's best for casual users who just want to discuss some ideas especially students, non-professional users.

Pricing
It's available for free from Mac Store for Mac and Apple App Store for iPad.
SCRIBBLAR
Web: www.scribblar.com
Scribblar is an easy to use online whiteboard tool which is targeted at users who wish to collaborate for planning, online tutoring, teaching and tests. Scribblar refers to a board as "Room". You can make a room, invite users in your room, moderate it and embed the room on your blog or other website.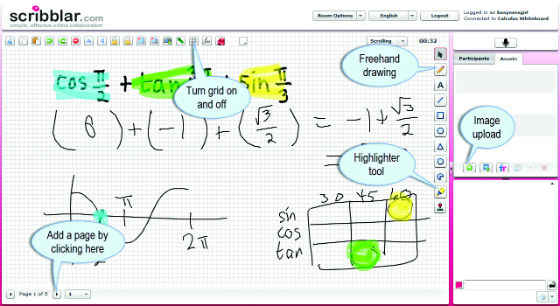 The Scribblar interface
Pros:
• Easy to set up and get started.
• Comes with a mathematical equation editor (Latex)
• Allows saving chat transcripts
• Has voice chat feature
• You can take snapshot of your board anytime and save it in assets folder.
• Allows fetching images from URL as well as Flickr
• Allows you to fetch screenshot of a webpage by one click
Cons:
• No keyboard controls at all.
• No direct arrow button for linking and pointing.
• Hyperlinking is not allowed.
• No Zoom allowed, difficult navigation with-in the room.
Who is it for?
With the underdeveloped feature set , Scribblar is not very ideal for professionals. It's an ideal choice for classroom interactive teaching and collaboration among students outside the classroom.
Pricing
The free plan allows you to have one room with a limit of max 2 users per room. Also, free version is not feature complete. It has a 5 page document limit and 3 MB limit per file.

2. DIAGRAM AND CHARTING TOOLS
Cloud-based diagram and charting tools are becoming increasingly popular among businesses. Visualization of data and real-time discussion over analytics is the need of any business today.

LUCID CHART
Web: www.lucidchart.com
Lucid chart is just one awesome one-stop shop for all your collaborative diagram and charting needs. With a highly extensive shape library and seamless integration with existing frameworks such as Google Apps, Confluence etc., it becomes a lucrative choice for anyone looking out for a collaborative charting solution.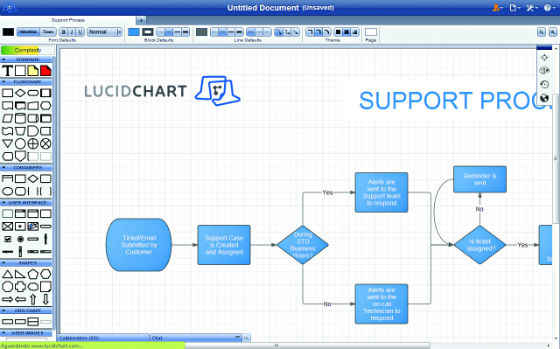 Lucid Chart Interface
Pros:
• Highly intuitive drag and drop interface.
• Extensive shape library allowing you to quickly make ipad UI mockups, flowcharts, floor plans, venn diagrams and what not.
• Real-time collaboration
• It allows you to create image libraries once and share across users.
• Allows you to publish documents to web pages, diagrams to websites, wikis etc.
• Robust backup and revision history in pro version.
• Seamless integration with Google Apps, Jive, Jira, Confluence etc with just few clicks.
• Only tool to allow Microsoft Visio Export/Import.
• Way cheaper when compared to Microsoft Visio with almost competitive features.
• Comment and chat options.
Cons:
• No facebook integration.
• No contextual toolbar/right click menus
Who is it for?
Lucid chart is great for freelancers, developers, small and medium sized businesses who want the awesome features of Microsoft visio without paying that high. With the shape library contents, it's ideal for mobile apps UI designers, architects and almost anyone who needs extensive flowcharting capabilities.

Pricing
Free version allows only single user with a limit of 60 objects per diagram and 25 MB storage space. Since it allows only one user, you don't really see advantages of collaboration in free version. The most popular version of Lucid chart is Team License that allows about 5-300 users.

CREATELY
Web: www.creately.com
Creately is a web application that allows almost 23 diagram types with a wide range of features that make it a good pick for website designers and developers.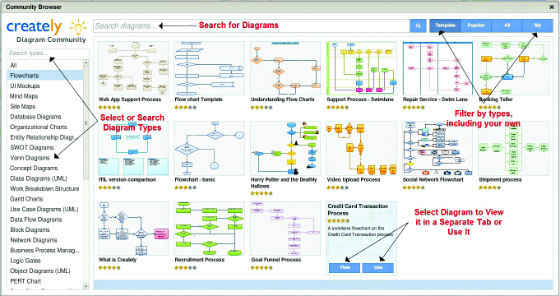 Community Browser of Creately
Pros:
• Allows tagging of diagrams with in a project.
• Contextual toolbar with each object making editing objects easy and fun
• Extensive shape library
• Allows fetching images from Google Images & IconFinder.com.
• Provides templates to start quickly.
• Allows you to embed diagrams into other web pages and automatically syncs any changes you do to your diagram to all the webpages.
• Integration with Google Apps and FogBugz
• Has a community page where you can browse shared diagrams and use them as templates.
• Supports code generation to embed directly into websites.
Cons:
• Drag and Drop is not that fast and efficient.
• No private diagrams in the free plan.
Who is it for?
If you just want some quick diagrams for your school project, creately is best for you. Also, if you are willing to spare some bucks and buy the 1 user license, you can get access to unlimited private diagrams. With its features of automatic code generation and embedding, Creately is best for you if you are a website designer, developer or a UI designer.

Pricing
Creately has a free public plan that offers 5 public diagrams, 1 user and 1 project and fortunately the free plan is feature complete. There is a personal plan which allows unlimited private diagrams at a price of $5 per month.

CACOO
Web: www.cacoo.com
Cacoo is another tool with a powerful free version for flowcharting and wireframing.Cacoo's uniqueness is in its user-driven Cacoo store from where you can buy more shapes , stencils and templates.

Pros:
• Has a Cacoo Store online where you can purchase more shape kits such as Gesture Icon kit, Icon kits and templates, both free and priced.
• Provides unique shapes for ER Diagrams and thus suited for database designers.
• Provides shapes for Electronic Circuits
• Strong and active community
• Automatic grid alignment
• Integration with Google Drive
•
Cons:
• No contextual toolbar
• Bad user interface
• Does not allow fetching of images from Google or IconFinder directly.
Who is it for?
Cacoo is ideal for UI designers, circuit designers and database designers. With specific business templates available on Cacoo store, it is also great for managers, HR professionals etc. to make organizational charts etc.

Pricing
Cacoo's free version allows you to use 25 sheets and 3 exports with additional 5 exports if you refer to a friend. Free version doesn't support vector exports, so you cannot export as PPT, PDF etc.
There are many other popular services such a s HotGloo which is unique in a way that it focusses on responsive wireframing. Gliffy is unique for offering integration with Microsoft word 2013.Pidoco is a tool which is very ideal for rapid application prototyping. So we leave you with these options and you can choose what suits your needs best.

3. Web Meeting Services
With global teams and improving internet speed, web meeting services/ video conferencing tools are becoming essential tools. Whether you want to speak to your distant friends, colleagues or family, these services make you come closer to each other and meet face-to-face. Lets explore which of these are popular and why?

SKYPE
Skype is one of the fastest and most popular web meeting tool specifically for one-to-one meetings. It's neat, fast and efficient.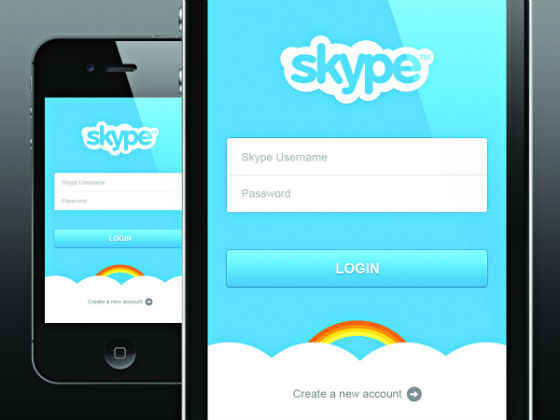 Skype Login Screen
Pros:
• Great for one-to-one meetings
• It acts as a calling card as you can call to any phone number as a paid customer.
• Very fast and efficient
• Skype has rooms which you can join anytime after being invited. They are of a great networking value to people.
•
Cons:
• Not very good for one-to-many or many-to-many meetings.
• Needs to installed on all devices.
• No group video chat for free users.
• Complicated proxy settings for users using skype behind a proxy server.
• Does Not allow viewing of video inside the chat box.
• Does not allow scheduling meetings.
Who should use Skype?
If the only need is one to one video calling and if you do not require scheduling meetings in advance, then skype should be your first choice. Skype is great for friends, start-ups and casual users who do not need any extensive video conferencing features such as defining agenda or generating reports.

Pricing
Skype is free for one-to-one calling. For group video chat, you have to be a paid subscriber.

GOOGLE HANGOUT
When google launched Google hangout recently, the web conferencing solutions faced a huge competitive threat. With free group video chat upto 9 users and unique "On Air" live streaming feature, Google Hangout became one of the most popular video conferencing tools in no time.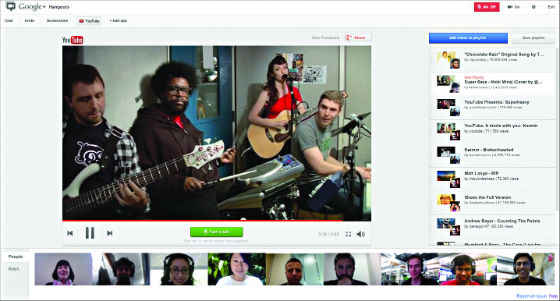 Google Hangout Interface
Pros:
• Great for one-to-many or many-to-many meetings.
• Video Chat is free with up to 9 users.
• Can stream live with "On Air" feature and people can watch hangout live on youtube.
• Integration with Google Docs etc.
• Allows adding videos in the chat box.
• Allows scheduling a Google Hangout.
Cons:
• User needs to logged in to Google+ to be notified that there is an incoming call. Or the user needs to install a chrome plugin to enable notifications of incoming calls.
• Google voice calls are available only in states while you can call with skype using phone number anywhere in the world.
• Less secure than premium solutions.
Why you should use Hangout?
Hangout is one of the best free solutions available for video conferencing today. So if you are a startup or a group of friends doing a project together, Hangout is best for you. If you're a google app fanboy and you'll love to use google docs, calendar etc within your web meetings, Hangout is your best bet.

Pricing
Google hangout is free upto 9 users for simultaneous group video chat and that's really an awesome offering if you compare the other premium options in the domain.

ZOHO MEETING
Zoho Meeting is one great tool that lets you conduct online meetings without installing or downloading anything. If you are a frequent user, you can download desktop plugin optionally.

Pros:
• Allows you to schedule meetings in advance as well as allows to set email reminders.
• Allows you to add branding , your company's logo and name for a more professional experience to customers.
• Joining a meeting is very simple with Zoho meetings, you don't need any additional download. You just need your own loved browser.
• Since it's browser based, it has hassle free proxy settings.
• Allows remote connection by giving control of your desktop to your guests/customer.• Has muti-language and timezone support.
• Seamless integration with other Zoho Apps as well as Google Apps.
• Allows recording of sessions, generating reports as well as setting agendas of meetings in advance.
• Paid version allows switching presenters with in a meeting.
Cons:
• Interface is not very modern
• Requires Java Plug-In
• Free plan has limited features.
• No Live Streaming.
•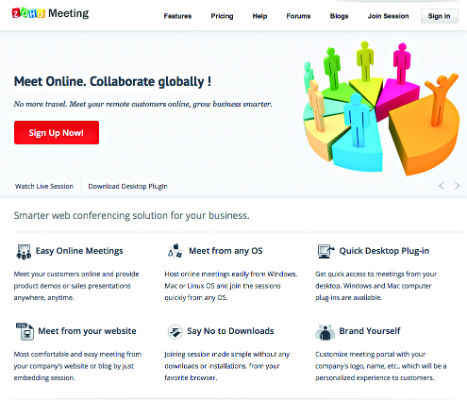 Zoho Meeting Features
Why you should use Zoho Meeting?
Zoho meeting is a good choice if you are looking for a browser based one-to-one free video conferencing solution that allows remote desktop control. The free version allows just 1 host and participant and meeting duration is limited to an hour only. So if you are a startup willing to give a product demo to your client, Zoho is the best choice among free options. Or if you are an online trainer, Zoho can be a great tool for you.

Pricing
Zoho's free plan allows 1 host and 1 participant and a limited meeting duration of 1 hour. It has other premium and corporate plans too which have additional features such as switching presenter and personalized branding.

PREMIUM WEB MEETING TOOLS
There are these highly secure and professional web meeting tools that have paid versions only. GoTo Meeting and WebEx are too most popular and cheapest in premium section of web meeting tools. The paid ones provide additional features such as speaker identifications, drawing and highlighting on screen, centralized control and moderation, remote control of mouse and keyboard etc. These paid tools are best suited for large businesses and professionals. WebEx also provides tools like whiteboarding that facilitate better group discussions. Other than GoTo Meeting and WebEx, there are more complicated and expensive ones such as Adobe Connect and Fuze Box.

4. Mind Mapping Tools
Cloud based Mind mapping tools are a great way of doing collaborative planning and brainstorming. There are various dedicated tools for mind mapping when it comes to collaborative cloud based setup. Some of them are simple, others are a bit complex. Lets discuss some popular mind mapping tools.

COGGLE
Coggle is a browser based mind mapping tool which is very simple and neat. It's great for simple mind maps with multiple node hierarchy. The only downside of Coggle is that it does not allow deleting nodes very easily by backspace which is common in other mind mapping tools. Coggle allows you to collaboratively edit the mindmap after sharing the map with a friend.

MINDMEISTER
http://www.mindmeister.com
Mindmeister is another web based free tool for mind mapping which has more complex features than coggle. It allows importing images to mind maps, hyperlinking mind map nodes and taking notes. It also allows you to collaborate in real-time with more people adding and sharing ideas. It also allows a unique playback feature which stores and shows the change history of a mind map, preventing you losing any changes. It also allows adding files to nodes as well as managing and assigning tasks. Mindmeister is best for you if you are up to some serious planning and brainstorming involving links, images, notes and deeper discussions.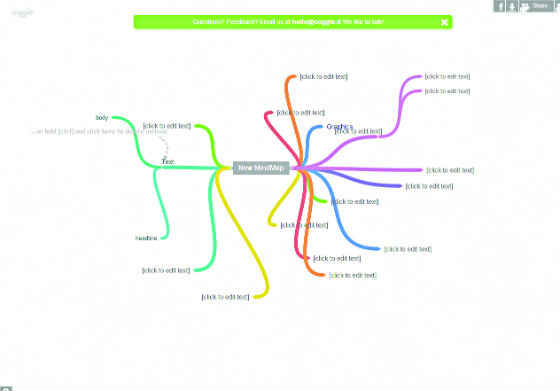 Coogle Mind Map
Some of the charting tools discussed earlier in this chapter also have templates for mind mapping and are a good choice if you are looking for a more comprehensive tool.

5. Collaborative Code Management
With cloud based apps being prominent in every other domain, code management is one place where it is most useful to switch to code management in the cloud. Managing code in the cloud allows robust collaboration and integration, better issue tracking , elastic code repositories, better backups, more reliability and deeper collaboration within the team. Lets discuss some popular cloud based code management tools available to us.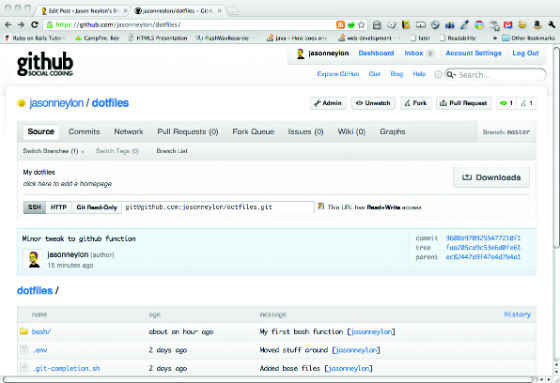 Github Interface
Sourceforge and Google Code both allow only open source projects and no private repositories. They provide git, subversion and Mercurial repositories with collaboration tools such as issue tracking and wikis. Additionally, Sourceforge also allows reviewing and rating of repositories.
Google code is better than Sourceforge if you just want to set up a project and quickly get it up and running as sourceforge requires you to apply for the project and wait for approval. Also, with google code, the landing page of the project can act as website and helps in better google ranking of your project page. Since more people have google accounts, more people can post issues with the project if you are using Google Code. One major downside of google code is its ugly interface and that it's too complicated to browse code.
But Github, though a relatively new player in this domain has become increasingly popular due to its social and agile nature. Github only provides Git repository, so unless you really hate Git as a program, GITHUB is one of best Code management tools available today. Also, github provides both private and public repositories. Public repos are free but private repos charge you according to the plan you choose. If you are a freelancer or a start-up, the micro plan with 5 repos is best for you with just 7$ per month. Github has advanced code discussion areas, ability to watch projects similar to facebook check-ins, a super awesome diff viewer and a super easy forking process.
Github also has a network graph that allows visual representation of forks and merges. It also has a GUI tool for both Mac and Windows to save you the hassle of command line interface. The only downside of github is that its landing page can be a little complicated for newbie or non-developers. Bit Bucket is pretty much same offering as github but supports mercurial repositories.
If you have no prior experience with either git or mercurial, go for git and Github for open source projects. Github is a highly active community and getting contributors to your projects is way easier than Sourceforge, Google Code or Bitbucket.
For private repos, Bit Bucket is a better choice only if you do not want to spend as it allows unlimited private repos and charges you per collaborator. So say if you are less than 5 people working on a project, you can have a private repo with no cost.
If you are OK with sparing 7$ a month, we would recommend going with github for private repos also as it has better features such as faster forking, network graph, inline editing, blame etc that may prove crucial in your development process.
With cloud, Collaboration has become easier, real-time and seamless in all domains. If you are not using some of services./tools discussed in this chapter, you are simply missing on a whole lot sugar that cloud technology is providing you today. Go ahead, experiment with these tools and find what works best for you. Collaborate, Share and Learn.