07
30 Best ar apps for your mobile device
Augmented Reality apps have been available for smartphones and tablets for quite a while now. By using your device's camera, GPS and other sensors, the image through your camera is overlaid with additional bits of information. Below are a few AR apps that you'd like to check out.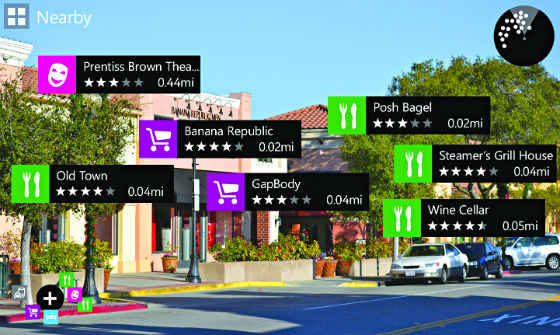 30 BEST AR APPS FOR YOUR MOBILE DEVICE
From translation utilities to apps that let you find your car – we cover the best Augmented Reality apps out there
Augmented Reality apps have been available for smartphones and tablets for quite a while now. By using your device's camera, GPS and other sensors, the image through your camera is overlaid with additional bits of information. Below are a few AR apps that you'd like to check out.
1. Google Goggles
Price: Free
Platform: Android, iOS 4.0
This amazing app from Google uses image recognition technology that lets you pull up information about various landmarks, logos, and texts, from the search engine mogul. The app lets you scan barcodes, add contacts via business cards, read book summaries by scanning the title, and returns information about pretty much anything – all by taking its picture. It can even translate the text, or look up the Metropolitan Museum of Arts' website for information on famous artwork. The power of Google's search engine combined with your camera! We don't expect you to return someone's wallet by recognizing a monastery, but it'll definitely help you in all walks of life. And yes, it solves your Sudoku puzzles!
2. Acrossair
Price: Free
Platform: iOS
Acrossair is an AR browser for your iPhone and iPad that works as an awesome 3D navigator to help you reach the place of your choice seamlessly. If you hold your device horizontally, it switches to Google Maps view to indicate your location. You can even pin your location to find your car. You can spin it around and view hotels, cinemas, landmarks and other geotagged entries in your vicinity. With integrated Facebook, Twitter and Flickr, you can share pictures and location directly from your browser.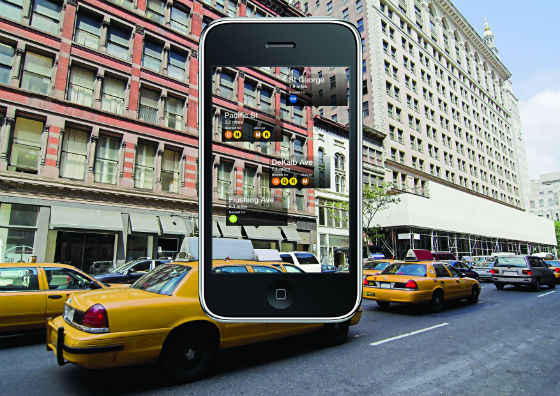 After you've chosen the category of places you want to look up a.k.a layer, just hold your phone upright and you'll see through image balloons floating around your screen overlaying information on the picture from your camera.
3. iOnRoad Augmented Driving Lite
Price: Free
Platform: Android, iOS
This app is your road guardian. Most smartphones would help you navi gate while on a road trip, but iOnRoad has so much more to it. It uses your phone's camera, GPS and other sensors to prevent collision with vehicles in front of you by monitoring the headway distance.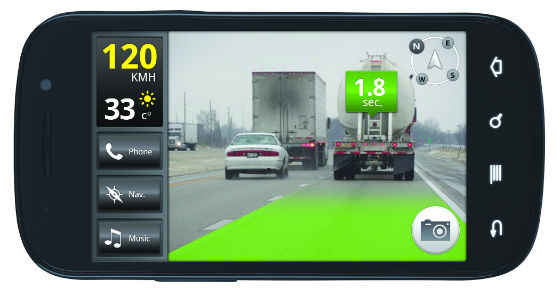 As soon as it detects that you're moving too close to another car, or if you get off the road, it generates an audio-visual warning to help you take preventive action. It automatically detects that you're parked and helps you get back to your car. It's the ultimate on-road safety app; it was the best augmented reality app in 2011. So mount it on your windshield, and it'll start automatically as you move.
4. Google Sky Map
Price: Free
Platform: Android
So you're walking hand-in-hand with your girlfriend on a starry night, and she asks "Is that Ursa Major?". Don't be baffled my friend. Your guide to the galaxy is right there in your pocket. Just point your smartphone's camera towards the sky, and this app will tell you all about that constellation in view. Move your camera around, and the stars will move with you. Not literally! Point to anything in the sky, and this app will tell you all about it. How about you learn a little by yourself first, and show it off later?
5. Augmented Car Finder
Price: Free
Platform: iOS
Yes it is very annoying when you are in a hurry, and you just can't find your car in the parking lot. Every car seems the same at that time. This nifty app comes to your rescue. Like the name suggests, it's a car finder. As long as you're sober enough to use your i-device, this app will take you right to your car's door. Wondering what's "augmented" about it? When you launch this app, it uses your camera and gives you directions to where you placed your car. It also tells you the street address closest to your present location.
6. AR Invaders
Price: $1.99(iOS), $2.42(Android)
Platform: iOS, Android
This one's for the Independence Day experience. Charge on like Will Smith and shoot the aliens. Everything around you turns into a warzone with this app. Blast space invaders with your smartphones; stand up and fight in 360 mode, or sit down for 180 mode. You can even recruit an army with your friends in multiplayer mode. Stand up and fight for Earth, because these aliens are everywhere you point your smartphone.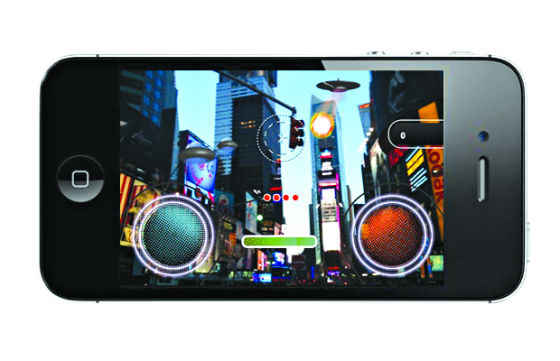 7. Theodolite
Price: $3.99
Platform: iOS
Are you one of those people who want to know the altitude, temperature and other geographical features of every place? You're in luck! This app is great for adventurers, architects, engineers and search and rescue guys. It gives you the topographical scenario of your surroundings, overlaying the information on the image from your smartphone/ tablet's camera. It even lets you learn your elevation, inclination; it works as a compass, GPS, and a range-finder. So the next time you go hiking, this app will come in handy.
8. Wikitude World Browser
Price: Free
Platform:
Android, iOS, bada, BlackBerry, Windows Phone Wikitude is your smartphone's AR encyclopaedia. Use your smartphone/ tablet's camera, hold it up and look at your surroundings. You'll see the world through its eyes. Get information on restaurants, landmarks and other places.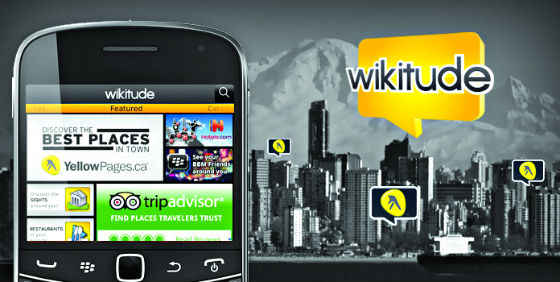 Organize your "worlds"(content providers) according to your preference. Find ATMs, hotels or restaurants with your favourite cuisine from Yelp, Qype, TripAdvisor and Hotels.com. The Wikitude World Browser has been voted "Best Augmented Reality browser" three years in a row: 2009, 2010 and 2011.
9. Lookator
Price: Free
Platform: Android
Launch this app, and see through the camera; you'll see WiFi hotspots with their relative strength and direction. The directions may not lead you to the hotspots, but it will definitely get you a better signal.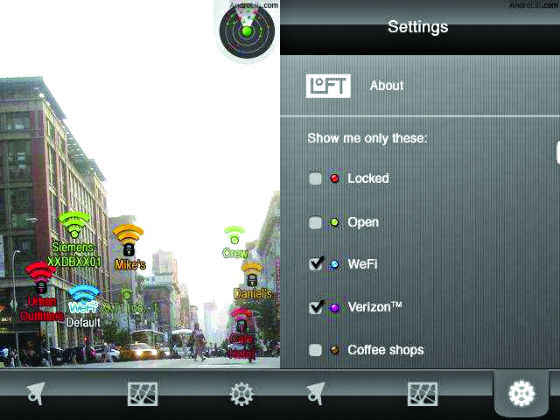 10. TagWhat
Price: FREE
Platform: iOS, Android
Still carrying brochures for every place you visit in the holidays? No more flipping through pages looking up every landmark you encounter. TagWhat does all the work for you. It uses your smartphone's camera and GPS, and pulls up information from the web and social networks about everything in your vicinity. It's the ultimate tour guide. Read reviews, related stories and post your feedback. Sharing is what it's all about.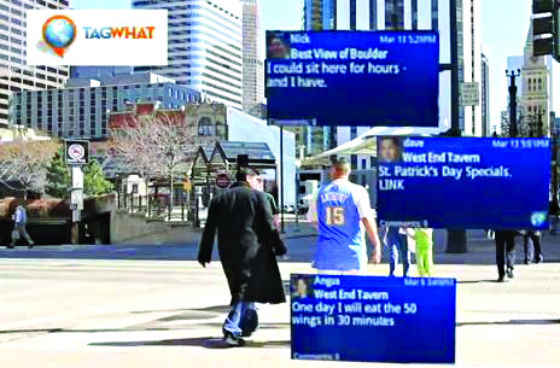 11. Satellite AR
Price: Free
Platform: Android
You might not be an astronaut, but if you're interested in knowing what satellites are flying overhead, we have just the thing for you! Point the camera up in the sky, and little icons will show you all the satellites in the view. Just tap on the icon to know more about that particular satellite. Who said you need to work at NASA to know about extraterrestrial objects? You just need your Android device.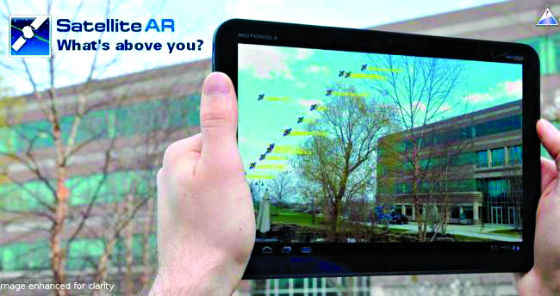 12. Layar
Price: FREE
Platform: iOS, Android, BlackBerry
Layar is another AR browser for your smartphone/ tablet. So easy to find services near you anytime, anywhere. This app even displays tweets from nearby areas. Use your phone's camera to scan any restaurant, building or even a corner around the street, and Layar will get you over 3000 layers of digital information to choose from. Scan your magazine and "make the print world clickable". Save your favourites and share over the web.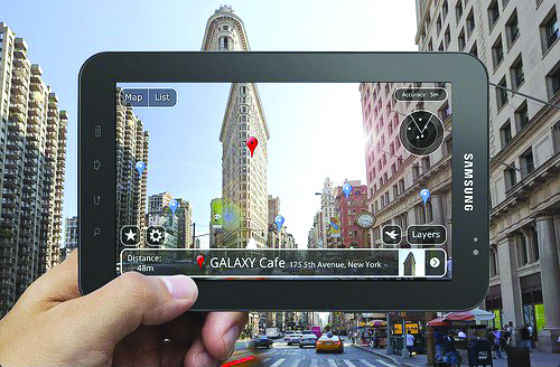 13. SpecTrek
Price: $2.49
Platform: Android
Bored of sitting indoors with all your gadgets? Take this app outside, and "hunt virtual ghosts in the real world!" SpecTrek is a fun app for children that require a lot of physical exercise. Scary ghosts appear in your surroundings (or in the smartphone's view of your place); you need to run towards them and shoot them with a net. The app provides bonuses, titles and records; basically the drive to keep you moving. And if you're a grown up but you don't believe in growing up, here, go nuts!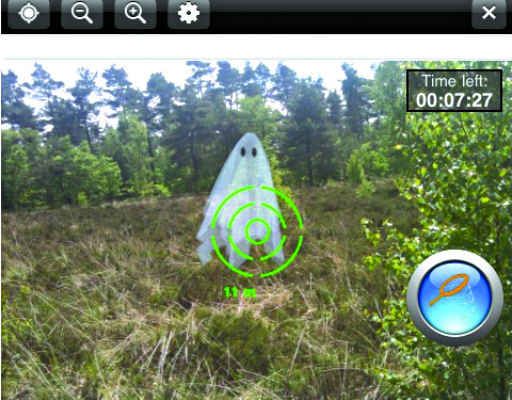 14. SpotCrime
Price: $2.99
Platform: iOS
This app by spotcrime. com keeps track of all the crimes near you or anywhere else. It uses your iPhone's GPS to tell you if you're taking a safe street. It shows you criminal records / occurences in the vicinity with different coloured icons. Point the camera towards a street, and check if it's safe before you take the wrong route. It's really useful in North America, but more areas are being covered worldwide.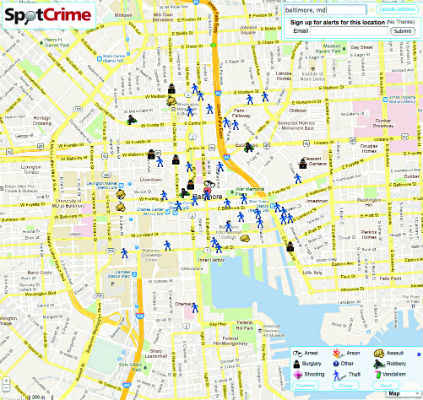 15. 3D Compass+
(AR Compass)
Price: Free
Platform: Android
It's a traveller's tool. It has got navigation maps, a compass and local business finder apps all integrated into this one nifty application for your Android device. If that weren't enough, it comes with an augmented reality view using your device's camera. It overlays a compass on the image from the camera, and leads you in the right direction. There is also a map on your screen which helps you navigate. Turn up the brightness directly from it for better viewing in sunlight.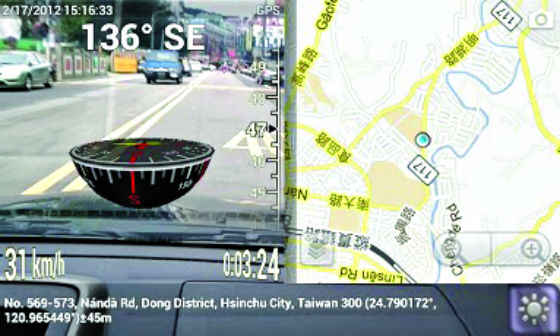 16. Spyglass
Price: $4
Platform: iOS
This is another amazing augmented reality compass for your iPhone/iPad. It has got everything you'll need if you're ever lost in a jungle or hiking up a mountain-milspec compass, gyrocompass, speedometer, sextant, inclinometer, angular calculator.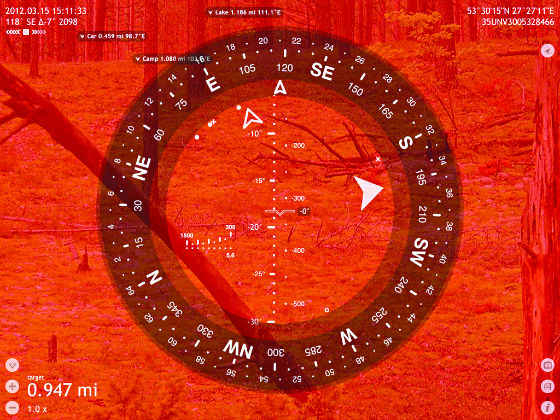 It uses the GPS of your device to track your location in both geo and military formats. You can even save your location's coordinates for coming back to it later. It's even got an optical rangefinder that measures distance between you and an object in sight. Navigate by tracking positions of the Sun, the Moon and stars. Everything operates in an augmented reality view in 3D space at any orientation. A must have for adventurers.
17. Augmented Colors
Price: $0.99
Platform: Windows Phone 7, 8
Ever think of catching a butterfly in a jar, and to keep all the pretty colors? Now you can use your Windows Phone's camera to pick and save colours. This app is useful for artists and graphic designers. It identifies the RGB and hex values of a colour and stores the colour code to be used elsewhere. Just get the targeted colour between the crosshairs, and the screen and pin it on a live tile. A colour picker for real life!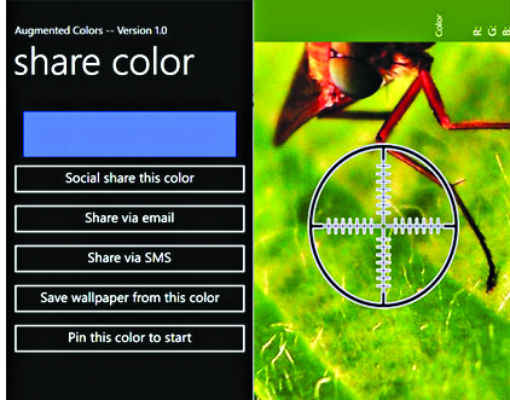 18. Yelp
Price: Free
Platform: Android, iOS
Need help? Ask Yelp! Sounds cheesy, but it's true. Yelp is your guide. Need a place to stay, or want to eat Thai food and you're lost in the new city, Yelp will help you find anything anywhere. Custom search allows you to narrow the choices by categorycuisine, distance, what's open now. The Yelp Monocle uses augmented reality to overlay information on the image from your smartphone's camera. Shake your iphone three times to launch this app. Browse through the reviews and ratings by fellow travellers and post your feedback.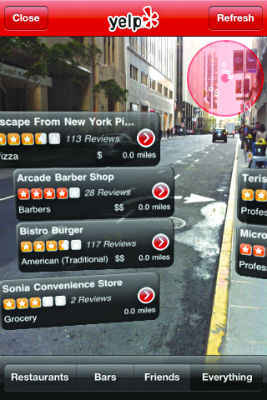 19. AugSatNav
Price: Free
Platform: Android
This is the augmented reality version of Google Maps which overlays walking directions upon your smartphone's camera feed of the path/road ahead. No need to zoom in and out of complicated maps, just follow the highlighted white light on the screen and it'll lead you to your destination. If you're at crossroads, and don't know which side to go, the app will show an arrow to the right direction. No more asking strangers on road for directions.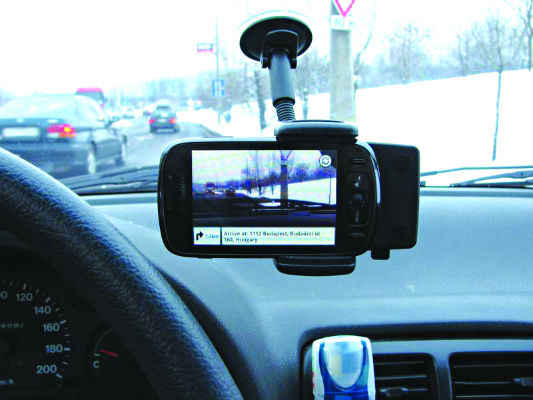 20. ARBasketball
Price: Free
Platform: iOS
Bored at work? Now all you need is your i-device and a small piece of paper to play basketball. Well, it's not as easy as throwing the ball into an actual hoop, but it's pretty fun once you get a hold of it's technique, and addictive too! Print the marker on a white paper from http:// simiotica.com/arb_marker.pdf and point your phone's camera at it to see a hoop. Swipe your finger up over the screen to throw the ball. An actual hoop doesn't seem so cool now, does it? Another similar but amazing app, ARSoccer($2), let's you play soccer. Just point your phone's camera at the ground, and use your own feet to kick the virtual ball.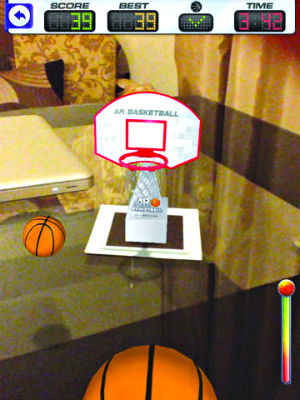 21. Sun Seeker
Price: $8.99
Platform: iOS
Sun-lovers, find the Sun anywhere, anytime! Yes, it may seem a little steep but it's not just about the Sun's location. The app shows you an augmented reality view of the solar path, its rise and set times, and a map view showing solar direction and elevations for each daylight hour of any day of the year. This app is great for photographers, gardeners, architects and even realestate agents. Find the sun exposure of your property and optimal light conditions for your lobby and construct your house accordingly.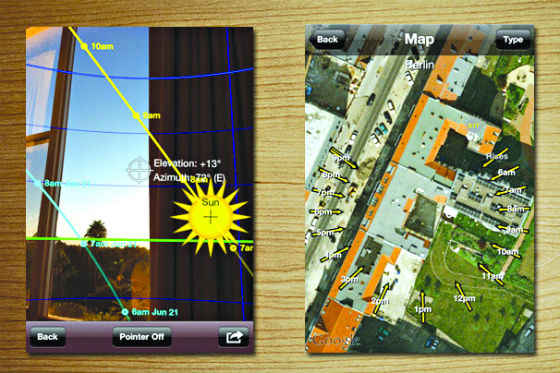 22. Paintball
Price: Free
Platform: Android
Another amazing game on your Android device real- time paintball in augmented reality. Choose from a variety of stunning paintball guns and play this awesome action-packed game against your friends. Just like the actual paintball game, this is also meant to be played with your friends. So connect via WiFi and "Ricochet, you take your aim... Fire away, fire away!" Specify the colour of your enemies t-shirt, play in well-lit areas and shake your phone to reload. Watch your back, your screen flashes and vibrates when you're hit.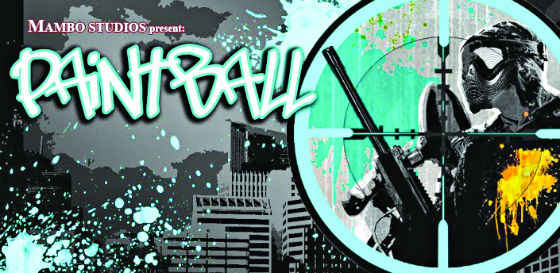 23. Augment
Price: Free
Platform: Android
Augment lets you visualise 3D objects such as paintings, books, furniture or even characters in your surroundings using your Android device's camera. Fill your room with augmented objects. Try a new setting without actually rearranging everything. In order to use this app, print the marker from http://augmentedev.com/markers.html. Then, select any 3D model from the gallery, aim your camera at the marker and voila! You will see the object in place of the marker on your device's screen. Have fun creating your own 3D characters and objects.
24. GeoGoggle
Price: Free
Platform: Android
This app lets you know the geographic details of your location: latitude, longitude, altitude in augmented reality. Also check your speed as well as the distance to a specified location. It tells you directions using a 3D compass. Take photos while on the go, and use the map to see all the places where you clicked pictures. Use this app in conjunction with c:geo for mobile geocaching. Too many utilities, all packed into this one nift app with a user friendly interface.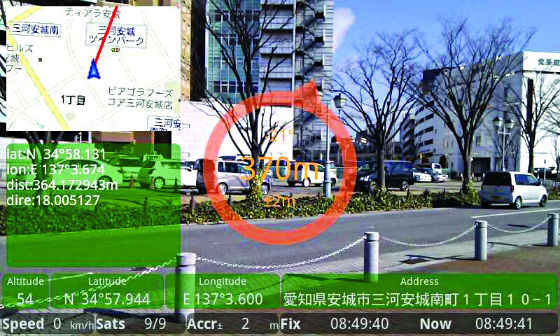 25. Kafkara Augmented Reality
Price: Free
Platform: Android
Create talking avatars from your friends' faces in augmented reality. Avatars can be created from the image from your camera. Create avatars from Facebook and Twitter profile pictures which then speak their latest status updates using text-to-speech technology. Interestingly, the app's name is derived from the famous Franz Kafka novel 'The Metamorphosis' where a man wakes up in the body of a beetle. Various bodies to choose from for your animated avatar. Now if you have a grudge against someone, or you just want to have fun, choose the funniest and creepiest of all the avatars.
26. Junaio
Price: Free
Platform: Android, iOS
Another augmented reality browser, it helps you locate theatres, restaurants, taxi station all right in front of you. There's also a barcode and QR code scanner in this app, so you get instant product information. Not as many layers as in Layar, a good app nonetheless. It integrates various apps like Twitter, Wikipedia, Foursquare, Instagram to get updates on your favourite content all in one application.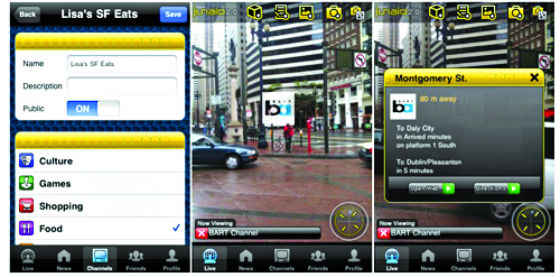 27. Color Blindness Simulator
Price: Free
Platform: Android
This clever app simulates the vision of a color blind person. When you view an object through this app using the camera of your smartphone, it generates two images: one that a normal person would see, and another version of it that an unfortunate color blind person would perceive. All common types of colour blindness are supported- dyschromatopsia, protanopia (red color blind), deuteranopia (green colorblind), tritanopia (blue color blind) and more. You can test your own vision by comparing both the views. So if you have a friend who's color blind, you'll can see the world from his eyes.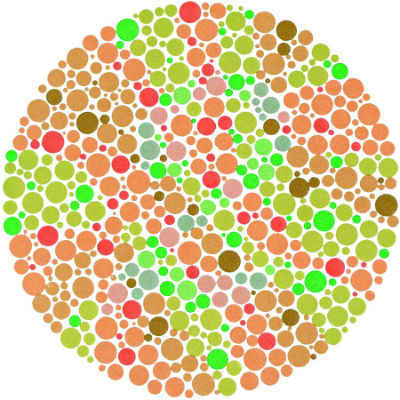 28. Nokia City Lens
Price: Free
Platform: Nokia Lumia Windows Phone 7 and higher
This is the augmented reality browser for your Nokia smartphones with Windows Phone 7 or higher. You can download it from Nokia Beta Labs on your device. This is a great location based app, which helps you look up places in your surroundings by overlaying information on the camera feed of your smartphone. Now you needn't look down upon your camera and use Nokia maps for navigation. All you need to do hold your phone upwards and see the magic! You can instantly see restaurants, bus stations, hotels; filter your search by category. It's pretty, it's useful, it's to die for.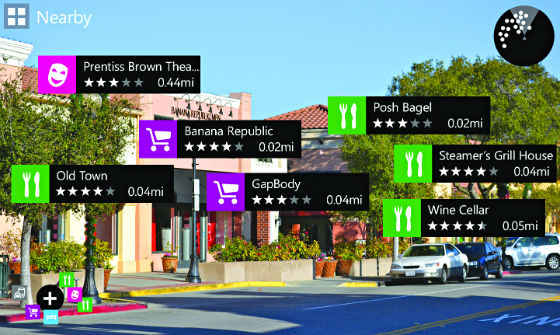 29. Peaks
Price: $3
Platform: iOS
When you travel, you come across mountain ranges, ever wondered "Which mountain is that?" But no one seems to know the correct answer. The answer to these questions is here. This amazing app by Augmented Outdoors tells you everything about a mountain (major or minor). Just point your iPhone towards it, and it will do the rest. It'll also tell you the mountain's altitude and how far away it is from you. Click pictures with or without the overlaid information- double-touch a location bubble to make it disappear. On top of that, you don't need an internet connection for this app to function. It works offline! Can it get any better?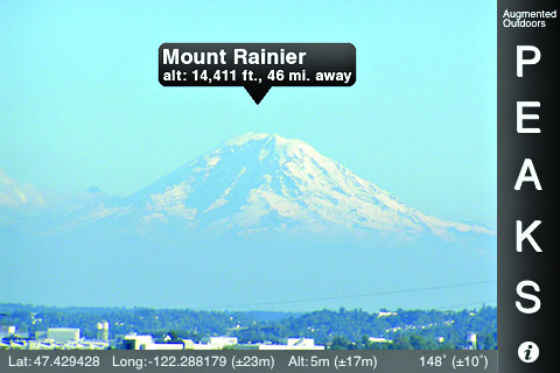 30. DishPointer
Price: $9.99
Platform: iOS
Just like the SatelliteAR for Android devices, we have DishPointer for iPhone/iPad users. Like always you have to pay a little extra for services on your i-device; but what you get, is just worth it. This beautiful app is the ultimate satellite finder. Point your phone towards the sky and see on the live camera screen where the satellites are located. It was never easier to set up a satellite dish. Invaluable for campers. Adding to the list of amazing features, it does not even need cell reception or an internet connection.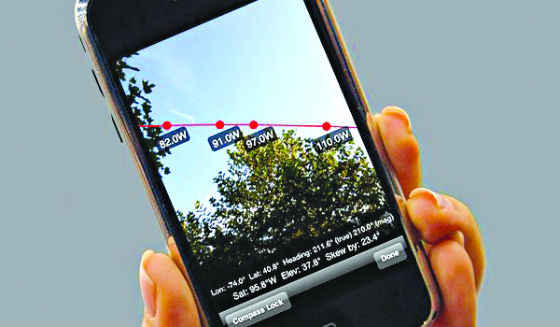 So far we've covered 30 cool AR apps that you should check out! There are many more such applications which are now switching over to augmented reality for a better and more beautiful user interface. The technology is moving on, and so should you!