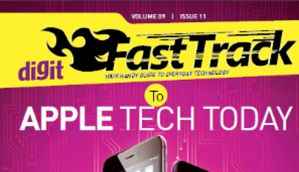 FastTrack To Apple Tech Today
Less than a year ago we published the FastTrack to iOS 7. It was the biggest leap Apple had taken in its deployment of the iOS platform for their mobile devices and deserved a thorough look. This year with the release of the highly anticipated iPhone 6 and iPhone 6 Plus models along with the introduction of iOS 8 we thought of something different. This issue of Fast Track is bigger than just the iPhone 6 Plus and iOS 8. In the last year Apple has released a horde of new products from the iPad mini to the Mac Pro. All these innovative gadgets are a sign of the direction Apple is heading in the long term. This issue takes into account the world of Apple technologies and how their ecosystem is tuned towards their consumers.
How did we get here?
It was the summer of 1976. Steve, who had been dabbling in computer design for a while was just about done working out the kinks in his latest project. He powered it up and it worked. "You know what, Woz?" said his partner. "We should sell this thing." On April 1, 1976, the first Apple computer came into being in a little garage in the Silicon Valley and so began the journey for two of the most important people in computing. Steve Jobs and Steve Wozniak were ready to revolutionise the computer industry.
Meet Apple's current gen hardware
As clear from the previous chapter, each of Apple's products has a long history behind it. Today, Apple might be synonymous with high-end mobile devices, smartphones and music players, but just ten years ago it seemed like a completely different technology company. In 2004, Apple had begun pushing design boundaries again by creating the world's thinnest desktop computer, the iMac G5 that converged the CPU and the whole computing module behind a 2-inch flat screen. And even as Apple was trying to break into the enterprise computing market with the modest success of the world's cheapest supercomputer, the Power Mac G5, it was its phenomenally successful music player – the iPod − that was making the money flow.
iOS 8 and Yosemite
The third quarter of 2014, particularly the September-October stretch is when Apple generally reveals the next big thing. With the September launch of iOS 8 and the iPhone 6 series we finally got to see the next wave of Apple tech. And the expected October release of the new iPad, iOS 8.1 update and the OS X Yosemite is just as important for the big picture for Apple. With the announcement of the Apple Watch, the Apple ecosystem has taken the next step.
Beyond phones, into mobility
With iOS 8 many things have changed and a lot has fallen by the wayside. We assess these disparate pieces of facts and present the most cohesive picture of what to expect from the new form factors that Apple is including in its product mix. In this chapter we'll also look at device compatibility for Ios 8. Will people have to kick their old gadgets to the curb and buy new ones? And how will Apple Pay fit into the mix of things? There are too many new facets of Apple that don't immediately fit together in an intuitive way.
Don't panic guide to iOS 8
It's that time of the year again. The air is getting just a bit colder, the sun setting just a bit earlier and Apple unnerving its fans with one major release after another. Even as iOS completes its seventh anniversary of existence – thanks no less to its slow and steady progression of updates – we have come to its most ambitious avatar yet. The iOS 8 and its 8.0.1 and 8.0.2 updates in themselves have created a lot of news, mostly bad, for Apple but with public opinion stabilizing thanks to the saving grace of iOS 8.0.2 we can being to take Apple's iOS – and its myriad new tweaks and features – seriously again.
iOS 8.0.2 and iOS 8.1 beta - likes and dislikes
As of the time of this publication most Apple users have been divided into one of three categories - those who immediately upgraded their iOS versions, those who cautiously waited to see other people's experiences and those whose devices were not supported by the latest iOS 8 release. And even as the first group moaned, the second group gloated, the third couldn't care less, but was intrigued enough to somehow make pre-orders of the iPhone 6 and 6+ newsworthy. We take a break down of how the iOS 8 debacle has left us with 8.0.2 even as users prepare to get their hands on the iOS 8.1 beta version to solve all their problems.
Tips and tricks
It doesn't matter if you're just starting out with your first iPhone, or have been a long time user – each iteration of the iOS system brings something new to learn about. In fact, most often the best features of iOS are actually hidden ones. IN this chapter we'll show you some useful tweaks and tricks that will allow you to get even more out of your iOS device than you already do.
Best apps for iOS 8
Finally we arrive at the juicy parts – what does the much hyped up and derided new operating system on Apple's mobile devices power users to do? In this exploration the first new feature we hear about it is Metal – and how it powers developers to leverage the hardware on the new iPhone 6 series to truly give spectacular visual graphics and effects to the apps. But does it just limit itself to the new hardware or is it something more innovative that trickles down its benefits to the older generation hardware as well?