08
The future of 3D Printing
3D printers are definitely going to be responsible for the dawn of the third (or 3D) industrial revolution. We've come a long way from the first one. Ever since the first industrial revolution, factories, tools etc. have been synonymous with manufacturing – mass manufacturing or otherwise. The notion of modern manufacturing being done without factories is in itself an astonishing one. However, this is exactly what is going to happen as 3D printing reaches individuals and small businesses. We can now build parts, appliances and tools using a wide variety of materials all from the comforts of your home – just create or download a digital 3D model of the object of your choice and with just a click of a button; you can watch your 3D object take shape. The technology has been around for around 3 decades now, but off late however, rapid advances in processing power bandwidth and storage has seen this technology being catapulted into the limelight. Sure to be a force that changes the entire outlook of the manufactur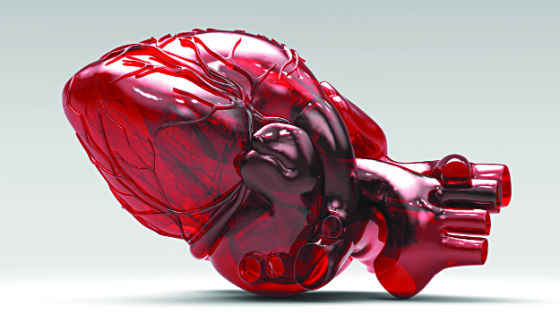 THE FUTURE OF 3D PRINTING
Is it a brave new world we're looking at? Or a bubble waiting to burst?
3D printers are definitely going to be responsible for the dawn of the third (or 3D) industrial revolution. We've come a long way from the first one. Ever since the first industrial revolution, factories, tools etc. have been synonymous with manufacturing – mass manufacturing or otherwise. The notion of modern manufacturing being done without factories is in itself an astonishing one. However, this is exactly what is going to happen as 3D printing reaches individuals and small businesses. We can now build parts, appliances and tools using a wide variety of materials all from the comforts of your home – just create or download a digital 3D model of the object of your choice and with just a click of a button; you can watch your 3D object take shape. The technology has been around for around 3 decades now, but off late however, rapid advances in processing power bandwidth and storage has seen this technology being catapulted into the limelight.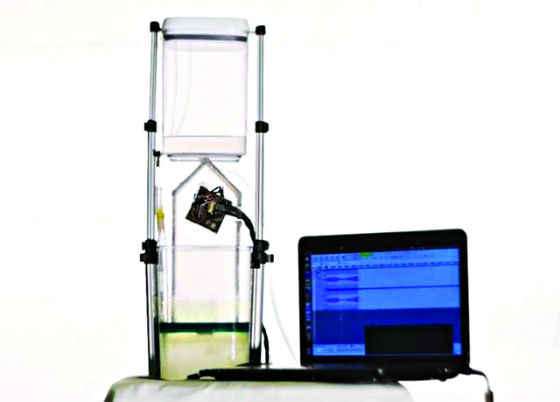 Peachy printer - 100$ 3D printer
Sure to be a force that changes the entire outlook of the manufacturing world, 3D printers have just started knocking on the doors of customers, and though not exactly a vital household good yet, it sure has the potential to become one in a few years' time. Already considerably cost competitive with 3D printers coming as cheap as a 100$ (approx. 6000 Rs.), perhaps the biggest argument against 3D printers is the fact that it isn't extremely easy to use – and it's true to a huge extent. Aimed at the more experienced tinkerers, the current models aren't very user friendly, and just like past models of a fax machine or a printer, the consumers aren't likely to lap it up till it becomes extremely reliable and simple to use – push a button and get the job done. Till then, 3D printers aren't going to become a household item. But then, that day isn't too far away.
Future of 3D printing and what it means for traditional manufacturing
The future of 3D printing, and all the prospects that it seemingly holds for can make the least materialistic person salivate. And while this new reality is extremely exciting, there is significant doubt as to how this will affect manufacturing in the future. Factories won't disappear, but the manufacturing industry on the whole would get a massive makeover as new materials, new products and new materials emerge. Today's consumers are more customisation oriented. Customisation and speed of delivery are the name of the game today, and the traditional manufacturing units – no matter how advanced they've become – cannot compete with 3D printers in these areas. 3D printing at work or home changes the face of manufacturing. Until now, the creation of high-quality physical products required expensive machinery and investments in tooling – and with developments such as low cost 3D modelling tools, investment websites and industry collaborations over designs, 3D modelling has the right canvas to make Do It Yourself (DIY) manufacturing a revolution in itself. While it is uncertain as to how 3D printing will exactly impact the traditional manufacturing sector, emerging trends indicate that something of a paradigm shift has already begun. One thing is for certain – as more and more organisations tend to become manufacturers, the line between consumer and manufacturer will blur. Few possible results of the emergence of 3D printing could be:
• Products with superior capabilities: Products incorporating 3D printed components will start exhibiting superior features such as being more durable, lighter, smaller, less mechanically complex and easier to maintain holding distinctive competitive advantage over traditional mass manufacturing units.
• Products will have to be marketed quicker: 3D printing would lead to faster design and faster prototyping cycles. Apart from this, the elimination of tooling and setup times of factories would all in unison mean that being quick to market would be less of a competitive advantage, and more of a necessity to survive in the quick paced industry.
• Outsourcing might become moot: The current advantages in terms of price when it comes to outsourcing or off shoring certain stages in a supply chain to low-cost regions might slowly become negligible thanks to the just-in-time manufacturing closer to the point of sale or assembly.
• Designs will be open and community oriented: Communities of end users will be responsible for various product designs that will be available to anyone with the skills and the tools required to manufacture them. These open designs can be modified and will be superior to proprietary products that are mass manufactured.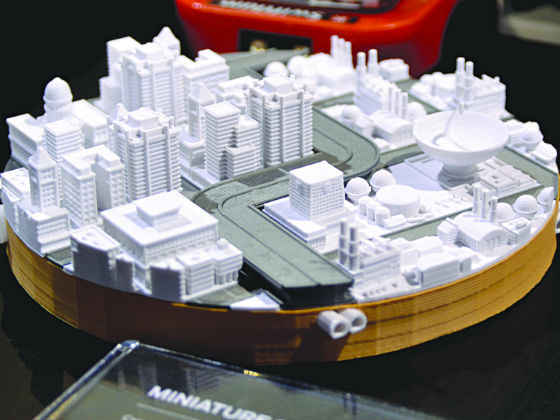 3D print designs available online
• Customisation will become the norm: As companies edge more and more towards using 3D printers and other technologies to offer customisation at minimal costs, customers will grow increasingly needy about customisation ability. And eventually as R&D progresses, the per unit manufacturing costs of these small production runs will be able to rival those of the traditional long running industries with large economies of scale.
Current research in 3D printing and their possible implications on several industries
3D printing has been evolving over the past 3 decades, and will continue to do so like all other technologies. Researchers are continuously breaking ground in terms of print size, speed and material integration. All of these developments create new solutions to existing problems, thus paving way for new entrants in the market and being responsible for an entire new breed of "world's firsts". There are systems being developed that can work by combining the benefits of both traditional machining devices such as CNCs and additive manufacturers such as 3D printers, thus removing the need for post-processing. This only leaves unlimited room for imagination as to the possible applications in different industries: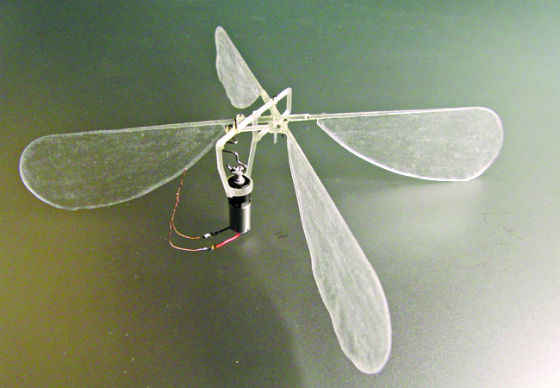 3D printed mechanical insect
• Aircrafts and Aerospace: Leading aircraft manufacturers such as Boeing and Airbus are using 3D printing to improve the performance by reducing the maintenance requirements and saving fuel costs with lighter parts. 3D printed aircraft components are 65% lighter than traditional aircraft parts but just as strong. How much does this save up to? To put things in perspective, for every 1Kg reduction in weight, airlines save around $35000 in fuel costs spanning the lifetime of the aircraft. Aircraft designers already have in their sights manufacturing a whole plane by the years 2050. Boeing is actually somewhat of a pioneer in 3D printings having printed more than 25000 components being used in a variety of aircrafts. Components such as ECDs which require about 20 different parts to assemble due to its complex structure are now being manufactured as one piece. NASA is also taking advantage of cutting down on a long supply chain using 3D printers by trying to print products or replacement parts on the International Space Station. Groups such as Made in Space are developing tools that can directly manufacture in space – in zero gravity conditions – as and when needed.
• Defense: Much of the machinery used in the military is complex and produced in relatively low volumes. At the same time, they must be strong, durable and reliable. 3D printing technology has already been used to create parts that can survive the rigour of a battlefield, and very importantly, at much cheaper prices. Another problem with military equipment is relying on the limited amount of spares available – and with lives at risk, running out of required equipment can be disastrous. In the future, therefore, it may be possible for the military to print replacement parts on the spot instead of trying to rely on the inventory that they carry. Another – completely parallel – usage of 3D printing in the military would be to create topographical models on the spot to provide better understanding and intelligence to the military personnel.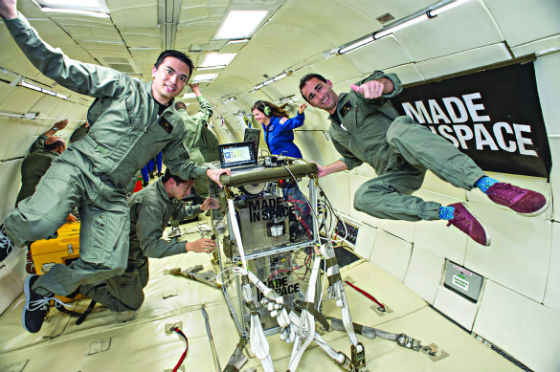 3D printing in outer space
Regularly updated 3D models of the landscape would help soldiers in easily visualising, and hence responding better to a situation. This was also used recently by the U.S. Army to help respond to Hurricane Katrina.
• Automotive: The automotive sector has already started using 3D printing to make complex parts. Major manufacturers such as GM, Land Rover, Bentley, GM and Audi have been 3D printing auto parts for a few years now. High end, specialty cars with relatively small production runs will particularly benefit. Engineers at BMW have used 3D printing to create lighter versions of their assembly tools to improve worker productivity. Also, 3D printing will take the marketing scenario of automobiles to a whole new, more visually detailed, dimension. Imagine showing a full scale 3D model instead of a CAD drawing.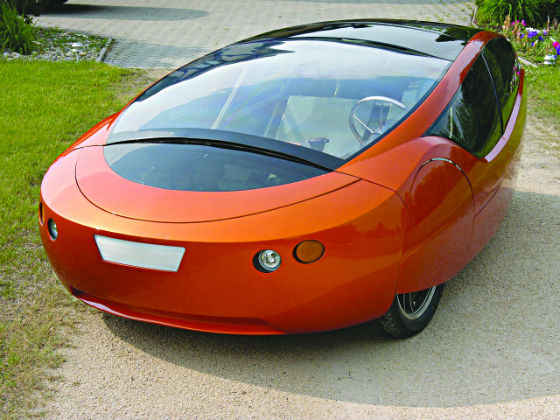 Urbee - first 3D printed car
There's a lot to look forward to in the automotive sector – in fact, the world's first printed car, calledthe 'Urbee' might just be produced in lowvolume in the recent future. Other added accessories such as custom interiors or motorcycle helmets to fit the size of the head perfectly will also take the industry by storm.
• Healthcare: Perhaps the most exciting and inspiring use of 3D printing is in medicine and healthcare. Medical solutions will become more customised for individual requirements. The breakthroughs in this field are extremely quick and awe-inspiring to say the least. The area of regenerative medicine will be greatly benefited. Chapter no. 3 has gone into these in much greater detail.
• Other consumer goods: As the number of materials used in 3D printing increases, we will see 3D printing impact our daily life on a much more personal level. For example, virtually any food can be created, customised into different shapes and sizes, or even meat produced without necessarily killing animals – making the breakfast of the Jetsons a reality. 3D printed clothes will start becoming widely available. Victoria's Secret has already modelled the first ever 3D printed lingerie, and there's only more to come. Jewellers will start using 3D printing over traditional manufacturing processes to create custom chains and necklaces. The way children will play will change forever, with 3D printers letting them download 3D designs and play with the toys that they want.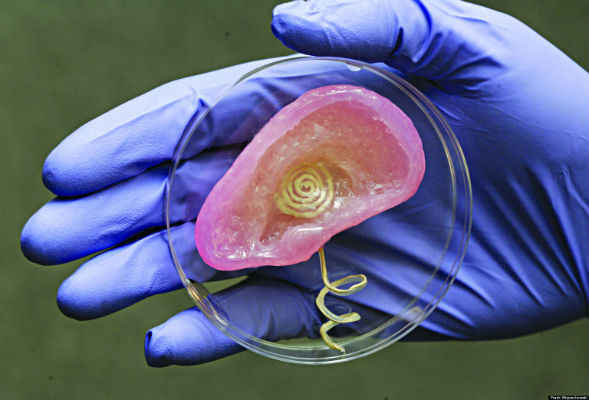 Bionic ear created by 3D printing
As all of these examples indicate, 3D printing has the potential to help meet the needs of people throughout the world. It can provide poor people with clean drinking water, and disabled people with prosthetic legs. Basic human needs will be met at much lower costs and hence 3D printing can serve as an impetus to economic development. But as with all futuristic technologies, the seemingly infinitesimal scope that 3D printing offers also raises eyebrows with respect to the all the negatives that it can cause. The technology of 3D printing is advancing so quickly in so many different fields that its advantages and repercussions might hit the average consumer hard, even before he/she realises what's happening.
• Unemployment: To start off, it is clear that because of the added advantages that 3D printed products give you, including accuracy and lesser waste, mass manufacturers would love to incorporate 3D printers on every stage of their supply chain. The small part of manufacturing that is 3D printing, today, might well go on to become the main component of an era of silent factories where companies can churn out a number of cutting-edge parts required for mass manufacturing with absolutely no labourer in sight. So, while reducing cheap labour might be cutting down costs for the company, it also means a major cut down on jobs, and thus, mass unemployment. And though a new era of manufacturing would require skill to be diverted into new areas – for operation of the 3D printers, and for making custom designs etc. – the switch from one skill set to another will not be convenient, and perhaps not feasible for many. Thus, inevitable or not, an industrial revolution leading to mass unemployment is a scary prospect.
• Weapons: What is scarier though, is the fact that 3D printing gives you the chance to create absolutely anything you think of - including guns. 3D printers could have significant positive economic and social benefits, but as with everything that is human, they also have a dark side. And firearms are clearly the most problematic 3D printed devices that could be produced. There are schematics available for printable plastic guns already, and as the tech nology advances, it could make most of the gun control laws seem moot.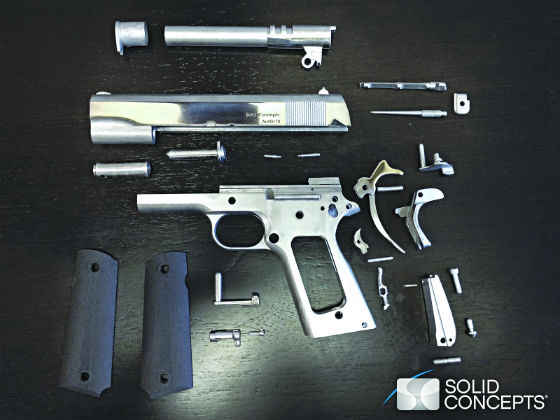 3D Printed Metal Gun Components Disassembled
• Theft: Skimmers are bogus credit card/ATM card readers that are attached atop or nearby the original reader which, upon swiping a card, can read all the information pertaining to that card. The possibility that ATM skimmers are already being manufactured using 3D printers is pretty high. And though the usage of 3D printers for producing counterfeit money hasn't really been on record as of yet, the possibility of doing the same does not seem very farfetched.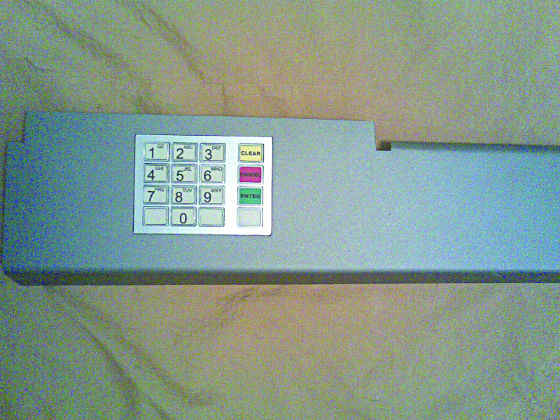 ATM skimmers
These are machines that can use various materials and print with amazing accuracy and precision – so naturally, producing counterfeit money seems like a very likely usage. And even daily household robberies would become so much easier. There has been a reported incident of a German hacker being able to replicate handcuff keys using just the photograph of the actual key. Thus, even though thieves have always been able to copy keys, the whole process is made so much easier and in many cases, more plausible.
• Ethics: The medical application of 3D printing to produce living tissue and organs is sure to cause ethical debates amongst various aspects of society. The technology involved in bioprinting is advancing so quickly that it might get into medicinal use before the general public are able to understand and accept the ramifications of this technology. Bioprinting has already made waves, and though most of these initiatives are intended well, they raise a lot of questions that are still unanswered. The obvious doubts that remain are as to who has control over the material (stem cells) required to make these organs or who will be allowed to be able to produce them for whatever purpose? And once they do produce it, who takes responsibility for the quality and the failure of the resultant organs? Nevertheless, the day when human organs are 3D bioprinted and are readily available is just round the corner, and when the day does come, a lot of interests – moral, political, social and financial – are going to influence this debate.
• Intellectual Property: Go to a beat down shop in one of your favourite bazaars and you'll find a bunch of replicas of your absolute favourite memorabilia – from Harry Potter key chains to V for Vendetta based Guy Fawkes' masks. But the availability of these items in sheer number, and the quality (or the lack of it) they offer do not really pose a great threat to the sales revenue of either Warner Bros. or Disney here, as you can argue. But then, 3D printers – having the capacity to create high quality imitations in every household - could well be the absolute ultimate threat to intellectual property. It is easy to translate absolutely any existing object into a digital file using a 3D scanner. Therefore, designer products could be sold at extremely low prices by just recreating them through 3D printers. This environment would make it very difficult for businesses to be able to fully monetize their inventions, or for media giants – their creations. IP thieves will have lesser costs, sell counterfeited goods at discounts, and sell poorly performing or even dangerous products, to unsuspecting customers. According to forecasts, about $100 billion could be lost in IP theft per year thanks to 3D printers.
So, as is evident, there are many ways of misusing this potentially world changing technology, but it is very important for the various governments, while contemplating the dangers of this era, to avoid overreacting in ways they end up hindering the process of innovation and unleashing unintended consequences. Perhaps methods those are smart and not necessarily radical can be implemented to curb the misuse of this technology as mentioned above. For example, gun laws could now become gunpowder laws – meaning there could be laws to monitor the usage of gunpowder. This could be a better way of controlling the usage of firearms rather than trying to keep a tab on the endless permutations of gun designs. A response to the key hacker problem could be to make advances in biometric scanning, or other cheaper, more advanced forms of security – a very beneficial evolution on its own.
In short, the consumers and the manufacturers are both going to go through a revolution of sorts with the widespread introduction of 3D printers. And as with any revolutionary technology, there are endless possibilities – both good and bad – that 3D printing can bring in the future. The challenges that 3D printing poses can be dealt with only by increased creativity and flexibility, but it can't be denied that the inevitable dawn of this new era brings more scope for positive growth than otherwise.