07
Downloading Designs
Getting started and having fun with 3D printing is easy with the wealth of resources available online. The most important resource that will make your journey enjoyable is the access to design files. Whether you're a professional CAD designer or just a newbie, having access the hundreds and thousands of shared designs from all over the world will allow you to experiment and create original designs of your own. For those of who you wish to return the favour, the same forums are available, to not only share your own creations but in some cases capitalise on them as well.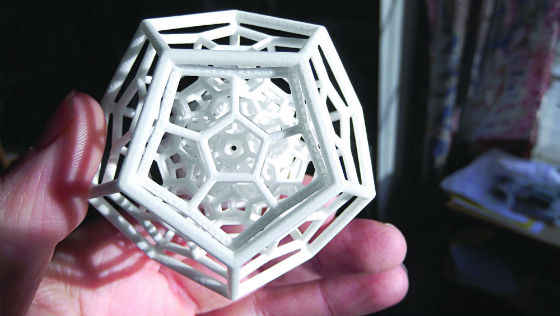 DOWNLOADING DESIGNS
We present you with a directory of online portals where you can access and share your designs online, as well as a list of 3D printing services in India.
Getting started and having fun with 3D printing is easy with the wealth of resources available online. The most important resource that will make your journey enjoyable is the access to design files. Whether you're a professional CAD designer or just a newbie, having access the hundreds and thousands of shared designs from all over the world will allow you to experiment and create original designs of your own. For those of who you wish to return the favour, the same forums are available, to not only share your own creations but in some cases capitalise on them as well.
Currently the web is filled with many types of design forums which cater to the various sides of model design - 2D, 3D, solid modelling, surface maps, layered models like STL files and 3D animation models. Although most of the models and designs available can be used by home users on freeware and professional CAD programs, not all of them are ready for printing purposes. As the 3D printing community grows the number of specialised 3D printing model design sites will become more visible. Until then, there a few key sites that make 3D print ready design available through various copyright licenses including freemium and paid-for creative commons.
Create, Share, Sell and Profit
The 3D printing and design resource websites in this section cover various categories such as repositories - where designs are simply stored for free use, e-commerce sites - where users can buy, sell, request and share designs, and search engines - meta-engines that scan through the web to give you what you're looking for specifically.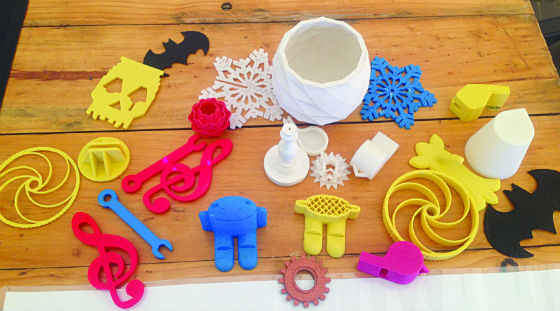 The types of designs that can be made using home 3D printers is surprisingly diverse.
We will take a walkthrough of all these online resources and give you the details that can help you find what you're looking for.
1. 123D Gallery - This website is a hybrid of online 3D design, print service and community gallery. Users can use the tools for creating their own 3D print ready models and then share them with the website's community. These designs are easily accessible for downloading and personal use.
2. 3D Burrito - 3DBurrito is one of the best places on the web for hobbyists, amateurs and design innovators who wish to sell their designs at affordable rates. One of the drawbacks of the website is the lack of additional information on how to use the 3D designs purchased from the site with different types of printers so a significant element of trust in the designers skill is required. Many of the designs on the website are free to use however creators can also sell their designs at any price with the website taking 30 percent of the sale price. Check out its new Beta version online.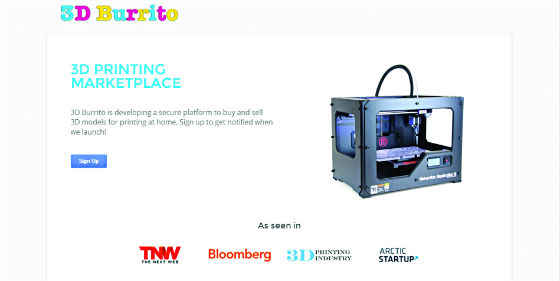 3DBurrito is currently in Beta stages of its new redesign and promises a wider range of options soon. Sign up!
3. 3DExport - This website is one of the largest online communities of 3D modelling designers and shared content. 3DExport has over 150,000 members with new designs cropping up every day. The website has a user friendly interface and is easy to navigate. Started nearly 10 years ago, 3DExport has evolved from having general 3D CAD designs to 3D printing designs as well. The website offers a non-exclusive licensing contract to the sellers on the platform under which creators receive 60-70 percent of total sales.
4. 3D Studio - 3D Studio is another one of the old school forums of 3D design that has blossomed into an active marketplace. For serious and professional designers 3D Studio has proven to be a valuable resource of earnings and profit. The website has proven exceptional at providing a balance between customer satisfaction and creator rights by keeping artist margins stable and high. They also allow creators to freely sell their designs in other places instead of locking them under exclusivity contracts. Currently, designers get 60 percent of all sales.
5. Azavy - Azavy can be called the eBay of 3D print designs as it uses a bidding format on in its marketplace in order to generate sales and competitive prices. Users can set up an account with Azavy and upload their own creations to the Azavy gallery. At the same time, the website hosts owners of 3D printers who are commissioned to carry out printing services.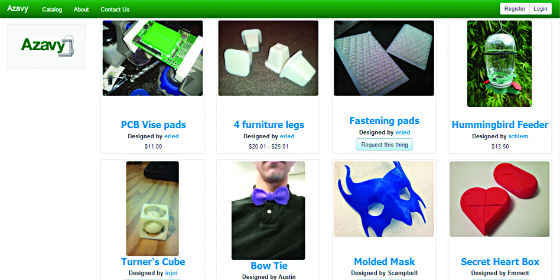 Azavy and other marketplace sites sell a unique variety of objects at profitable prices.
When a customer of the website selects a design for printing, the various 3D print services providers bid for the job and the designer of the model gets a share of the sales. The website has recently gone public and is in its beta stages of development with investor confidence high in its potential success.
6. CGTrader - CGTrader is a mash-up of a marketplace and code repository for 3D designs. Users can use the platform to sell, buy, commission and request designs from the community. Along with this service users can also search through one of the biggest repositories of 3D designs on the web. It's important to note that that 3D designs available have been accumulated over years and are not prepped for 3D printing. Users can filter for print ready files in case they are looking for a turnkey design file. Free files often times will not come with any instructions or guides on printing but all paid files are customer friendly.
7. Create This - Create this is a platform exclusively for designers who want to sell 3D print ready designs. The files available on the website come in the major 3D print file formats including STL and SCAD. All files prices are variable but the minimum rate is of USD $1.49 with a 30 percent rate to the platform. Currently the website is under redesign which will allow users to search for files by format. Other additional features are expected to be rolled out over time.
8. CreativeCrash - Creative Crash is another 3D design online market that has a long history of traffic to their content. Compared to other sites that have been reviewed CreativeCrash offers a lesser share, of 55 percent, to designers on their platform but improves the likelihood of making a sale due to higher users. All designs shared on the website are on a non-exclusive basis and frankly can also be found on other free to share design websites.
9. CubeHero - Unlike the many 3D markets that we've seen, CubeHero is one of the truly free design and service repositories on the web. The design files hosted are of special interest as they are made to ease further customisation and experimentation. The changes history of the file is included in the file data along with the source file of the design. Additional information such as the materials appropriate for the design is also included. All through the site links you to the downloads of the files, hosting is done on GitHub. The number of 3D models is lesser as compared to most other websites but is always gradually increasing.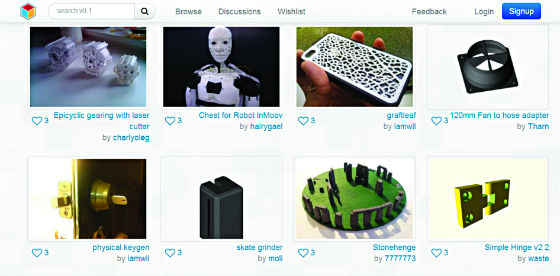 CubeHero's community shares some of the most fun designs; from phone cases to robot body parts.
10. Cubify - The Cubify marketplace is a mix of free and paid designs along with the 3D printing service option. All the design files are made to be used with the Cube 3D printer (of 3D Systems) and can be downloaded for personal use. So far the number of files on the website is limited but if you have a Cube 3D printer at home, it's one of the best resources for design files.
11. Fabforall - In terms of a meta-search engine useful for finding all things 3D printing related, Fabforall is a gold mine. Working from an aggregating algorithm, the website collects information and links to a vast number of 3D printing websites and multiple design storage repositories for easy indexing. The search interface is still under development and can prove tricky when searching for something specific. However, forum discussion indicates that changes for a new interface are already underway which will streamline a lot of the problems in the near future.
12. GitHub - Another popular code repository for 3D printing resources, GitHub is an old school share community where designers and creators can submit their designs. The Github website comes with a browser viewer that allows a view of the 3D models in STL file format for a quick preview before downloading. There are more than 20,000 files already uploaded to the site and need to be searched using the STL file format for 3D print purposes.
13. Google Custom Search 3D Printing - After introducing the free to use, Google SketchUp CAD application, the number of ametuer and hobbyist made designs have flooded the internet. Using Google's custom search options you can trudge across all the online repositories that host free design files for 3D printing. One of the key Google SketchUp resources that's included in the custom search option is the Timble Warehouse which hosts a lot of Google SketchUp files.
14. GrabCAD - If you're just interested in looking for free 3D designs then GrabCAD is the best resource on the web. However, its biggest limitation is that it caters to all sorts of CAD based designs that aren't always created with 3D printing in mind. For the adventurous and experimental out there, these free 3D designs can be used and converted for 3D printing if you know what you are doing. But with no clear tag management on the files it's hard to tell which files are suited for 3D printing. So don't stop with just the files that have the "3D printing" tag on it, since you may miss out on a lot of interesting free designs.
15. i.materialise - Of all the 3D printing service websites out there, i.materialise has found great popularity in the press. The website provides the widest range of 3D printing services online but is not a good source of free designs. But if you are a creator who wishes to sell your designs across the world, then it's a great place to submit your material as they will help you host your own store through their website where you can showcase and sell your work.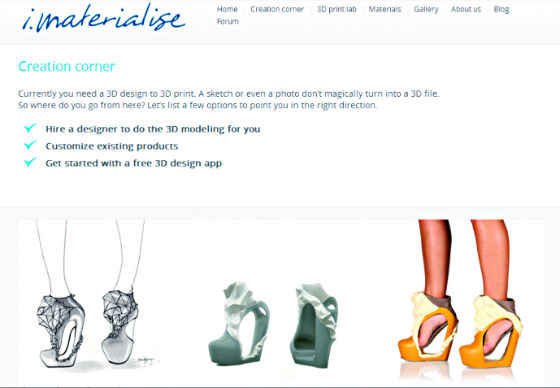 i.materialise even helps designers convert concepts into real objects with design and CAD professionals.
16. Layer by Layer - Designed to appeal to amateurs and home hobbyists who want access to simpler work files, LayerByLayer provides the solution. All the files on the website are "pre-sliced" for easy use with the popular Makerbot series of home printers. The website uses its own proprietary software called L2L that works as a printer manager. Certain limitations like its Makerbot-only files and lack of support for Unix based systems is still yet to be resolved.
17. My Mini Factory - One of the newest 3D printing service and resource website on the web, My Mini Factory is not actually an easy and free design source. But it does have some interesting options which can get you free designs for personal use. The option to upload and sell your own design is an active service on the portal. The website has a crew of professional 3D model designers who upload files for 3D printing which need to be purchased via the website, however by registering an email, five free design downloads are allowed. You can increase your access to these free downloads if you share and spread the website to others.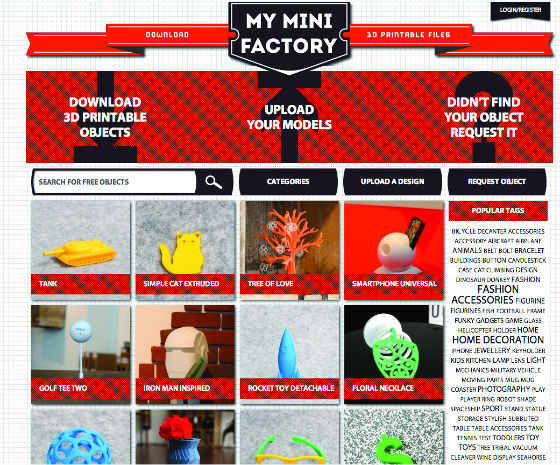 MyMiniFactory is a great alternative for downloding professional grade designs from a highly trained team of designers.
18. Renderosity - Another old-horse for 3D modelling resources, Renderosity has been active for such a long time that it has accumulated the best and largest number of 3D print and design users on the web. Its designs are edit friendly using most of the popular design softwares like Maya and Autodesk suite. The website also works as a marketplace where you can upload and sell your designs but the profit share is low compared to other websites.
19. Shapeways - Another popular all in one 3D printing service on the web is Shapeways. Although they primarily work through 3D printing on order, they are also a great place for budding designers to sell their 3D print files. The printing is done by Shapeways but the designs can be selected from a range of designers. Shapeway's success has led to many home users to consider the online medium for selling their creations.
20. Sketchfab - It's best to think of SketchFab as the YouTube of sharing 3D design files, except without the video. It's cool and elegant interface hosts your designs which can then be embedded anywhere on the web for sharing. The site gives you access to a lot of 3D model designs but not all of them can be clearly identified as meant for 3D printing. It's a bit of a treasure hunt.
Bonus: Torrents and The Pirate Bay - It goes without saying, that most things digital on the internet have a funny way of finding them- selves on the torrent file sharing network. And if you know what you're searching for its easy to find anything. Similarly, 3D print files are also taking advantage, with the use of the torrent system as an easy and efficient way of sharing personal files with the larger community. One of the most popular designs found on the network which is of practical day to day use (American use) is guns. But keep digging using the "physibles" tag and you'll be surprised with the free goodies you find. Happy hunting and please seed.
Top Indian 3D Printing Sites and Services
All of the websites we've discussed so far are based outside of India and can be accessed only by a select group of people. Due to that limitation their main use is as warehouses for 3D design files which we in India can work with on our own. It should be noted that as the popularity of the technology and availability of the materials grows in India, the prices and number of companies providing 3D printing services is likely to increase. This section looks at the Indian scene and focuses on print services, who will not only help you design, but more importantly provide 3D printing services directly to you.
3Dify
[http://www.3dify.in/]
3Dify is a service based website that started in early 2013 and is based out of Navi Mumbai. Its primary offerings cater towards small business' and home users interested in experimenting with personalised objects using 3D printing. The main business of the website comes from custom jewellery and architectural models, along with their ability to deliver rapid prototyping for manufacturing business'. Their simple website is mainly for informational use with no access to designs or even sample photographs.
3dLabs
[http://3dlabs.in/]
3DLabs is nearly a one man operation running out of Kolkata and started by Prateek Lohia in early 2013. It's a simply run online business with the minimum of online interaction. Designs are usually sourced from other online resources such as thingiverse.com and are allowed basic customisations such as text addition before they are printed and shipped to the customers. It has doubled its business over the last year from one 3D printer to two 3D printers but is engaged with its user base over social media websites like Facebook.
3Ding
[http://www.3ding.in/]
3Ding is a larger business created as a subsidiary of Redd Robotics in Chennai. They claim to be the only multi-brand retailers of 3D printing equipment across the workflow, from printers to scanners to printing materials as well.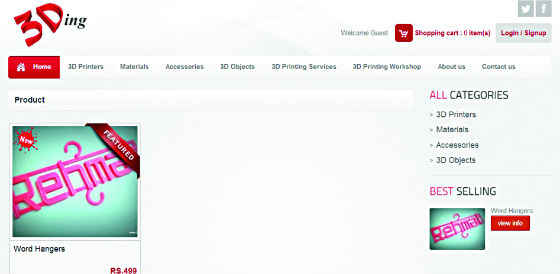 3Ding as a limited but gradually growing range of objects that can be directly ordered from their website.
They also provide custom designed 3D printers on order and do-it-yourself kits for those interested in setting up a 3D printer at home. They don't work within the design aspect and expect customers to provide them a FDM based STL design file for whatever item needs to be printed, however if the file requires changes they are willing to do so at extra cost. Their pricing is based on project-to project variations with no fixed rates. One of the key priorities for 3Ding is to create more awareness and interest in the 3D phenomenon for which they hold workshops on the subject. If you're in Chennai there is a workshop in mid-March 2014. Check out their website for more details.
3DigiPrints
[http://www.3digiprints.com]
3DigiPrints is an authorised reseller for 3D Systems and operates from Bangalore and Mumbai. They sell two models of the 3D System's line of printers as well as take on custom 3D print jobs on order. Like most 3D print services in India, their design involvement is very limited and they expect a STL file submission from their customers.
3DPrintronics
[http://www.3dprintronics.com/]
3DPrintronics is an ambitious startup based out of Noida that offers an online 3D printer store that aims to help customers start their own 3D printing at home. They sell all the related paraphernalia of 3D printers from materials to DIY kits. They are heavy proponents of the RepRap Project and work using open source design hardware. They also take custom 3D print projects with minimal design input.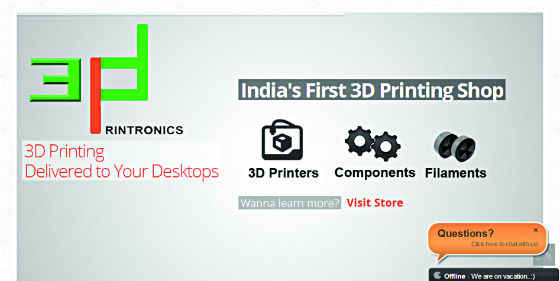 3DPrintronics aims to be a one stop shop for 3D printing solutions.
Cycloid
[http://www.cycloid.in/ and http://www.c4l.in/]
Another promoter of the Open Source Hardware movement, Cycloid System is a Bangalore based company that manufactures and services it' own line of 3D printers in India. They also sell 3D print materials in a variety of colours directly to customers. Their 3D printing service division is called C4L which is currently in beta testing mode. They accept customer provided STL or SKP file formats and directly deliver printed items.
Clarity 3D Printing
[http://www.clarity3dprinting.com/]
Clarity 3D Printing is based out of Mumbai and solely provides 3D printing service. They provide basic technical assistance and guidelines in the creation of STL files but do not do any designing themselves. Users can submit their files to Clarity and commission a custom print job online.
Imaginarium
[http://www.imaginarium.co.in/]
Imaginarium is based out of Mumbai and works across numerous industry verticals as a rapid prototyping and rapid manufacturing centre. They work on a range of products such as jewellery, automotives and architectural models. They do not traditionally work for home based consumers on customised products but are willing to take on larger scale objects or products if called upon.
Maker Meet or Maker Parties in India
If you are interested in getting more involved in the Indian scene of 3D printing, from design and software to making your own 3D printers, it's worthwhile to keep a lookout for "Maker Meets". Makers are informal and decentralized communities of individuals who are interested in do-ityourself solutions and are very supportive of the 3D printing technology. They occasionally organise and host meets in different locations where they meet, share, experiment and teach their experiences with 3D printing. The most recent Maker Meet took place in Bangalore in September 2013.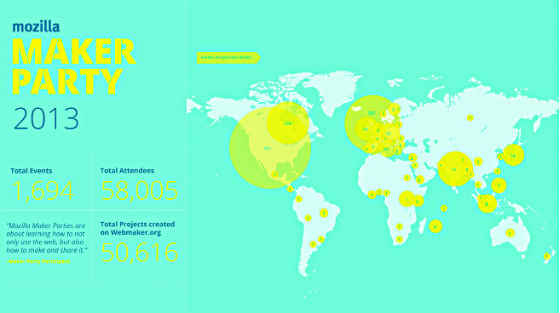 The meet was sponsored and organised over social media, with assistance from Mozilla India and the Hive Learning Network. They can be found over Facebook.