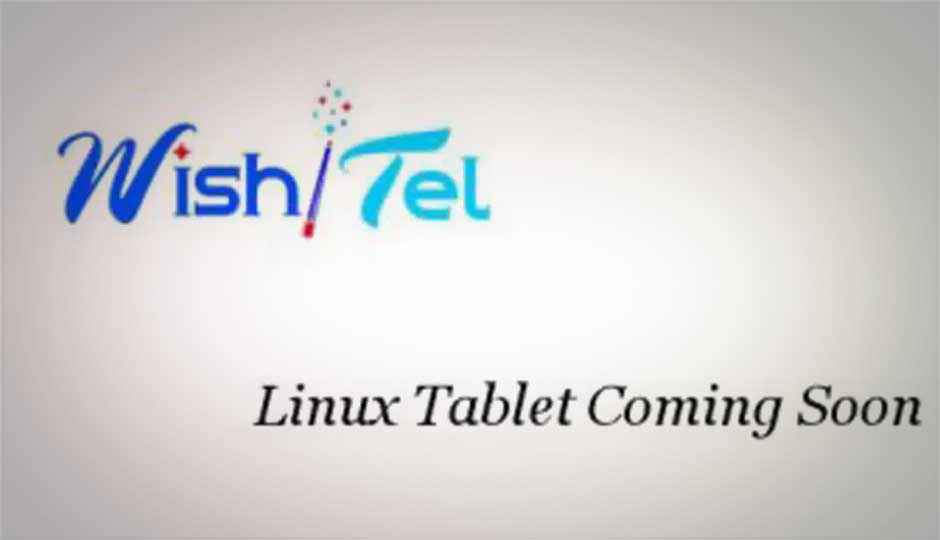 WishTel is expected to launch its new range of notebooks and tablets this month. The new devices are expected to run on Linux-based platform PrithV.
WishTel CEO Milind Shah said in a statement to the Press Trust of India, "Our objective as a technology and manufacturing company is to create affordable range of products that can contribute to society by extending education for free and without boundaries."
WishTel claims that the new platform will support 85 global languages like English, Spanish, French, German, Arabic, Urdu, and Zulu. The list of languages also includes 23 local Indian languages.
Just like the Aakash and the Micromax Funbook Pro before it, the new PrithV will come pre-loaded with educational software to enhance the self-learning experience of students. The educational content will include pre-primary, tertiary and higher education content for the students to explore. The device is expected to feature software for languages and science: physics, chemistry, biology, astronomy, geography, math: algebra, calculus, geometry, medicine, economics and computing.
The notebooks will be priced at $120 (Rs. 6525 approx.) and the tablets will be priced at $50 (Rs. 2719 approx.). Seeing the low price tag, it is clear that the devices are aimed at the budget and entry-level market making it economically feasible for a larger audience.
Shah says, "It will participate in the bidding for second round when the government floats a tender." This means that WishTel is aiming at being the manufacturer/assembler of the next iteration of the Aakash tablet. It seems that WishTel is taking its foray into the budget tablet market quite seriously as it is plans to expand its manufacturing facilities in Maharashtra and Gujarat. The company is also expanding its R&D investment too.
In the past, WishTel has launched a bunch of budget tablets running the Android OS.
In the past, WIshTel has launched the Ira Thing 2, an ICS based tablet for Rs. 6,500. The WishTel Ira Thing 2 sports a seven-inch multi-touch capacitive touch display, 4GB internal storage and 1.5GHz processor with 512 MB of RAM. It has 1.3MP front facing camera. There is a HDMI port to connect compatible TV with the tablet. The tablet comes with a 3,000 mAh battery, which is rated to deliver browsing time of about 4 hours. The device will be available in six colours - black, red, yellow, pink, blue and white. You can read more details about the tablet here.
BSNL and WishTel have joined hands to launch the Ira Icon 3G for Ra. 10,500. The Ira Icon runs on Android 4.0 Ice Cream Sandwich operating system and is powered by 1.2GHz processor. The device, also dubbed as the Triple Play tablet, has a 1GB of RAM. It has a 7-inch capacitive multi-touch screen with 800X400 pixel resolution, 0.3MP front camera, 2MP rear camera, 4GB internal storage and microSD card slot that supports storage up to 32GB. The IRA ICON comes with a massive 4,000 mAh battery, which is rated to deliver browsing time of about 4-5 hours. The device comes with built-in stereo speakers and a microphone as well. You can read more details about the IRA ICON 3G here.
Last but not least, in the past, WishTel launched an 8-inch tablet with an HD display. Called the Ira ICON HD, a 1.2GHz processor with 1GB RAM powers the WishTel Ira Icon HD. The tablet also supports voice calling, 3G, Wi-Fi and Bluetooth connectivity and also comes with built-in stereo speakers and a microphone. The tablet has 8GB of built-in storage that can be expanded up to 32GB via a microSD card and comes with 2.0 MP rear and 0.3MP VGA front camera. It comes with a 6,000 mAh battery, which the manufacturer claims can give users browsing time of approximately 6 hours. You can read more details of the device here.
Source: International Business Times