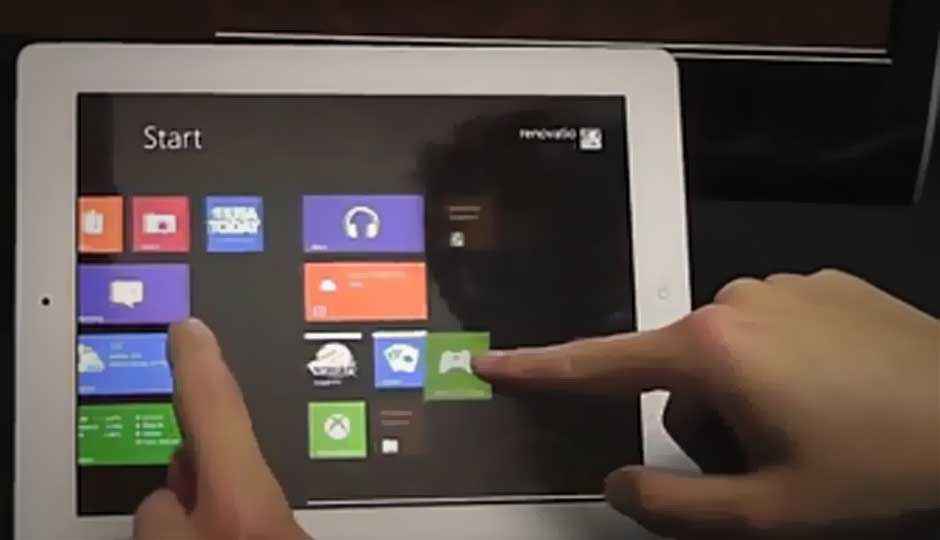 Wanted to try Windows 8 on an iPad? There is a new app for the iPad on the App Store that will allow users to experience Windows 8 on their Apple iOS devices. Developed by Splashtop, the app will remotely stream the next-gen Microsoft desktop and tablet OS, installed on a desktop, to the iPad, along with full multi-touch controls and gestures.
The Splashtop app is called the Win8 Metro Testbed, and at an introductory price of $24.99 ($49.99 full price), the app is meant more for developers wanting to test their Metro apps and other software on an iPad-like tablet (with its acclaimed touch sensitivity and display quality).
To use the Win8 Metro Testbed, users will have to install it on their iPad. As for the streaming software, users will have to download and install the free Splashtop Streamer client software on their Windows 8 machine (developer and consumer preview).
Users can assign a security code, so that only they will be able to access the Windows 8 PC from the iPads. They can then access Windows 8 via their local Wi-Fi network, or even over the internet, using a Google account to verify. An onscreen Hints Control Bar will provide tips and instructions throughout.
You can download the Splashtop Win8 Metro Testbed from here. Check out the video below, detailing the full functionality of the app: