Research firm NPD estimates that tablets will out-ship notebooks by 2016 due to one factor alone - the consumer's desire for more portability. The report says that overall mobile PC shipments will grow from 347mln units in 2012 to over 809mln units by 2017. The report goes on to add that notebook PC shipments are expected to increase from 208mln units in 2012 to 393mln units by 2017 and tablet PC shipments are expected to grow from 121mln units to 416mln units in the same period. It is not only the mature markets, but the emerging markets as well that are seeing the same trend.
With features such as instant-on, long battery life and ultra portability, tablet PCs are expected to evolve in form factor and performance, making them a compelling alternative to notebook PCs. Along with advancements in technology, these devices are expected to gain increasingly stable OSes, growing app libraries and better displays.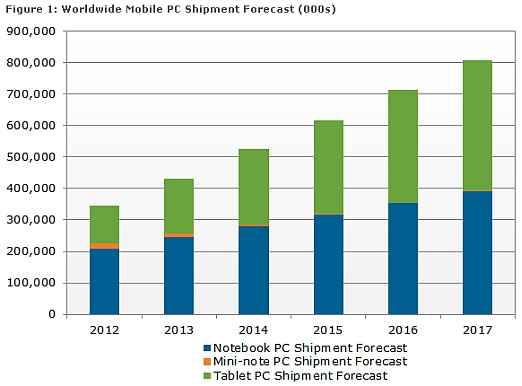 NPD DisplaySearch Quarterly Mobile PC Shipment and Forecast Report
Tablets are still relatively new devices. The original iPad was launched a mere 2 years ago back in 2010 and ever since then, the market has seen a slew of tablets hitting store shelves. We have devices in a very wide price range from Rs. 5000 to Rs. 50,000.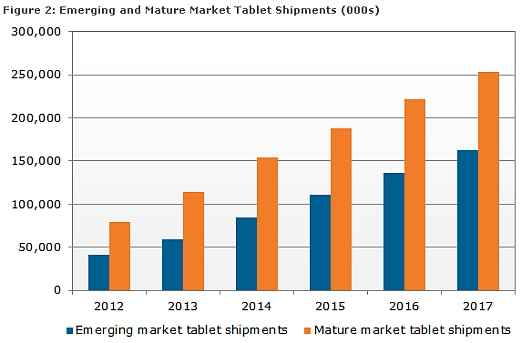 Recently, we have seen tablets gain some serious power under the hood giving them the ability to perform multiple tasks at once just like a PC. The biggest name in tablet till date is of course the iPad but the Android OS isn't far behind with devices such as the Asus Transformer tablets proving to be great performers.
Just a few days ago, Microsoft announced its foray into the tablet market with the announcement of Surface. There will be 2 models available, with the Windows RT model powered by the Tegra 3 processor from Nvidia, and the Windows 8 Pro powered by an Intel Core-i5 processor.
Source: Display Search
Also read,