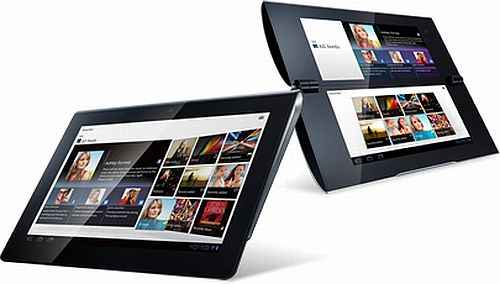 Sony has been teasing its S1 and S2 tablets with a series of videos for quite some time now, but we never got the definitive launch date. However, multiple media reports suggest that we will see the tablet hitting the market soon. According to reports, Sony's S1 tablet will come to the market as early as next month and will be named "Sony Tablet S". Obviously, S1 was never going to be the name of the tablet; it was just a codename given to the device to keep the name under wraps. Check out our previous coverage on the S1 and S2 tablets launch here. [RELATED_ARTICLE]
According to an Engadget report, Sony is going to make the official announcement of the S1 launch in the first half of the next month. The S1 and S2 devices are both Android Honeycomb devices; however hints are the S1 tablet will be upgradable to Ice Cream Sandwich soon after its launched. The S1 tablet is also being touted as PlayStation tablet as it is likely to feature an IR blaster that will enable it to control all devices in one's home via a network. The Sony Tablet S will come with a 3-MP frontal camera and a 5-MP camera on the back. The tablet will reportedly feature TruBlack technology ensuring better display.
Reports have further said that the Sony tablet will come with pre-installed Sony software such as the company's services for books, movies and music. The notable feature of the tablet is PlayStation Suite, which is inclusive of PlayStation Store loaded with specially-designed PS games. Even though there is no official word on the price of the Sony Tablet S, but report suggest it will be less than Rs. 30,000. Stay tuned for more update on the launch of Sony's tablets.
Also read,
Sony's S1, S2 Android tablets coming to India soon; to be priced at Rs. 29,000