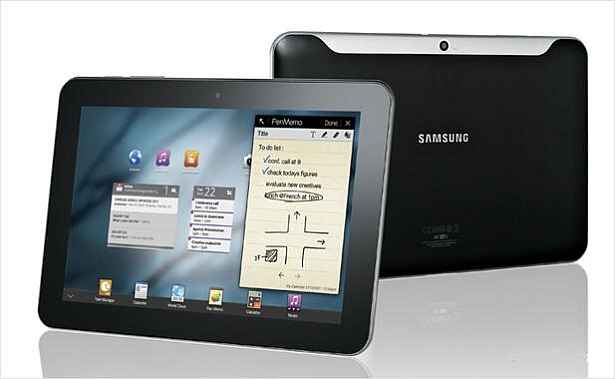 We had reported earlier that the Samsung Galaxy Tab 10.1 would be launched in India in July. And the Galaxy Tab 8.9 would soon follow its sibling. Apparently, the devices have not been launched in the country yet. But the latest buzz has it that the devices will come to the Indian market as early as August 10.
Both the devices, Galaxy 10.1 and 8.9, were announced few months ago. The Galaxy 10.1 is an Android Honeycomb tablet, which has been pitted against the new Apple tab – iPad 2. The device as the name suggests has a 10.1-inch display with a resolution of 1280 x 800 pixels. The Galaxy 10.1 has a built-in 7000mAH battery, 3 MP auto-focus camera with dual LED flash and a 2 MP front facing camera. The 3G enabled device sports a 1GHz dual-core NVIDIA Tegra 2 processor. Check out the specifications in detail here.
[RELATED_ARTICLE]
The Galaxy Tab 8.9 is also an Android Honeycomb based device, featuring 8.9-inch display, 3 MP auto-focus camera and 2 MP frontal camera. The device is dubbed as the lighter and smaller version of the Tab 10.1. Like its sibling, the 8.9 comes with a 1GHz dual-core NVIDIA Tegra 2 processor.
If reports are to be believed the Galaxy 10.1 is likely to be priced somewhere between Rs 32,000 to Rs 42,000 depending upon the variant. The price is certainly going to give tough competition to iPad 2, which also falls in same price-range category.
It's pertinent mention here that the Galaxy 10.1 has been a huge hit in the US market. And anticipation for the device has grown with the passage of time. The fresh reports have strongly suggested that the device will be launched very soon now. The Samsung device is likely to intensify the tablet segment in India that is mostly dominated by Apple's iPad. RIM's PlayBook and Motorola's Xoom are also in the market right now. It will be really interesting to see how things unfold when the both Galaxy tabs are officially launched.
Source: Samsung Galaxy Tab 8.9 to be released in this month
Also read,