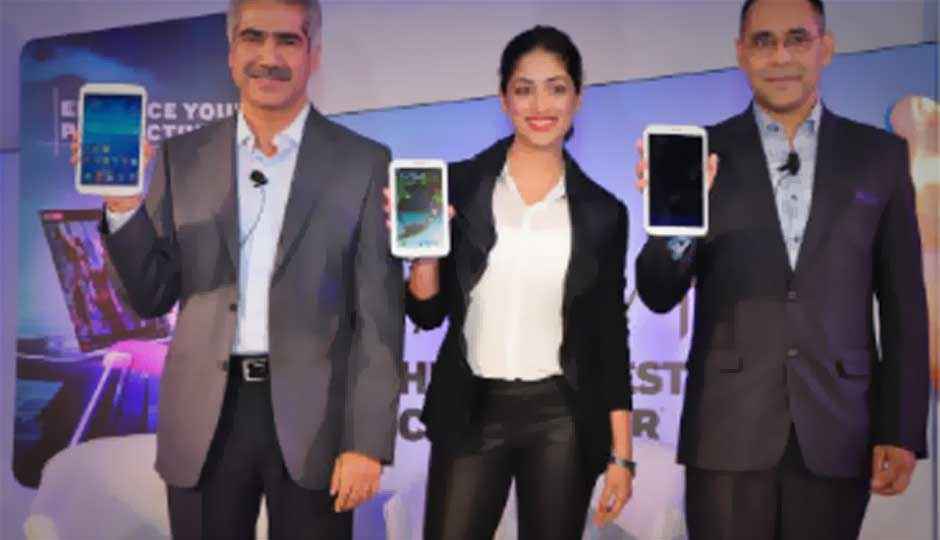 Samsung today launched three variants of the new Galaxy Tab 3 Android tablets lineup in India. Samsung showcased the three new Galaxy tablets at a press event in New Delhi which was attended by Samsung executives and journalists. The new Galaxy Tab portfolio includes the Tab 3 211 that comes with a 7-inch display and costs Rs. 17,745; the Tab 3 311 that has an 8-inch display, supports Wi-Fi and 3G and is priced at Rs. 25,725; and the Tab 3 310 that has an 8-inch display, only supports Wi-Fi and costs Rs. 21,495.

Speaking at the event, Vineet Taneja, Country Head, Samsung Mobile and Imaging Business said, "Ever since we pioneered the introduction of tablets in India in the year 2010 , we have fuelled the growth of this segment through our innovative Tab portfolio; the most recent being the Note 800 and the Note 510.The Tab 3 series carries forward the Samsung legacy of innovation by offering consumers the benefit of the smartest screen, unmatched performance, smart usability coupled with a host of applications that allow consumers to personalize and thereby enrich their experience with the device."

Galaxy Tab 3 310 and 311

The big difference between the two variants is that the former only supports Wi-Fi while the latter also supports 3G data. Both tablets have an 8-inch display with a resolution of 1280x800 pixels and are 7.4 mm in thickness. Both tablets are powered by Android 4.2 (Jelly Bean), a 1.5GHz dual-core processor and 1.5GB of RAM. Both tablets support Samsung's TouchWIZ software features like Pop up Video, that lets users watch a video at any point in the tablet's interface; Multi-Window, that lets users view and use two apps simultaneously; Smart Stay, that keeps the screen on as long as the user is looking at it; and Reading Mode, that adapts the display to suit reading text for longer durations.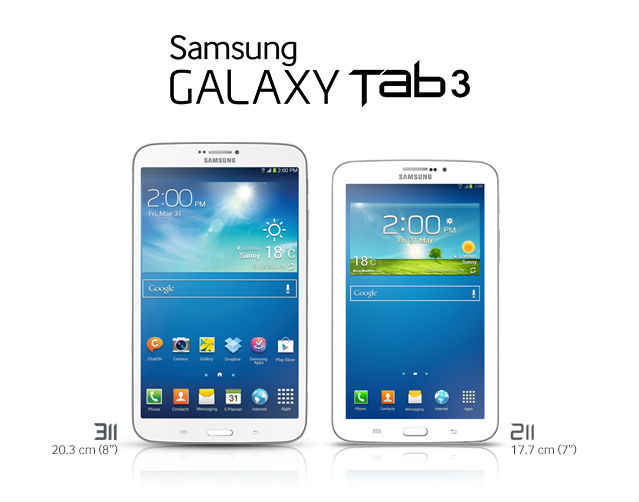 Both tablets also boast of other features like S Translator, which is a tool that provides on-the-fly voice to text translation and ChatOn, Samsung's own instant messaging service.

Galaxy Tab 3 211

The Galaxy Tab 3 211 has a 7-inch display with a resolution of 1024x600 pixels and is 9.9 mm in thickness. It is powered by Android 4.1 (Jelly Bean), a 1.2GHz dual-core processor and 1GB of RAM. It also has 8GB of internal storage and supports microSD cards up to 32GB. The Tab 3 211 also has the Pop Up Video feature and a 4000mAh battery. Imaging is taken care of by a 3MP primary camera and a 1.3MP front-facing camera.

All three variants of the Samsung Galaxy Tab 3 offer additional services such as My Education, that offers access to a library of educational content; My Offers, that gives users information on sales and deals from popular brands; My Games, that provides users exclusive games titles; My Music, that gives users access to a library of five lakh songs; and My Movies, which gives access to over 2000 movies. The initial buyers of the Samsung Galaxy Tab 3 tablets will also be able to avail of introductory offers as the ability to download content and apps from Samsung's digital store for free up to a total of Rs. 20,000 and 2GB per month of free data for two months for Vodafone's post-paid users.

All three Samsung Galaxy Tab 3 tablets should be available in the market by the end of this week.