The word "tablet" usually has us thinking of iPads, Surface Pros and other devices that are meant to replace laptops, but aren't quite able to. Like many others, Samsung has tried its hand in this market, but while most others are pulling out, Samsung evidently sees potential here still. Its newest tablet will neither replace a laptop, nor is it meant to do so. Instead, the Samsung Galaxy Tab A is aimed squarely at a different kind of buyer, one that cares about his budget and for some reason finds the phone insufficient for his entertainment and calling needs. It sounds highly illogical at first, but believe it or not, such buyers do exist. It may not be a particularly large pie, but Samsung wants some share of it anyway.
The Galaxy Tab A supports SIM cards, has a low resolution 8 inch display and a mere 2GB of RAM. It has a metallic backplate, yet feels decidedly two-year-old when you hold it. If you do consume content on such a screen, it's mainly because of its size. The display is colourful and vibrant to some extent, but don't expect those rich AMOLED colours, or Gorilla Glass 4-like touch experience. The Tab A is meant to get the job done, nothing more and nothing less.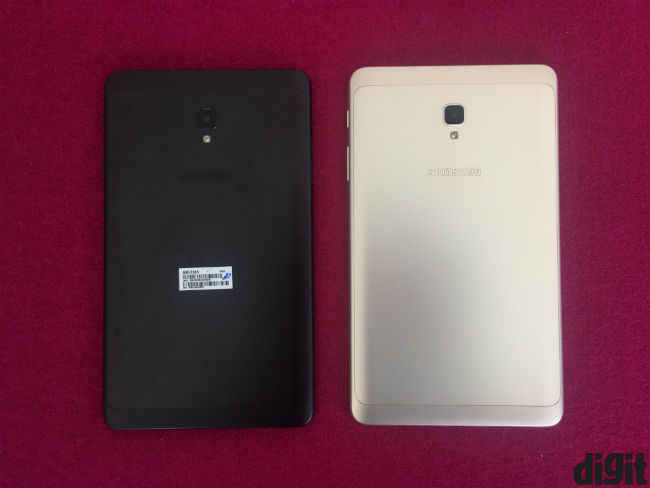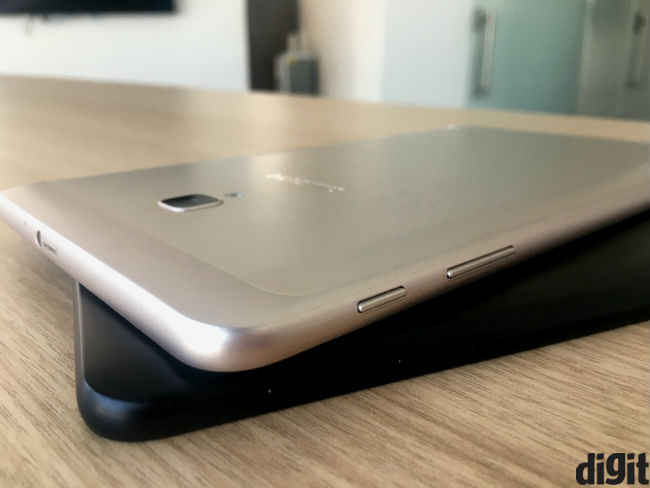 At the heart of this tablet is a 1.4GHz quad-core chipset from Qualcomm. Samsung didn't say which processor this is, but a quick look at CPU-Z suggests it's the Snapdragon 430. Which in turn makes this an all the more low end tablet. It's not that the Snapdragon 430 is slow, but its performance is suited to the entry segment only, especially with such a large screen. A brief few minutes are enough to confirm that the Galaxy Tab A is neither fast nor zippy. Like the display, the Snapdragon 430 is meant to get the job done, with a stutter here or a lag there. Combined with 2GB of RAM, you can't really expect top end performance here.
What you can expect is excellent battery life. The 430 is paired with a 5000 mAh battery, which should allow long battery life. That's important for a tablet that will be used primarily for content consumption. In fact, you see Samsung's target market through its choices. The display is large but doesn't push pixels, the processor is more focused on efficiency than power, and the battery is large. Samsung knows the Galaxy Tab A will spend long hours lying on your night stand and then need enough energy to watch a movie or two every night. For that, the skew seems to be done right.
So, we've narrowed down the buyer base for this tablet. The Galaxy Tab A is meant for those who either want a voice calling tablet, or want to consume content on a larger screen than a regular smartphone. This buyer also wants all this at a budget pricing, which is where we hit a snag with this device. At Rs. 17,999, the Tab A is dangerously close to something like the Xiaomi Mi Max 2. In fact, if you compromise just over an inch on the screen, you can get a better looking display at a lower price. You can also spend about 6k more to buy a 9.7 inch iPad that's faster, has more storage and a better screen. Speaking of storage, 16GB is simply too little for a media consumption device, even if it allows micro-SD expansion.
If the Galaxy Tab A is a budget tablet for the budget buyer, it's overpriced. If it's a mid-ranged tablet, it's under spec'd. That leaves it neither here nor there. Samsung has the right idea and the buyer its targeting almost certainly exists, but the Galaxy Tab A feels too much like a two-year-old tablet to really impress, even on first impressions.
Other Popular Deals
Samsung A7 2016 Edition Golden

Rs. 18990 *

Buy Now

Apple iPad Mini 2 Tablet(7.9...

Rs. 21900

Buy Now

Apple iPad Mini 2 Tablet (7.9...

Rs. 21900

Buy Now
*Includes Cashback
​