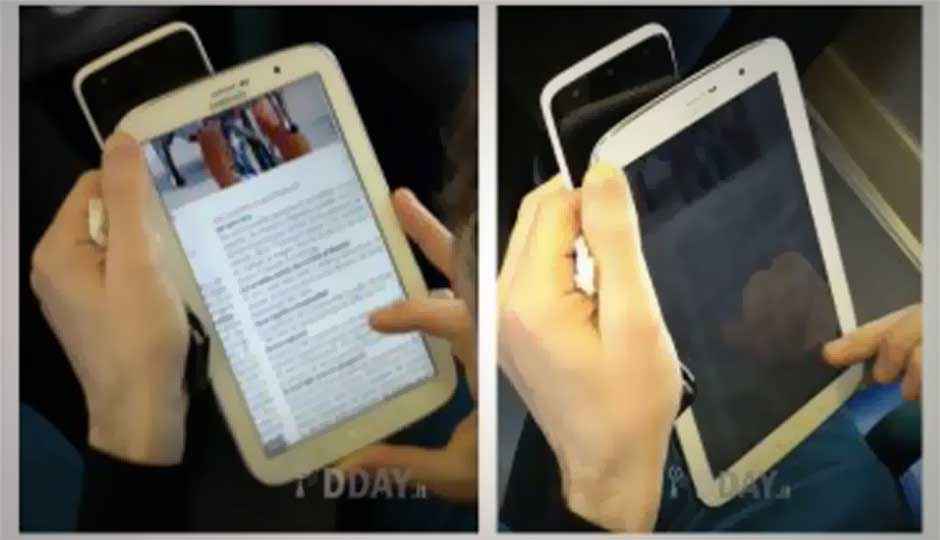 Pricing details of the Samsung Galaxy Note 8.0, uploaded by Austrian online retailers, show that the highly awaited tablet may cost anything from €450 to €550 (Rs. 32,700 to Rs. 40,000 approx.). While the 16GB models have been revealed to start from €450, the 32GB models are expected to start from €490. If this pricing is accurate then that would make the Note 8.0 more expensive than the Apple iPad Mini (also an 8-inch tablet) that costs Rs. 29,900 for the 16GB Wi-Fi and data variant, and Rs. 35,500 for the 32GB variant.
There have been many rumours surrounding the Galaxy Note 8.0 that have sprung up over the last couple of weeks. Leaked images show that the tablet looks very similar to the Galaxy Note II, sports a white bezel and combines a capacitive touchscreen, a homescreen button and a "back" button for navigation.
The Note 8.0 is also expected to run on Android Jelly Bean and support connectivity features such as Bluetooth 4.0, Wi-Fi and GPS. It is expected to be powered by 2GB of RAM and a 4600mAH battery. The display on the Note 8.0 will probably sport a resolution of 1280×800 and it will weigh close to 330 grams.
Samsung is supposed to show off the Galaxy Note 8.0 at the Mobile World Congress in Barcelona at the end of February, although the blog Android Authority claims that it could be launched before that.
Source: Android Authority