Samsung recently held an event in South Korea to announce a new Garnet Red colour option for the Galaxy Note 10.1 LTE tablet, but in the background, the promotional material carried the image of an unknown device. It looks like the Galaxy Note 8\.0.
In the background, the promo images showed off a slightly smaller device, one following the form factor of a Galaxy Note, complete with a physical home button and two capacitive buttons. But since the Note 8.0 isn't on the market yet, did Samsung end up accidentally revealing the tablet ahead of launch?
The Samsung Galaxy Note 8.0 is expected to be announced at MWC later this month and is rumoured to ship with a 1.6GHz Exynos 4 Quad processor, 2GB RAM, Jelly Bean and 8-inch 1280×800 display. It is expected to be priced around $249-$299, making it a substantial competitor to iPad Mini.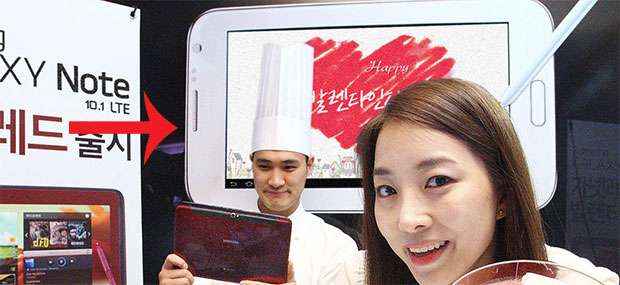 Purported Samsung Galaxy Note 8.0 in the background
However, there is one important question to keep in mind. Since the artwork is only promotional, is it an actual photograph of a real product, or just a render of a non-existent device. If your curiosity and excitement is through the roof, we recommend exercising some control till Samsung officially announces the device sometime around February 25.