In view of the ongoing festive season in India, Research in Motion (RIM) is offering a free Blackberry Curve 8520 with the purchase of its recently launched tablet PlayBook.
"This festive season on purchase of BlackBerry PlayBook on MRP (max retail price), BlackBerry is offering a free BlackBerry Curve 8520 and a BlackBerry PlayBook accessory, " says RIM in a statement. The offer is valid for all the PlayBook variants - 16GB, 32GB and 64GB models. The PlayBook 16GB variant is available for Rs. 27,990, while the 32GB comes for Rs. 32,990. The 64GB model is priced at Rs. 37,990. [RELATED_ARTICLE]
The BlackBerry Curve 8520 is available for Rs. 9,600 at the retail and online stores. The Curve 8520 is considered to be an entry-level BlackBerry device. The device features a 2.46 inch TFT display, 2MP camera, 256 MB of internal storage which could be extended up to 32GB via microSD. Read a detailed review of the Curve 8520 here.
The offer is valid till November 30, 2011.
RIM's free Curve 8520 offer seems to be a good deal for the Indian customers and also for the company looking to push the PlayBook sales in India. It may be recalled that the PlayBook has failed to change the fortunes of RIM, which is facing stiff competition from Apple's iPhone and Google's Android devices. The PlayBook tablet had garnered only 6 out of 10 points in our review, which was quite a disappointment.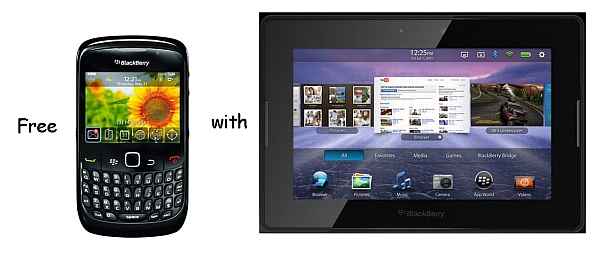 Meanwhile, RIM is taking several measures to keep its customers happy, especially after the global BlackBerry service collapse. The company recently offered a selection of premium apps worth more than $100 for free to compensate the service collapse. Read our previous coverage here.
Having said that, does the new RIM offer interest you? Let us know your take in the comments section below:
Also read,